12 Possible Fixes to iCloud Drive Not Syncing on Windows 11/10/8/7 & Mac
Apple users can leverage iCloud Drive to keep files and folders up to date across all relevant iOS devices. It acts as a decent service to share content with friends, family, or colleagues. Available for free download and use, it doesn't always work seamlessly, leaving behind an unfinished job. For instance, iCloud Drive not syncing may occasionally arise due to a variety of complicated reasons. Well, here in this post, we shall cover a dozen solutions to put an end to this topic.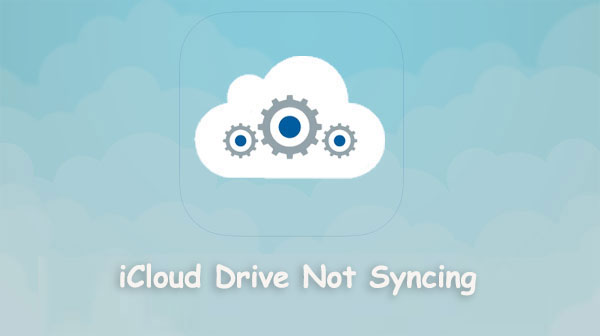 Part 1: Fix iCloud Drive Not Syncing on Windows/Mac with 12 Basic Solutions
Solution 1. Check Network Connection
An unstable Wi-Fi connection invites iCloud Drive not syncing to Windows. Check if there's something wrong with your iPhone network. And if you want to fix the Wi-Fi connection on Windows, go to "Settings" > "Network and Internet" > "Status" > "Network troubleshooter".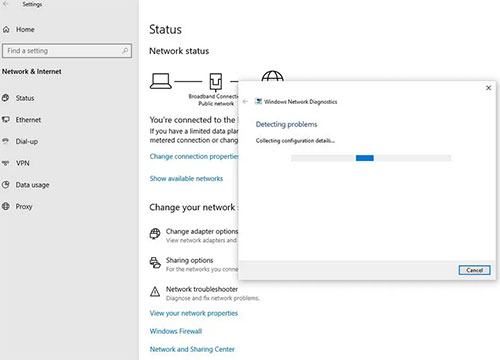 Click to Know:
Solution 2. Use the Correct Apple ID
Next up is to check the iCloud account. Namely, please ensure you have logged in to iCloud using the same Apple ID. So, if iCloud Drive is not syncing, check if the ID is correct on your Mac as follows:
Head to your Mac's "Settings" > [your name].
Proceed to "System Preferences" > "Apple ID".
Verify which account is now associated with the device. (Apple ID has been disabled?)
Solution 3. Check iCloud Drive Settings
For an iPhone, navigate to its "Settings" > [your name] > "iCloud" > enable "iCloud Drive".
For a Mac, go to its "Apple" menu > "System Preferences" > "iCloud" > "iCloud Drive".

For Windows 11/10/8/7, open the iCloud for Windows to check your iCloud "Settings"; verify your Apple ID and ensure the checkbox nearby iCloud Drive is chosen. Otherwise, click the checkbox and pick "Apply".
Solution 4. Sign Out and Sign Back into iCloud
Go to your Mac's "Apple" menu > "System Preferences" > "Apple ID" > "Overview".
Choose iCloud in System Preferences if you use macOS High Sierra or older.
Go for "Sign Out", and your computer will ask if you'd like to maintain a copy of your iCloud files.

Once done, restart your Mac. Then sign back into iCloud on this machine to fix Mac iCloud drive not syncing.
Solution 5. Check the Syncing Folder
If applications let you customize which folder you utilize to store files, ensure the paths match up in both instances. Then make sure apps on both iOS and macOS are looking for data in the same location.
Learn More:
Solution 6. Set Up Data & Time
On iOS, go to "Settings" > "General" > "Date & Time" > enable "Set Automatically".

On macOS, head to "System Preferences" > "Date & Time" > "Time Zone"; click the lock icon to verify your identity; check "Set time zone automatically using current location" to fix Finder iCloud drive not syncing.
Solution 7. Ensure There's Enough iCloud Storage
Not enough storage space is a telltale sign of "iCloud Drive not syncing on Mac/Windows 10/11". To troubleshoot it, go to your iDevice's "Settings" > [your name] > "iCloud" > "iCloud Storage" or "Manage Storage". Then free up storage on iCloud as you desire.
You can save files in iCloud Drive as long as they are 50GB or less in size, and you're not allowed to exceed the storage limit.
Solution 8. Update iCloud Drive on Windows
Open the "Start" menu to reveal the search box.
Type "Apple Software Update" and tap "Enter".
Install the new update for iCloud Drive if it is available.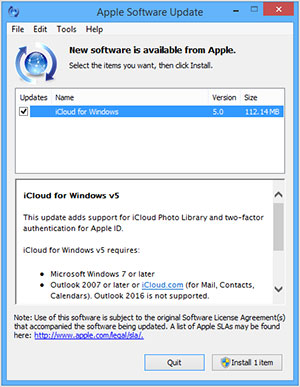 Solution 9. Ensure iCloud Works Properly
When you get into Apple's System Status page, you'll see the "active" or "disabled" sign beside each item. If the iCloud Drive is disabled, please access it after some time until it turns into the green dot.
Solution 10. Use iCloud on the Web
To fix iCloud Drive desktop and documents not syncing with its web version, navigate to iCloud on the web, and tap the "iCloud Drive" tab. Then upload the items from your local computer to iCloud manually.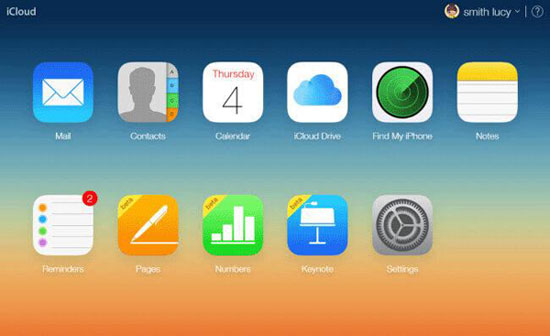 Solution 11. Update Your Windows/Mac
Update Windows:
Click the "Start" menu and proceed to "Settings" > "Update & Security".
Tap the Check for updates button. And if an update is available, download and install it.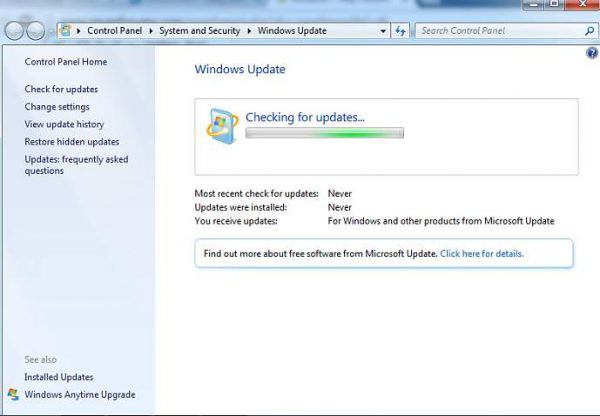 Update macOS:
Open the "Apple" menu > "System Preferences" > "Software Update".
Update macOS and first-party software by clicking "Update" or "Upgrade Now".
Solution 12. Hard Reset iPhone/Mac
For an iPhone 8/8 Plus or newer, quickly press and release the Volume Up button, quickly press and release the Volume Down button and then press and hold the Sleep/Wake button (side button) until you see the Apple logo.
For an iPhone 7/7 Plus, press and hold the "Sleep"/"Wake" + Volume Down" buttons simultaneously; release both when you find the Apple logo.
For an iPhone 6S/6 or older, press and hold "Sleep"/"Wake" + Home" at the same time; release both when you see the Apple logo.
For a Mac, open the "Apple" menu and tap "Restart" to troubleshoot MacBook iCloud drive not syncing.
Part 2: An Alternative Way to Back Up iOS Data without iCloud
Although iCloud is a decent tool to keep iOS stuff up to date across all your devices, it often lags or even doesn't work, especially when performing tasks with large amounts of data. So, some would like to keep a backup of their iDevice files without this annoying service. Here, you're recommended to pick MobiKin Assistant for iOS (Win & Mac) as its great substitute.
Core features of MobiKin Assistant for iOS:
Back up data on your iPhone/iPad/iPod touch to a computer smoothly.
Restore backup content to any iDevice in one click.
Copy files between an iOS device and a computer/iTunes flexibly.
It supports such data types as photos, contacts, songs, eBooks, calendars, text messages, notes, bookmarks, and more.
Best iCloud alternative to back up and manage iOS items on a PC/Mac without a 3rd-party program.
Easy & quick backup & restore, smart management, requiring no technical background, etc.
Play functions on almost all iOS devices, including iPhone 14/14 Plus/14 Pro (Max), iPhone 13/13 Pro (Max)/13 mini/12/12 Pro (Max)/12 mini, iPhone 11/11 Pro/11 Pro Max, iPhone X/XR/Xs/Xs Max, iPhone 8/8 Plus, iPhone 7/7 Plus, iPhone 6/6S/6 Plus, iPod touch, iPad, etc.
It won't let out your privacy.
Next, we shall let you know how to use MobiKin Assistant for iOS to back up your iOS content to a computer without iCloud:
Step 1. Run the program and link your device to a computer
To start with, ensure you install and open this assistant for iOS on a computer after the free download. Link your iDevice to the machine via USB. Next, follow the easy on-screen guide to let the tool recognize your device quickly.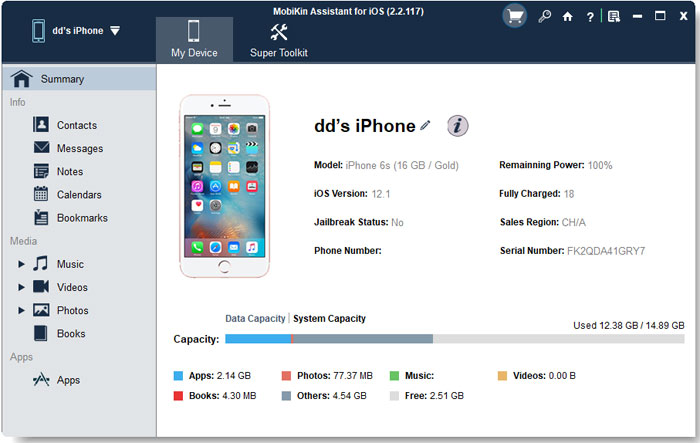 Step 2. Select the files for backup
When you see the main screen of the program, pick your desired data types from the left menu, and you'll get the specific items on the right column for preview.
Step 3. Back up iPhone without iCloud
Choose your wanted files and click on "Export" on the top menu bar. Finally, please specify an output location on your computer and safely save your iOS content there.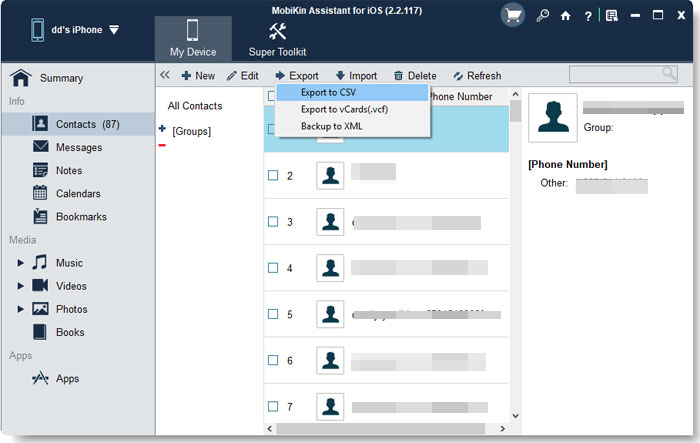 Optionally, this smart software also lets you back up your iPhone to iTunes/computer in batches. To make it, go to "Super Toolkit" from the top window; pick "iTunes Backup & Restore", followed by "Backup"; choose a device to back up and select a location to save your iOS content; lastly, click "OK".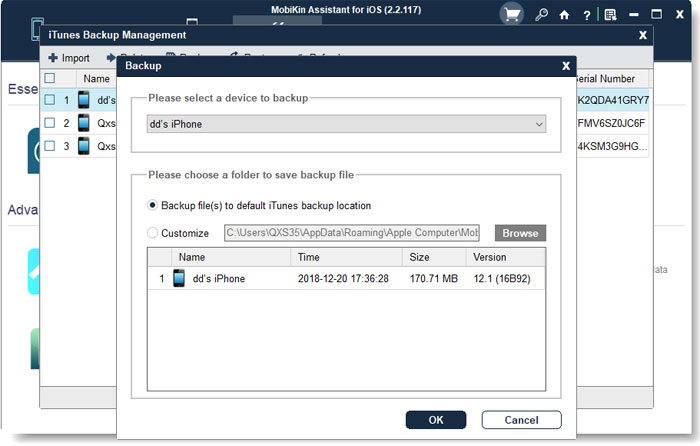 Conclusion
Admittedly, iCloud Drive does bring some convenience to Apple operators in terms of data sharing to a certain extent. If you happen to have the annoyance of iCloud Drive not syncing and have gotten temporary relief with the quick solution above, then congratulations! But there is no guarantee how this will play out next time.
In the long run, a personal computer is the better destination to maintain a copy of your iOS files, not just because it's a secure local storage. So try MobiKin Assistant for iOS out by downloading it now. Finally, please share this page on social media if you find it significant and helpful.
Related Articles:
iCloud Photos Not Syncing? Here're 12 Quick Fixes & an Alternative
[Beginners Guide] How to Fix Contacts Not Syncing to Mac in 13 Hot Tips?
How to Restore iPhone from iCloud with/without Resetting [Ways & Troubleshooting]
10 Methods to Troubleshoot Downloading Messages from iCloud Stuck
4 Marvelous Ways to Delete Messages from iCloud Storage [Quick Guide]
Top 8 iPhone Unlock Services to Unlock iOS Devices without Delay