iPad File Explorer for Mac
One thing that Apple doesn't like is people getting access to their iPad's file system. So, no inbuilt file explorer is provided that can access all the folders and files effectively in your iPad. It is no doubt that this is a good feature for security purposes, but people who are concerned about security of their system can be worried much more about very important things like passwords and antiviruses than a simple file explorer. Then, you may feel confuse that why people need to find a file explorer for iPad, right?
Actually, regardless of the fact that having a smart device is all about saving time and having better management for everyday tasks and digital files. Apple has made sure that you can only access your files via their UI. The UI of iPad while being totally user friendly somewhat limits users operations to some extent. You can access your music and photos but cannot access saved games of certain games if the option is not readily built. Moreover, documents cannot be moved to and from one location to other without going through multiple steps. Therefore, if you wish or need to manage several files or images at the same time, you may feel hard to do it on the iPad, that's why more and more people wish to find a way to manage their iPad files on Mac or Windows PC. We know that Apple doesn't allow users to have access to the device by simply linking it to PC with a USB cable, right? So it is really important that you to have a file manager for doing so since managing files without a file manager can be a real headache.
A good iPad file explorer can play a big role here. It enables users to get access to their iPad contents directly after connecting the iPad to computer. And you're also allowed to export the iPad files like photos, movies, music, playlists, podcasts, TV shows, contacts, notes, etc. to a desktop computer for editing, sharing or further using as you like. Here, we could like to strongly recommend MobiKin Assistant for iOS (Mac Version) for your reference. Below is the features of the powerful program:
- As a cross platform app. This means you can use it with not only your iPad, but also your other apple devices.
- It doesn't present you with the confusing default folder structure; rather it uses a simpler form of it which is easy to understand.
- It has the ability to preview the images before exporting.
- ...
How to Perform the best iPad File Explorer for Mac Software?
For Windows user, you can get the Windows version and follow the same steps as below to manage your iPad files on Windows computer.
First of all, you need to connect your iPad Air, the new iPad, iPad mini or iPad 4/2 to the computer, and then launch the program you've installed on your Mac. Then you'll see an interface like below: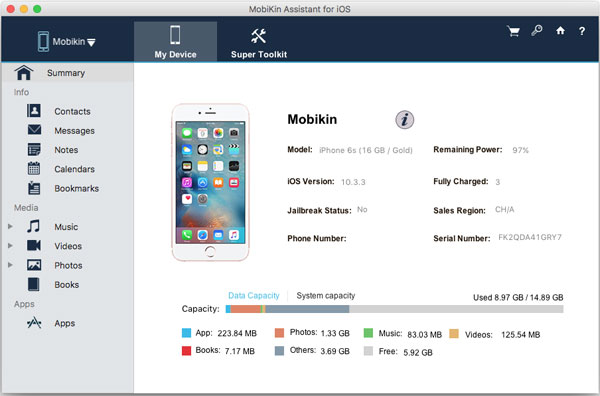 Tips: iTunes are required to be installed on your Mac, so that the linked iPad can be detected by the program successfully. You may need to know how to do when the iTunes not recognizing Apple devices.
After that, you can select and preview the specific files in the program as you like. Here, if you like, you can tick files and export them to your Mac, then you can edit, move or cut your needed files as you like.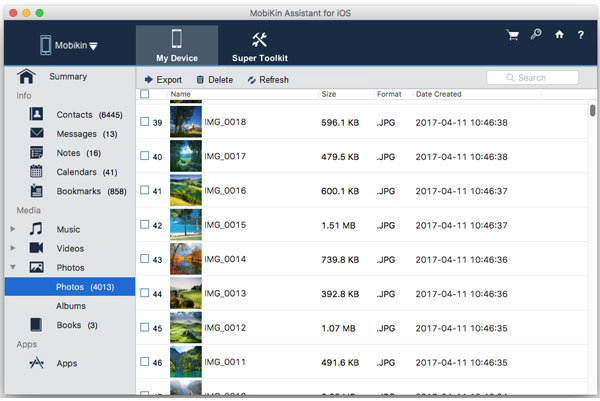 Now, just get the best iPad File Explorer for Mac and experience its powerful functions by yourself right now!
Related Articles

Tips to Transfer or Copy Contacts from iPhone to Computer
How to Transfer Music or Songs from iPod to iPhone
How to Recover Voice Memos from iCloud Backups?
4 Ways to Transfer Voice Memos from iPhone to PC/Mac without iTunes
How to Put Ringtones on iPhone from Computer? Fix Here!