iTunes not Recognizing iPhone, What will You Do?
As we know, you can back up data on computer with iTunes. Sometimes you may meet iTunes errors. Does a PC give these error messages after connecting an iPhone? "The device can't be restored in iTunes", or the following symbols appear in the device manager; "!", "?", or "X"? It is not an unusual problem when iTunes does not recognize an iPhone, so for some people, it is also not a simple problem to resolve. Thus, today we write this page to show you an ideal solution to the problem of iTunes not recognizing iPhone. Below is a series of steps of what to do in case of an iPhone does not appear under devices in iTunes after the connection. You can follow them to make your iPhone be recognized by iTunes easily.
BASIC SIMPLE SOLUTIONS
1. Restart the computer and the iPhone.
2. Ensure the PC is up to date with all the necessary installed softwares.
3. Update the installed iTunes to the latest version on the PC.
4. Ensure the iPhone trusts the PC by unlocking the device and selecting "Trust". In cases of repeated trust alerts, while using Windows XP, reset the "Lockdown folder".
5. Verify that the USB cable in use is functional. Consider using a different cable to test the same.
6. Ensure Apple Mobile Device Support software is installed. As much as this is automatically installed with iTunes, some Softwares disable this installation or corrupt the system. This verification can be accessed from the control panel of any PC. "Apple Mobile Device Support" should be listed under programs. In case the software is missing, then remove iTunes and reinstall again.
7. Restart "Apple Mobile Device Service" by closing iTunes and disconnecting the iPhone, and then open services section on the administrative tools found in the control panel. Stop the service under Apple mobile device and then start again after which one can open iTunes and then connect the iPhone. View the image below.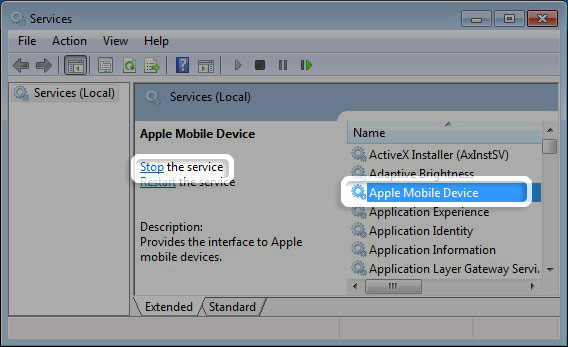 8. Check that the USB Driver for Apple Mobile device is installed by viewing the device manager under properties. Then expand "Universal Serial Bus controllers" and confirm that the drivers are enabled as shown below.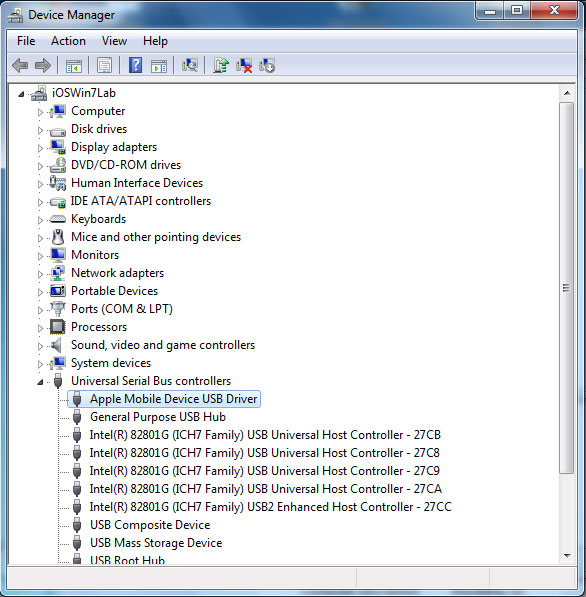 If a question mark or apostrophe appears under this driver, then it means they are not installed, reinstall them. If an arrow appears then, the drivers are disabled, right click to activate. Reinstalling the drivers should be automatic with most Windows PCs but easier when done manually because one only needs to select "update driver" from the shortcut menu in the device manager, and then choose the driver to install from Advanced search and install from the drivers disc.
9. Finally, if all the above fails, check for third-party software conflicts. Connectivity Software from different phone vendors such as Android, Samsung, Huawei, Motorola, just to mention but a few, may be the reason an iPhone device is not recognized on a PC. In this situation, the cellular connectivity software has to be uninstalled temporarily and then uninstall and reinstall iTunes and finally test if iTunes will recognize the iPhone device. With third party software conflicts, consulting with the party in question is most advisable since other services offered by this party are still relevant, and one can not simply do without them. A good example is when using internet connections from a third party device.
After making iTunes recognize your iPhone, you can use MobiKin Assistant for iOS (Windows/Mac) to manage your iPhone data or files easily.
By the way, you can use some alternatives to iTunes.
Related Articles
How to Backup iPhone Data before Upgrading to iOS 8.2
Tips to Transfer or Copy Contacts from iPhone to Computer
How to Transfer Music or Songs from iPod to iPhone