All You Need to Know about iOS 10.3
If you are a technology enthusiast, chances are that you are aware of the fact that Apple has finally released the final version of the iOS 10.3 operating system to the general public. After about seven different beta versions you may be skeptical about installing the operating system on your iDevice. That is why this informative guide is going to tell you what's new in iOS 10.3, thus; helping you determine whether the operating system is perfect for you.
See Also: How to Downgrade iOS 10.3 to 10.2/10.1/10.0
Kindly note that it is impossible to install the software on iPhone 4 devices and you will not be able to jailbreak your iDevice once you install the latest operating system.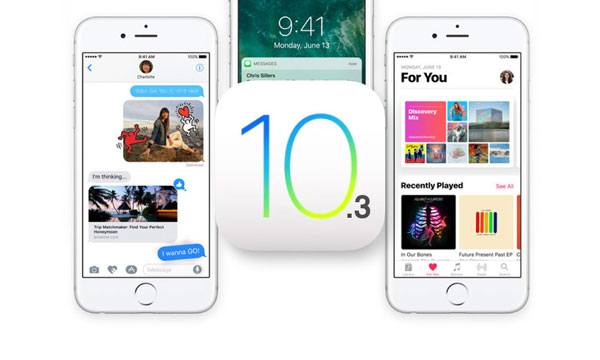 What's New in the iOS 10.3?
1. An Improved "iMessage"
You will now be able to send emoji's straight from the iMessage app. This will make it a lot easier to convey expressions and emotions that words alone cannot vividly converge. The "Invisible Ink" iMessage feature can be used to share private messages and photos.
The iMessage app also supports multitasking. Due to this, you will now be able to make payments, easily access your favorite social media apps and even keep up with all your conversations without having to leave the iMessage application.
2. An Updated "SiriKit"
The SiriKit feature that allows all reputable third-party iOS applications to access "Siri (Apple's digital assistant)" has been updated. You can now use Siri with any supported third party application to track your account status, pay your bills, and book future rides thanks to SiriKit.
You can even use the Siri virtual assistant to turn on the lights on your car, honk its horn, lock it and even check its fuel level if it is still supported by the digital assistant.
3. Find My Airpods
It is quite easy to misplace Apple's new wireless headphones (Airpods) owing to their relatively small size. However, this can be avoided by using the "Find My Airpods" feature that is currently available under the "Settings" section of the "Find My iPhone". Kindly note that Airpods are not GPS or WI-FI enabled, so it can only be found if they are within the accepted Bluetooth range.
You can press the "Find My Airpods" button on your iOS device to make the lost or missing wireless headphones to play a distinct sound that will enable you to locate them.
4. A New File System
Your iOS device's file system will be automatically updated to the new "Apple File System (APFS)" once you successfully install iOS 10.3 on your gadget. This new file system is guaranteed to increase performance and even boost your gadget's security. This is because APFS has been optimized for SSD/Flash storage and contains various features, including file and directory cloning, improved file recovery, space sharing and strong encryption that can be quite helpful.
However, It is important to note that you will not be able to jailbreak your iDevice once you have successfully installed this new rootless security system.
5. New App Functionalities
The new operating system now makes it possible to uninstall the stock iOS apps that came with your device. This alone helps you create even more storage space. Your apps will now appear to have more rounded edges when they are launched and closed. iOS 10.3 provides all iDevice users with a standardized "in-app reviews" pane that allows them to rate their favorite apps.
It is currently also possible for developers to directly reply to the reviews that have been generated by concerned users. Thanks to iOS 10.3, developers now have the power to change their apps' icons at will, once they are granted permission by the iOS user.
6. An Improved iOS Stock "Settings" App
Once you launch the stock "Settings" app you will come across the new "Apple ID" profile option. This new profile provides you with all the relevant Apple ID information. Under "Apple ID" is the "iCloud" section that provides you with a detailed breakdown of exactly how you available iCloud storage space are being used.
The "Diagnostics and Usage" section that was previously located under the "Privacy" settings menu has now been renamed to "Analytics." The "Analytics" privacy option can still be used to determine exactly which information can be sent to Apple.
7. Theatre Mode
You can use this new watchOS 3.2 feature while watching your favorite movie, particularly in a dark environment. Theatre mode, once activated, disables the "Wake Screen on Wrist Raise" Apple watch feature and activates the "Silent Mode" option. This will prevent your iDevice's screen display from lighting up automatically whenever you move around.
You will still be able to receive your notifications as haptic feedbacks once it has been activated.
8. Voicemail Transcription
The iOS 10.3 operating system is perfect for you if you are tired of having to constantly listen to all your voicemail messages. All your upcoming voicemail messages will be automatically transcribed into words and instead sent to you in a readable text format. This feature can also be used to inform the caller of your current whereabouts and the actual reason as to why you can't pick their calls at that moment.
Conclusion
It will be a wise move for you to install the iOS 10.3 operating system if you are not going jailbreak your iDevice and if you are not using the iPhone 4. iOS 10.3 clearly comes with various improved features that are aimed at improving your gadget's performance and ease of use.
Related Articles
How to Backup iPhone Data with iTunes
How to Backup iOS Files with iCloud
How to Transfer Contacts from iPhone to Computer?
How to Transfer SMS (Text Messages) from iPhone to Computer?
How to Share Music on iPhone? (4 Simple Ways Included)
4 Ways to Transfer Voice Memos from iPhone to PC/Mac without iTunes