How to Solve iPhone Notes Icon Missing or Hidden Issue?
Notes is a stock (comes preinstalled on your iDevice) iOS application that can be used to create all types of personalized text notes. These text notes can either be saved locally or sent through electronic mail (e-mail). This essential application, apart from providing you with the relevant tools that you require to edit and save any documents of your choice also allows you to attach your image files.
It is also possible to embed web links, audio and video files among other documents using the iOS app. You can set a secret password to secure your notes. This can come in handy, especially if you usually store sensitive information in your notes. Being a stock iOS app, the Notes program is built into all Apple devices. This makes it almost impossible for it to disappear from your device.
However, there are certain instances when the Notes app or its icon may mysteriously disappear from your iPhone. Jailbreaking, which is an equivalent of rooting in Android devices, provides you with the ability to uninstall even the stock iOS apps. This alone can even end up hitting the Notes app icon.
You should, however, not be alarmed as this informative guide is going to show you exactly how to solve iPhone Notes icon missing or hidden issue.
Find Your Losing or Missing iPhone Notes Icon through Resetting the "Home Screen" Layout
Find Back Missing iPhone Notes Icon due to System Issues
Revealing the Notes Icon on A Jailbroken Device
How to Find Your Missing Notes Icon through Resetting the "Home Screen" Layout?
The Notes application icon might be missing on your device because it has been moved to the home screen folder or page. Below are the simple steps that you can follow to unhide the missing icon.
Step 1. Directly find and enter "Settings" on the home screen and tap "Reset" which is located under the "General" settings menu.
Step 2. Select "Reset Home Screen Layout" and then confirm.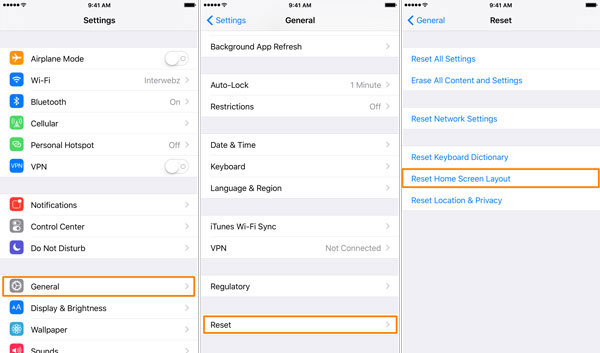 This will automatically reset your iPhone's entire "Home Screen" layout to its default factory settings. The Notes icon will now be displayed in its original location.
Solve the Notes Icon Missing through Installing A New Firmware
You can use this strategy to unhide the missing Notes icon provided it was hidden due to an iOS system error. It is usually not that easy to try and repair an iOS system issue. That is why you are going to be shown exactly how to use a popular third party program called "Doctor for iOS". This amazing program can help you to easily fix all your iOS system issues without losing any data.
Now, let's have a brief look on the simple tutorial as follows:
Step 1. Download and install this program on your Windows or Mac computer. Then launch it and choose "More Tools" in the program.
Step 2. Connect your iPhone to the computer and make it be recognized by the program. Then choose "iOS System Recovery" in the main screen.
Step 3. Click "Start" button to select the appropriate model number of your device to initiate the iOS firmware download process and wait. At present, this tool will begin to download and install the new iOS firmware on your device. This will also fix any iOS system issues that were causing your Notes icon to disappear.
Step 4. Restart your iPhone and locate the Notes iOS app.
Can't Miss: How to Recover Missing Notes Contents on iPhone 7/6S/6
Revealing the Notes Icon on A Jailbroken Device
This tutorial section will provide you with a list of things that you can do to reveal the missing notes icon on any jailbroken iPhone devices.
Way 1. Simply install "Quickgold' if your unofficial iOS app store (Cydia) is still visible on your iPhone. You can then use the installed Quickgold app to launch the hidden or missing notes application.
Way 2. You can also install the "SBSettings" iOS app, launch it and then unhide the hidden Notes application.
Way 3. Launch the stock "Settings" iOS app and then proceed to disable or re-enable the restrictions option. This will, in turn, unhide the Notes iOS app.
Attention: You can also use the SBSettings application to reveal the Notes program if it remains hidden even after enabling and disabling the restrictions.
Related Articles:
Fix "Android Touch Screen Not Working - Can't Unlock" Issues in 12 Methods
Your Android Phone Won't Turn on? 13 Ways to Fix
Android Stuck in Bootloop? 11 Solutions to Fix It without Data Loss