Android Stuck in Bootloop? 11 Solutions to Fix It without Data Loss
It can be a big headache for you when there's an Android boot loop on your phone. This will put your device in an inoperable state. Well, what should we do when our Android phones end up having difficulty in starting? To get you out of the dilemma, please read till the end to learn about 11 effective methods to fix Android stuck in the boot loop. But before that, we shall have an overview of this symptom and understand its reasons.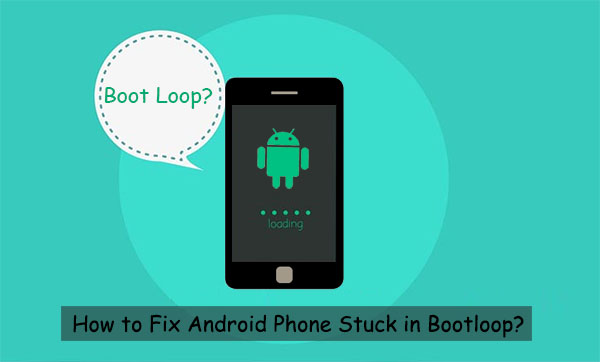 Part 1: What Causes a Boot Loop on Android
- What is boot loop?
OK, the Android boot loop is nothing but an error, making your phone turn on itself when you manually power it off. Precisely, when your Android phone doesn't remain switched off and starts to boot up automatically within a few seconds, there might be stuck in a boot loop on Android.
- Android phone stuck in the boot loop? Why?
The Android OS fails to launch because of a faulty update and installation.
Some corrupt app update files might cause the boot loop Android issue.
Apps downloaded from unknown sources come packed with a particular type of virus.
Android cellphone suffers from viruses, malware, or some malicious application.
The phone is physically broken by an external force, water, or even a short circuit.
Read Also:
Part 2: How to Fix Android Stuck in Boot Loop
Solution 1. Remove the case
If your Android phone is covered with a case or protector, remove it. This will ensure that there are no buttons or sensors that can impede the performance of your device.
Solution 2. Remove SD card from your phone
Often, unwanted or corrupted files on Android can cause a reboot loop to occur. (How to delete corrupted files on Samsung/Android?) And if there are some glitches on the SD card, just consult a retail seller for a replacement. Here's how to fix the boot loop on Android by removing SD card from your phone.
Remove the SD card and SIM from your device.

Then power off the device and restart it.
Solution 3. Soft reset Android phone
Being one of the most methods working for Android/Samsung boot loop fix, soft resetting your Android phone gives a fresh start to your device and lets you get rid of the Android phone reboot loop issue. You have at least two options to reset Android phones.
Option 1:
Hold the power button down until you reach the boot menu.
Press "Power off".
Remove the battery, wait a few seconds, and put it back in; this only works if you have a removable battery.
Option 2:
Hold the power button down till the phone turns off.
You may need to hold the button for a minute or more.
Hold it for too short a time and put the device to sleep.
Solution 4. Restart your phone
The soft reset of an Android device is virtually a reboot of the device. Some might wonder how to restart a device when the phone is starting a loop. Below is how to fix boot loop without factory reset:
Press and hold the "Power" key for a few seconds.

Your device will then restart automatically.
After a while, your device should restart to normal mode.
Solution 5. Plug into an wall electric source
Firstly, make sure your Android device has enough power.
Next, plug it into a wall outlet.
You may now need to let it sit plugged in for a few minutes.
Finally, plug it into a wall electric srouce.
Solution 6. Force restart Android phone
Boot loop on Android with no recovery could also be achieved if you force restart your Android phone as follows:
Force restarting fixes many kinds of boot loop and correlated issues.
To force restart your Android device, please press a dedicated key combination on it.
Press and hold the "Power" and "Volume down" buttons for around twenty seconds on your phone.
Wait for your phone to reboot.
When it restarts, you will notice the boot loop problem should be gone from the device.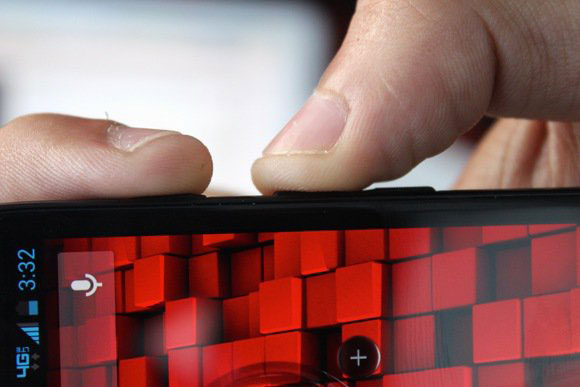 Solution 7. Enable Safe Mode
Safe Mode is a feature on the Android OS used to solve problems with configuration incompatibilities. Restarting the device in the mode will load only the System's core apps. Now, let's see how to fix Android phone stuck in the boot loop by enabling Android safe mode:
Reboot your device with which you are facing the loop issue.
When the phone logo appears, press and hold the "Volume down" button for a few seconds.
The device will automatically get into the "Safe mode".
Lastly, uninstall any unwanted apps that might have induced the boot loop on Android.
Solution 8. Try CWM Recovery Mode
Many need to fix how to get out of a boot loop on an Android phone with root. And CWM Recovery Mode is a popular custom recovery to try. To make use of this system to fix the boot loop on Android, you have to root your Android device with this mode that essentially implies that you have to install CWM on your device. Here are the directions:
To begin with, press and hold down the "Home", "Volume up", and "Power" keys to reach the CWM recovery screen. Check the manual or manufacturer's website for the right key combinations to boot Android into recovery mode if this doesn't work.
Use the "Volume" key to scroll down and select "Advanced".

After that, select "Wipe" > "Dalvik Cache".
Now, go to "Mounts and Storage" and pick "Wipe" or "Cache".
Once done, restart your device.
Solution 9. Wipe cache partition
By putting an Android phone into recovery mode, you can easily wipe all the cache files present in the device. This will help resolve how to repair the boot loop on Android phone when your device wipes cache.
The first thing you'll need to do is to power off your phone and reboot it into Recovery Mode.
After being in the mode, you can use the "Volume Up/Down" key to select "Wipe Cache Partition".

Next, you have to press the Power button to confirm your option, and it will start to wipe the system caches.
When the wiping process ends, you can select "reboot system now" to restart the system and device.
Solution 10. Factory reset your phone
Factory resetting your phone will completely wipe off its data and restore it to the original factory settings. You can try this method when your phone keeps booting into recovery. To do it, you can:
Power down the device and put it into Recovery Mode.
The exact steps for booting into Recovery Mode rely on the phone's manufacturer (consulting your user manual).
From there, highlight "wipe data/factory reset" and start the task.

After the wipe, choose "Reboot System Now" from the main menu.
Further Reading:
Part 3: A 100% Working Solution to Fix Android Stuck on Boot Screen
Android Repair, one of the most efficient Android boot loop fix software, could be the number one tool for Android phone repair. Usually, many may tend to resolve Android issues with a couple of clicks on the phone. But in terms of system repair, it has proved futile in most cases. For most of us, a dedicated tool like Android repair is more popular.
Main highlights of Android Repair:
Fix Android boot loop effectively.
Resolve various scenarios like phone not turning on or off, Android system recovery 3e, Android phone bricked, and more.
Support various carriers, such as AT&T, Verizon, Orange, Vodafone, Sprint, T-Mobile, and so on.
Compatible with 1000+ Android models, including Samsung Galaxy S21/S20/S10/S9/S8/S7/S6/S5/S4, Galaxy Note 10/Note 9/Note 8/Note 7/Note 6/Note 5/Note 4, etc.
It won't uncover your privacy.

How to Fix Android boot loop with Android Repair?
Step 1. Pick "System Repair"
On your computer, install and run Android Repair. Next, click "System Repair" on the program screen and attach Samsung to your computer via a USB cable.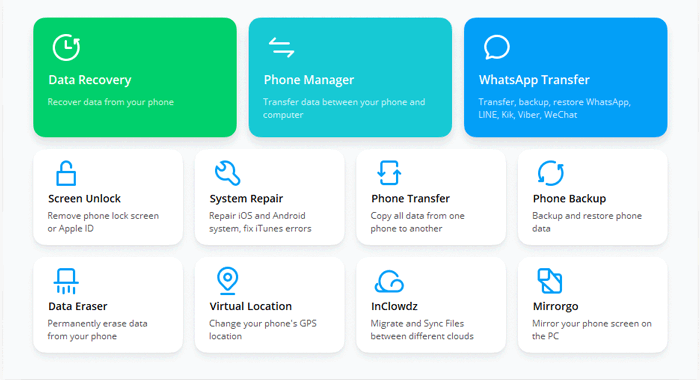 Step 2. Choose "Android Repair"
Choose "Android Repair" from the left panel. The utility will soon show you the Android problems it can fix. You can then browse it and click "Start".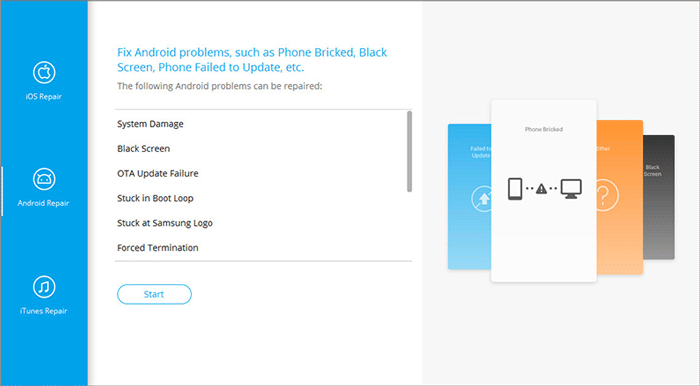 Step 3. Enter your device info
Input your device info in the incoming window and go for "Next" to continue.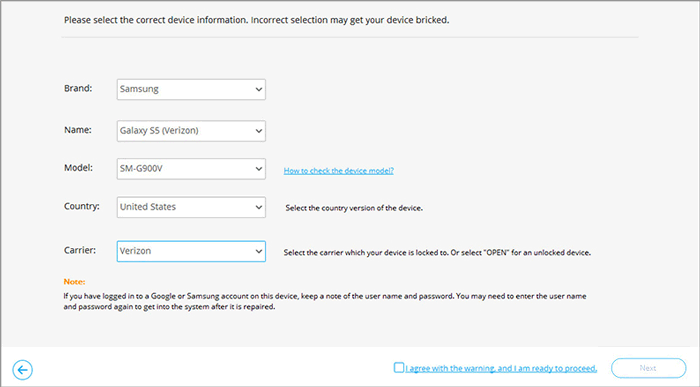 Step 4. Input 00000 and confirm it
Manually enter "000000" into the blank field and tap on "Confirm". Here, note that the Android Repair may erase data on your Android phone.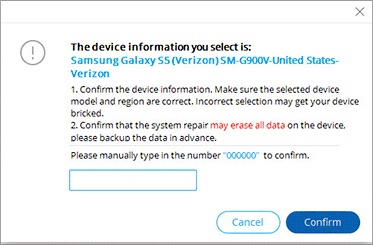 Step 5. Boot your device into the download mode
On a Samsung with a "Home" button, power off the device, hit the "Sprint", "Home", "Power", and "Volume Down" keys for 10 seconds or so. Release all and hold "Volume Up" to put your phone into download mode.

On the Samsung with no "Home", switch off the device, hit the "Power", "Bixby", and "Volume Down" buttons for around 10s, and then release all. Next, press "Volume Up".
Step 6. Download firmware
After the phone is in the mode, tap "Next" to download firmware for it.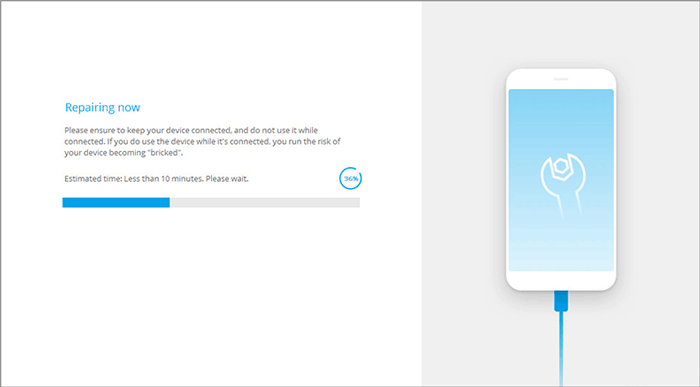 Step 7. Begin to repair your phone
At last, the program will begin to repair your phone system automatically.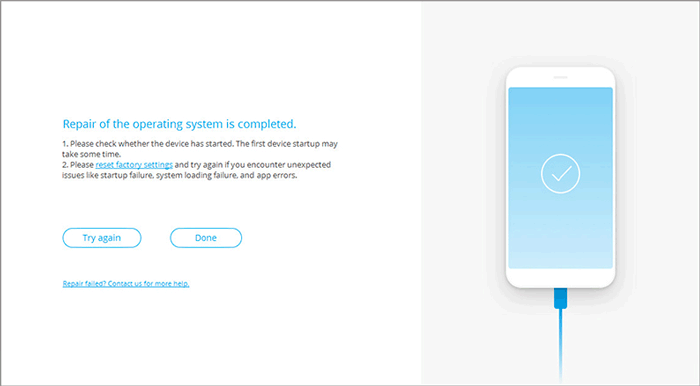 Last Words
OK, there you go! We covered causes for Android phone boot loop and the practical Android boot loop fixes in this page. Of all the methods mentioned above, Android Repair is the only one that can solve the problem with the highest successful rate. Finally, a note here, your Android device's OS is infected by a virus in rare cases, and you could turn to an antivirus app to scan for viruses.

Related Articles:
10 Best Android Phone Repair Software and Apps to Fix Android System Issues
iPhone Stuck in Boot Loop? 9 Ways to Fix It [2021 Latest]
Guide on How to Fix A Soft Bricked Android Phone
Android Phone Keeps Turning/Shutting off? You Can Now Fix It Like a Pro
How to Fix Android/RCA/Samsung Tablet White Screen of Death in Minutes?
[Up to Date] How to Wipe Android Phone Completely before Selling?