Phone SMS Transfer - Transfer SMS from Nokia to BlackBerry
Sending SMS messages now has become a part of people's daily life when they don't feel liking talking, or when they just quarreled with their parents or friends. It is also a euphemistic way to express their concern or care about someone or something. So if you update you Nokia phone to BlackBerry, there must be some text messages that you are reluctant to delete and hope to copy them to the new BlackBerry. This article is meant to show you how to transfer SMS from Nokia to BlackBerry effectively.
Before that, there is a general comparison between Nokia Lumia 920 and BlackBerry Q10 that may be of use for you.
Nokia Lumia 920:
-Software release: Windows Phone 8.1 with Lumia Cyan
-Design: Non-removable shell, Sculpted glass with Glance screen, Vibrating alerts, Voice commands, Word flow keyboard
-Display: 4.5'' with 332 PPI pixel density and super sensitive touch screen technology
-Size & weight: 130.3 mm x 70.8 mm x 10.7 mm (height x width x thickness), 185g
-Memory: 32GB for mass memory, 1 GB for RAM, 15 GB for free cloud storage
-Messaging features: Instant messaging, Multiple SMS deletion, List of recently used numbers, Audio messaging, Text messaging, Unified MMS/SMS editor, Automatic resizing of images for MMS, Distribution lists for messaging, Multimedia messaging, Conversational chat style SMS, Unified inbox for SMS and MMS, Concatenated SMS for long messages, Integrated text messaging and chat, Number screening for messaging, Text-to-speech message reader
BlackBerry Q10:
-Software release: BlackBerry 10 OS
-Design: QWERTY keypad and touch screen with intuitive gesture-based navigation
-Display: 3.1'' with 720 x 720 resolution, 330 PPI pixel density and 24-bit color depth
-Size & weight: 119.6 mm x 66.8 mm x 10.35 mm (height x width x thickness), 139g
-Memory: Removable micro SD memory card – slot under battery door (Up to 32 GB), 2 GB for RAM, 16GB Flash
-Messaging features: Pre-loaded apps for Text Messaging, Messages and with Voice Control for sending messages
Tool You'll Need to Transfer Nokia SMS to BlackBerry:
The Mobile Phone Data Transfer is the program playing a prominent role in transferring SMS from Nokia to BlackBerry or from BlackBerry to Nokia. Apart from SMS, data like contacts, music, videos, and photos are also transferrable between BlackBerry and Nokia. The most amazing part is that the program can support almost all devices running Android, iOS, Symbian, BlackBerry and Windows Phone.
Now you can have a try on this phone transfer program to transfer SMS from Nokia to BlackBerry or between other smart phones.
Full Guide to Sync Nokia SMS to BlackBerry in One Click
Step 1.Download and Launch the Nokia to BlackBerry Transfer Program
Link both of the Nokia and BlackBerry to the computer and run the phone transfer software after the installation.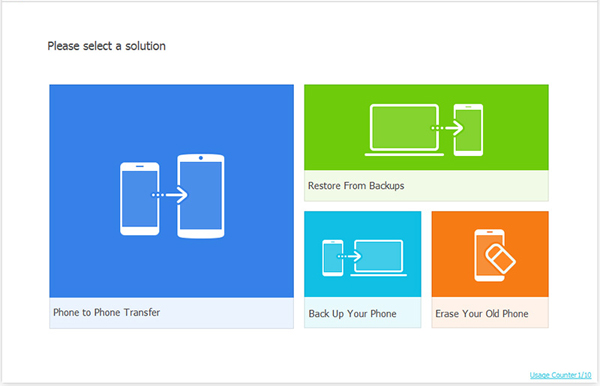 Step 2. Choose the Phone to Phone Transfer Mode
Then the program will show multiple modes for you to choose on the interface. Directly select the Phone to Phone Transfer feature and the software will start to detect your smart phones.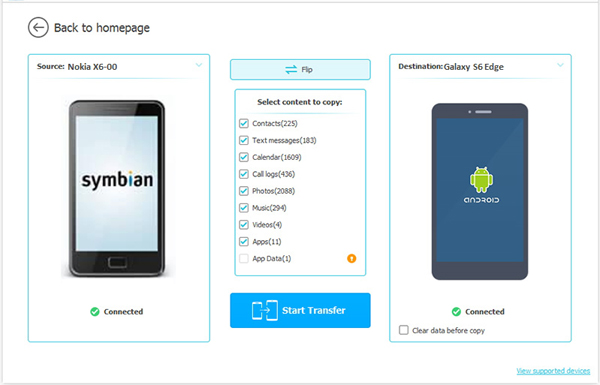 Step 3. Transfer SMS Messages from Nokia to BlackBerry
After the detection, your Nokia and BlackBerry will be in the positions of the source and destination areas respectively. Check their order to make sure they are in the right places. If not, you can exchange them by clicking the Flip button. Once you made the confirmation, you can tick Text Messages in the middle menu and click Start Copy to transfer SMS from Nokia to BlackBerry.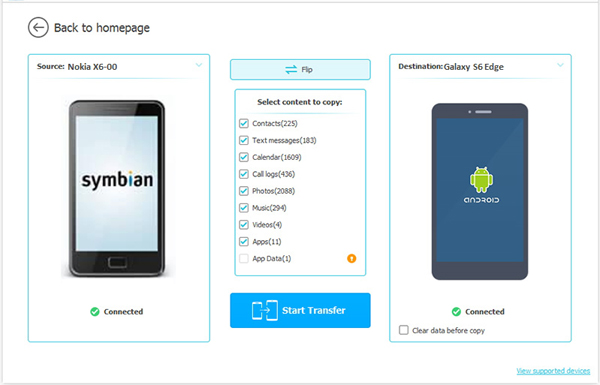 Note: Apart from the SMS messages, you can also sync other Nokia data such as contacts, music, photos and videos, etc. to BlackBerry with the same steps.