How to Transfer Music from iTunes to BlackBerry
"Well, Mother's Day is approaching, so I just planned to buy a new BlackBerry Passport for my mother as a gift on that day. I know she loves listening to music very much. Hence, I downloaded her favorite songs on my iPhone 6. By the time I get the BlackBerry, I'm going to import these songs to her cell phone so she can enjoy the music anytime. But the thing is I've no idea of how to transfer music from iPhone to BlackBerry. I guess you guys may have some good solutions. Thanks in advance if you could show me how to do it."
Smart phone is a pretty good gift for your loved ones. As the Mother's day is just around the corner, buying a smart phone for your mother is one of the best choices. These days, BlackBerry has become one of the most popular brands that grown-ups prefer to choose, so BlackBerry series smart phones would be great presents for mothers. To solve the problem brought up with by the user above, a few methods can be helpful. Most of users download songs on their iPhone by iTunes, so here we are about to teach you how to transfer music from iTunes to BlackBerry step by step. We'll divide the instruction into two parts. In the first part, we will show you a powerful third-party program to export songs from iTunes to the computer. Secondly, we'll introduce the freeware to transfer music from computer to the BlackBerry smart phone. It is absolutely easy-to-handle and time-saving. Now let's get started.
Part 1. How to Export iTunes Music to Computer
Part 2. How to Import Songs from PC to BlackBerry
Transfer Music from iTunes to Computer
There is no denying that iTunes can manage your iPhone music files, but here we'd like to introduce a more efficient way to transfer music from iTunes to computer. That is the MobiKin Assistant for iOS (Windows & Mac) software. Download and install the program on your computer and you can sync music with your computer quickly and easily.
Step 1. Lauch the program and link your iPhone to the computer via its USB cable. After the detection, the files on your iPhone will be displayed on the main interface.
Step 2. Choose the songs you want to sync and click "Export" to transfer them from iPhone to computer.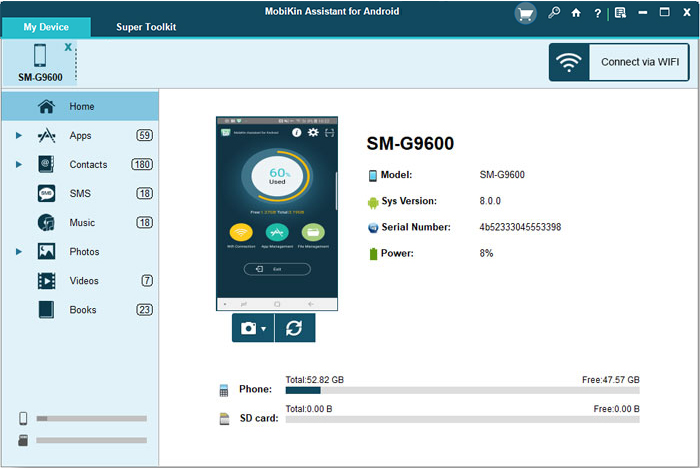 Note: Remember to install the iTunes on your computer.
Mac users can switch to the Mac version instead. You can follow the same steps of the Windows version.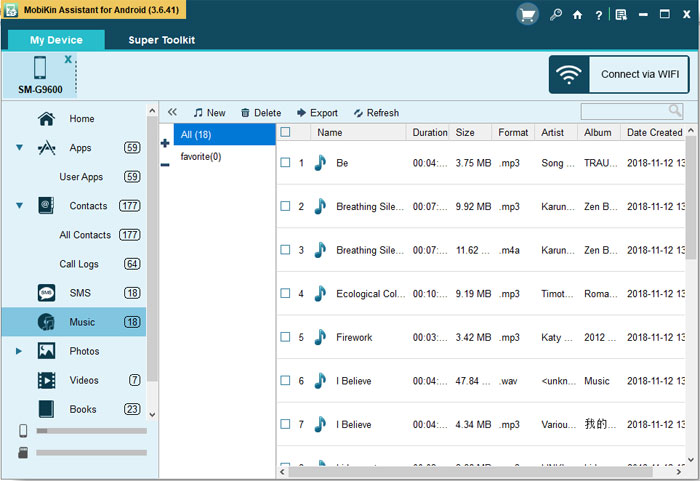 Import Music from Computer to BlackBerry
When you accomplish to transfer music from iTunes to computer, you can import the songs from the computer to your BlackBerry then.
The tool you may need here: BlackBerry Media Sync.
BlackBerry Media Sync is a component of BlackBerry Desktop Software 6.0(developed by BlackBerry Company). It makes syncing your desktop music with your BlackBerry smart phone or tablet quick and easy. You can download the software on its official website and follow the instructions in the program.
With BlackBerry Media Sync, you can:
-Sync playlist updates from your desktop to your device
-Choose a playlist or get a random selection of songs
-Remotely set up music downloads from your desktop library; they will initiate when you return to your home Wi-Fi or connect via USB
-Create and edit playlists that will sync back with your computer
By now, you have learned the tricks to transfer music from iTunes to BlackBerry perfectly.
Related Articles:
5 Widely-used Methods to Transfer Photos from Mac to Samsung Galaxy Quickly
vivo to vivo Data Transfer: 4 Ways to Copy Data from vivo to vivo
Huawei to Mac Transfer - 5 Ways to Transfer Files from Huawei to Mac