5 Popular Ways to Change GPS Location on Android [Ultimate Guide]
When you use a dating app or play Pokemon GO, you're likely to find ways to escape from unknowingly regulatory oversight. Advances in technology have allowed you to successfully mock your GPS location with minimal possible adverse effects. Well, this quick tutorial aims to tell you how to change GPS location on Android efficiently. Just check it out and get the most desirable methods to mask your whereabouts while obtaining geo-restricted content afterward.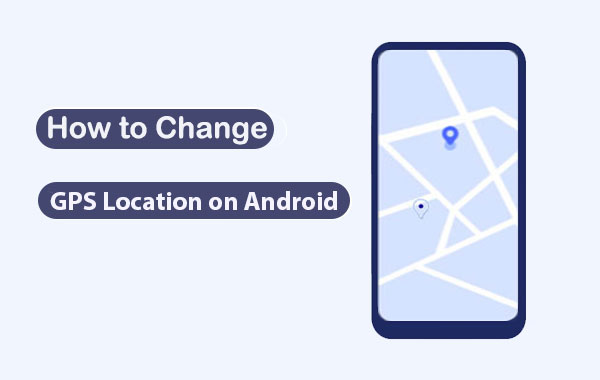 Part 1: Why Would You Change Your Android Location?
There are multiple reasons why you'd like to fake GPS locations on Android. And in the following situations, you may need to change your real location to get a better and safer experience:
Protect your online privacy.
Access remote work when traveling.
Bypass geo-based blocks.
Obtain the most recent Android updates.
Access better deals by hiding the current location.
Enjoy the latest TV shows or movies.
Get more matches on some dating apps.
Enhance GPS signals.
Since it's necessary to change GPS location on Android to get better benefits, how do I change my GPS location on Android? To settle the matter, we shall sketch out the possible solutions for you.
Learn More:
Part 2: How to Change GPS Location on Android with Location Changer
Are you looking for a GPS spoofing program that is almost undetectable in any situation? A robust utility like Virtual Location Tool never lets you down. With the ongoing cutting-edge tech, it can intelligently change your real location to anywhere in the world with just a couple of clicks from your PC/Mac.
Why choose Virtual Location Tool?
Easily change GPS location on Android without root access.
Let you manage (select or delete) the old locations you visited before.
Customize routes, simulate routes, or even create routes.
Work well for any geo-based applications like AR games, social platforms, and more.
Compatible with PCs and Macs.
Apply to almost all Android and iOS devices, which include Samsung, Xiaomi, Google, Huawei, Motorola, OPPO, Vivo, LG, iPhones, iPads, iPod touch, etc.
It won't disclose your privacy.
How to change your GPS location on Android with Virtual Location Tool?
Step 1. Download and install the Virtual Location Tool on a computer. Tap "Get Started" after you launch it on the PC/Mac.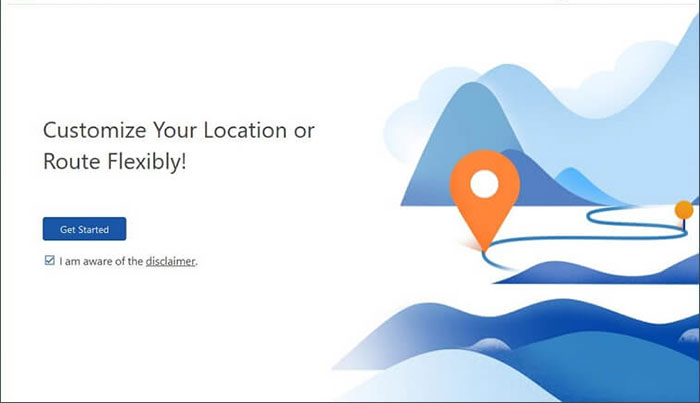 Step 2. Link your Android phone to this computer via USB. The tool will soon recognize the device. After that, please click "Teleport Mode" and type in your wanted address in the search bar. Here, you have the freedom to input GPS coordinates to locate a specific location.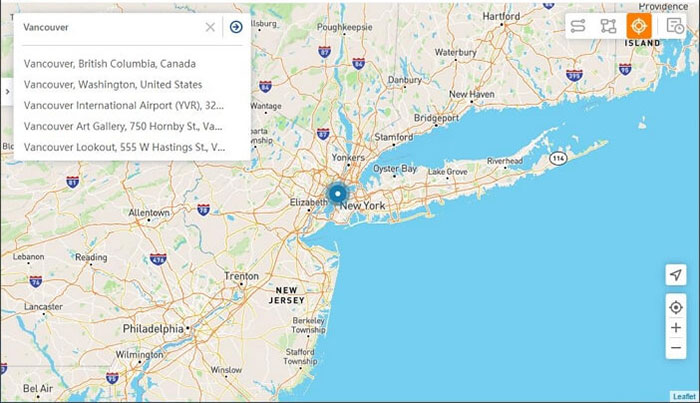 Step 3. The pointer will automatically move to the corresponding location on the map according to the place you specify. Finally, click "Move" to set a virtual GPS location. That's it!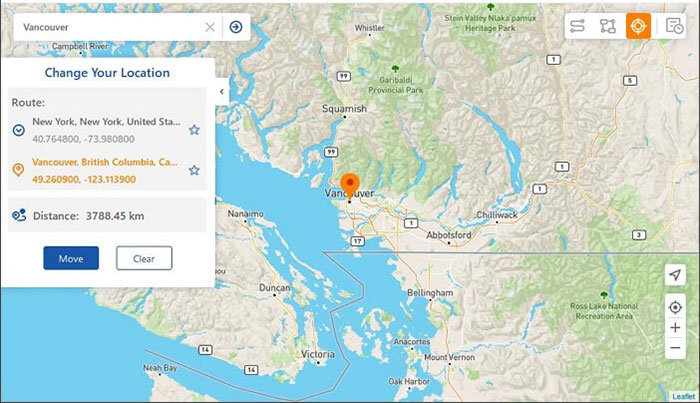 Part 3: How to Change Location on Android Phone by VPNs
Some apps are inclined to be subject to geo-restrictions. But reliable VPNs are an exception. With the tools like NordVPN and ExpressVPN, you can change your IP addresses instantly, keep Android data safe, and hide online activities. Yet, there are also some drawbacks to doing so. For instance, these apps offer poor custom support and are sort of expensive.
Change location on Android phone using NordVPN:
Download NordVPN on your Android phone.
Get it installed and open it.
Log in to the app and connect to a server in another country you desire.

After the successful connection, your IP address will be changed.
Change the IP address on Android with ExpressVPN:
Get ExpressVPN from Play Store.
Install the app and launch it.
Sign up on the app and verify via email.
Log into the tool and tap "OK" when "Connection Request" appears.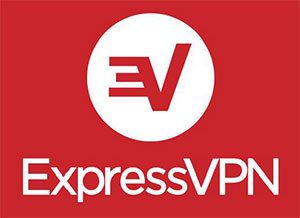 Click to See:
Part 4: How to Change GPS Location on Android via Fake GPS Apps
Some fake GPS apps like Fake GPS Location Spoofer and Fake GPS Joystick & Routes Go have free editions. They help mask your location better on a rooted Android phone. (Is my phone rooted?) Next, we will discuss how to use these Android apps to change location on Android with ease.
Use Fake GPS Location Spoofer to change GPS location on Android:
Install Fake GPS Location Spoofer on Android.
Run the app and accept the initial prompt.
Choose While using the app on the first prompt and tap "ACCEPT" when the advertising message appears.
Tap "OK" > "Enable" > "Developer Settings".
Go to "Select Mock Location" > "Fake GPS Free".
Search for the location you wish to fake on your Android phone.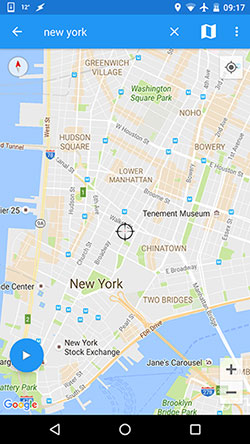 To check if your Android GPS location has been changed, please quit the app and open Google Maps or another location spoofer. What's more, you can press the "Stop" button on the screen if you want to get your real location.
Use Fake GPS Joystick & Routes Go to fake location on Android:
Get Fake GPS Joystick & Routes Go from Google Play.
Install the app, start it and go to "Settings" > "Location".
Ensure to change "Location Mode" to "GPS Only".
Go to "Settings" menu > "Developer" options.
Proceed to "Set Mock Location App" > "Fake GPS".
Open "GPS GO Joystick" and find a specific location.

Once determined, click on "Play".
Part 5: FAQs for GPS Location on Android
Q1. How to turn emergency location services on or off on Android?
On your Android phone, tap "Settings > "Location".
Go to "Advanced" > enable or disable "Emergency Location Service".
Q2. Can Fake GPS location be detected?
Your fake GPS location might be detectable in some cases. So, when you change the location on some geo-based app, please don't take bigger location jumps frequently. And it's also a good idea to pick a trustworthy spoofing program like Virtual Location Tool.
Q3. Does Airplane Mode disable Android location?
The Airplane mode only disconnects your Android phone from network services, changing nothing about your location.
Q4. How to share location from iPhone to Android?
Open a message thread by selecting the contact; then choose the info icon, followed by "Share My Location".
Alternatively, open the Google Maps app and sign in to your account; then go for "Menu" > "Location sharing" > "Get Started".
The End
OK, we just guided you through several methods to change GPS location on Android. Finally, we hope the following unbiased conclusion would do you a big favor in picking an appropriate product:
Virtual Location Tool is the only program that can easily and securely take you into any part of the world and let you have no worries from then on.
VPNs don't enable you to change to any specific address and sometimes don't deserve their price tags, let alone their security.
Most fake GPS apps didn't earn a high score in Google Play. That's in part because they tend to get criticized for a number of reasons, such as new updates not being timely, unstable performance, or even failure in execution.
Related Articles:
Best 10 Android Desktop Managers to Manage Your Android Devices on PC/Mac in 2023
3 Ways to Track Text Messages from Another Phone
Where Are Contacts Stored on Android Phones & How to Export Them?
Must Change iPhone Passcode: Fix Passcode Requirement with 7 Solutions
How to Fake Location on Twitter in 2022 [4 Solutions & FAQs]
Top 9 Android Flashing Software for PC/Mac You Wish You'd Known Sooner