2 Simple Ways to Wipe Android Data Remotely
Most Android gadgets contain useful, important and personal info which could be at substantial risk if the phone gets lost or stolen. Only one thing is worse than losing your Android smartphone, and that is losing it when you have a lot of personal and business stuff on it. If the thought of anybody else accessing your email, applications as well as personal documents worries you, we have two viable solutions for you where you can wipe Android data remotely. With such technique, you can delete your entire personal data from the device forcing it to reset to its default factory settings.
Way 1: Wipe Android Data Remotely Using Android Device Manager
Apart from wiping your Android data remotely, you can also make the Android device to lock, ring or even access its accurate location. The process of erasing data remotely via Android Device Manager is straightforward since you only need to have an Android Device Manager account. Afterward, you can sync your Android gadget with Google and other services. Therefore, when you lose your device, log in to the Android Device Manager account to ring your device or have its approximate location. You can then opt to wipe it remotely after finding out that it has been lost.
You should note that your entire documents and data will be lost because the program sets your lost device to default factory settings mode. In simple terms, the Android Device Manager is seen as a virtual smartphone where users control their gadgets with limited functionalities. Here are the steps you need to follow when setting up ADM (Android Device Manager).
Step One: Set up Android Device Manager
- From your Android phone, go to settings module.
- Here, go to "personal" settings and click on Google.
- Go to services and then hit "security".
- Now go to "Android Device Manager" tab and enable "Remotely locate this device". Also, make sure that the "allow remote lock and erase" tab is enabled.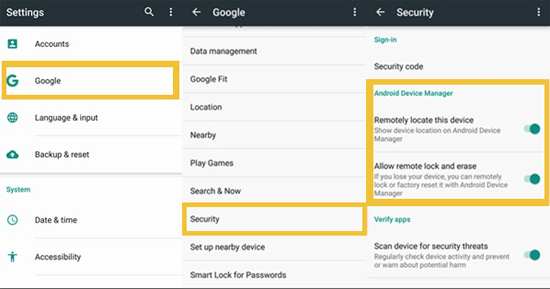 Step Two: Enable Location Mode
For the Android Device Manager to work correctly, you need to enable the location mode by following the steps outlined below:
- Go to your device's settings mode and look for "personal".
- Look for the location tab.
- Toggle the location mode to ON from here.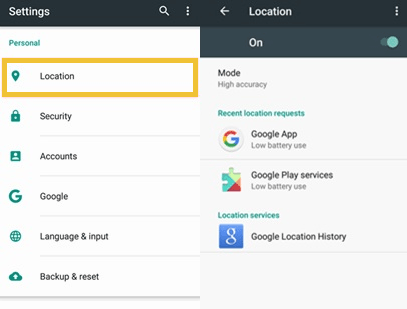 Step Three: Use Android Device Manager to Wipe Android Remotely
- Go to the official web page (www.Android.com/devicemanager)
- Login using your Google Account
- Check whether your phone is showing up or not
If you can't locate your device, you may need to check whether the following criteria are met:
> You are logged-in to your Google Account
> Location mode on your Android device is ON
> The Android Device Manager should be toggled ON in Google settings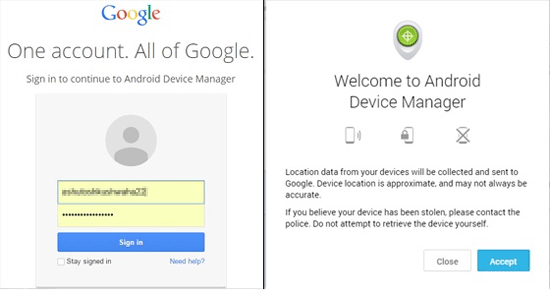 When your phone is stolen or lost, follow these steps to wipe out data remotely.
- Go to ADM's official site.
- Login using your Google account.
- Search for the actual phone that has been lost or stolen. You might not locate your device here if you hadn't synced it with Android Device Manager.
- Select your device if you find it. After selecting it, you will have the ability to see its actual location on the top left corner menu that displays location details. Also, you will find its distance from your location as well as its last time of detection.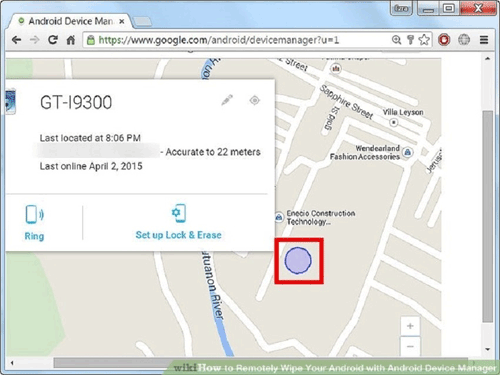 - After finding the phone's exact location, you can delete its data by clicking on "wipe your Android remotely" button.
- On the confirmation prompt that comes up, click on "agree". With this action, the data on your phone is completely wiped.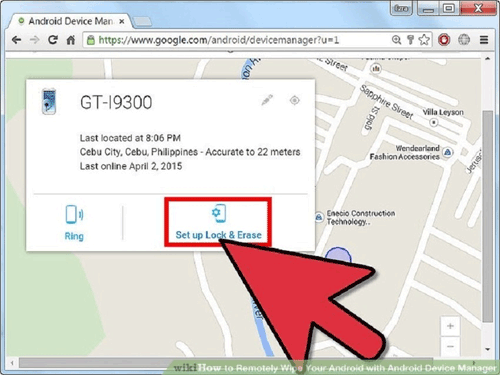 With this app, you can delete or erase all data in your device after it gets lost or stolen.
People Also Read:
How to Delete Skype History on Android
How to Fully Wipe out Android SIM Card
Way 2: Wipe Android Data Remotely Using Find My Phone Android
The first thing is installing an application known as "Find My Phone" in your devices as it's the one used to erase data on your phone. The app can be found in the Google Play Store. It is essential to have the application installed on your phone because it's used for better accuracy and location settings. However, your phone should meet the following conditions when using this mode:
- The phone must be connected to an active internet connection.
- The device can either be connected to a Wi-Fi or mobile network connection.
- The phone must be linked to a Google Account, that it, your phone should be signed into your Google account from the phone that needs erasing.
Follow the following steps to find and erase data on your device:
- Sign in to your Google Account.
- Choose the correct device from the list if you have several devices linked to your Google Account.
- On the following page, you will see the following options; ring, secure device and erase the device.
- Click "ERASE DEVICE" to delete data on your lost or stolen phone.
- In order to confirm the action, you may be required to hit the "ERASE DEVICE" button again.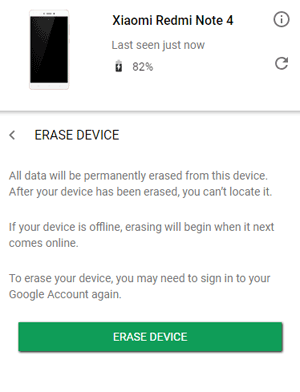 With this, the data will be deleted entirely unless it has been backed up in another location. After clicking the erase device option, it means that a total factory reset is performed in your phone. All personal data and files stored in the internal storage of the phone are erased. These include applications, contacts, and files. However, the files in your SD card will not be deleted.
Bonus: How to Wipe Android Data if You Have Your Android Phone?
The above two ways are how we completely erase all data from our Android phone which is either lost or stolen. If you still have your Android phone and want to erase everything on it, the method can be much easier. All what you need is the Android Data Cleaner, which can recognize and delete all data and files from all brands of Android devices like Motorola, HTC, LG, Samsung, Sony and so on. The erasing performed by the Android Data Cleaner is 100% permanent and no one can recover the deleted data back. It is very suitable for those who want to resell or donate their devices.
You can download the Android Data Cleaner via the following button and then go through the steps below to begin the process of erasing data on your Android device.
Step 1. Install and launch Android Data Cleaner
After you have installed and launched the Android Data Cleaner, connect the Android device to your computer with its USB cable. Install the MobileGo connector on your device as requested and then you will see an interface like this.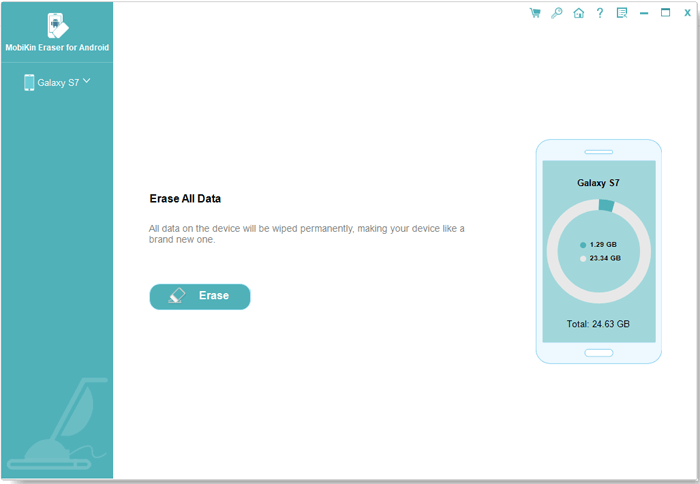 Step 2. Choose your wanted cleaning mode
Then select the cleaning mode that is suitable for your situation. Here, you should simply select the Erase All Data mode to go on.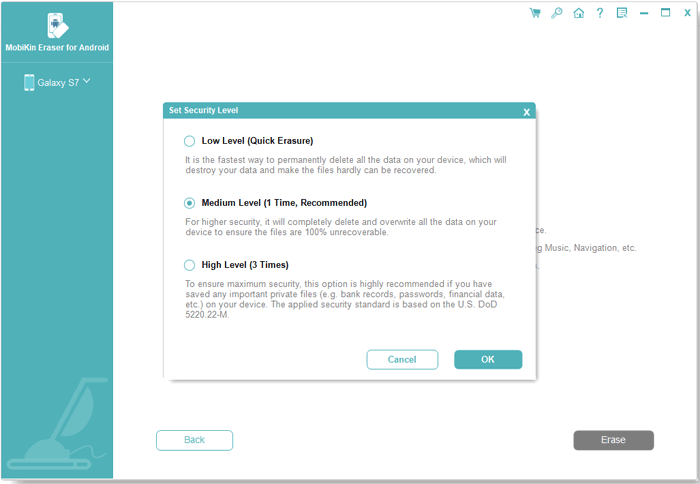 Step 3. Start to wipe Android data
In the new pop-up window, enter the "delete" word on the box to confirm your action and then click the Erase Now button to wipe everything from your Android device.
Related Articles:
How to Erase Call History on iPhone Permanently
How to Wipe iPhone Data before Selling