How to Clone Android Phone to Another with 6 Easy & Quick Methods
When you buy a new Android phone, you can't wait to clone all your important data, including contacts, photos, apps, etc., from your old Android phone to the new Android phone. In the past, this seemed to be a very troublesome thing, but now it is no longer a tedious job. By using phone clone apps and software, you can easily transfer data from one device to another.
Next, we will introduce you in detail 6 different, simple and effective ways to clone Android phones. You don't need to hesitate, read this guide, cloning an Android phone will not be too much trouble.

Method 1: How to Clone an Android Phone with Transfer for Mobile
If you want a fast and easy way to clone Android phone to replacement, you are in the right section. Here in this part, a fantastic Android cloning software, MobiKin Transfer for Mobile (with its Mac version), is introduced, which allows you to complete phone copy for Android without effort and no data loss risks at all.
Transfer for Mobile - The Most Reliable Android Cloning Software
1:1 clone an Android phone, guarantees no data loss.
Copy photos, music, videos, contacts, text messages and call logs from one Android phone to another.
In addition to Android to Android transfer, it also supports iPhone to Android transfer, Android to iPhone and iPhone to iPhone transfer.
Almost all iOS and Android devices can be compatible with this phone transfer software, including Samsung, HUAWEI, HTC, LG, Motorola, Sony, etc, and all models of iPhone/iPad, such as iPhone 14/13/12/11/X/8/7, iPad Pro/Air/mini/4, etc.
Let's take a look at how to clone an Android phone by using Transfer for Mobile.
Step 1: Launch this Android cloning software
Download, install and run the Transfer for Mobile program on your computer. Its primary interface will appear like the following picture. At the same time, you need to connect your two Android phones to the computer with USB.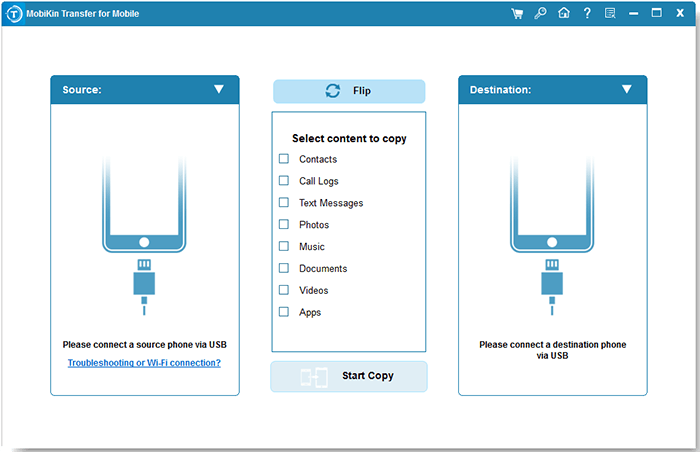 Step 2: Connect the two Android phones to computer
Second, connect both of your Android phones to the computer via USB cables. The program will start to detect the devices and display them in the program as two panels in the left and right.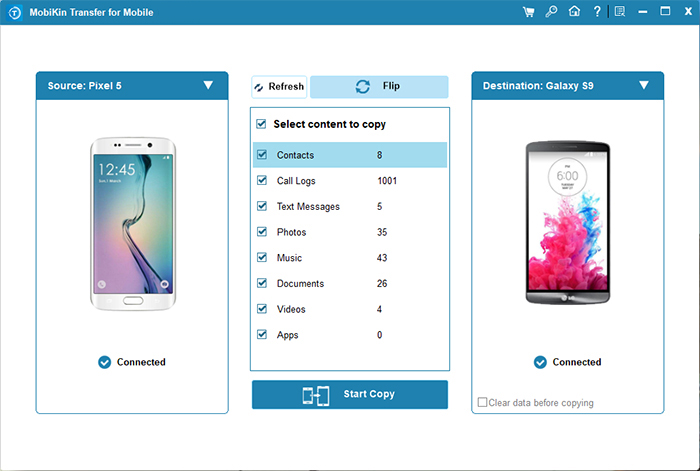 Step 3: Start to clone Android phone to another
Now, you can tick the data types you want to clone and click the "Start Copy" button to start transferring data from old Android to new Android.
Method 2: How to Clone a Phone with Android via Bluetooth
Android phone cloning can also be achieved using Bluetooth. It allows two mobile phones to be connected through wireless technology, and then data can be transferred between them freely without the help of a data cable. However, the data transferring speed of using Bluetooth is very slow, and the completion of the entire process may take a lot of time. Therefore, it is not suitable for you to copy large amounts of data.
Go to "Settings" or pull down the phone screen to turn on Bluetooth on both Android phones. Make sure the target Android phone is set in discoverable mode.
On your old Android phone, choose the new Android phone as the target device and pair them up by entering the key that shows up on both devices.
Once the two phones are paired successfully, you can go to "Files Manager" on your old Android phone, select the files you want to clone and hit the "Menu" > "Share" > "Bluetooth" button.
A request box will appear in your target Android device. Click the "Accpet" button to start the transferring process.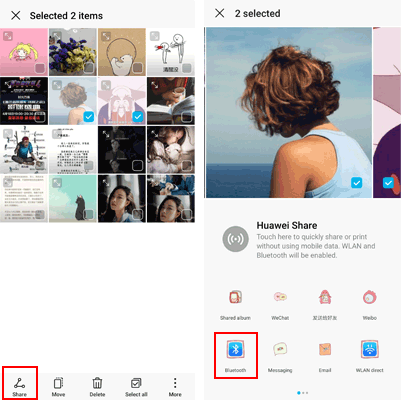 You may be interested in:
Method 3: How to Clone Android Phone with CLONEit
CLONEit is a well-known application that can help you clone Android phones easily. This clone phone app can create a backup for your Android phone, and can transfer 12 different types of data from one device to another without relying on any cables or waiting for a long time.
Download the CLONEit app on both Android devices and turn on their WiFi.
Mark the source Android device as "Sender" and the target device as a "Receiver".

In this way, the Receiver will automatically start looking for the Sender. You can also check the connection by viewing Wi-Fi hotspot created by the sender.
Click "OK" to confirm the connection request.
Once the connection is enabled, you can go to the source device to select the items you want to transfer, and click on the "Start" button to initiate the Android clone phones process.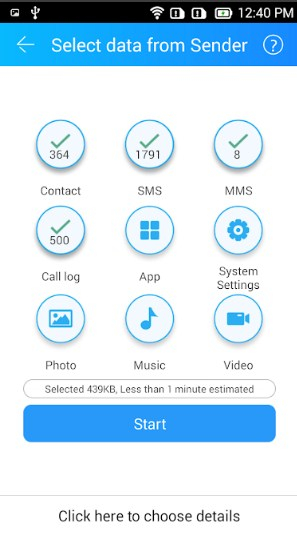 Method 4: How to Clone Android Phone to Another via Google Drive
Google Drive is one of the common methods people use to back up and restore data on Android devices. Of course we can use this feature to migrate Android phones. However, Google Drive only provides 15GB of free storage space. If your files are larger than 15GB, then you need to pay additional fees to get more storage space.
On your old Android phone, go to its "Settings" > "Backup & Restore". Turn on the option to back up your data.

After the backup process is finished, turn to your new Android phone and initiate its setup. Log in to the same Google account that the backup is stored and then you can get access to the backup files.
Choose the latest backup, select the data you want to copy to the new device, and thenn tap the "Restore" button to clone the files from the old Android phone to the new one.
Check If You Need:
Method 5: How to Clone an Android Phone with SHAREit
SHAREit is a very popular clone phone app designed to share data between two different devices. Its users are all over the world. The application can quickly realize the wireless transmission of data, and you can clone your Android phone directly using WiFi without the help of Bluetooth or Internet connection.
Firstly, install the SHAREit app on both the Android devices.
Launch the App on the source device and click on the "Send" option.
Select the data you want to transfer and click the "Next" button.
Put the target Android device in close proximity to the sender and run the SHAREit app. Tap on "Receive" to mark it as receiver.
The receiving device will detect the sending device. Select the WiFi hotspot that is associated with the sending device to build a secure connection.
Once the connection is made, you can choose the receiving device on the source phone, which will begin the phone cloning process.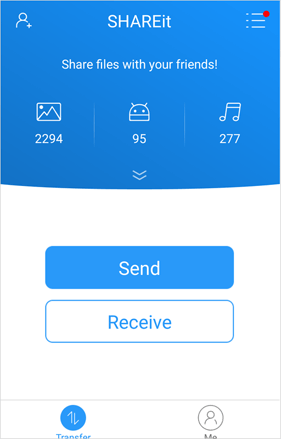 Method 6: How to Clone Android Phone to Another via Phone Clone
Phone Clone is an application developed by Huawei that can wirelessly transfer data from one Android device to another. In this case, you don't need to set up multiple Android accounts for each Android device you buy. Phone Clone has a friendly interface that brings users a quick and smooth cloning process. Please follow the steps below:
Download and install the Phone Clone app on your two Android phones.
Run the app on the new Android phone and select the "New Phone" option to mark it as a receiver. This will turn it into a WiFi hotspot.

Go to the source Android phone, run the Phone Clone app and select the "Old Phone" option to mark it as a sender. Then, it will start to find the available WiFi networks.
Connect the source Android to the hotspot created by the receiving device and verify the password.
Once the connection is established, you can select the data from the source device and tap on the "Send" button to transfer them to the target device wirelessly.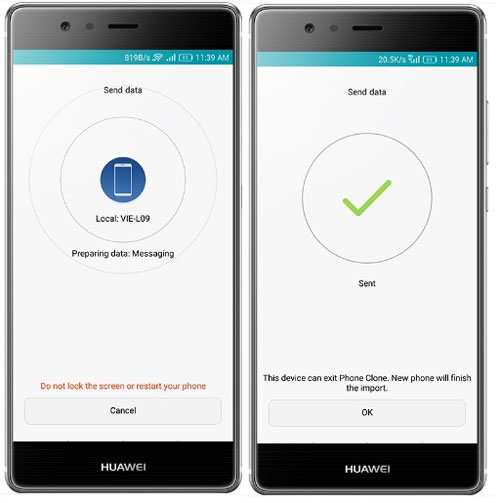 The Bottom Line
Now that you have known six different ways to clone Android phones, I believe you have a deeper understanding of copying the entire data from one phone to another. I personally recommend using MobiKin Transfer for Mobile, not only because it can clone an Android phone to another one with one click, but it also guarantees that no data will be lost. It can definitely become the ideal assistant for cloning Android or iOS devices. So please try it now.
Related Articles
Top 5 Ways to Transfer WhatsApp from Old Samsung to New Samsung
How to Transfer Files from Android to iPad Quickly in 2023?
SHAREit Review: Features, How-tos, Price, and the Best Alternative
10 Best SHAREit Alternative Software & Apps You'd Better Know
Transfer Contacts from iPad to iPhone (4 Solutions)