What to Do If the Computer Does Not Recognize Your Android Phone
Android smart phone appeals to a majority of consumers throughout the world owing to its features. Android operating system has become one of the most promising mobile operating systems in the market. If you got an Android cell phone, you may download lots of useful files on it. You may come across the situation that your computer doesn't recognize your Android phone when you connect it to your PC from time to time. In this case, you can't read any data on your computer. Various reasons are possible to lead to this such as a hardware error on your Android phone, computer or the USB cable; the settings being wrong also result in this non-recognition of your PC. It can be really puzzling especially when you need to see the important documents on your Android phone. What can you do when your computer fails to identify your Android cell phone? Now you've come to the right spot. In this guide, you will get the trick to fix the problem when you encounter the fortunate trouble happened to your Android phone. Keep reading to learn the skills to solve it.
What to Do If the PC Does Not Identify Android Phone
Step 1. Check or Update Your Computer
First, enter Start < right-click Computer< Properties on your computer. Second, Click Device Manager and then click your computer name at the top of the window. Third, click Scan for hardware changes on the Action menu. Then your Phone should be listed under "Portable Devices." and you can double click the device and view the General tab. Finally, check the device status to confirm whether the device is working correctly or not.
If your computer system is too old, it also won't identify your Android device. Then you can update your system.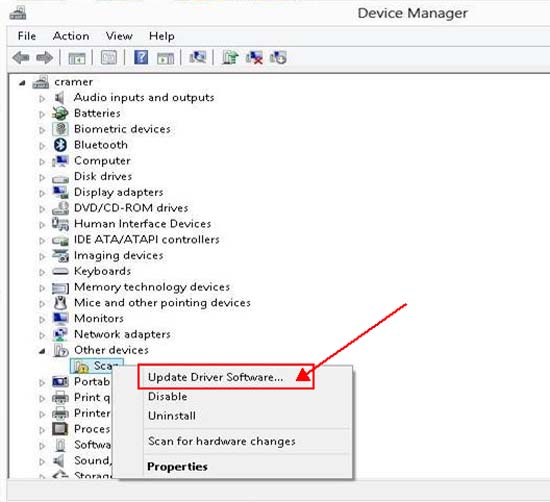 Step 2. Check Your Android Cell Phone Set
Connect your Android phone to the computer. If the computer doesn't show the USB icon, it means it fails to detect your Android phone. You can enter the control panel of your phone, and then go to the administrative tools and services. If it still has no reaction, click the Properties. Then set the "Startup Type" to start the service and click "OK". After that, plug the USB cable between your Android phone and PC.
Step 3. Enable USB Debugging
It is another way to make your Android phone be recognized by the computer. First, you need to download the MobiKin Android Assistant Then launch the program to enable the USB debugging. Follow the steps below:
1) For Android 2.3 or earlier: Enter "Settings" < Click "Applications" < Click "Development" < Check "USB debugging".
2) For Android 3.0 to 4.1: Enter "Settings" < Click "Developer options" < Check "USB debugging".
3) For Android 4.2 or newer: Enter "Settings" < Click "About Phone" < Tap "Build number" for several times until getting a note "You are under developer mode" < Back to "Settings" < Click "Developer options" < Check "USB debugging".
After that, your computer will recognize your Android phone smoothly.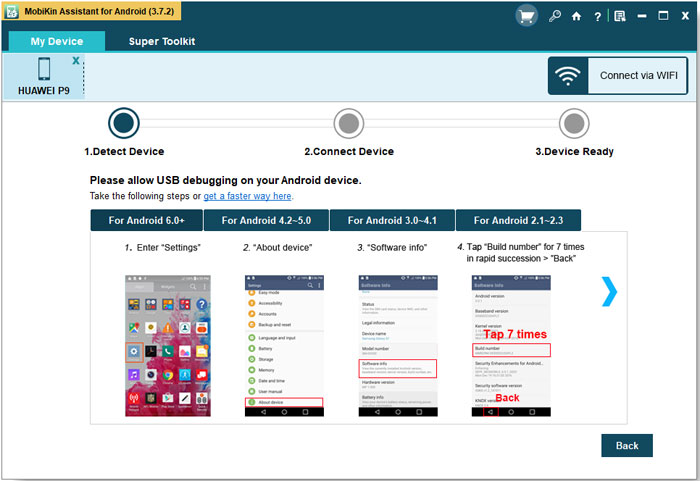 Note: The software mentioned in the third step not only has the USB debugging function, but also it allows you to transfer the data on your Android phone to the computer as backup. If you are interested in it, you can download a free trial version to have a try.
Related Articles
Tips to Transfer Text Messages from Android to Computer
How to Manage Motorola Cell Phone Data with Motorola PC Suite Alternative
How to Transfer Contacts from Android to Computer