Tips and Tricks to Speed Up Android Cell Phone
There is no doubt that Android operating system is one of the most practical and useful mobile phone systems in the market. It brings a lot of convenience to users such as the flexibility and the customized features. Users who are not good at technology can handle an Android phone and become sophisticated at using it when they are taught the basic functions of it.
But from low-end to high-end Android smart phone, it can't avoid a situation from happening. That is when you use it for a long time, the Android phone becomes slower and slower. A lot of factors can affect this such as too many apps and widgets are installed in the Android phone; when you use the cellular service, the caches will occupy the memory of it; the low version of Android operating system also leads to the slowness of you Android cell phone. It really freaks you out when your Android device is stuck. How to speed up an Android cell phone is the top priority now.
So in this page, we will show you some easy-to-do tips and tricks to help you clean and speed up your Android device so that you can have a better experience when using it. After that, you will find your cell phone is as fast as a new one. Now let's begin.
Tips and Tricks to Speed Up Android Smart Phone
We will show you some tips to speed up your Android cell phone, you can make your device respond faster after you follow the steps below.
1. Update the Android Version
You can speed up your Android cell phone by updating the Android firmware version. As we know the firmware can fix some bugs of the device, so if you update it regularly, it will keep your device functioning well and speed up your Android phone. You can update the firmware in these steps. Enter "Settings" > "About Phone" > "Firmware Update".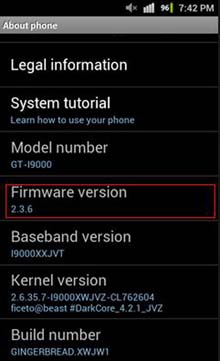 2. Back Up and Reset Your Android Phone
Resetting erases and wipe out everything on Android and brings your Android phone back to its original, that is to say your Android cell phone becomes as new as you bought it once. It can temporarily speed up your Android phone because as you use it again, it will lag as it used to do. But you have to back the data up before you take the resetting steps in case you miss the important ones.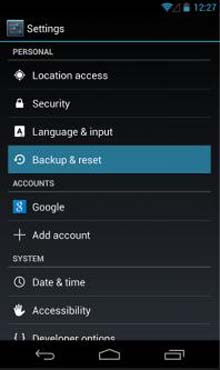 Note: If you want to back up your Android data more efficiently, you can click here to know the method to manage that with MobiKin Assistant for Android.
A detailed video tutorial to show you how to backup Android data with this powerful tool:
Can't Miss:
Tips to Transfer Text Messages from Android to Computer
How to Transfer Contacts from Android to Computer
How to Recover Deleted Contacts from Android on PC/Mac
3. Check the Memory Space
You can see your internal memory space in the settings. Check about it and move your media data such as music, photos, videos, audiobooks and so on to the SD card. This way can also speed up your Android cell phone.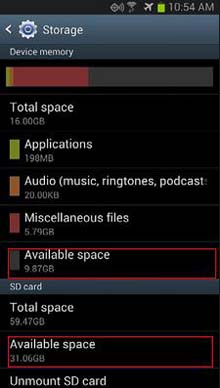 4. Uninstall Useless Android Apps
Too many Android apps occupy the memory space as well as to slow down the speed of the Android phone especially those useless ones, so you can uninstall the useless to speed up the device.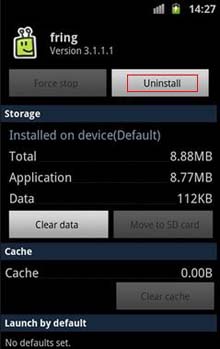 5. Clear Data like Junk, Hidden, Crash, etc. Files on Android
You know that the more data be saved on your phone's internal memory, the slower your device will be running. However, with the using of your Android phone or tablet, it is inevitable that lots of unnecessary data like junk files, crash logs, cookies, searching history, etc. is generated on your portable device. So clearing these files from your Android can greatly optimize your Android's performance. Here is the top 6 Android cleaning apps for your reference, and if you wish to find a full-functional data cleaning or erasing software for Android, please don't hesitate to take a free trial on the best Android Data Cleaner program. With it, you can greatly and easly clean all private data on Android as you like, and it also allows you to permanently wipe anything on Android without hassle.
Related Articles
How to Clear Cache Files on Android
How to Clear Android Temp Files Effectively