16 Tips & Tricks to Speed Up Android Phone [Definitive Guide]
The longer the Android system is used, the more inefficient it will run, which is universally acknowledged. However, it looks great for use when you get the device; the spanning of time always greatly adds load to the performance of the OS. To enhance the sense of user experience, you may want to improve the speed of Android without delay. While simply deleting some mobile data can have some effect, many people may wonder how to speed up Android phone efficiently.
Well, today, we will let you know the 16 methods to get your Android phone up and running. Let's cut to the chase now.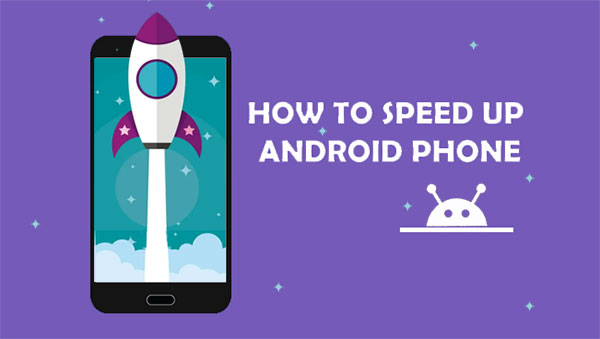 Part 1: Speed Up Your Android Smartphone in 15 Hot Tips
Tip 1: Restart Your Phone
If an Android phone runs for a long time, it will produce a lot of redundant programs and cache files, which leads to slow operation efficiency. Restarting the device can clean up junk files, free up memory, restore the system to the initial situation and improve the speed of mobile phone.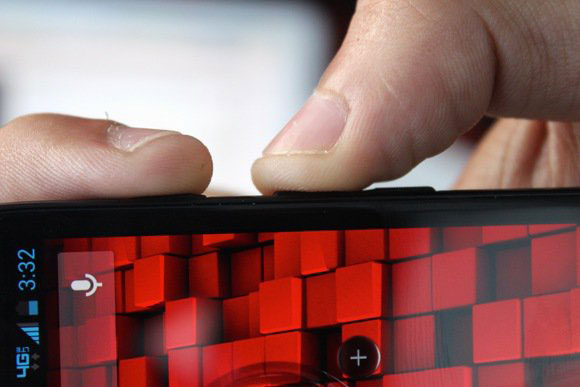 You May Want to Know:
Tip 2: Keep Home Screen Organized
To some extent, the performance of Android phones is affected by some applications on the screen. In particular, some memory guzzlers occupy the capacity. Therefore, speeding up Android phones can be achieved by removing some content from the Home screen, such as services and programs not included in the system.
Tip 3: Free Up Storage Space
As you can see in the internal memory space from the phone's Settings, tons of media files such as music, pictures, videos, audiobooks, etc., put a heavy load on the phone. So, you can move Android files to an SD card or simply delete some of them as per your needs.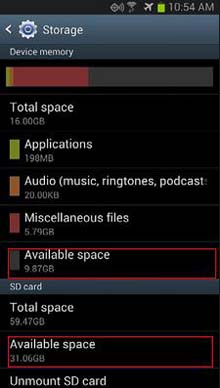 Tip 4: Check for App Updates
How can I speed up my Android phone by checking apps for Updates?
Go to the Google Play Store.
Click the profile sign from the top right.
Hit "Manage apps & devices".
Update app(s) under "Updates available".
Tip 5: Clear Cached App Data
During the use of Android phones, there will be a lot of unnecessary data, such as junk files, crash logs, search history, etc. They will exist in memory in the form of caches. Since some apps you don't use quite often, removing them (from Android Settings) is a viable way to provide mobile phone performance. (Here are some tips on how to clear app cache and data).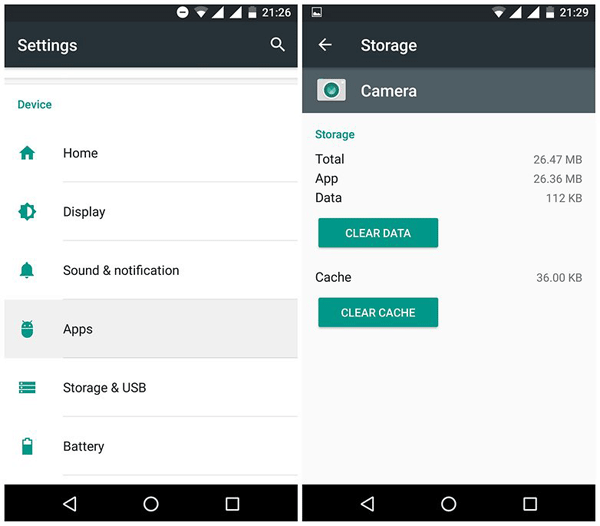 Tip 6: Close/Uninstall Unused Apps
Some apps will run in the background unknowingly, though they may be dormant by default. But some niche ones, such as less-known anti-virus programs, may harm the system. Thus, you can close or even uninstall them to speed up phone performance.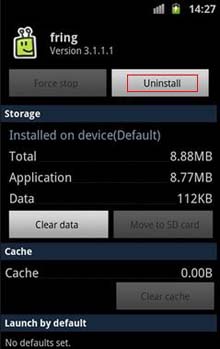 Tip 7: Install Apps from Known Sources
To steal valuable privacy, some hackers packaged false or even bloated programs into Android apps for leisure and entertainment. If you download them, you are likely to get caught. So, it is best to install apps only from trusted sources like Google Play.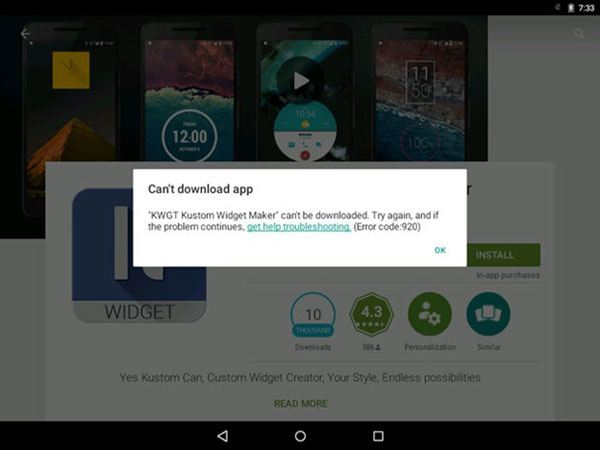 Learn More:
Tip 8: Remove Old Chats
Social apps such as WhatsApp, Facebook, LINE, etc., produce much text and multimedia information almost every day, which hinders memory processing. To avoid important content being deleted by mistake, you can clean up dispensable files at regular intervals.
Tip 9: Change Animations Speed
How do I speed up my phone by changing the animations speed?
Go to your phone's "Settings" > "About Phone" > tap "Build number" seven times.

When "You are now a developer" appears, go back to the main Settings > tap the "Developer options" sub-menu.
Finally, locate the "three animation-related Settings" > set each one to a lower value.
Note: If the animations on your phone are extremely sluggish, just disable them by following a similar step. (Select "Off" instead when you reach "animation-related Settings" as above.)
Tip 10: Turn Off hands-free Google Assistant
Like Siri on iPhone, Google Assistant comes in handy when you need to look for something with voice command. Yet it occupies a large amount of your device storage. Now, you can disable the background functionality as follows:
Go to the Google app and tap your profile photo.
Head to "Settings" > "Google Assistant" > "Hey Google"/"Voice Match".
Disable "Access with Voice Match". And after that, you can still access the Assistant manually.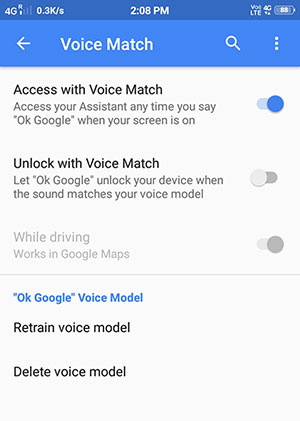 Tip 11: Use Lite Versions of Apps
Many applications are available in Lite and Go versions, which are suitable for old-fashioned and low-end Android devices with limited memory and storage. The Lite is shipped with smaller programs and less resource consumption. You can find this version in mainstream apps like Instagram, Spotify, and Twitter on Google Play Store.
Tip 12: Keep OS Up-to-date
How to speed up Android devices by updating Android OS?
Get into your Android phone's "Settings".
Go to the "System" > "System updates". (You might need to tap "About phone" as needed in some models)

When the update status appears, follow the prompt to do the rest. (Want to disable Android OS update notification?)
Tip 13: Turn Off Auto-sync
Mainstream smartphones such as Samsung, Huawei, and Motorola all come packed with automatic synchronization features. You can disable it from Android "Settings" > "Accounts" > tap three-dot options > turn off "Auto-Sync Data".
Tip 14: Factory Reset Android Phone
A factory reset will wipe away all data from your Android phone. So it is recommended that you back up your phone before doing it. On most Android devices, users can factory reset it from the "Settings" > "System" > "Reset options" > "Factory data reset" > "ERASE EVERYTHING". (The steps may vary by phone)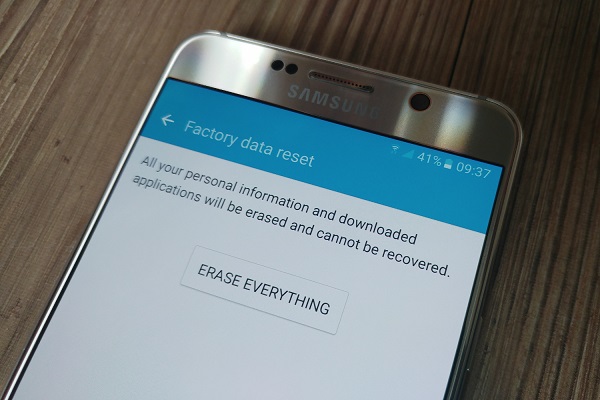 Tip 15: Install a Custom ROM
A customized ROM is completely unofficial. When you flash a ROM to Android, you'll get fascinating customizations and adjustments while it will no longer receive the old Android device updated by the operating system. Else, some devices can get along well with it, and the performance has indeed been substantially improved, but system errors or instability also occur from time to time in other devices.
Part 2: How to Speed Up Android Phone with a Professional App
Is it difficult for you to choose any files when clearing up your mobile phone? Are you struggling to find a professional tool for Android phone optimization? Just download and try MobiKin Assistant for Android App. It is a reliable application that allows you to manage various data on your mobile phone or computer, whether they are in the phone memory or SD card. All of this can be done with a few simple clicks.
Core features of MobiKin Assistant for Android App:
Speed up Android phones by clearing various junk files on Android phone.
Easily find and manage Android data like pictures, videos, music, documents, etc.
Manage Android SD card without trouble.
Stop and uninstall apps from Android with one click.
Allow you to link your phone to a computer for file transfer.
Work for almost all Android phones or tablets, including Samsung, Xiaomi, Sony, Motorola, LG, OPPO, Huawei, Vivo, OnePlus, etc.
It won't divulge your privacy.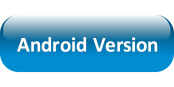 How to improve the speed of an Android phone with the MobiKin Assistant for Android App?
Step 1. Access "File Management"
Install and launch the app on your Android phone. Then go to "File Management"; it will show you the remaining capacity and something about the SD card. You can now check the usage of Android images, songs, movies, and documents.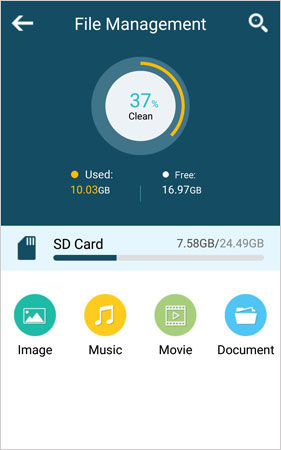 Step 2. Speed up Android phone by cleaning junk files
Touch "Clean", and you'll find all your Android Caches, Temp Files, and Thumbnails. Here, click any options and choose the junk files before tapping on "CLEAN".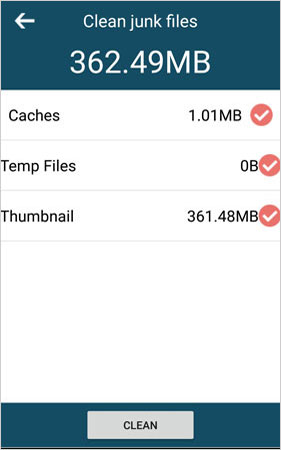 Step 3. Manage Android app in one click
You're also allowed to go to "App Management" if you want to manage your Android app as well. Then press either "Stop" or "Uninstall" and select whatever you don't want to quit or offload from your device.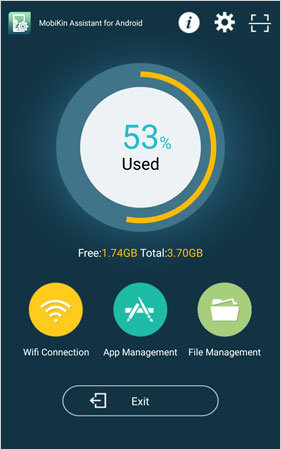 Final Words
This is how to make Android phones faster in the 16 ways. And it is probably the guide offering the most solutions. From convenience and security, MobiKin Assistant for Android App is recommended as your top priority. After that, you can try any of the hot tips, assuming your phone is still sluggish. Lastly, if you are having any problems with your Android device, feel free to leave us a comment below.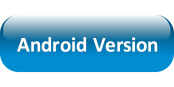 Related Articles:
How to Speed Up Samsung Galaxy Easily? (4 Ways)
2 Simple Ways to Wipe Android Data Remotely
iPhone Storage Full? How to Free up Space on Your iPhone in 11 Tips
How to Fix Android Stuck on Boot Screen? [Fixed]
3 Easy Ways to Recover Deleted Files from Android in 2022