Instagram Video Not Playing on Android? Solutions are Here!
Instagram allows users to watch different kinds of video on it but some of its users complain that the videos on this App fail to play sometimes. And assuredly, wasting a lot of time to wait for a video loading would be a bad experience for us. Thus, to help you get rid of this trouble, we would like to show you some tips to fix Instagram video not playing on Android.
Why Does Videos Fail to Play on Instagram?
The issue that Instagram videos not playing on Android happens on many phone models, including Samsung Galaxy S8/7/7 Edge, Note 3, HTC 10, etc. Thus it must be caused by some common reasons or errors:
- Bad network connection: If the network you are using is poor or unstable, it will cost a long time to load the video. In this case, you are unable to play or watch the video on Instagram.
- Power saving mode: The power saving mode on mobile will disable all the network connection or current consuming applications on your device and video is included.
- Outdated Instagram version or corrupted data: The old version of Instagram will affect the smooth running of the App. In addition, the cached data of the Instagram will interrupt the operation of the App and device as well.
- Invalid video: It is possible that the video is deleted before you watch it so you are unable to play it.
- Insufficient storage space: When the free storage space on your phone is very small, the videos won't be able to play.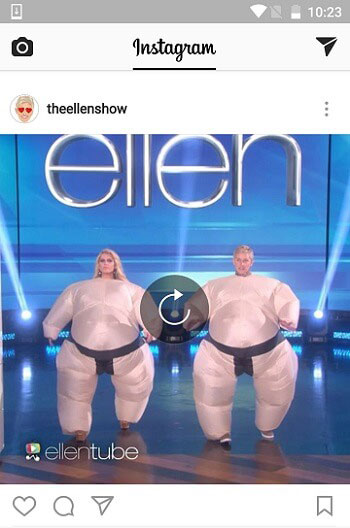 Can't miss:
Upload Videos/Photos from Gallery to Instagram Story
Different Ways to Save Instagram Photos on Android
Tip & Tricks to Fix Instagram Video Not Playing on Android
According to the reasons for the issue, we can figure out several solutions actually. For your reference, several simple but useful methods to fix Instagram videos cannot play issue are listed below. You can choose one or several of them to solve the problem on the basis of your situation.
1. Restart Android phone
No matter what kind of problem your phone meets, restarting it is the mighty way to settle the problem. And this means is appropriate for this issue as well. Just simply press the Power button of your phone to turn it off and wait a second. Then hold down the Power key once again to boot the device. After that, you can go to Instagram to see whether the videos can be played normally on it.
2. Adjust the network connection
The second basic way is to check or reconnect the network connection on your phone. The easiest way is to swipe down the Home screen to enter the control center of the device. Then you can find out and tap on the icon of Wi-fi or cellular data to switch them off easily. Next, click on them again to turn them on. This process can fresh the network connection on your phone.
3. Disable power saving mode
If you have enabled power saving mode on your phone, you need to turn it off at first then the video can play normally on the device. Here, for different Android version, you have different ways to switch off the mode.
- On Android 6.0 or older version: navigate to Settings> Battery> Battery Saver and tap on the battery saver button to disable it.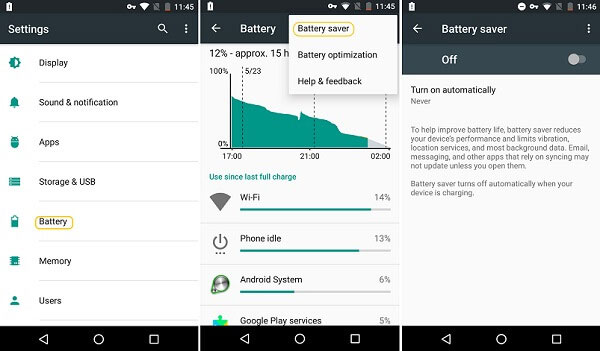 - On Android 7.0: Visit Settings> Device Maintenance> Battery> Performance Mode. Then you need to select High performance/Entertainment in this mode.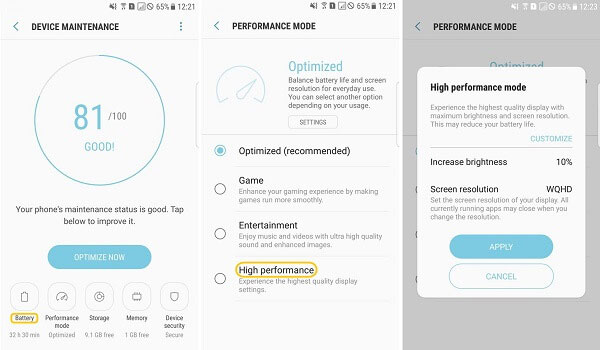 4. Clear caches of Instagram
The next method you can try to solve the problem is to clear the caches of Instagram. To complete that, you only need to:
- Click the icon of Settings on Home screen and select Apps in this section.
- Then a list of applications will displayed on the screen. Just find Instagram from the listed options.
- After that, just choose Storage and tap on Clear caches to remove them.
5. Remove and reinstall Instagram
Except for restarting the device, here is another way to fix the bugs- reinstall the application. But this time, you should download and install the latest version of Instagram.
- Go to Settings> Applications> Manage Applications> Instagram to enter the App Info page and tap Uninstall to remove the App from your phone.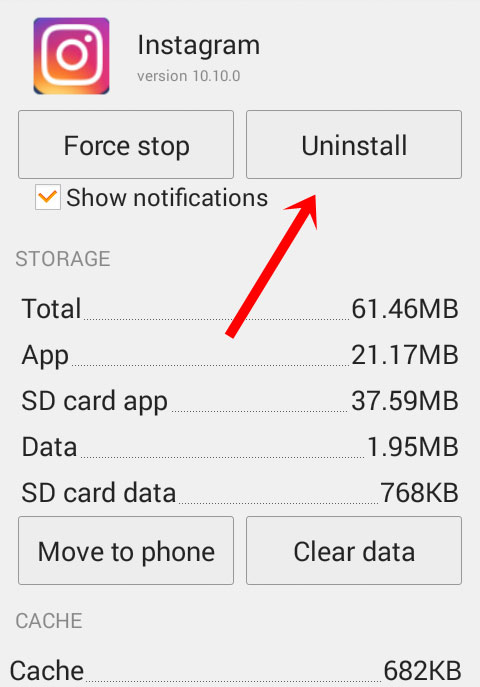 - Now you can go to Google Play Store to download the most recent Instagram version and follow the instructions to install it on your phone.
6. Make room for playing videos on Instagram
You are suggested to release more space to buffer Instagram videos as well. To accomplish that, you can try to delete the useless photos, videos, music or other files on your phone.
Extra Tips: How to Turn off Autoplay Videos on Instagram?
Instagram will automatically play videos when users scroll up or down the page. It will pre-load videos so users can watch the videos more smoothly. However, this feature will cost a lot of cellular data while the phone connects to phone data. To avoid the high cost, you need to turn off the autoplay videos on Instagram:
- Launch Instagram on your phone and then tap on the three dot icon to open the profile page.
- Scroll down to select Settings> Cellular Data Use.
- Then click on Use Less Data to disable the pre-load feature.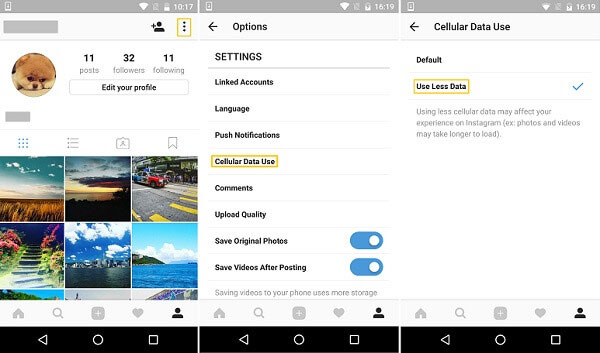 Related Articles:
Tips to Save Facebook Photos to Android
Tips to Direct Message on Instagram from Phone/PC
How to Recover Lost Contacts from Samsung Galaxy
How to Recover Data from Water Damaged Android Phone or Tablet?
How to Access Phone with Broken Screen with PC Easily & Safely?