3 Practical Ways to Recover Data from Water Damaged Android Phone/Tablet
"My friend dropped her new-purchased Samsung Galaxy S20 into the water, and she picked the phone out soon. But after the phone gets dried, she turned on the device and found some important contacts and photos have been gone. Then she feels worried and wishes to find a method to recover data from a water-damaged phone."
It is reported that many Android users have suffered this "Disaster" with the popularity of smartphones, and if you're one of them, what will you do? Today, we will guide you through the tutorials on how to recover data from water damaged Android phones step by step, no matter you have a phone backup or not.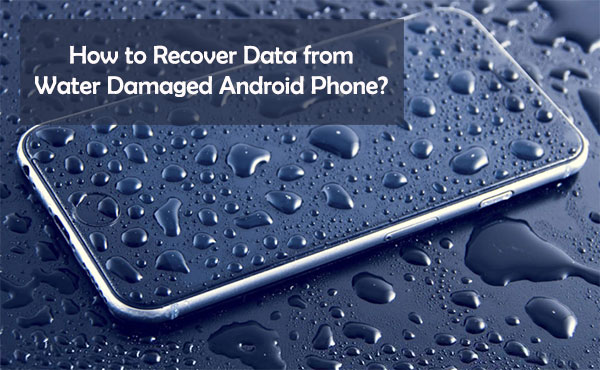 Part 1. Something You Can Do to Rescue Your Phone from Water
When your phone has fallen into the water, you can take emergency action to avoid the data losing or reduce the data lost to the least as follows:
Get out your phone from the water ASAP, remove the battery and take out the SIM card to reduce the loss or damage on the device. If the battery is unremovable, keep it as it is.
Don't move or shake the phone frequently so that the water will not run around your mobile phone inside.
You can use regular rubbing alcohol to clean your device.
Wrap the device with a cloth or handkerchief for a few minutes, and then turn off your phone. Place it into a jar or a bag filled with rice for a couple of days.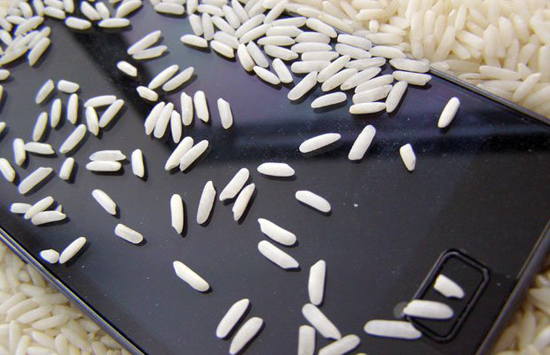 If you have tried the above solutions, but there is still something wrong with your Android, such as failure to boot, data loss, and so on. You can try the below solutions to recover data from water damaged phone.
You May Also Need:
Part 2: Recover Data from Water Damaged Android Phone via Android Data Recovery
A cell phone that is immersed in water often has some problems in the follow-up, such as black screen, non-responsive screen, or you cannot touch the screen, and so on, which may cause the cell phone not to work normally and even cause data loss.
You can follow the guide below to fix these issues and extract the existing or lost data from Android as you like. All you need is a program called Android Data Recovery. With it, you can get access to a water-damaged Android without locking the screen or enabling USB debugging.
Main Features of Android Data Recovery:
Recover data from water damaged Android phone without enabling USB debugging.
Support to recover data like contacts, SMS, call logs, photos, music, WhatsApp, videos, etc.
Fix Android system issues and get your device back to normal statuses, such as virus attack, black screen, system crash, phone frozen, phone drown, password forgot, etc.
It currently runs on most Samsung devices, such as Samsung Galaxy S6/S5/S4, Galaxy Note 5/Note 4/Note 3, Galaxy Tab Pro, etc.
It is easy to use and 100% secure.

Step 1. Launch the program you've installed on your Windows computer, then connect the water-damaged Android to the PC with a USB cable. Directly enter the mode of "Broken Android Data Extraction", then you'll see an interface like below: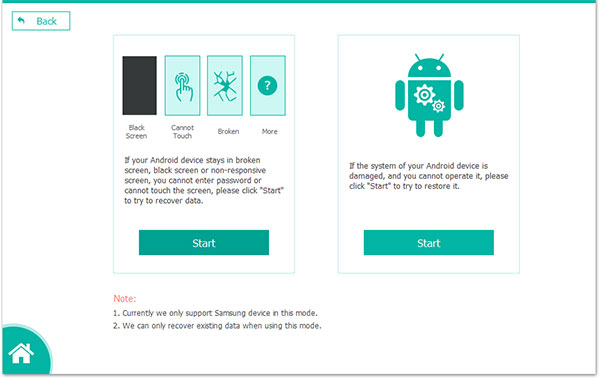 Step 2. Click the "Start" button and choose your device information (Device Name and Device Model). Then hit the "Confirm" button to enter the next step.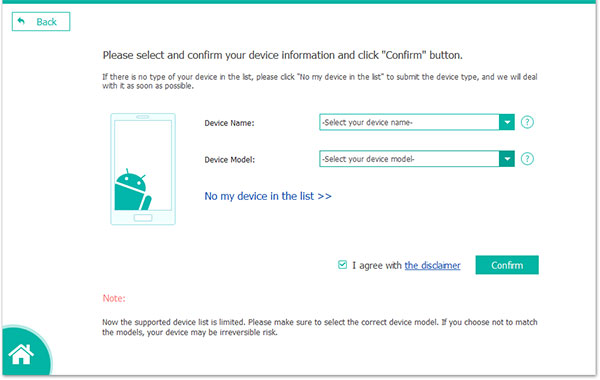 Step 3. Follow the on-screen instructions to enter the Download mode, then click the "Start" button to scan for files.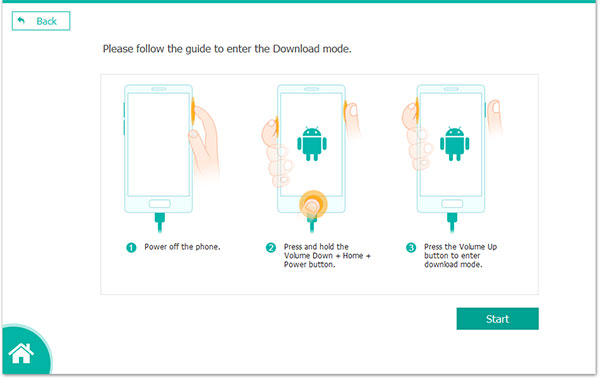 Step 4. When the scanning is finished, you can preview the results in the form of folders. Then select the data you wish to extract and save on the desktop computer.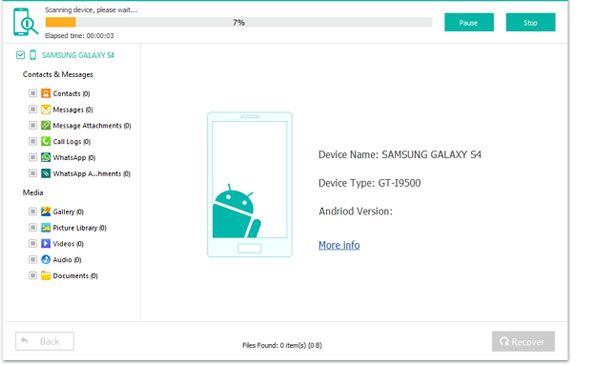 Part 3: Recover Data from Water Damaged Phone Via Backup
If you have a good habit of backing up Android devices, whether it is backing up to a computer, cloud service, or third-party application, you can choose one of these backup functions to restore the backed-up data to the water-damaged phone.
Let's take Google Drive as an example to tell you how to get contacts from water damaged phone.
Open a browser on your computer and visit Gmail.com. Login to your Google account.
Choose Gmail and click on "Contacts" from the drop-down menu.
Click on the "More" option and choose "Restore contacts..." from the drop-down list.

In the new pop-up window, you can select the time period you want to restore.

At last, you can click the "Restore" button to restore the contacts from Gmail backup.
Cons:
The backup space is limited.
Only contacts recovery is supported.
You need to have backed up the device to a Google account.
You May Also Need:
Part 4: Recover Data from Water Damaged Samsung via Find My Mobile
If you are using a Samsung device, you can use Samsung's official "Find My Mobile" service to perform wet cell phone recovery. However, to use this method, you must have already logged in with Samsung account credentials on your smartphone.
Visit the Find My Mobile website on any device.
Log in with your Samsung account credentials, which you have used on the Samsung device.
Once logged in, you can see many options on the screen.
Tap "Unlock my screen" and click the "Unlock" button to confirm your operation.

Once the phone is unlocked, connect it to the computer via a USB cable.
Open "File Explorer" on the computer and navigate to "This PC".
You can see the phone's SD card or internal memory drive is displayed here.
Look for the data you want to recover, copy and paste them to a safe place on your computer.
Cons:
Only pictures and videos can be restored.
You need to have logged in to your Samsung account on the device.
This method is only applicable to Samsung devices.
The operation is complicated.
Time To Verdict
Water damage is the last thing you want to happen on your phone. But if, unfortunately, it has already happened, don't panic. In this article, I mentioned different techniques about how to recover data from water damaged Android phone.
If you have backed up your Android phone before, then you can easily restore your lost data from the backup. For the instant recovery process, it is recommended that you use the powerful Android Data Recovery. The software has the most mature scanning algorithm and has a very high success rate for recovering data from water-damaged Android phones.

We hope this post is beneficial for you and if you have any other suggestions, please discuss with us by leaving a comment.
Related Articles:
How to Recover Deleted Text Messages from Sony Xperia
How to Recover Deleted Contacts from LG Phone
How to Recover Data from Android Phone with Broken Screen?
How to Retrieve Text Messages from a Broken Android Phone in 2021
5 Easy Ways to Recover Data from Locked Android Phone with Broken Screen