Tips to Direct Message on Instagram from Phone/PC
Direct message on Instagram is a feature that allows users to send private messages directly to another Instagram user. With this feature, users are able to send and share text, images, videos and links to the certain person. It is a helpful feature for Instagram users but there are still many of them do not know it so this article comes to tell you the ways to direct message on Instagram from phone or PC.
Direct Message on Instagram from Phone
Normally, people would send direct message on Instagram from phone in 3 ways:
1. Direct message to One/Multiple Users
- Enter Instagram and click on the Direct message icon, namely the icon in paper plane shape.
- Next, tap on "+" icon to receivers. Here the number of receivers can be one or multiple but should not be more than 15 people.
- Type in the contents you want to send, including text, photos, videos and links and then click on Send.
- If you want to send private message, you can tap on the menu icon on his/her profile page and elect Send Message to begin the directing process.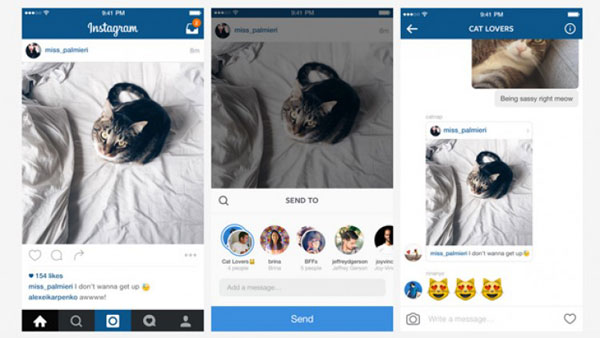 2. Send disappearing photos or videos
The latest Instagram version brings a new feature- sending disappearing photos and videos to other Instagram users. After using the function, the sent images and video will disappear after hours or days. To perform this process, you only need to:
- Tap on the icon of Direct message and elect the receivers.
- Click on the blue camera icon to take a picture or video and then you can add descriptions to the image/video.
- Next, hit Send and you will get a notification says that you sent a photo or video but it will not show on your inbox.
This disappearing message will be highlighted blue in the receiver's inbox and the picture or video can be replied only once. And once the receivers watch, reply or take a screenshot of the photos or video, the sender will get a notification.
3. Share an interesting post
You can use Direct message to share the post you like as well. To complete the sharing process, you can:
- Go to the post that you want to share and click on Direct message icon.
- Select the receiver from the list and enter texts as you like.
- Finally click on Send to share the post with your friends.
Can't miss:
Upload Photos/Videos from Gallery to Instagram Story
How to Save Instagram Photos on iPhone/PC?
Send Instagram Direct Message on PC
Some users might like to use Instagram on computer but the Instagram website does not support post uploading and direct messages currently. In this case, you can try several means:
1. Use Instagram for Windows 10
For the users who are using a computer running on Windows 10, you can download and install the Instagram for Windows which allows you to direct message on the desktop computer.
- Download and install the Instagram application on your Windows computer.
- Open the program and then tap on Direct message icon to send message.
However, by using this means, you are unable to take photos or videos unless the computer has touch screen monitor and rear-facing camera.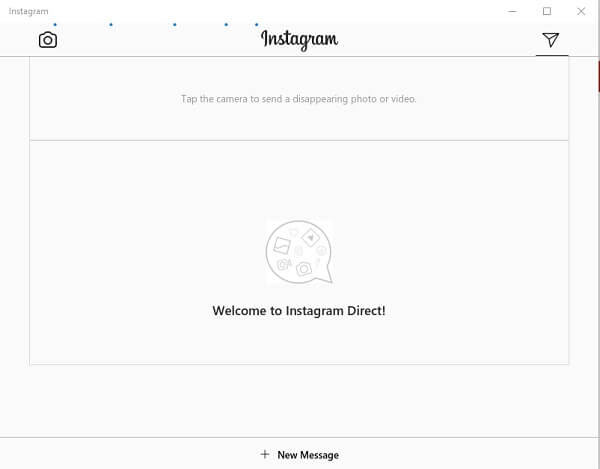 2. Make use of Bluestacks
You can also make use of Bluestacks, a free Android emulator for PC, to send Instagram message on computer. This software can act like an Android device on computer so you can sign in with Google account and install Instagram the virtual Android device. But it has some bugs meanwhile. For example, users might fail to sign in, install Instagram or it may even slow down the PC. Once you find any problem with the tool, you should uninstall it immediately and look for other methods.
3. Turn to third-party software
Some third-party applications on the market like Instagram DMs on Desktop allows users to send and receive Instagram direct messages from PC and Mac. Thus, you can find a suitable and reliable one to help you direct message on Instagram from PC.
How to Check Direct Messages on Instagram?
After sending the direct message, you might want to inspect them to make a confirmation. This is very easy and you can accomplish it by two steps:
- Navigate to Direct message on Instagram.
- Go to conversation to view the Instagram messages.
Here, if you have sent a hidden direct message on Instagram, you need to go to secret inbox to find it:
- Run Instagram application on your phone or PC and then select Instagram Inbox icon.
- Now you will see a blue bar saying "message requests". Just click on it to view all the messages sent by people you don't follow.
Problems about Instagram Direct Message
There are two common problems that you might want to know or fix during the directing process.
1. Direct messages sent by certain users doesn't show
While sending or receiving direct messages on Instagram, users may find that Instagram Direct fails to display some messages sent from certain users. If you have met this problem, you have several methods to try:
- Reconfigure your Instagram account: log out of the account and then log in again.
- Start a new conversation: delete the existing chat and begin a new one.
- Reinstall Instagram App: just remove the application from the device and then download and install it once again.
- Wipe cache partition in Recovery mode: wiping cache partition in recovery mode is an useful way to solve Android issue so you can try to boot the device into Recovery mode and then erase the caches.
2. Restore deleted direct messages on Instagram
It is common that users wrongly delete Instagram messages and want to recover them. Nonetheless, there is no workable method can be used to restore the deleted messages. The only way you can try is to view or send them in the sender or receiver's phone.
Related Articles:
Things about Facebook Messages Encryption on Android
Android Export SMS to CSV: 3 Ways to Export SMS to CSV File
6 Proven Methods to Retrieve Text Messages from Old Phone Numbers [Android & iPhone]
How to Print out Text Messages from Android Phone? (Best 4 Ways)
[Solved!] How to Transfer Text Messages from iPhone to Android?
9 Quick & Safe Ways to Fix Android File Transfer Not Working on Mac