Upload Photos/Videos from Gallery to Instagram Story
The application Instagram provides a feature- Instagram Story to its users which allows them to share photos, videos or words with their followers. But for the greenhands, it would be a doubt that how to upload photos or videos from Gallery to Instagram Story. So we write this tutorial to show users different ways to complete the uploading process. Just read on and get them.
Add Photos/Videos from Gallery to Instagram Story
For the photos or videos that you have taken in last 24 hours and older than 24 hours, you need to use different ways to upload them.
1. Add photos you took in last 24 hours to Instagram Story
- Launch Instagram on your phone and tap on the Camera icon on the top left corner.
- Now you will enter the video recording screen. Just swipe upwards the screen to bring out your Gallery photos and videos. Here only the pictures and videos that you took in last 24 hours will be shown up.
- Choose the image or video that you want and click on Your Story to add and share them.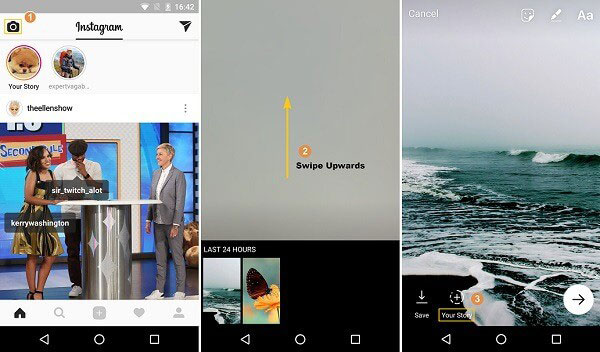 * You can tap on the icon- Your Story to upload photos from Gallery directly if it is the first story of your day.
* If you want to upload video to Instagram Story, it should be shorter than 60 seconds.
2. Add images that are older than 24 hours to Instagram Story
Sometimes you might be unable to post the photos or videos timely. In this case, you have 3 means to accomplish the uploading process:
- Upload the screenshot. You can take a screenshot of the picture that you want to share and then the newly produced image will appear in the Gallery as the recent photos. After that, you can go with the steps above to add the picture to Instagram Story.
- Reedit your photos. You can use some photo editing applications like Photoshop to slightly modify the photo and it would become a new picture in the Gallery as well.
- Change image information. Another way is to change the information of your wanted photos like capture time. But this can only be completed with a third-party software. You can select an application and download and install it from Google Play Store.
See also:
How to Save Instagram Photos on iPhone/PC?
Upload Multiple Picture or Videos to Instagram Story
Instagram Story also permits Instagramers to upload multiple photos or videos from Gallery but its method is totally different from Instagram photos uploading. The process to upload multiple photos or videos to Instagram Story could be:
- Add one photo to Instagram Story.
- Next, keep tapping the Camera icon to add more videos or images and these pictures and videos will appear together as a slideshow after 24 hours.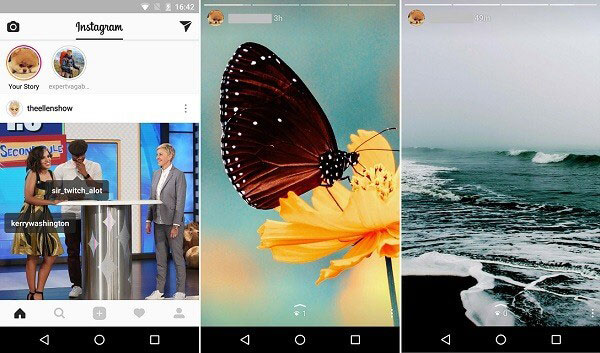 What to Do When Videos Uploading Failed?
During the uploading process, some user might fail to add videos from Gallery to Instagram Story for unknown reasons. But don't be nervous and here are some tips for you:
- Inspect the network connection you are using. No matter in what kind of applications, uploading videos always requires a strong network. So if it fails, you can check the status of the network at first.
- The video must be shorter than 60 seconds. Just check the duration of the selected video. If it is longer than 60 seconds, you need to reedit it.
- Check the size of the video. When you upload a large-sized video on Instagram, the uploading time would be very long. So you can choose to reduce it or wait patiently.
- Ensure that the video you are going to upload is satisfactory. The videos that is against Instagram's term like something violent is forbidden on Instagram.
Related Article:
Tips to Save Facebook Photos to Android
Android Export SMS to CSV: 3 Ways to Export SMS to CSV File
6 Proven Methods to Retrieve Text Messages from Old Phone Numbers [Android & iPhone]
How to Print out Text Messages from Android Phone? (Best 4 Ways)
[Solved!] How to Transfer Text Messages from iPhone to Android?
9 Quick & Safe Ways to Fix Android File Transfer Not Working on Mac