Samsung Fingerprint Scanner Not Working, How to Fix It?
In these years, Samsung users tend to use Touch ID to lock or unlocked their device since it is convenient and the fingerprint is irreproducible. But sometimes the fingerprint scanner on the device might fail to work which would disable its owner to enter the Samsung phone. But luckily, it is not a serious error. With the help of this tutorial, you can gain some simple tips to fix Samsung fingerprint scanner not working issue by yourself.
The Fingerprint Cannot Be Recognized
One of the most common Samsung fingerprint scanner not working issues is that the device cannot recognize users' fingerprint. In this case, if the Samsung is connected Wi-fi or cellular data, you can unlock your phone with Google account or via findmymobile.samsung.com. If not, you need to factory reset your phone to erase the fingerprint saved on the device.
Method 1. Use Google account to unlock Samsung
To use this means, you should make sure that your Google account is added to your device before you are locked out. If you are sure about that, you can enter your phone by following the details below:
- Entering the wrong backup password for more than 5 times.
- After that, you will get the option of Unlock via Google. Just click on it and then type your Google email and password. Then tap on Sign in.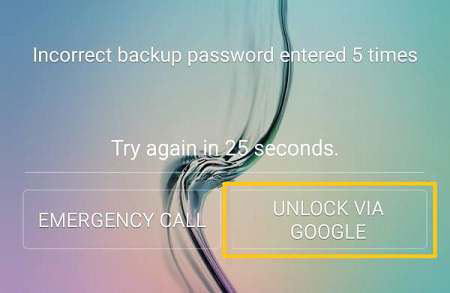 - When you log in, the Lock Screen will be reset as Swipe and then you can set a new fingerprint.
Method 2. Enter Samsung phone via findmymobile.samsung.com
The precondition of using this method is that you must add Samsung account and turn on Remote Control on your phone before locking the device. If the locked Samsung meets these two requirements, you can enter it by:
- Going to findmymobile.samsung.com and log in with your Samsung account.
- Find out the Unlock my screen option and click on Unlock button.
- Then you will get the message said the screen is unlocked. After receiving the message, you can setup screen lock on the device once again.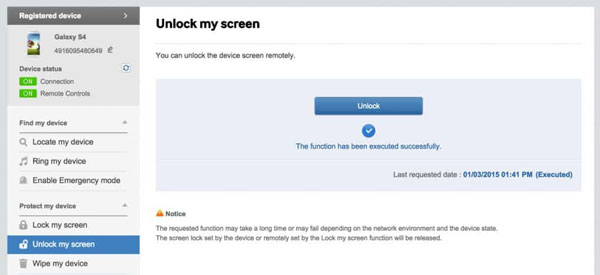 Method 3. Factory reset to unlock Samsung screen
However, when you switch off the network connection on the device and do not have a Google/Samsung account, what can you do in this situation? Your only option is to factory reset your phone to wipe all the settings on your phone. To do that, you need to:
- Power off your Samsung firstly and then long press the Volume Up, Power and Home buttons to boot your Samsung into Recovery Mode.
- Select wipe data/factory reset option by using the Volume Down key and confirm your option by pressing the Power button.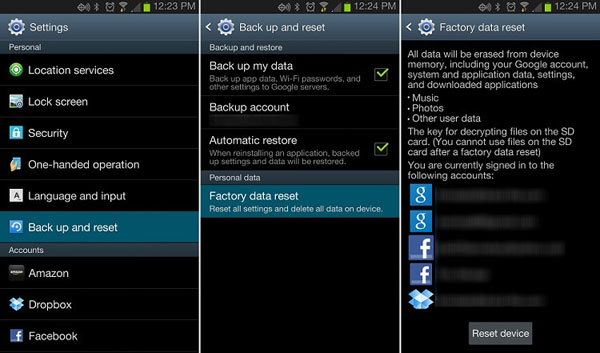 When the resetting process finishes, your phone will reboot automatically and you will see that the screen lock is removed.
Attention: This means will erase all the data and settings on your device so you'd better backup the wanted files at first. Here you can ask Broken Samsung Data Recovery for help. It can help you to restore photos, videos, etc. from locked Samsung.
Fingerprint Scanner Stops Working after Upgrading
Some users reflect that the fingerprint scanner does not work after they upgrade the system. Then, to solve this problem, you have two choices:
Method 1. Factory reset your Samsung
Also, you can select to wipe all the setting on your phone to fix the issue. To complete the resetting process, you just need to:
- Boot Samsung into Recovery Mode.
- Navigate to wipe data/factory reset to start the process and then reboot the device to turn the phone back to normal status.
Method 2. Downgrade your Samsung phone
It is very likely that the problem is caused by the system update so downgrading the system version is also an idea. This could be completed by flashing a ROM to Android device. This operation will bring your phone back to the original state so you also need to make a backup in advance.
Related Articles:
Complete Guide to Fix Samsung Tablet Problems
Essential Tutorial about Google Pixel Backup and Restore (Ins and Outs)
Can You Recover Deleted Text Messages on Google Pixel? Methods Are All Here!
Google Pixel Data Recovery: Recover Deleted Files on Google Pixel 4/3a/3 XL/2
How to Transfer Data from Samsung to Google Pixel [Practical Guide]