Essential Tutorial about Google Pixel Backup and Restore (Ins and Outs)
Google Pixel 4 has won considerable acclaim by its screaming features of gesture interaction. Its large memory houses huge capacity of photos, videos as well as other personal data. To put it another way, it has become an important data carrier in life. This being said, you certainly don't have to worry about data missing if you back up Google phone regularly. To that end, it's necessary to read this article, for it is an essential guide on how to back up and restore Google Pixel with 5 favorable methods.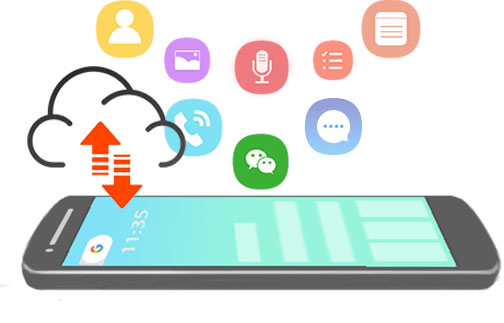 Way 1: How to Back Up and Restore Google Pixel with Android Backup and Restore
When you search online for backup and restore software, you will find some related products or services. This reflects the diversity of these types of tools. Among others, there's an impeccable Android Backup and Restore utility - MobiKin Backup Manager for Android, which has a presence on the related fields. As numerous bright users from hundreds of countries are fascinated by its overall quality.
This Android Backup and Restore utility can flexibly act on more than 8 kinds of Android data. Plus, it is easy to use, fast to run, and can always deliver safe outcomes, providing privacy protection and 24-hour exclusive service. OK, cut the cackle now.
Here're the essential features of the Android Backup and Restore:
Back up contacts, text messages, call history, pictures, music, videos, documents, apps and more from Android to computer intactly within 1 click.
One-click to restore Android files from PC to Android device on a platter.
You can be linked to PC (Windows 10/8/7/XP/Vista) via a USB cable or be connected with WiFi.
Operate on 6000+ Android devices, containing Google Pixel 4(a)/3(a)/2(a), AMID 971R, Aurora II, BEAT2, CINK, GT, I9000, GT I9000B, GT I9100, GT I9220, SWT 7220, SWT GT 7220, Symphony W10, T959, U1, ViewPad 10e..., as well as Samsung, HTC, Huawei, LG, Sony, Xiaomi, etc.
- Guide to back up Google Pixel 4a/3a on computer:
Step 1. Start the installed Android Backup and Restore program on computer and pick up a USB cable to connect your Google Pixel to this computer. The program interface will appear like the following picture after the phone is automatically detected by it.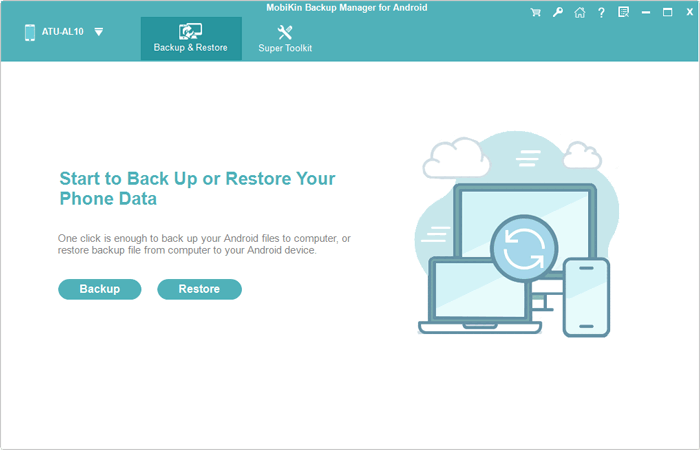 Step 2. Now just choose "Backup" option from the main window and on the next screen, you'll see all the supported data categories from the left menu. You should tick on the desired file type(s) for backup.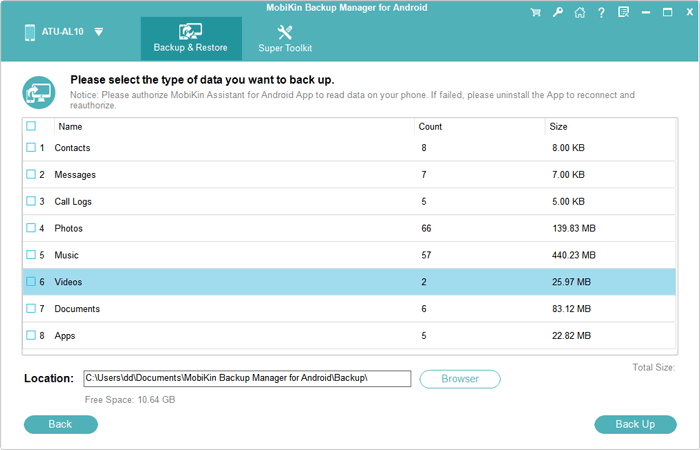 Step 3. If you want to back up all the data types, you can directly tick off the checkbox on the left of "Name" to select all file categories in one go. Next, choose a folder on your computer to locate the backup(s). Then tap "Back Up" at the bottom to start the backup procedure.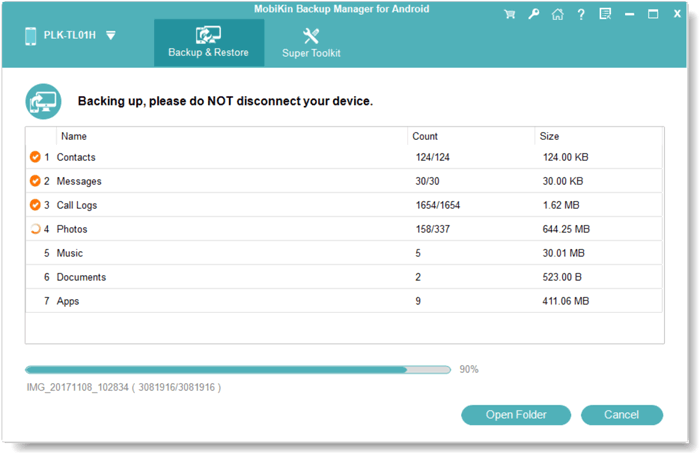 If you want to restore the backup on your Google Pixel for some reason, you can go with the following easy steps:
- How can I restore Pixel 4a/3a from backup:
Step 1. Press the "Restore" option after you choose "Backup & Restore" tab. Then you can check the list with all the backup records.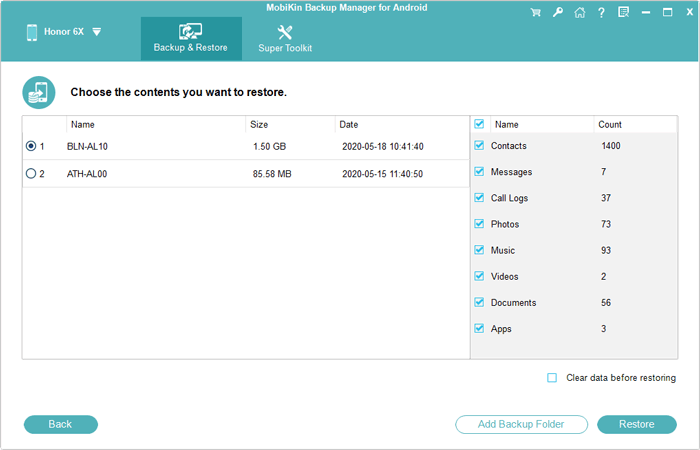 Step 2. Pick the backup files you'd like to get back. Then simply tap on the "Restore" button at the lower right corner to start restoring data from backup to Google Pixel.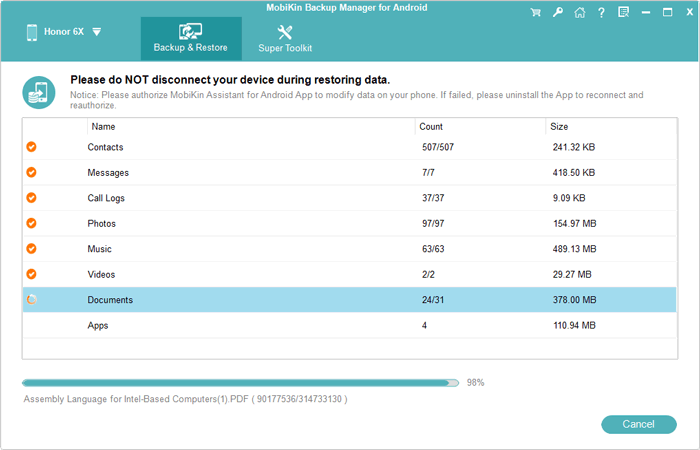 Way 2: How to Back Up Google Pixel and Restore It via Assistant for Android
Likewise, MobiKin Assistant for Android (Windows and Mac) also comes with built-in backup and restore function, but its features are more diversified. For example, it can help you manage contacts, user apps, music, SMS and other data on computer. Take SMS management for example, it can mass text your friends, reset, forward, copy and delete messages. Plus, it can also implement the mutual transfer between a variety of Android devices and computers. And the supported data types include contacts, call records, SMS, music, photos, videos, etc.
- Back up Google Pixel A45/A2/A818 Duo on computer (easy and quick):
Step 1. Download and install this program before open it on your computer. Then plug your Google Pixel to computer with a USB cable and go with the hints to get your Pixel detected.
Step 2. Hit "Super Toolkit" on the top of the initial window and then choose "Backup" option.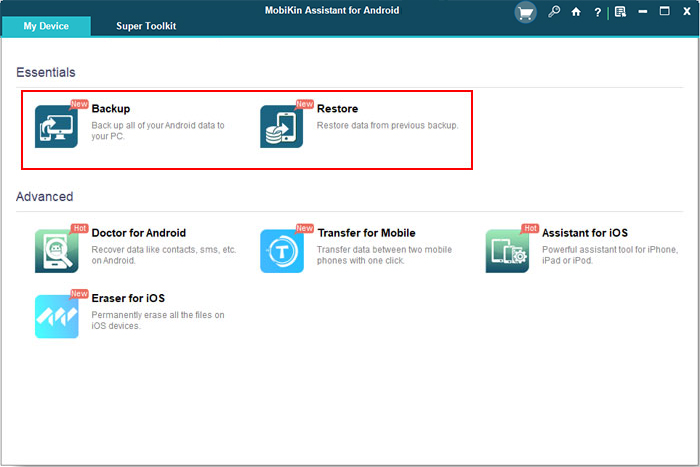 Step 3. Mark the specific data category you'd like to back up and click "Browse" to find a location on computer. Then press "Back Up" to migrate Google Pixel data to computer.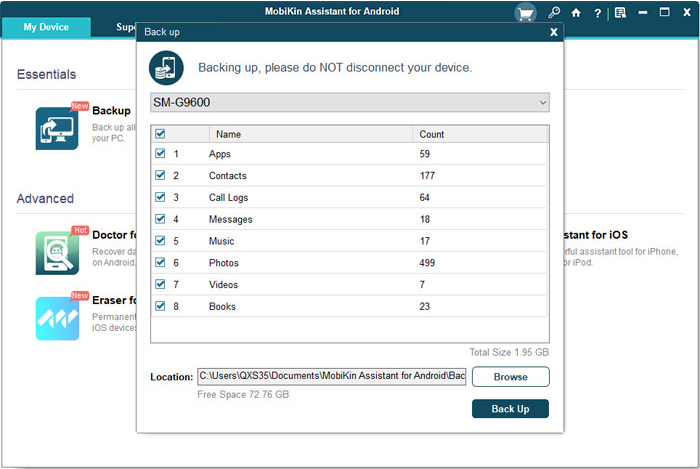 - Restore Pixel from backup:
Tap "Restore" option from the "Super Toolkit" on the top menu, and choose the file type you need for restore. Subsequently, press "Restore" button to initiate file restoration to the linked Pixel.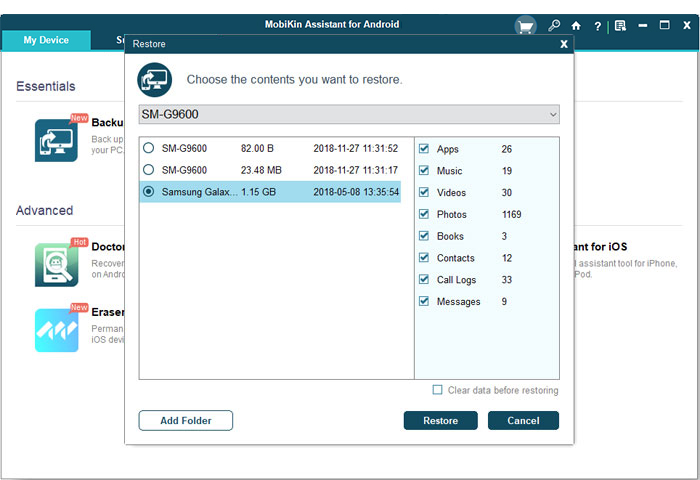 See Also:
Way 3: How to Back Up and Restore Pixel 2/2XL/3/4 Using Google Drive
Google Drive is one of Google's earlier services. It allows you to back up the contacts, multimedia files, apps and more from Google mobile, and then restore them to your phone or computer from its app version or from the web page. However, in accordance with some recent news, Google Drive is not guaranteed in terms of the security.
Below is how to back up Pixel 2 and restore it using Google Drive:
Step 1. Install Google Drive app on your Google Pixel after you download it from Google Play Store. Then open it and type in your Google account on it.
Step 2. Pick your needed data type and tap the menu with the "share" icon to choose "Save to Drive". Next, tap "Allow" while a window pops up to ask you whether you want to give the permission for Google Drive, and then click "Save". Later, your wanted data will be stored in the cloud.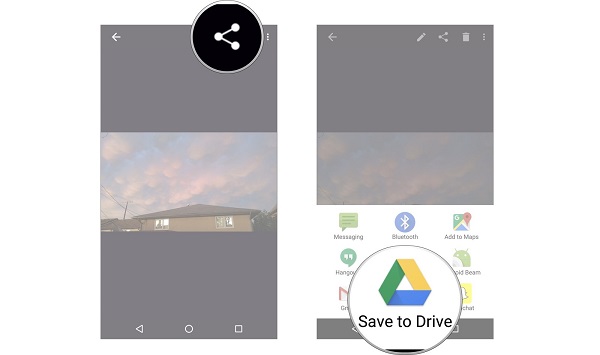 Note: You can also try "Settings" > ("General") > "Backup & reset" > "Back up data" to sync your Google Pixel files to Google Drive in batches.
Step 3. After that, please go to Settings > Backup & reset to log in the same Google account. Now, the synced data will be on the window. Just pick a few or bring all of them and tap "RESTORE" to get them on your Google Pixel.
Way 4: How to Back Up & Restore Pixel 2/2XL/3/4 with Google Photos (Photos & Videos)
Similar to Google drive, Google Photos, only supports syncing photos and videos from mobile phones. Later, you can download the backup from it to your phone. Besides, if you delete photos or videos, you can also find them from the trash of Google Photos (within 60 days).
How do I back up my Pixel 2XL/3/4a to my computer and restore it with Google Photos:
Step 1. Start the Google Photos app on your Google Pixel. Then type in your Google account and head to "Settings" from its menu to see "Back up & sync".
Step 2. Turn on the "Back up and sync" switch for the automatic backup. The time to complete this task rests with how many photos and videos you have on your Google phone.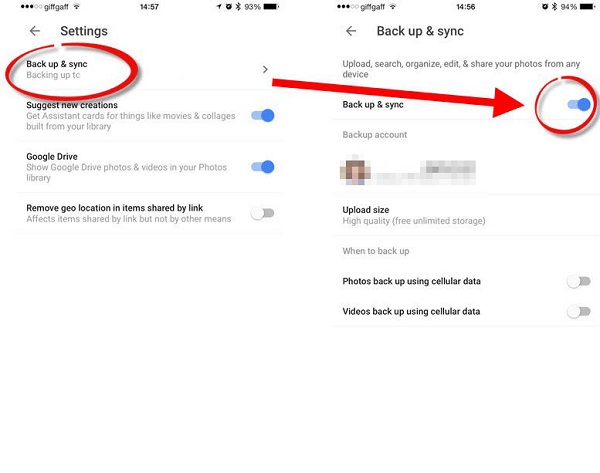 Step 3. When you need to restore photos and videos from Google Photos, you can open Google Photos app on your phone and log in your Google account associated with your backups. Then go to "Menu" > select your needed pictures or videos > "Download" > "Save to device" to copy them to your Google Pixel.
More related:
Way 5: How to Perform Google Pixel Backup and Restore Using SD Card (Contacts Only)
Some mobiles, such as Google and Samsung, support exporting contacts directly to the phone's built-in SD card (the path is: /mnt/sdcard), and then import phone numbers from the card to the phone as needed. This process, essentially, is a copy of contacts created inside Google Pixel.
How do I complete Google Pixel backup and restore using SD Card:
Step 1. Unlock your Google Pixel and head to "Contacts" > "Import/Export" from the menu. Then select "Export to SD Card" to get a file with vCard file (VCF) for backup.
Step 2. Open the vCard file from SD card on the Pixel, and then you can choose to send it to the specific folder as you like.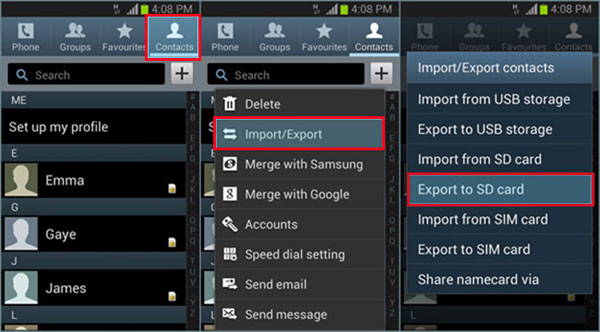 Step 3. Next time when you need to restore contacts from SD card, you can go to "Contacts" > "Import/Export" on your Google Pixel and choose "Import from SD card". Now, you can see the backup you've made in the folder of your SD card. Here, select your desired contacts to copy them to your Google Pixel.
Note: If you want to make your contacts more secure, advise you to jump to Way 1 to back them up to your computer.
Roundup
Google Pixel 5 will be launched along with Android 11. And it is said that the newly released Pixel will be impressive. At that time, whether you are to pick up a vogue Pixel or continue enjoying the previous one, you'll need a reliable mobile backup and restore expert to keep your mind off worries. Well, all things considered, MobiKin Backup Manager for Android is what you are hunting for. Moreover, MobiKin Assistant for Android, another great tool, provides some additional features for you to accomplish a one-stop management of contact, SMS, music, etc.
After all, the rest 3 methods mentioned in this article are not convincing in terms of the comprehensive performance. With this in mind, I'm sure you've made a wise decision.
Related Articles:
3 Ways to Backup Android Contacts to Google/Gmail Easily
[Solved!] How to Transfer Videos from Android to PC/Computer?
[7 Ways] How to Transfer Photos from Samsung to iPhone?
Complete Guide on How to Transfer Files from PC to Android
How to Permanently Erase SIM Card from Android Phone
3 Ways to Recover Deleted Contacts from Android (#1 is Awesome)