How to Transfer Data from Samsung to Google Pixel [Practical Guide]
"With the Samsung backups, I do factory reset, log in to my account and BAM, good to go! Also, when coming from the Samsung to Pixel 4 XL for example, is there a simple way to transfer from Samsung to Pixel over, so I don't have to do a whole lot of setup?" (from Reddit)
The latest Google Pixel phones ship with the timeliest Android updates and patches, as well as Soli motion sensing radar tech that helps navigate phone remotely. Okay, it's great to have a handset like this to replace the old Samsung, but then the same worry as the foreword may come into being - how to transfer files from Samsung to Pixel effectively? They can be contacts, SMS, photos, videos, etc.
Well, in this essential guide, we'll explore 5 most workable techniques to help you make the data transfer easier.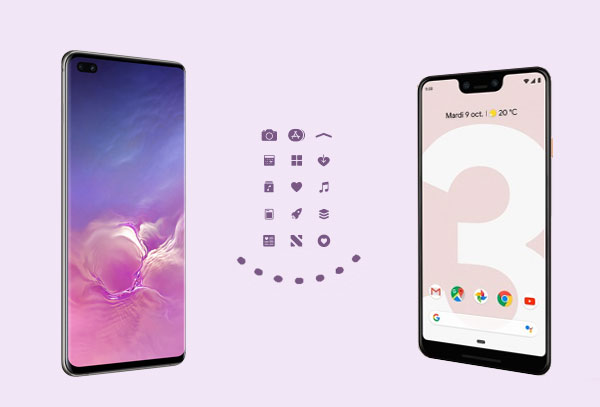 Method 1: How to Transfer Data from Samsung to Pixel by Drag & Drop
After connecting two phones to computer, and set the file transfer mode, you can move Samsung data to PC, and then to Pixel freely. While it is an easy task, it only supports copying media files such as photos, videos, music and movies.
Further, it is time-consuming to move a large number of files, and organizing photos is a tedious grind. On top of that, you might be faced with compatibility issues.
How to transfer from Samsung to Pixel by drag & drop:
Step 1. Connect both Samsung and Pixel to computer via applicable USB cables. Then a prompt should pop up from the notification panel. Here, choose Media device (MTP) mode to let computer access the media files of both phones.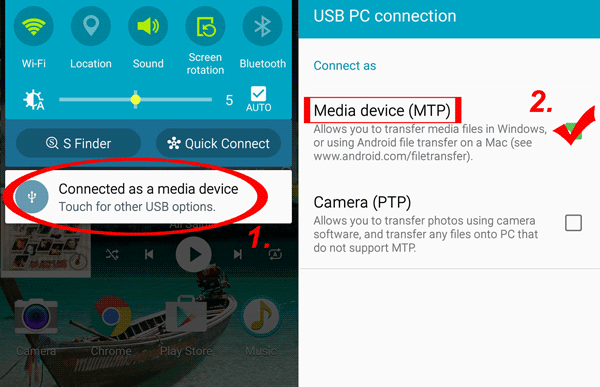 Step 2. After the devices are detected by the computer. Simply go to My Computer/This PC to find the connected devices' icon.
Step 3. Now, you can double-click the name of Samsung to access its internal storage or an attached SD card. Next, preview the photo, music or video folder.
Step 4. Select and copy any number of the media files you want. And paste them to the corresponding folder of your Pixel.
Check if You Need:
Method 2: How to Transfer from Samsung to Google Pixel in One Click
Here's a program, with which you only need to link mobiles to computer, select data type(s) you want. And you'll be able to copy the items from source phone to target one within one tap. This software is very useful for both Android and iOS users. Namely, it can move data from Android to iOS/Android, or from iOS to Android/iOS.
It is MobiKin Transfer for Mobile (Win and Mac), which is well received by phone users around the world for its good compatibility and excellent performance.
Some other features of MobiKin Transfer for Mobile:
Empower you to transfer photos, music, videos, contacts, text messages, call logs, documents and apps between Android devices with no data loss.
It does not bind to any adware or malware, and ensure a secure and fast transfer.
Work properly on almost all PC or Mac computer.
Run smoothly on almost all Android and iOS devices, including Samsung Galaxy S23/S22/S21/S20/S20 Plus/S10/S10e/S10+/S9/S8, Galaxy Note 9/Note 9 Plus/Note 8/Note 7, Galaxy A9/A8/A7, Pixel 5/5a/5 XL/4/4a/4 XL/3/3a/3 XL/2/2a/2 XL, and all available iPhone/iPad/iPod.
Any personal details about you will only be known to yourself.
Here, let's take contact migration as an example to show you how to transfer contacts from Samsung to Google Pixel with Transfer for Mobile:
Step 1. Install and launch the program on computer after the download. You'll then see the primary interface of it as below.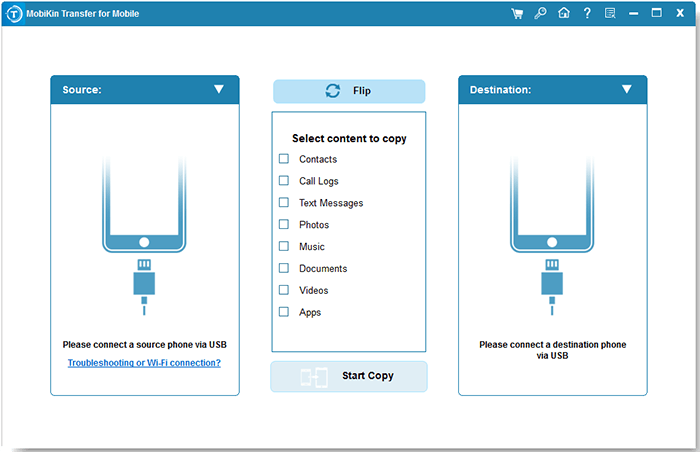 Step 2. Use two USB cable to connect two Android devices to computer respectively. Now, to have the devices recognized by the utility, you should make sure the USB debugging mode has been opened on the two phones.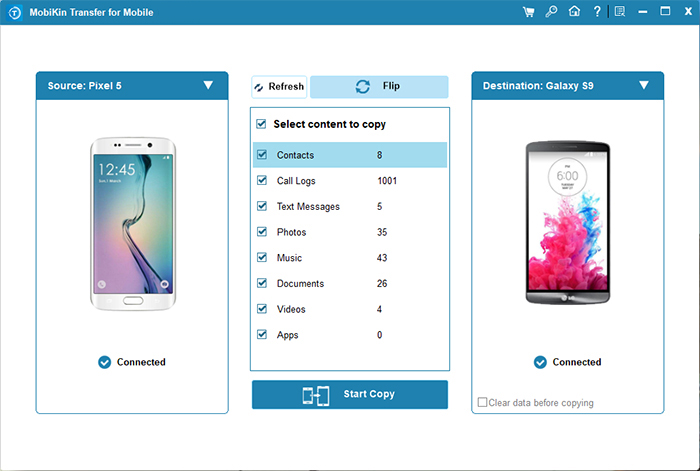 When the main screen turns up, you should tap Flip if you find the destination device isn't the Pixel.
Step 3. After the recognition, you'll get the main interface as above. You should mark the checkbox(es) besides the name of the data you want to. For this drill, just tick off Contacts, and then click Start Copy to transfer the data over.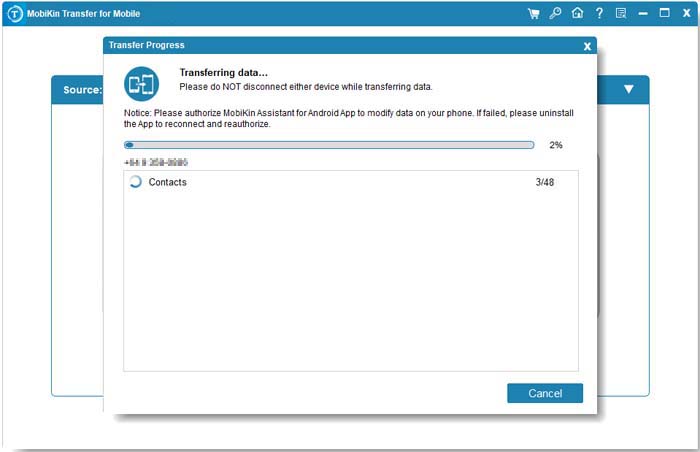 Deleted or lost Samsung data by mistake? Fear not, you can recover Samsung files without any trouble before moving them to Pixel.
Method 3: How to Move Data from Samsung to Pixel via Quick Switch Adapter
Running on Android 5.0 or above, and iOS 8 or higher, Quick Switch Adapter is capable of transferring stuff like text messages, contacts, photos, music, calendars, and apps from Android/iPhone to Pixel. It is an OTG adapter, enabling you to migrate data between devices directly.
How do I transfer data from Samsung to Google Pixel via Quick Switch Adapter?
To start things off, connect your Samsung phone to Google Pixel via the Quick Switch Adapter.
Now, it's time to log in to your Google account on Pixel. Or just create a new account if you haven't got the authentication yet.
Then the connection between two devices will be created. Soon, all the items you can move from Samsung to Pixel will be displayed.
Just choose what you desire to switch from Samsung, and touch OK to confirm the action. Then the transfer task should initiate immediately.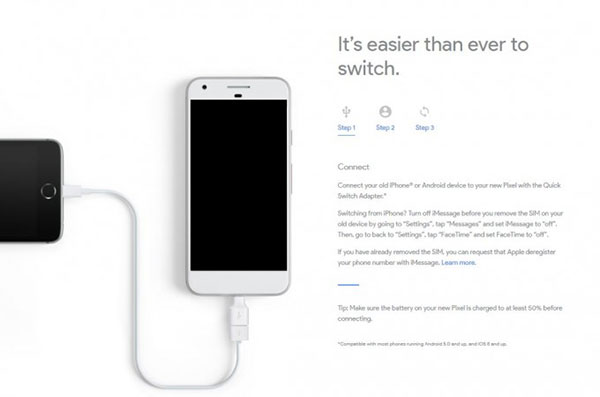 Attention: Is it possible to transfer from Samsung to Pixel using Smart Switch? This is the doubt frequently raised in the threads from Pixel Phone Community. Well, the answer is NO in fact, for this tool is only able to transfer data to Samsung Galaxy from Android/iOS devices.
Method 4: How to Transfer Files from Samsung to Pixel via Google Drive
Google Drive gives you the ability to back up Samsung data to its server. By doing so, you can then get all the desired content off the Drive, and thus add to the Pixel with ease. Again, it's necessary to connect to a stable WiFi network before the task.
Let's see how to transfer data from Samsung to Pixel via Google Drive:
Step 1. Open your Samsung phone, go to its Settings > Backup and reset/Backup & Restore, and choose to make a backup of Samsung data to the Drive.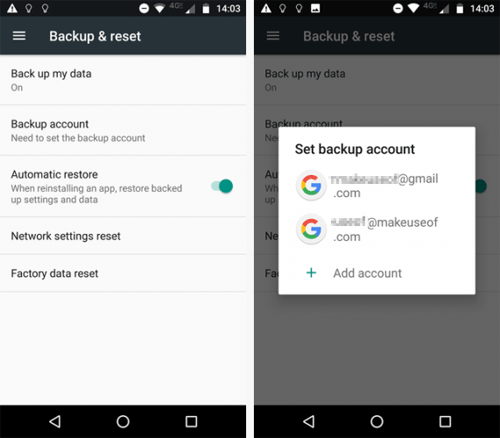 You can also head to Settings > Accounts > Google to sync Samsung data to Google Drive server.
Step 2. Once done, unlock your Pixel and initiate its setup. Type in the same Google account where the backup is stored. Then you'll get access to the backup records.
Step 3. From here, just select the recent backup files, opt for what you want to restore, and confirm the action. The data on Google Drive should on your Pixel afterwards.
See Also:
Method 5: How to Transfer from Samsung to Pixel Using Email
It is also viable to use email to transfer data from Samsung to Pixel. But it only supports the migration of photos, music, video, documents. Data like app, call history, SMS, etc. cannot be copied directly. Besides, it's too cumbersome to do tasks with it, because you cannot send more than 20 or 25MB of content each time.
To transfer from Samsung S20/S10/A51/A71 to Pixel 5/4/3/2 using Email:
Step 1. Wake up your Samsung device, and start Gmail, Hotmail or Foxmail, etc. on it. Then tap on the Compose option to draft a new email.
Step 2. Now, you should attach a file by browsing and choosing any document or media file. Next, wail till the upload is over, and enter another email address to send to.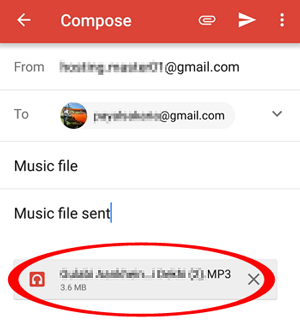 Step 3. Finally, turn to Google Pixel and access the email used to receive Samsung files. Then open the mail, download what you want, and save them on your Pixel.
Verdict
We've gathered 5 great ways to transfer from Samsung to Pixel. Well, while picking the tool or service, you could first take these key factors into account. They are the compatibility, ease of use, supported data types, work efficiency, data quality and the security. In this sense, MobiKin Transfer for Mobile is an ideal approach to move Samsung data across. Here, just give it a shot with its free trial.
Related Articles:
[2020 Updated] How to Transfer Photos from Google Pixel to PC/Mac?
Google Pixel Data Recovery: Recover Deleted Files on Google Pixel
How to Copy Content from iPhone to Google Pixel?
How to Transfer Contacts from Samsung to iPhone - 5 Methods
How to Recover Data from Samsung with A Broken Screen?
How to Transfer Photos from Samsung to Computer? 5 Proven Ways