Samsung Fixing: How to Fix Bricked Samsung
A normal Samsung device is undoubtedly a superb tool for us to make calls, text, take photos, enjoy music, play games and so on. But what if it becomes a brick and unable to respond to any order you made? Do you have any idea about how to fix bricked Samsung? It doesn't matter if you do not know how to do while facing a bricked Samsung since the full solutions about it will be provided step by step here. Just read on to return your Samsung phone to normal.
Part 1. Why Does Samsung Phone Get Bricked?
Normally, the problem that Samsung phone gets bricked is caused by the phone root. So, the main reasons of a bricked Samsung can be concluded as below:
1. Some important code programs are erased by the rooting.
2. The device is switched off during the flashing.
3. Mistakenly delete some significant applications from your rooted Samsung device.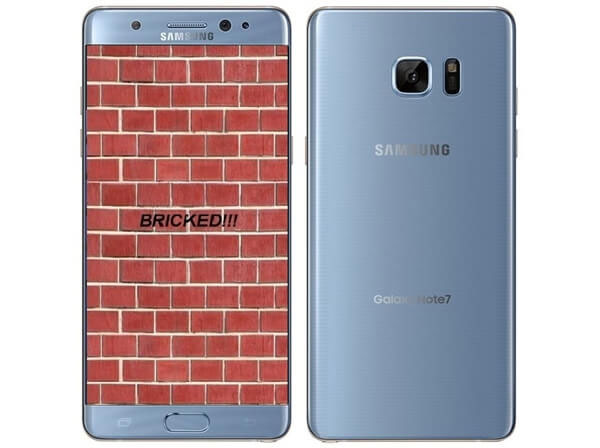 Can't miss:
How to Solve the Common Problems with Samsung S8 and S8 Plus?
Part 2. Extract Wanted Data from Bricked Samsung
If you have stored some important files on the bricked Samsung phone, you are advised to restore them from the device at first in case you lose all the data and unable to get them back. Here, Broken Samsung Data Extraction would be the most ideal tool for you to recover the files. It allows you to get access to a broken or damaged Samsung phone and recover the wanted files from it without touching any button on the device. You can go with the details below and try to retrieve the data on your bricked phone.
Step 1. Click on the icon below to download the software on your computer and then follow the instructions to install it successfully.
Step 2. Run the program that you have installed just now and connect your bricked Samsung to the computer via USB cable. When the connection finishes, the main interface of this tool will appear. Just click on Broken Android Phone Data Extraction option.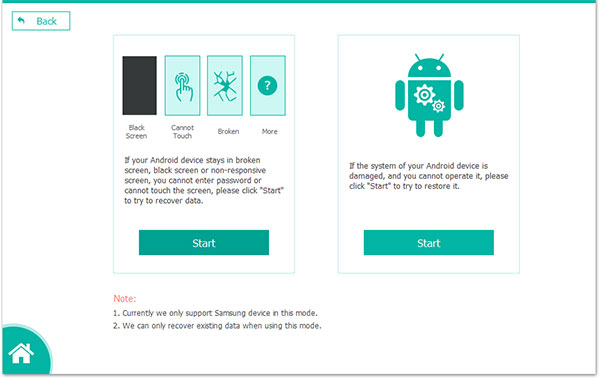 Step 3. Select Fix Device option on the screen and then several questions about your device will appear. Just tap on Others option.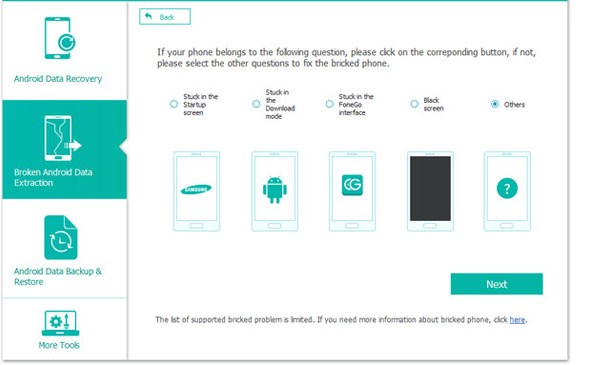 Step 4. After selecting the option, tap on Next and follow the guide to enter Download mode. Then you can click Start button to begin the fixing process.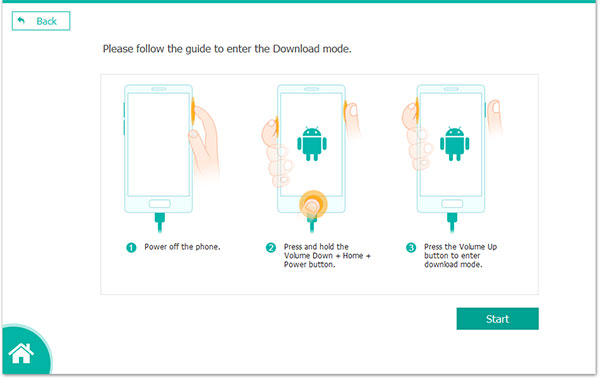 Step 5. When the fixing process ends, your Samsung will return to normal status. Then you can go to Android Data Recovery to get back the data you want.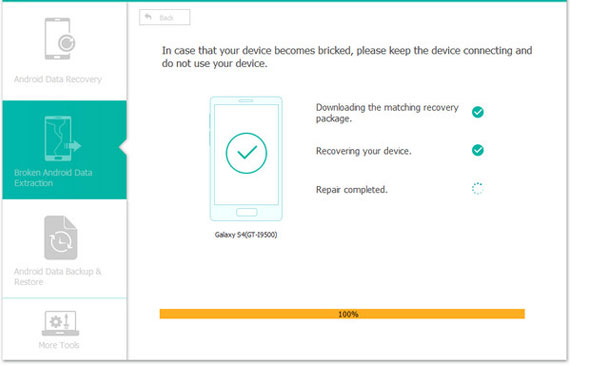 Part 3. Fix the Bricked Samsung with One Click Unbrick Software
You can use One Click Unbrick Software to help you fix the problem. As its name says, this program is a special tool to unbrick the bricked mobile phones and make them usable. To use it to unbrick your Samsung, you need to:
Step 1. Download and install the mentioned software on your computer and then use a USB cable to link your bricked Samsung to PC.
Step 2. Right click the OneClick.jar file and select Run as Administrator.
Step 3. Tap on Unsoft Brick to begin the unbricking process.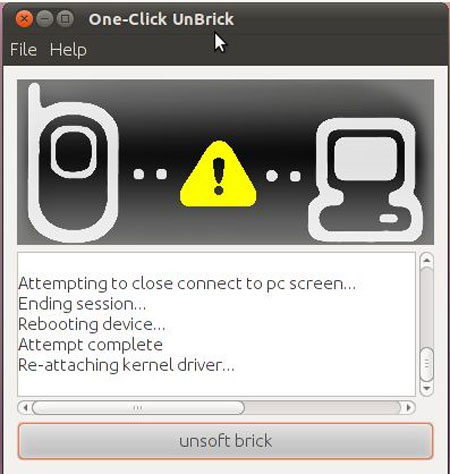 Step 4. When the fixing process finishes, you can restart your device and use it as usual.
Part 4. Flashing the Device to Solve Samsung Gets Bricked Problem
If you do not have a computer at that moment or do not want to use any third-party software, you can choose to flash your device to solve the problem that your Samsung gets bricked. Flashing a new ROM on your Samsung is not an easy task so you are suggested to follow the detailed steps below carefully or you may get a failed flashing.
Step 1. Root your device at first and unlock the Bootloader. The methods to unlock bootloader on different phone models are different so that you'd better go to ask user manual about it.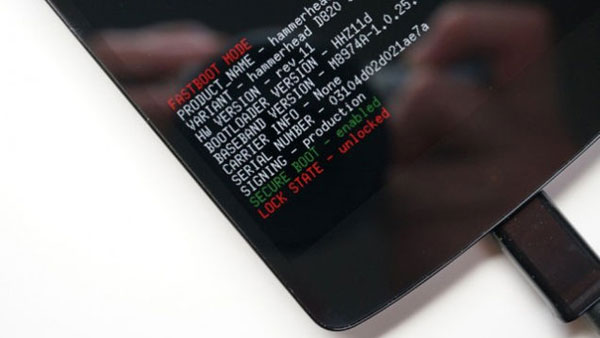 Step 2. Select Backup or Nandroid in recovery mode to make a backup for all your data. Then click on OK to confirm your option.
Step 3. Download a ROM you like on other device and store it in your SD card. Then insert the SD card to your bricked Samsung to begin the flashing process.
Step 4. Select Install Zip from SD card in the Recovery mode. Next, tap on choose zip from sd card by using Volume Up and Down buttons to elect the ROM that you have downloaded just now. Then tap on Power button to confirm it.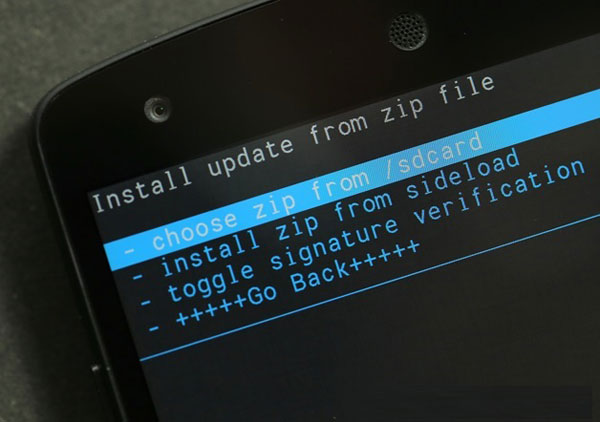 Step 5. Tap on reboot system now when the installation finishes to restart your device.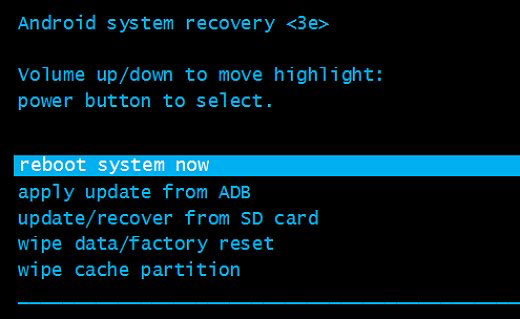 Related Articles:
How to Fix Android Blue Screen of Death?