Recover Media Files from Broken Samsung Phone
A Samsung phone can be broken or damaged due to various reasons. And when you get a broken Samsung, you can extract the wanted data from it simply if the problem is not so serious. But what if the phone is unresponsive or even cannot be turned on? In this case, recovering media files from broken Samsung is a hard task. However, Broken Samsung Data Extraction can turn this hard task into a simple thing.
Features of the Broken Samsung Data Extraction:
* It is able to get access and scan all the existing files on broken Samsung device without enabling USB debugging.
* Restore various kinds of files like videos, photos, music, contacts, messages, etc. from broken Samsung phone within simple clicks.
* It can fix some Samsung system errors and turn it back to normal status.
* Only support Samsung devices at present.
* The recovery process is clean and secure.
With this tool, you can retrieve your media file on broken Samsung in two ways:
1. Recover Media Files from Broken Samsung Directly
When your Samsung phone is broken and you are unable to enter or unlock it, you can extract the videos, photos or songs in it by:
- Link the crashed Samsung to computer with USB cable and launch the program. When you get the main interface of this program, tap on Broken Android Phone Data Extraction to enter the mode.
- Click on Start option and go with the instructions on the screen to access to the device.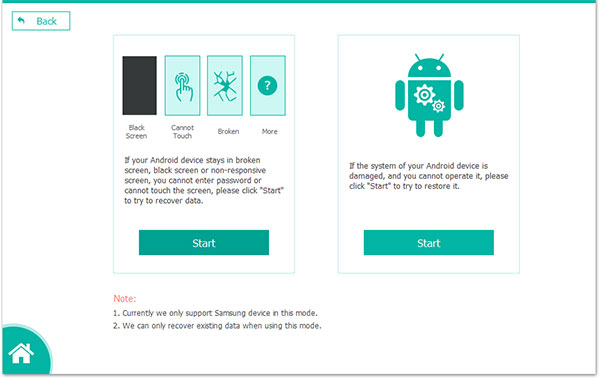 - Then you need to choose the name and model of your device and click on Confirm to ensure your option. Next, you need to enter the Download mode by following the prompts on the screen.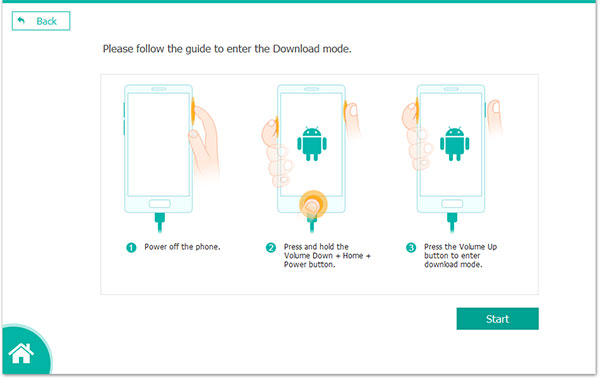 - Tap on Start to begin scanning the files on the broken device. When the scanning process finishes, you can preview and recover the needed media files as you like.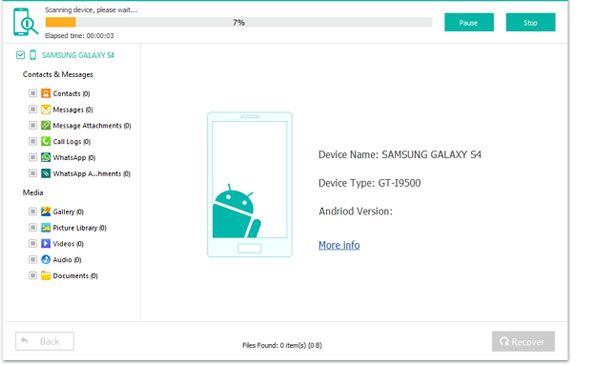 You might also want to read:
How to Restore WhatsApp Chat History from A Broken Samsung?
[Solve] How to Extract Call History from Broken Samsung?
2. Return the Damaged Device to Normal Status to Restore the Media Files
But if your Samsung phone is broken due to bricked, crashed, virus attack, etc., you need to turn the device to normal status at first and then you can restore the wanted files from it. This process can also be completed in several steps with the help of the suggested tool.
- Also, connect the broken device to the computer and launch the program. Then enter the Broken Android Phone Data Extraction mode and click on Fix Device option to enter the fixing process.
- Now you need to elect the question of your device and tap on Next to enter the Download mode.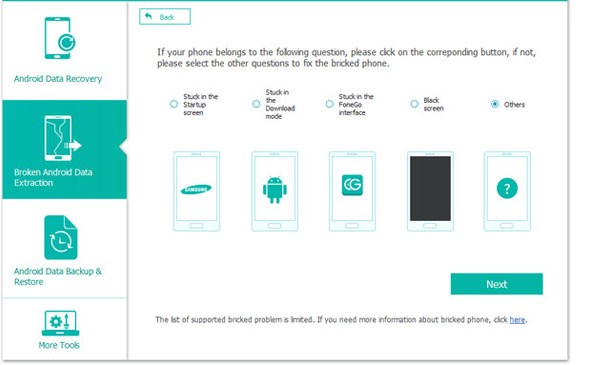 - Click on Start to begin the process. And when the fixing is ended, you can see that your Samsung is normal now and you can go to Android Data Recovery mode to recover the desired files.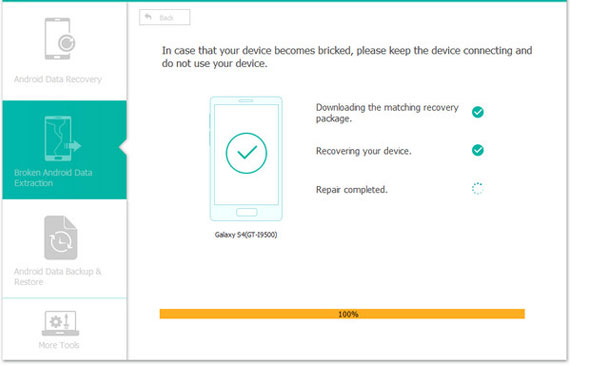 What are you waiting for? Just click on the icon below to download the software and extract all the wanted files on your broken Samsung phone.
Related Articles:
Recover Text Messages from Broken Android Phone
How to Enable USB Debugging on Broken Android?
Ultimate Solution to Recover Deleted Contacts from Android
How to Transfer, Copy Text Messages from Samsung Galaxy to PC/Mac
How to Recover Lost Contacts from Samsung Galaxy
How to Recover Data from Water Damaged Android Phone or Tablet?