How to Retrieve Text Messages from a Broken Android Phone in 2021
The other day, my teacher's Andorid phone was on the table. But as soon as he turned around, the naughty cat which was looking for food ran over the mobile from the table inadvertently. Unfortunately, the phone screen was broken, and didn't respond. Some significant data, such as text messages couldn't be seen then. Now, it's more difficult to recover his mobile than ordinary phone with deleted data.
In that case, how to retrieve text messages from a broken Android phone is a very urgent "task". People who have experience in connecting phones to computers may ask: can I retrieve SMS from a broken Android phone with a USB cable directly? The answer is "No", but some other data can be recovered, We'll discuss it in detail in "part 4".
Now, We will show you the recovery methods that most people may not know. Please read on to get them.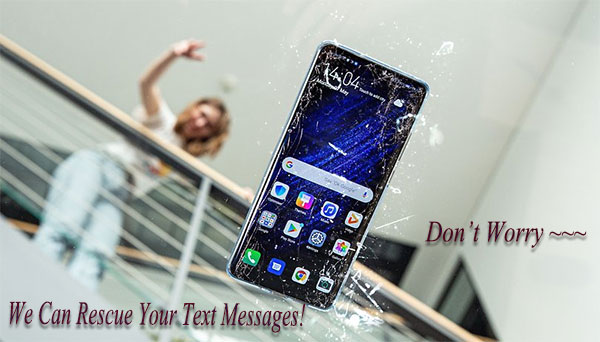 Part 1: How to Avoid Phone Damages and Give First-aid to Broken Android Phone
"Phone is broken how to retrieve texts", "how to retrieve text messages from a broken LG phone"...... It's not easy to find a perfect solution on Google when searching for such keywords. Let's talk about how to reduce the possibility of screen broken, and how to give first aid when encountering this scene.
How to Avoid Phone Damages
How to Give First-aid to Broken Android Phone
Part 2: How to Retrieve Text Messages from a Broken Android Phone Using Broken Android SMS Recovery
The recovery process on an Android phone with broken screen seems to be more complicated than file recovery on ordinary mobiles. But in fact, their steps are generally similar, except that the software for data recovery of broken Android phones must be qualified to access mobile data. Broken Android SMS Recovery can help recover text messages and other files from Android phone, even if the phone screen is broken or cannot be awakened. For whatever reason, the broken screen of your Android phone is within the service of this software.
Now first, let's take a look at its quality features:
- Work well on broken Android due to virus attack, system crash, black screen, phone frozen, phone drown, password forgot, etc.
- Recover contacts, messages, photos, videos, audio, WhatsApp, documents, call logs, and more data stored in internal memory and SD card.
- Supports various file types, including music, photos, videos, call logs, contacts, SMS and many more.
- Retrieve Samsung Galaxy (phone and tablet) data from damaged phone internal storage, supporting Samsung phones like Samsung Galaxy S6/S5/S4, Galaxy Note 5/4/3, Galaxy Tab Pro 10.1/SM-T525, etc.
- Run on Android 2.3 or later, and Windows 10/8.1/8/7/XP.
- It guarantees 100% safe, clean and virus-free.
OK, give this wonderful program a download to get rid of your nuisance.

Now, Let's check out how to retrieve text messages from a broken Android phone:
Step 1: Run the Program and Choose the Mode
Download the Broken Android SMS Recovery on your personal computer to initiate the process. Once downloaded, install and launch the program on your computer based on the instructions provided by the program itself. Then connect your broken Android phone to computer and choose "Broken Android Data Extraction" mode.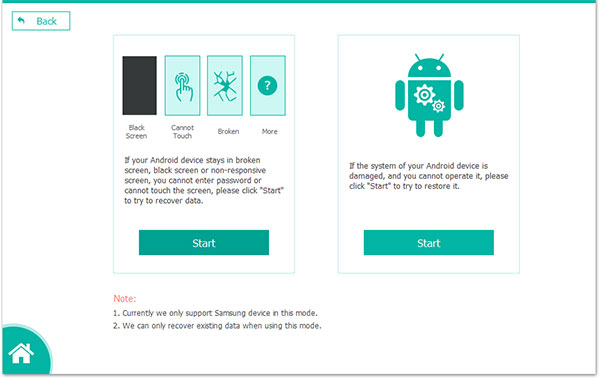 Step 2: Select the Right Option According to Your Own Situations
You may have found that there are two options on the above screen. You need to select one of them to proceed.
Here is the difference:
1) If your the screen is damaged or locked and you can't enter or unlock the device, you can click "Start" button on the left to enter the download mode.
2) If your Android is broken due to briked, crashed, virus attacked, etc., you can choose "Start" option on the right to get your device back to normal at first.
Now, the following steps need to be divided into two different situations:
Situation 1. Selecting the "Start" Button on the left module
When you have selected "Start" option on the left module, you'll be required to choose your phone name and model to confirm whether your broken Android device is supported by the program.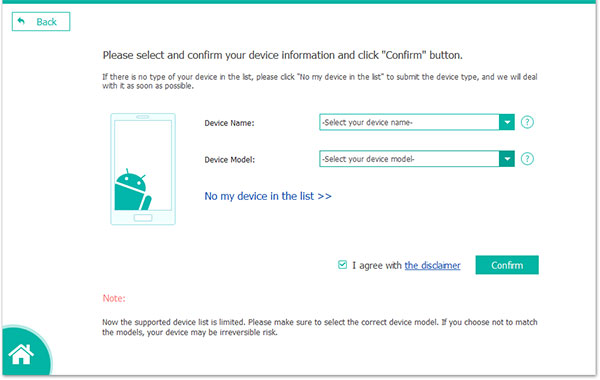 If your device is supported, you need to follow the onscreen guide to enter the Download mode, and click "Start" to wait for the end of the process.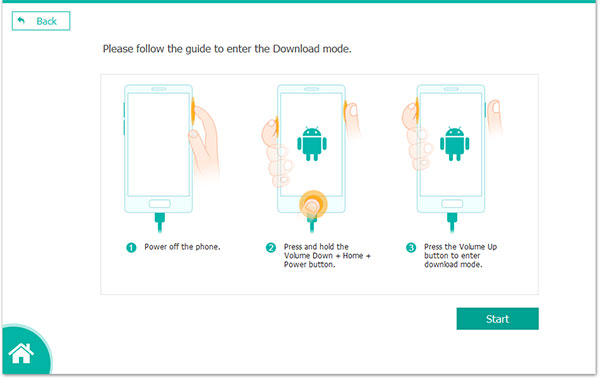 Now, the data on your broken phone have been found and displayed in the program as below. Just select "Messages" and tick the data you wish to restore, and then hit "Recover" button to save them on your desktop computer.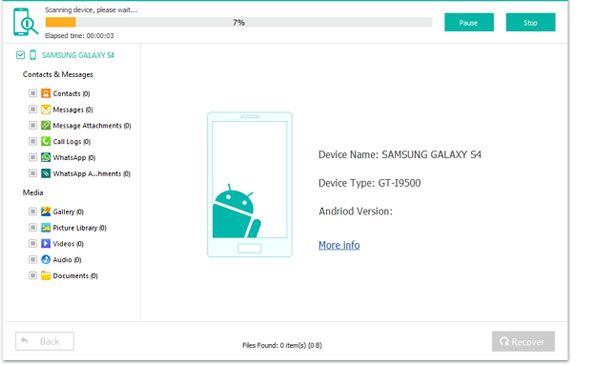 Situation 2. Choosing "Start" Button on the right module
In this situation, you'll get an interface like below. Here, you need to choose the issue that you wish to fix.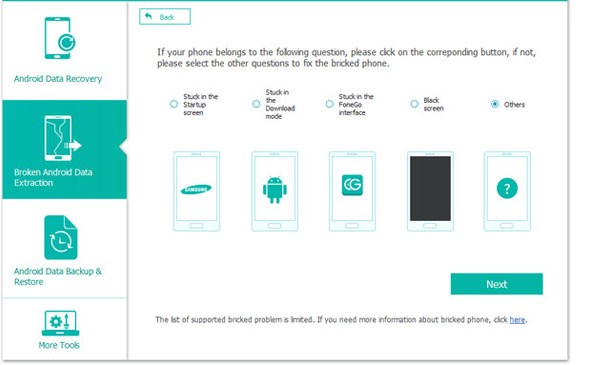 After that, just click "Next" to enter the Download mode. Then you can tap on "Start" button to begin the fixing process.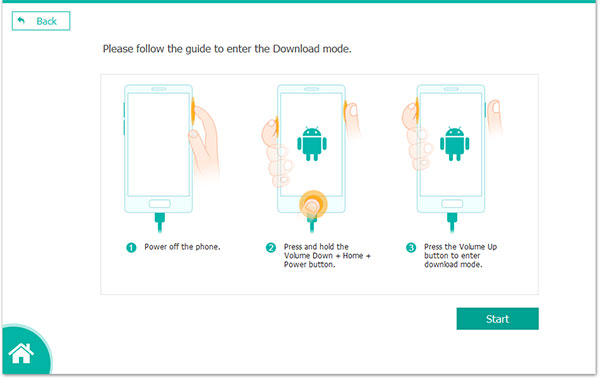 When your phone return to normal, you can use the Android Data Recovery software to get back the deleted data.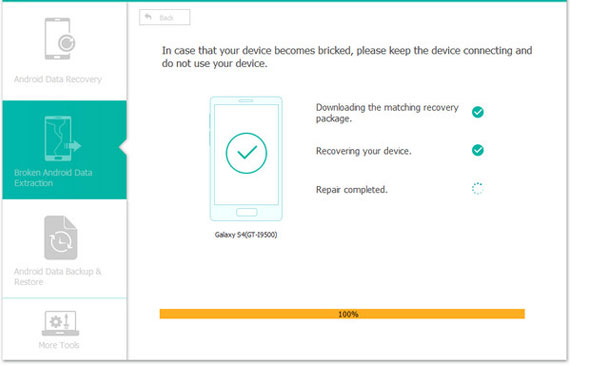 Part 3: How to Recover Text Messages from Broken Android with Find My Mobile
[Samsung Galaxy Only]
Find My Mobile is a service technically designed by Samsung for Samsung Galaxy series (other phones are not available), which supports the recovery of the content on Samsung phone with broken screen, including text message, contact, multimedia, app and other file types. When using it, you need to first get access to the data from the broken screen phone with it, and then backup SMS or other data with the aid of Samsung Kies. Finally, recover your needed data to your computer.
Retrieving text messages from broken Samsung phone with Find My Mobile is up for grabs. Here it is:
Step 1. Go to Samsung Find My Mobile website and click "GO TO FIND MY MOBILE" to log in to the account with your Samsung ID.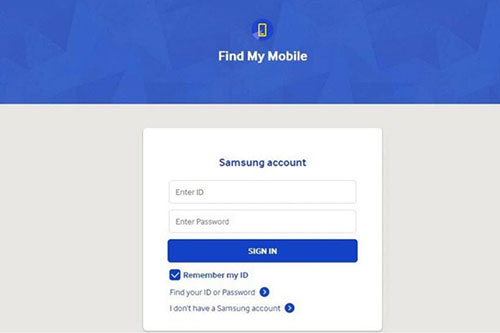 Step 2. Choose "Unlock My Screen" to unlock your Samsung Galaxy. Later, your broken Samsung will be unlocked and you have the access to go into it. It is of utmost importance to backup your broken Samsung with Samsung Kies if you haven't made it on Find My Mobile Service.
Step 3. After that, you can get back text messages on the broken Samsung from Samsung Kies. Just download, install and open Kies on your computer, and connect your phone to PC via a USB cable. Then you can recover your desired text messages to your computer.
Hot Topics:
Bonus: How to Retrieve Other Data from Broken Android Phone with USB Cable
Screen broken is one of the most common mobile phone problems. It causes part of the screen to not respond to phone touches, so it is not possible to directly back up data on the phone, but you can try to restore data from the phone using a USB cable. But you should note that, this method only supports recover multimedia files and documents, text messages, contacts and call logs are unavailable.
Wonder how to retrieve multimedia files and documents from a broken Android phone? Here we go.
Step 1. Connect your Android phone to your computer via a suitable USB cable (It's better to use the original cable). Later, your computer may pop up with a prompt to install drivers.
Step 2. Go to "This Computer" or "My Computer" and find your Android phone's name. Then double-click on it and you'll find the multimedia and document files stored in either Android internal or external memory.
Step 3. Select your needed files, copy them and find another location on your computer to paste them.

Summary
It is necessary to recover ponderable texts in Android phone when its screen is broken. Most people may place more emphasis on the professionalism and security of the recovery tool. Indeed, no matter what causes the screen damage, you need a mobile recovery expert - Broken Android SMS Recovery to handle the issue - how to retrieve text messages from a broken phone. Because in this scenario, data security and quality should come first.
Yet, in terms of Find My Mobile, text messages need to be backed up before recovering. At this point, I believe you know how to make a choice now. Thus, download your appreciative software to meet your urgent needs.
Related Articles:
[Fixed!] How to Permanently Delete Text Messages on iPhone?
How to Recover iMessages from Disabled iPhone? 3 Ways for You!
How to Transfer Contacts from Android to Computer? (4 Ways)
How to Permanently Delete Text Messages from My Android Phone?
[Solved!] How to Transfer Text Messages from iPhone to Android?
How to Print out Text Messages from Android Phone? (Best 4 Ways)