How to Recover Samsung Data from A Broken Screen?
An inoperable Samsung smartphone screen, whether broken or dead, is never a welcome feature. Worse still, is not knowing how you can recover Samsung Data from a broken screen. In this article, we'll discuss four such situations and ways to solve them.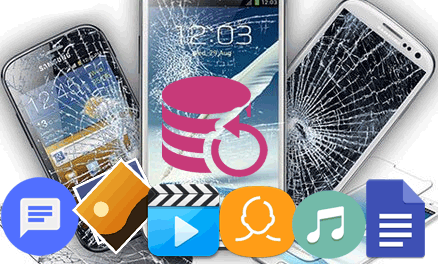 Part 1. Dead/Black Screen and You Can't Access the Phone System
If it happens that your Samsung phone has a dead screen that is, the device is operable but you can't turn it on to operate it then you need a third-party app that can sync your phone and a computer to create a backdoor for data recovery. Broken Android Data Recovery or some similar software that's compatible with Samsung phones would do. However, let's stick to the former and see how you can use it to recover data from a Samsung phone with a dead/black screen.
Key Features of Broken Android Data Recovery:
- Back up existing files from internal memory and SD card to PC. Support contacts, SMS, call logs, photos, music, WhatsApp, videos, etc.
- Fix Android system issues and get your device back to normal status, such as virus attack, black screen, system crash, phone frozen, phone drown, password forgot, etc.
Now, download the powerful software and follow the below steps to begin the process.

Here's how:
Step 1. Connect your Samsung phone to a PC via a USB cable.
Download and install Broken Android Data Recovery on your Windows computer. Once done, run it and connect your Samsung phone to the computer with a USB cable. You won't need any USB debugging for this.
Step 2. Select the correct mode for data recovery.
From the software window, select Broken Android Data Extraction on the left panel. After that, you'll find two options on the right interface: one is for extracting data from a device with an inoperable screen (dead or broken) and the other if the phone's system itself has been damaged. For our purpose, click on the "Start" button below the first one.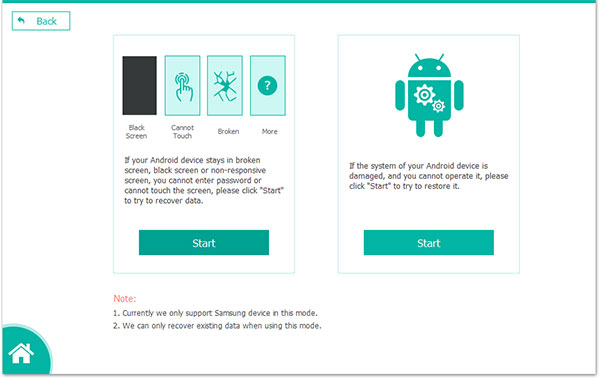 Step 3. Offer your device info to the program.
On the next screen, you'll find two data fields: Device Name and Device Model. From the dropdown menu beside each, select your phone and its model number. Next, check the "I agree" box and click "Confirm".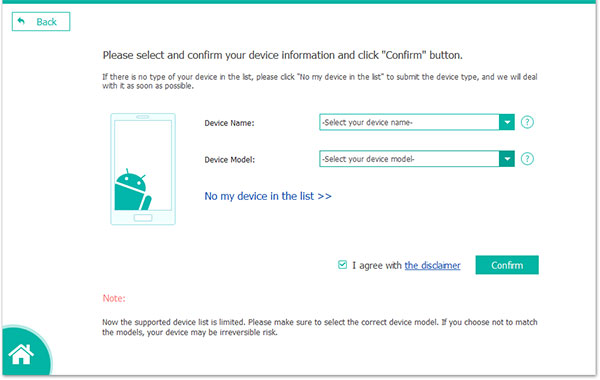 Step 4. Enter the download mode.
Now you need to enter the download mode. The program will download a fix package to your phone to fix the phone issue and get your phone back to normal. To do that:
(1) Turn your phone off.
(2) Press and hold down the Volume Down, Home/Menu and Power buttons simultaneously.
(3) Press and hold down the Volume Up button.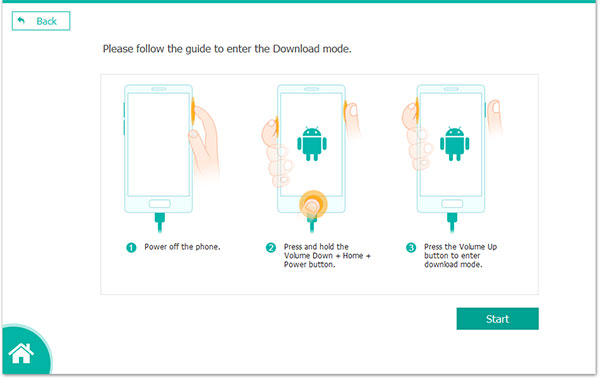 Step 5. Recover data from broken Samsung Galaxy.
Once you've entered the download mode, click on "Start" and the program will begin a scan. Upon completion, you'll see an interface with all the different data categories listed on the left. Select them in groups or as individual data and click the "Recover" button on the lower right corner to back them up on your computer.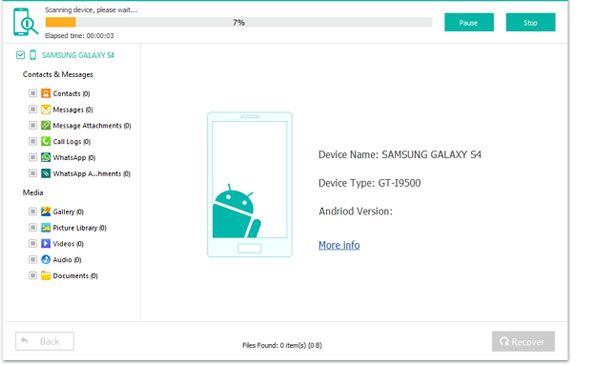 The software can only support Samsung Galaxy S5/S4/S3, Galaxy Note 5/Note 4/Note 3, Galaxy Tab Pro 10.1. You can check the related models in this page:
You May Need:
Part 2. The Screen is Cracked and Operable but You Forget Your Password
If it happens that you cracked the screen of your Samsung S10/S9/S8/S7/S6/S5 and after turning it back on, you can't remember the password to your device then you need a way to reset that by first erasing the old one. You can do this with the help of Find My Mobile.
To do that:
Go to the Find My Mobile service website and sign in using your Samsung account name and password.
Hit on the "Sign in" button to log in your Samsung account.
Choose the "Lock my screen" section on the left panel.
Enter a new PIN to unlock your Galaxy screen as it prompts.
Click "Lock" on the bottom of the screen.
Wait for a few minutes, the PIN you set on the web browser just now can be used to unlock your Samsung Galaxy.
Then, you need to back up files from your Samsung Galaxy.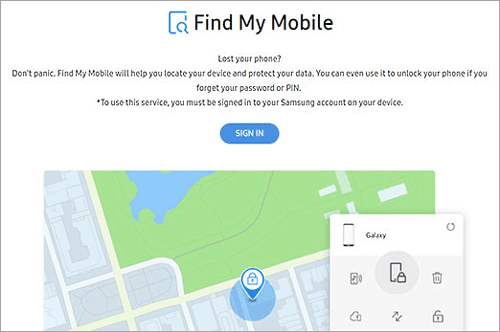 (1) To use Find My Mobile, you are required to set a Samsung account on your Galaxy phone and login it.
(2) Find My Mobile can even back up your Samsung Galaxy to Samsung cloud and erase all data stored in the device.
See How to Back Up Your Samsung Galaxy:
Part 3. The Screen is Cracked but You Can Unlock Your Phone
If your old phone's screen is cracked but still operable then it's best that you switch phones while things are still that way. For this, you'll again need a third-party program like Mobikin Transfer for Mobile (Windows/Mac). To transfer data from a broken Samsung phone to a new one, follow the detailed steps below:
Download and install the program on your computer.
Run the program and connect both the old and new phones to your computer using USB cables.
Enable USB debugging on your Android phone(s).
Your old phone with the cracked screen will be marked as Source and the new phone as Destination. Correct their oppositions.
Select the data to be transferred from the middle panel.
Click Start Copy. This will transfer all the selected data from your old phone to the new.
For more details. please go to Ultimate Guide on How to Transfer Contacts from Android to Android in 2019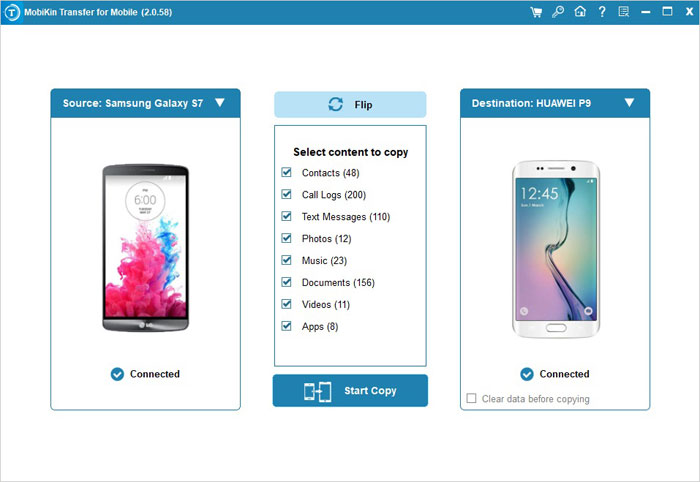 Part 4. Send Your Galaxy to a Repair Shop
If everything mentioned here fails or if you're simply not comfortable to handle this yourself then you can always send the damaged device to a professional to do the job. Of course, this will cost you for both the new screen and services rendered. Either way, once you've received your repaired phone, it's time to back up your Galaxy phone.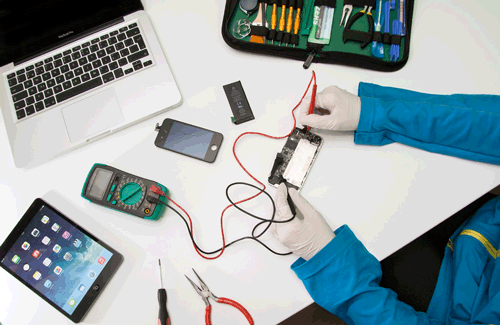 Here are two simple guides for you. If you would like to learn more about backing up a Samsung Galaxy, please go to Part 2.
#1. Google/Samsung Cloud
We take Google as an example.
Step 1: Open "Settings" from the apps menu.
Step 2: Open "Accounts" from "Cloud and accounts".
Step 3: Select Google.
(1) If you're not already signed in then do so using a Gmail account. From the list below, turn on automatic syncing.
(2) If you're already signed in then you'll see the last date that a certain data type was synced to your Google account.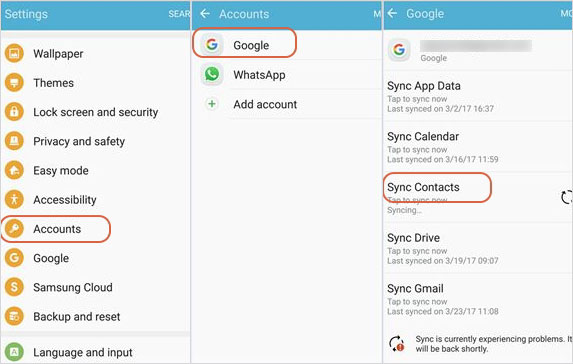 #2. Drag and Drop
Step 1: Connect your phone to the computer using a USB cable. Turn on USB debugging on your Samsung phone.
Step 2: From the prompted message on your phone, select MTP. If you can't find the option then your Samsung already uses it as standard procedure and didn't see the need to include it as a selectable choice.
Step 3: Open the window of your phone storage from "My Devices".
Step 4: Next, just drag and drop items from your device to your computer folder.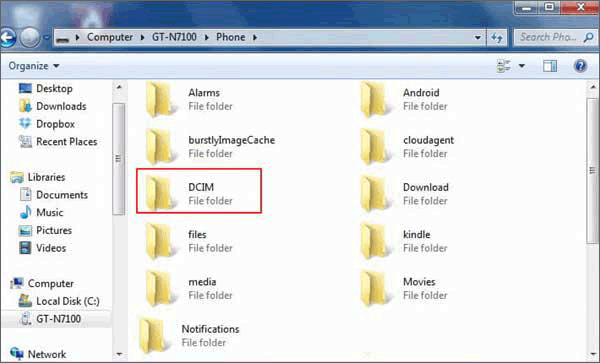 The Bottom Line
It's best that you keep your external storage updated. In itself, a cracked or dead screen isn't such a horrific thing. But losing your data can be if you weren't careful enough to keep them backed up.
Related Articles:
Android Message Recovery - How to Retrieve Deleted Text Messages on Android
How to Recover Data from Water Damaged Android Phone or Tablet?
How to Import CSV Contacts to Android Devices with Clicks?
Top 5 Powerful Android Data Recovery Apps and Software of 2019
How to Unlock iPad without Passcode? 5 Ways to Solve It!