How to Restore WhatsApp Chat History from A Broken Samsung?
In these years, Samsung users tend to make conversations on WhatsApp since they can share images, GIF, videos, documents, audio files, etc. on this platform. Thus, many users would save some important or meaningful chat histories in this application. However, when your Samsung phone is broken or damaged, the chat histories in WhatsApp will be lost or even unable to be opened. This is really a disaster!
Then, what can you do in this case? Is it possible for you to restore WhatsApp chat history from broken Samsung? The answer is definitely YES. This article will show you the ways to get back the WhatsApp messages from your broken Samsung phone.
Part 1. The Best Way to Restore WhatsApp Chat History from Broken Samsung Phone
Turning to a professional recovery software would be your best choice to get back the WhatsApp chats. Here, you need to select a tool that can recover WhatsApp files as well as able to extract data from broken mobile phones. And one of the professional programs that can meet both conditions is Broken Samsung Data Extraction. This powerful tool can help you to restore the WhatsApp chat history from broken Samsung easily.
The Features of This Software:
* Recover various kinds of files on your Samsung, including WhatsApp files, contacts, messages, videos, photos and so on.
* Extract existing data from Samsung with a broken, black or non-responsive screen directly.
* Return your crashed Samsung phone to normal status.
* Only support Samsung devices at present.
Now let's see how to retrieve WhatsApp messages from broken Samsung:
Step 1. Root your phone at first and then connect your broken Samsung to the computer with USB cords. Next, launch the installed program on your PC and then select the Broken Android Phone Data Extraction option.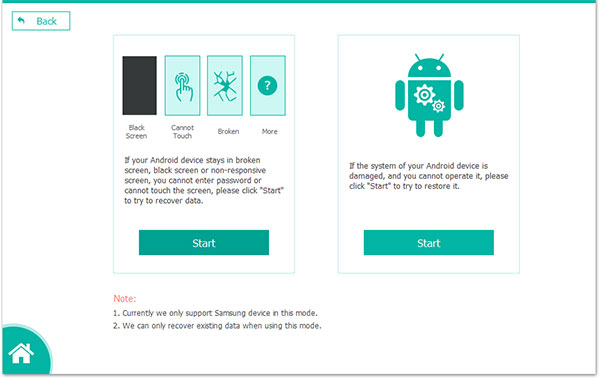 Step 2. Choose Start option and confirm the device name and model that you wish to access to.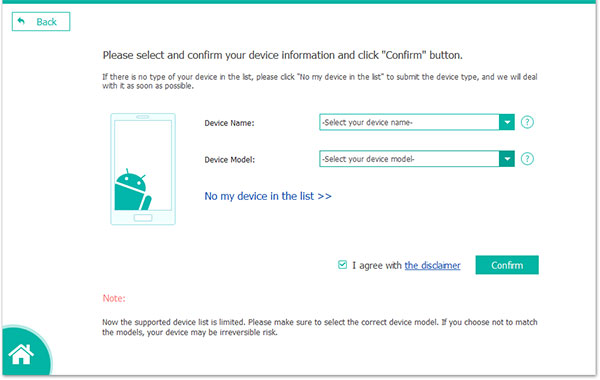 Step 3. Go with the instructions on the screen to enter the Download mode. And then you need to click on Start button to begin the scanning process.
Step 4. Click on the WhatsApp option in the left panel to preview its contents. Next, check the chat histories that you want to extract.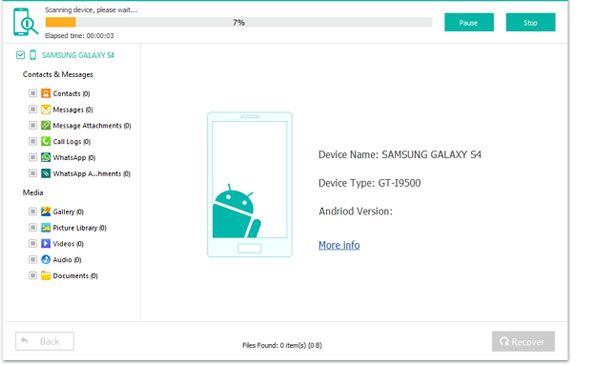 Step 5. Hit on the Recover button to get back the WhatsApp chats.
See also:
Guide on How to Recover WhatsApp Images from Samsung
Recover Deleted WhatsApp Messages from Android
Part 2. Retrieve WhatsApp Messages from Another Phone
Some users may not like to download and use the third-party software. In this case, you can retrieve the WhatsApp conversations from another phone as long as you have make a backup before.
Step 1. Download and install WhatsApp app from Google Play Store on another mobile phone.
Step 2. Launch the WhatsApp and click on "Agree and Continue" to enter the software.
Step 3. Permit WhatsApp to use contacts and media on your phone by tapping on Allow.
Step 4. Enter the WhatsApp account and password that you have used on your broken Samsung and click on Next and OK to confirm the information.
Step 5. After landing your WhatsApp account, the app will detect the backups automatically. Just hit on Restore option to get back the messages on your account.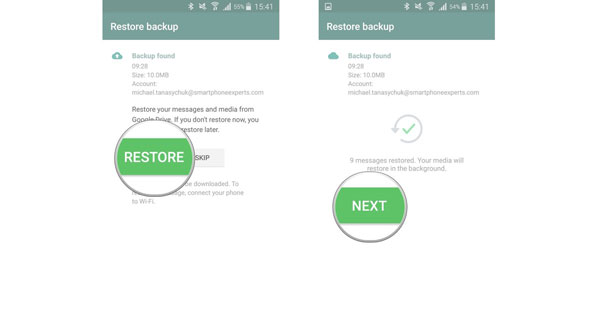 Related Articles:
How to Extract Call History from Broken Samsung?
GIF Recovery from Broken Samsung Galaxy
Ultimate Solution to Recover Deleted Contacts from Android
How to Transfer, Copy Text Messages from Samsung Galaxy to PC/Mac
How to Recover Lost Contacts from Samsung Galaxy
How to Recover Data from Water Damaged Android Phone or Tablet?