iPhone File Browser for Windows/Mac
Why You Need A File Browser for iPhone?
Nowadays, iPhone become more and more important in people's life. It not only works as a simple mobile phone for communication, but also perform well as a personal assistant tool. For example, you can use iPhone to surf the Internet, read the latest news, receive or send emails with your clients; or you can use it to read eBooks, business materials, facetime meetings, etc. However, we know that files on the iPhone can only be viewed in the device, and you can easily export them to the desktop PC for viewing, editing or sharing due to the Apple's security limitation. That's why a well-performanced iPhone file browser are needed here. By having a great file browser, you will have the ability to share and retrieve various files and documents on social media straight from the source. You will be able to easily add, rename and delete files saved on your iOS devices so that you can easily manage files on the device directly.
So in the following contents, we could like to introduce some of the freeware for your choice. You can compare them and select one as your final choice according to your own needs.
List of the Best iPhone File Browser Applications
PhoneBrowse
Phonebrowse is one of the better iPhone file browser apps out there today. It is clean, safe, efficient and allow you to have absolutely full control over your phone. It will integrate a file explorer interface that is intuitive and designed in such a way to assist you in manipulating and accessing your iOS system without ever a need for a jailbreaker.
MobiKin Assistant for iOS FREE (Windows/Mac)
If you're looking for an application that allows you to export files from iPhone, iPad or iPod to desktop computer easily, then this MobiKin software could be the ideal option here. With it, you're allowed to transfer/move up to 14 types of files from iDevice to PC or Mac with one simple click, including photos, music, movies, tv shows, podcasts, contacts, messages, notes, etc. What're more, the program is a totally free, you can get it by clicking the below icons directly.
Let's have a brief look on the primary window of the powerful iPhone File Explorer: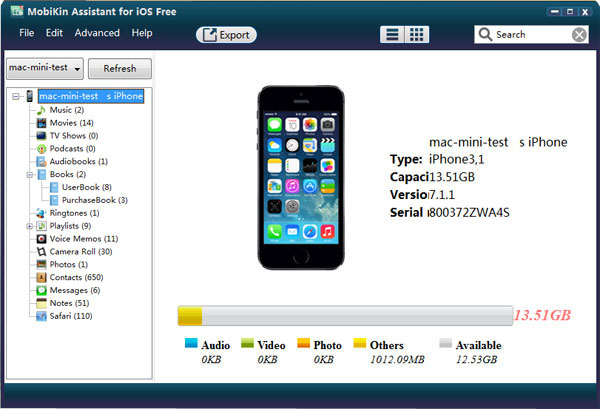 iExplorer
iExplorer provide users with a free yet fantastic way to browse or transfer all of your music files from iPhone, iPad or iPod to your Windows or Mac computer. You will be able to search your iTunes files, preview and copy them with a simple touch of a button. You can also transfer more than one track at a time. Believe us, iExplorer will let you quickly reconstruct your playlist and copy it without any problems whatsoever. (Here is some alternatives to iExplorer you may interested in.)
iFunbox
iFunbox enables you to install various IPA packages from distributions which are completely in-house. That means you can manage and browse through music, videos, photos and even ringtones in such a quick and easy way. Files are breakingly imported into a particular batch by a drag&drop or file browsing dialog. All of the photos and videos can also be exported by just one simple click and the same goes for music, movies and ringtones.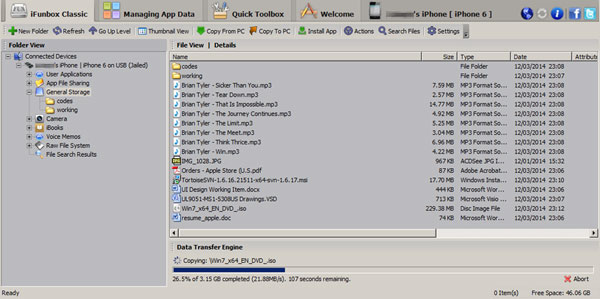 FileApp
Another really great iPhone file browser, FileApp can be accessed for free and you can begin to start importing different files from your computer and many other apps as well. With it, your iPhone will be utilized as a document browser, just like Windows Explorer or Mac Finder. It will help you deal with any file that you throw at it, always efficient and reliable.
Related Articles
How to Transfer Music or Songs from iPod to iPhone
4 Ways to Transfer Voice Memos from iPhone to PC/Mac without iTunes
How to Put Ringtones on iPhone from Computer? Fix Here!