4 Useful iExplorer Alternative Software You May Need
What iExplorer is?
iExplorer, is a popular iPod, iPhone and iPad software for file browser. It helps in making it easy to browse and also export music to computer or iTunes library. It also facilitates the transfer messages, voicemail, address book contacts, calendar events, voice memos and even more to your personal PC. Moreover, it lets iDevice users mount their iPhone, iPad or iPod as an external hard drive without restrictions. Therefore, iExplorer can help users manage their iDevice more conveniently.
See Also: Alternatives to Sharepod
Why You Need to Find An Alternative to iExplorer?
Even though iExplorer have so many powerful functions and also helps people lots, however, it also bears some flaws. In order to mount the iPhone, iPad or iPod to a Mac finder or Windows explorer and be able to view audio as well as video files, installation of the QuickTime drive and disk-mounting framework has to be done. This takes lots of extra space on your PC. So if you are looking for an iExplorer alternative, the following freeware programs that will grant you much better access to the files you have stored on or want to transfer to your iPhone.
Best Alternative Program to iExplorer - MobiKin Assistant for iOS
Developed by the famous 3rd-party program publisher - MobiKin studio, this Assistant for iOS (Windows/Mac) allows users to export or browse all or selected photos, music, movies, messages, contacts, podcasts, voice memos, ringtones, notes, safari bookmarks, etc. to desktop computer within few clicks. Moreover, it also have many other brilliant features.
- Export selected or the whole contents of iPhone, iPad or iPod to your desktop computer as you like;
- Import files like contacts, calendars, bookmarks, etc. from computer to iPhone, iPad or iPod without restrictions;
- Export contacts and SMS to computer in various formats, such as VCF, HTML, TEXT, CSV, and so on;
- Bulk remove apps on iPhone, iPad or iPod with few clicks;
- Preview files in thumbnail or list view mode as you like, so that you can easily find your target files at ease;
- 100% clean, no spyware, no adware and no viruses. So that your personal data will be protected well.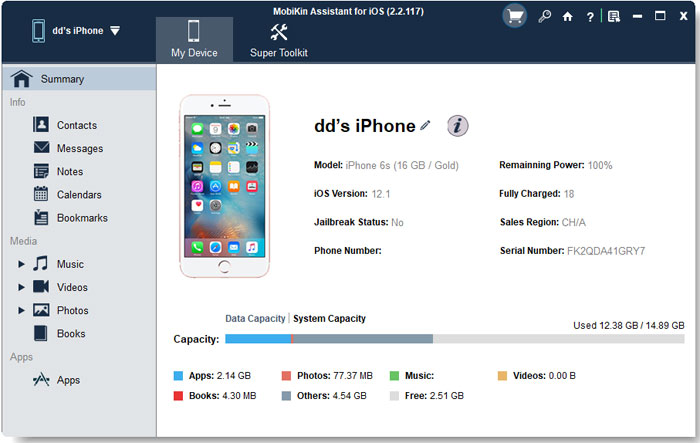 How to Perform the Best Alternative Software to iExplorer?
Step 1. Connect iPhone, iPad or iPod to Windows or Mac computer with USB cable. Then, launch the best iExploer alternative software. It will detect your linked iPhone, iPad or iPod, and require you to turn to iDevice to click "Trust" on it.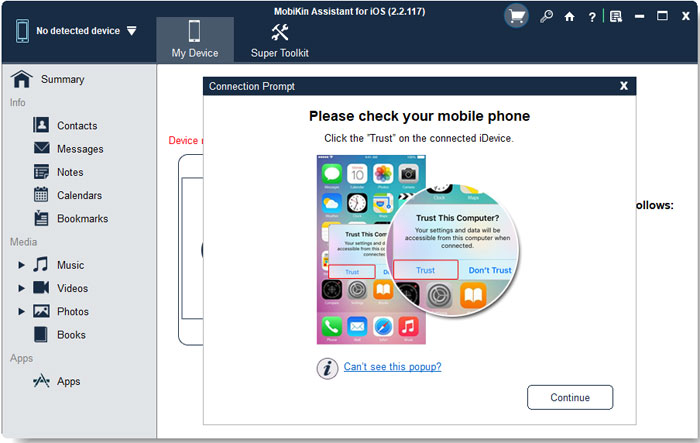 Step 2. When your device is recognized by the program, you can see the main interface on your PC. Select the file types you wish to view in the left panel and enter it directly. Or you can use the searching bar to find and locate your target files as you like.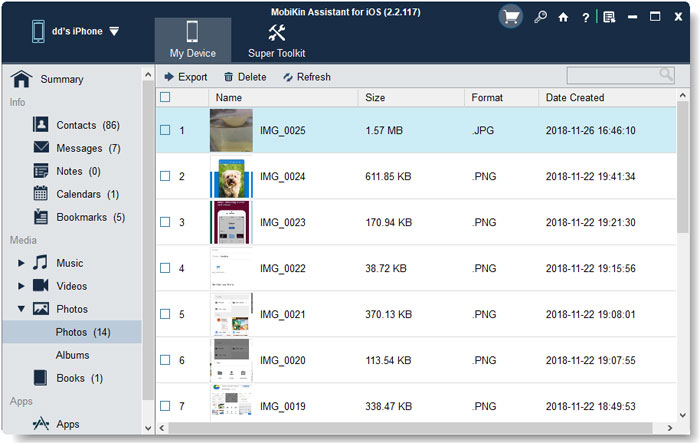 Step 3. Tick all files you wish to export and click "Export" button to transfer these files to computer as you like.
Can't Miss:
How to Transfer Contacts from iPhone X/8/7/6S/6/5 to Computer
How to Transfer Text Messages from iPhone to Computer
List of the Top-rated iExplorer Alternatives for Your Reference
iFunBox
iFunBox is a freeware program that is being used and downloaded constantly by countless iPad Mini/Air, iPhone and iPod users. If your computer has a Windows Operating System installed on it, you will be able to manage files on your iPhone or other Apple gadget in a similar manner that you manage files on your computer through Windows File Explorer. Using this software, you can transform your device into a portable hard drive, so you will be able to transfer music, photos and videos to it conveniently. However, it is recommended to only use this software program with an iPhone that has jailbroken. This program is not a smart choice if you merely want to transfer music to your device.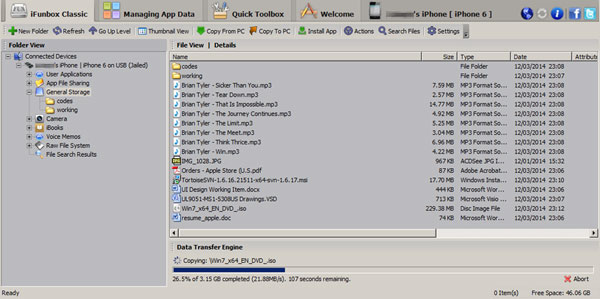 Senuti
If you want to transfer music, whether from your iPhone or iPod to PC, Senuti is the program that you may need. It allows you to manage and search for the music stored in your device in any desired order. When it comes to manage music, this program will offer you optimal experience. With it, any playlists that have been created on an iPod or iPhone can be transferred to the PC. And drag-n-drop operation are also available here.
iMazing
Formerly known as DiskAid, iMazing is another multifunctional File Explorer that can be used with the iPad, iPhone and iPod touch. Although the program is not a technically freeware, but the basic version of this software can be downloaded and used for free. It is probably the only iExplorer alternative that makes it possible to transfer files via USB and WiFi. Not only can be installed on Mac and Windows systems, it also supports 10 different languages. With it, songs and videos from an Apple device can be transferred back to iTunes or any other desired location on your computer as you like. Moreover, data like contacts, notes, SMS and voice mail can also be transferred to a computer through it. In other words, your Apple device will become a massive portable hard drive when using it. Additionally, files saved in iCloud can also be previewed and accessed.
Conclusion
If you have been encountering file management problems using iExplorer for one reason or another, then it certainly seems that you need an iExplorer alternative and you may try using one of the above.
Related Articles
How to Transfer Photos from iPhone 6 Plus/6/5S/5/4S to Computer
How to Transfer Movies from iPad to Computer or Mac