My Computer Won't Recognize My iPhone, What will You Do?
iTunes is an essential, specialized Mac and Windows PC program that are often used to connect and recognize all types of iOS devices. Once successfully connected, the iDevices, then use the program to create an encrypted backup, transfer and sync various types of personal data, and even install several iOS applications among other uses. All modern computers are generally designed to automatically recognize any connected external device (hardware).
However, there are some instances when your computer may fail to recognize your iPhone, iPad or iPod touch. This usually happens due to specific hardware issues or as a result of trying to update the iTunes program.
Below are some of the things that you can do when your computer fails to recognize your precious iOS device.
See Also: iTunes won't Recognize Your iPhone, What Will You Do?
What to Do When Your PC Fails to Recognize iPhone?
1) Start with the basics
This section will provide you with a comprehensive list of the simple things you can do to fix your issue. Sometimes even the most complex of issues can be solved by implementing the simplest strategies.
- Ensure that your computer has the latest version of iTunes.
- Make sure that your Windows operating system is up to date (Mac users should also have the latest operating system installed on their machines).
- Disable your security software (firewall and antivirus) temporarily as it may prevent your iPhone from being displayed.
- Unlock your iPhone with your secret Passcode and then select the "Trust" this computer option when prompted.
- Disconnect your iPhone and restart both your computer and iDevice.
Implementing the tips provided above might fix your issue. You can, however, proceed to the next troubleshooting section if these tips fail to work for you.
2) Manually install the missing drivers
Computer drivers are a set of essential programs that allow any hardware to easily communicate with the operating system. Missing, faulty or outdated drivers are likely to interfere with how your iPhone works with your PC.
Kindly follow the simple steps provided below to manually install and update the missing "Apple Mobile Device USB Drivers" that are required for normal iOS device and PC operating system communication.
Step 1. Go to your the "Control Panel" on your computer, select "Hardware and Sound", then click on the "Unspecified" icon.
Step 2. Right-click on the "Unspecified" icon and then choose the "Properties" menu option. Then, click on the "Hardware" tab and then proceed to select the "Properties" section.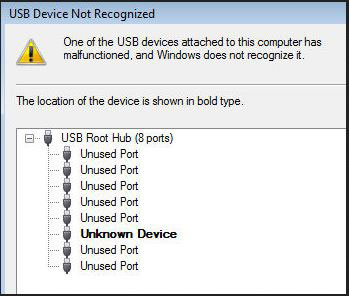 Step 3. Click on the "Change Settings" icon, select the "Driver" tab and then proceed to choose the "Update Driver" option.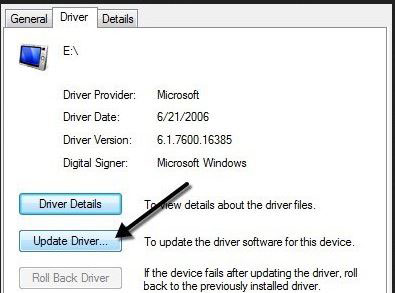 Step 4. Select the "Browse my Computer for Driver Software" option and then navigate to "C:\Program Files\Common Files\Apple\Mobile Device Support\Drivers" and then confirm by clicking on "OK."
Congratulations! A popup message will now be displayed informing you that a new Apple device USB driver will be installed or has already been installed on your computer.
Alternatively, you can also follow the steps below to manually install any missing iDevice USB drivers.
- Select the "Hardware and Sound" PC option that is located under the "Control Panel".
- Click on the "View Devices and Printer" option.
- Locate the "Apple iPhone" that is located under the "Unspecified" section, right-click on it and select the "Troubleshoot" menu option.
3) Reset your location and private data
You are always asked whether to trust or distrust a certain PC when connecting your iOS device to it for the very first time. iTunes may then be unable to recognize your iPhone if you mistakenly selected the "Don't Trust" option or simply dismissed it entirely.
You can, however, fix this by resetting your location and privacy settings using the steps provided below.
- Launch your iPhone's stock "Settings" app, tap on "Reset" which is located under the "General" section.
- Tap "Reset Location & Privacy" and then type your secret password and confirm.
Your iPhone will now provide you with the trust prompt when you try reconnecting with your personal computer.
4) Additional tips
- Replace your USB cable to determine whether it is faulty.
- Try reconnecting your iDevice to a different computer to determine whether your iPhone has an internal hardware issue.
- Plug your USB cable into the other USB ports that are present on your PC. Avoid using a USB hub at all costs.
Your personal computer will be finally able to recognize your connected iOS device once you follow all the tips provided in this highly informative guide. You should, however, contact the Apple support customer service team if your problem is still not fixed. Kindly take your iPhone to the Apple store for hardware troubleshooting purposes if you have an active warranty. You can also take your iOS device to a reputable hardware specialist if your warranty has expired.
Related Articles:
How to Fix A Stuck iCloud Backup Restore Issue
What Can I Do if My iDevice Fails to Connect
3 Solutions to Restore iPhone/iPad from Backup (98% Success Rate)
iPhone Music Transfer: How to Transfer Music from iPhone to Computer Freely?
How to Transfer Contacts from iPhone to Computer?
How to Transfer SMS (Text Messages) from iPhone to Computer?