How to Find and Protect Lost iPhone 14/13/12/11/X/8/7/6?
iPhones are definitely among the most expensive smartphones in the market today. Smartphone users also have a tendency to store a lot if not all their personal information on their devices. This makes losing your iPhone a costly experience that may make you vulnerable to data identity theft among other potential problems. It is really important that you to put some effective measures in place that you can use to either protect or find your lost iPhone. There are various proven methods that you can use to find and protect your iDevice depending on your preferences.
This informative article on how to find and protect lost iPhone is guaranteed to provide you with the much-needed peace of mind that comes with knowing that you can easily recover your iPhone or secure the personal information it holds.
Can't Miss:
Top 6 Contacts Backup Solutions for iPhone
How to Find iPhone Backup Locations on Windows/Mac
How to Find Lost iPhone and Protect Your Privacy Info?
1. Using Apple's "Find My iPhone" Feature
Find My iPhone is an effective "iCloud" service that you can use to both protect and find your smartphone. Kindly note that this essential service needs to have been enabled on your iPhone before it got lost for it to be utilized. There is literally no Apple service that can flag, track or even find your iPhone if the highly beneficial feature was not activated on your missing gadget. Kindly follow the two steps provided below to secure and find your lost iPhone using the "Find My iPhone" feature.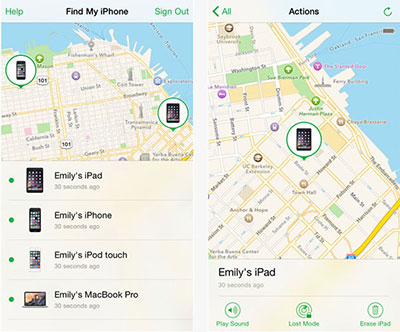 - Access the "Find My iPhone" iCloud service
You can use a different iOS device (iPod touch, iPhone or iPad) to access the beneficial service or simply log in to the icloud.com/find website on your Mac or Windows PC. Once logged in to the iCloud Find My iPhone service you can then proceed to select your missing iPhone.
- Find and secure your device
Once you have successfully selected the missing smartphone, you will be provided with three different options to choose from as follows:
Play Sound
It is used to locate a missing iPhone that you suspect is near you. Selecting this option will force your iPhone to ring repeatedly hence will help you or someone near it to find it. Apart from forcing your iPhone to ring uncontrollably the beneficial feature will also lock your missing device to prevent unauthorized entry provided it is password protected.
Lost Mode
Activating the Lost Mode feature will provide you with the power to track your iPhone's location, remotely lock it with a secure four-digit passcode or force it to display a custom message with your contact information. The effective Apple service will also immediately suspend the ability to make online payments using Apple Pay. Lost Mode is increasingly powerful as it can easily turn on the location services on your missing iPhone even when they are deactivated. This makes it a lot easier to locate your lost iPhone. You can also protect your lost iPhone further by changing the passwords of your favorite apps like Facebook, email, and Twitter simply by using the Lost Mode function.
Erase your Device
This should be the last safety measure you take with your lost iPhone. Kindly exercise a lot of caution while using this feature as erasing your iPhone remotely will delete all your personal information, including the crucial security measures put in place to safeguard your device. You will never be able to find your iDevice after carrying out this step as the "Activation Lock" will be disabled.
2. Install Other Third Party Apps
Just like when using the "Find My iPhone" feature you will only benefit from this method if you installed the third party apps before your iPhone got lost. Find My iPhone, although particularly effective is not foolproof, hence, it is wise to install other popular third party apps that can supplement its functions. Below are some that you can use.
- iProtect
iProtect which can only be used on jailbroken iOS devices is a special type of Cydia tweak that actively alerts you whenever your Sim card has been changed. This will make it a lot easier for you to locate your iPhone as it provides you with the "alien" Sim card's number.
- ifFound+
This beneficial iOS app puts a personalized background wallpaper that has your contact details on it. You are likely to be contacted by an honest finder who wishes to return your smartphone.
- iHound
The iHound iOS app works to alert you whenever your missing iPhone has been plugged into a computer for hacking or flashing. The highly beneficial app can also be used to sound an alarm whenever you want to locate your iPhone that you suspect to be nearby.
3. Notify the police
You should file a police complaint whenever you suspect that your iPhone has been completely lost or stolen and you can't find it. This can increase the chances of recovering your smartphone as the police can easily collaborate with your service provider to obtain essential data pertaining your iPhone. You might even be surprised to realize that a good Samaritan may have handed over your phone to the police.
4. Inform your carrier
Your carrier can help you to lock your Sim or iPhone's IMEI. This will prevent your iPhone or the Sim card in it from being used by malicious individuals if stolen. Although this is not likely to help you find your lost iPhone you are guaranteed to receive a new phone if you had an active mobile insurance.
If you are an iPhone user, you are guaranteed to benefit from using the various tips provided in this comprehensive article on how to find and protect lost iPhone. However, it is important to note that taking some precautionary measures highlighted above is likely to increase your chances of finding your missing iPhone. And you'd also need to have a habit of backing up your iPhone data to local disk with MobiKin Assistant for iOS in the daily life, so that you can easily get back the lost iPhone data when your iPhone is lost.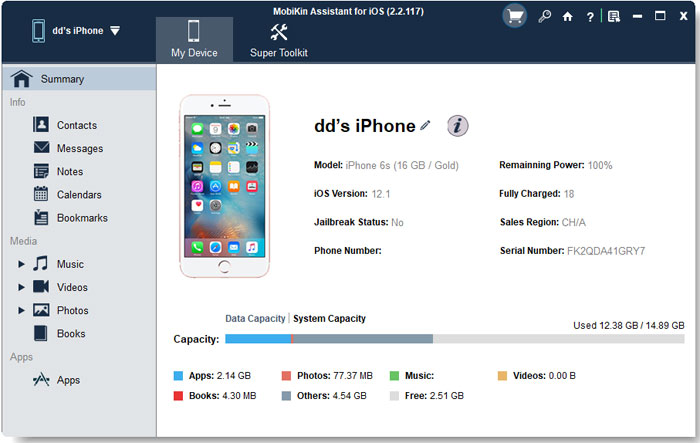 Related Articles:
How to Transfer Contacts from iPhone to Computer
Best Alternative Tools to iTunes
How to Recover Deleted Notes from iPhone 14/13/12/11/11 Pro/XR/X?
10 Best iPhone Backup Software in 2023 for PC/Mac