How to Change Ringtones on iPhone 14/13/12/11/X/8/7/6?
iPhone always comes with lots of default ringtones, and we have to admit that they are all fine but not unique. So most people prefer to change their iPhone's default ringtone to a custom music or other thing they like better. Changing iPhone ringtone is not difficult, but if you are a novice of your iPhone, you may feel confusing and think it is difficult and even complicate. So in this article, we could like to show all of you the simplest way to change or even set your favorite music as a custom iPhone ringtone within few clicks.
Part 1. How to Simply Change Ringtones on iPhone?
Part 2. How to Create & Customize iPhone Ringtones with iTunes?
Part 3. How to Manage iPhone Ringtones Effectively?
The Simple Way to Change Ringtones on iPhone X/8/7/6S/6
If you just want to change your iPhone's current ringtones to another default one, you can set your iPhone as follows:
- Unlock your iPhone and go to "Settings".
- Tap "Sounds" or "Sounds & Haptics" in the list. After that, you can go to "Sounds and Vibration Pattern" and find "Ringtone".
- You can find a list of ringtones now, just select one that you think is better as your optimal ringtone now.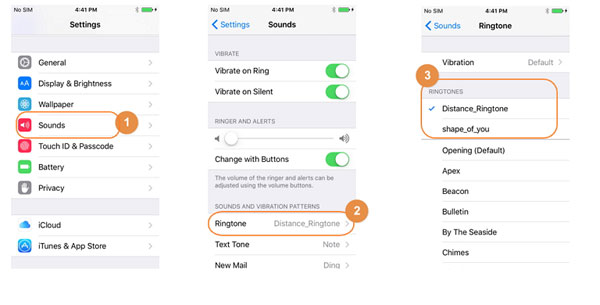 This is the way to chagne default rigntones on iPhone. If you wish to change the iPhone ringtone to a customized one, you need to purchase a song from the iTunes store, then personalized it as you like.
You May Also Need:
How to Create and Custom Ringtones for iPhone with iTunes?
Let's suppose that you have purchased various favorites songs in the iTunes store, and now you want to pick up one of them as the unique ringtone for your iPhone, how to reach it? You know that the length of a ringtone is always not more than 40 seconds, so you'd better to shorten the music into fragment as you like. Below is the detailed steps to show you how to custom iPhone ringtones with iTunes.
Step 1. Open iTunes on your computer, and choose the song you wish to use as ringtone from the iTunes library.
Step 2. Right click on the target song and click "Get Info" button, then tap "Options". Now, you can set the music start or stop time according to your own needs. Be sure the length is less than 40 seconds, then click "OK" to close the setting window.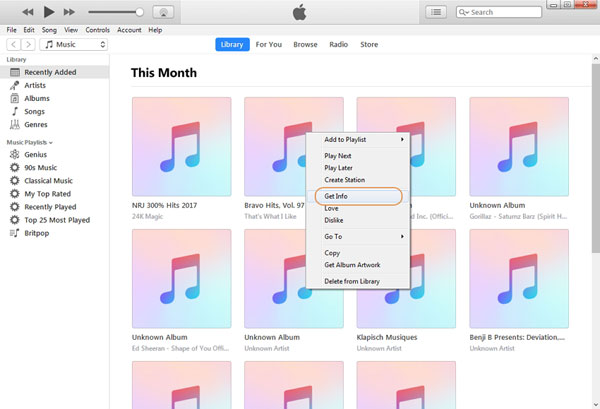 Step 3. Go to the top menu and select "File" > "Convert" > "Create AAC Version". After that, just copy and paste the file to the desktop.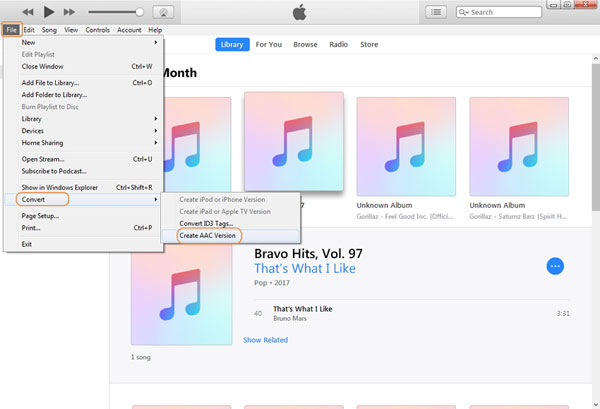 Step 4. Go to iTunes media folder location to change the music extension from "m4a" to "m4r". Then drag and drop this file to the iTunes library again.
Step 5. Sync the iTunes with your iPhone and choose the custom ringtone into your iPhone.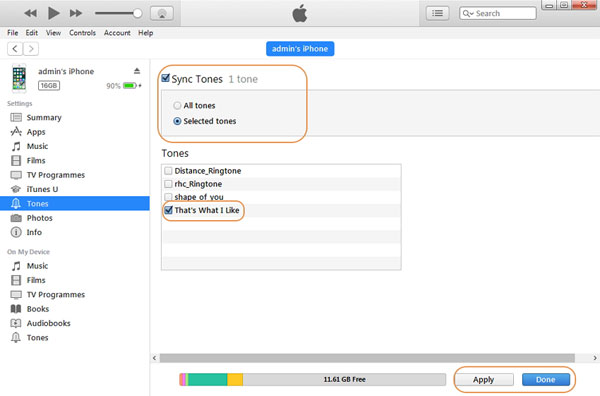 Now, you can go to "Settings" > "Sounds" > "Ringtone" to select the custom ringtones as your option.
How to Manage iPhone Ringtones Effectively?
iPhone Ringtone Manager is a perfect alternative tool to iTunes and it is more easier to use than iTunes. So you can use this program to access to all ringtones on your iPhone, and create custom ringtones for iPhone within few clicks. Now, let's check the detailed steps.
Step 1. Launch this program and make sure your iPhone is connected to the computer. Click "Music" on the top menu, and you can see all music files on your iPhone.
Step 2. Select the option of "Ringtone Maker" in teh sub-menu, then you'll be required to select the music file you wish to create as ringtone.
Step 3. Now, you can directly set the start and stop time in the program and please also ensure the length of the file is not more than 40 seconds.
Step 4. After that, you can select "Save to Device" option to save the custom ringtones on your iPhone directly.
Related:
How to Transfer Ringtones from iPhone to Computer
How to Get Free Ringtones on iPhone
iPhone Won't Connect to WiFi, How to Fix It? [Solved]
How to Transfer Samsung/Android Data Wirelessly
How to Remove iCloud Account from iPhone/iPad without Password? [Fixed]