How to Remove iCloud Account from iPhone Easily
If you own an iPhone, you know about Apple's cloud service named iCloud. The service enables you to store your documents on Apple's servers so that you can access them from other iOS devices at any time. Having an iCloud account will also allow you to backup your iPhone directly to iCloud, instead of using iTunes for a manual backup. (You can also make a comparision of iCloud and iTunes.) As you can see, there are many advantages to having an iCloud device. However, a day may come when for some reason you will want to remove your iCloud account from your iPhone. The process is simple and painless and we will explain it below. However, before removing iCloud account from iPhone, you should know clearly what you are doing now:
Messing with iCloud account can lead to all kinds of problems on your iPhone. For example, you may find that some apps that are associated with an Apple ID or App store account are lost unconsciously. And getting multiple Apple IDs or iCloud accounts on your iPhone will make the managing become difficult.
So if you know exactly what you're doing now and you really need to remove your iCloud account on your iPhone, then you can backup your iPhone contents to personal PC with iPhone to Computer Transfer and then follow the below steps to reach your goal.
Steps on Removing iCould Account on iPhone Devices
Step 1. Tap on Settings on your iPhone home screen, and find iCloud app in the Settings as below: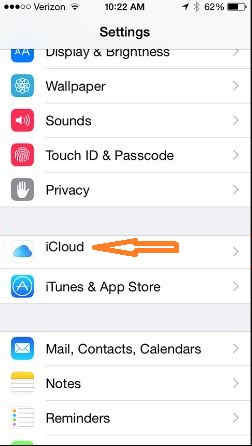 Step 2. In order to remove your iCloud account from your iPhone, simply tap on "Delete account". The option is written in red letters, so it's hard not to see it or select it by mistake. After that, you will be prompted to confirm that you really want to remove the iCloud account linked to your iPhone. The message will also inform you that removing your iCloud account from the iPhone will also remove all documents and Photo Stream photos stored in iCloud. Before clicking "Delete" here, you should take below tips into consideration.
- In case you didn't manually backup your iPhone before deciding to remove your iCloud account, tap on Cancel and then tap on "Documents & Data". Here you will see what documents you have stored on iCloud and you also have the option to send these documents to your email or to transfer them to your computer via iTunes or other 3rd-party programs
- Regarding your Photo Stream photos, go back to iCloud settings and verify if Photo Streams is turned on or off. If it is turned on, you should make sure that your Photo Stream photos are also saved in your Camera Roll, because if they aren't then you will lose them. Photo Stream photos can be saved to your Camera Roll by tapping the share button.
Step 3. After saving your photos and documents, you can go ahead and remove the iCloud account from your iPhone. Follow the previous steps and when prompted to confirm that you really want to remove the iCloud account from your iPhone, don't hesitate to click "Delete" button. Then, you will see a new message, asking if you would like to keep the iCloud Safari data, reminders, contacts and calendars on your iOS device. You can select to keep them, delete them or cancel which returns you to the iCloud settings.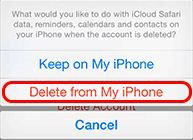 Step 4. If you are using the Find My iPhone service, then your iPhone will have a feature named "Activation Lock". This feature requires you to enter your Apple ID and password if you want to remove your iCloud account from your iPhone, so type your Apple ID and your password. After that the iCloud account will be removed from your iPhone. (If you don't use this app on your device, you can go to here to learn more about it or install it on the device: Top 10 iPhone security apps that you can't miss.)
Step 5. You will now have a blank login so you can either create a new Apple ID and iCloud account or you can login to another iCloud account as you like.
By the way, click here to know how to set up iCloud keychain on iPhone.
Related Articles
How to Backup iPhone Data before Upgrading to iOS 8.2
How to Sync Google Contacts with iPhone Easily
How to Transfer Music or Songs from iPod to iPhone