iPhone Won't Connect to Wi-fi, How to Fix It? [Solved]
"My iPhone won't log onto my home or work Wi-fi. It recognizes the Wi-fi and I have put in the correct passwords but I just get an alter saying unable to join the network."
"iPhone wont connect to Wi-fi after iOS 10 update. It doesn't find any Wi-fi connections around me. Please help me!"
iPhone users must be familiar with the above situations and it is exactly a nightmare for them while failing to link iPhone to Wi-fi. Why do we say so? The reason is that although we can connect iPhone to internet by Wi-fi as well as cellular data, the latter is limited and unstable so that a good connection between iPhone and Wi-fi is necessary and fatal. Therefore, the tips to fix the issue are what the users most care about.
Part 1. What causes Wi-fi Connection Issue?
Part 2. How to Fix iPhone Cannot Link to Wireless Network?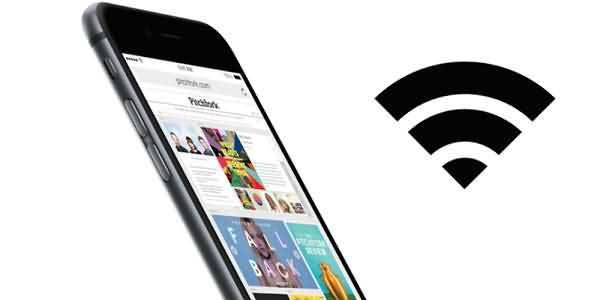 Part 1. What causes Wi-fi Connection Issue?
As the saying goes, it is better for the doer to undo what he has done. For the same reason, only when you know the causes of the connection failure can you find out the ways to solve it. Then what factors lead to the problem that iPhone cannot link to Wi-fi? People have discovered several reasons and more causes are waiting for our exploration.
- Weak or unavailable Wi-fi signal.
- Problematic devices.
- Impertinent settings on iPhone or modem.
- Loose link between cable and router.
Part 2. How to Fix iPhone Cannot Link to Wireless Network?
As we have mentioned before, the problem that iPhone won't link to wireless network is caused by different factors and you will figure out the trouble swiftly if you are able to know the reason. Nonetheless, the majority of people are unaware of the reason. In this case, you can try the methods listed from simple to complex below and follow them.
1. Check the status of Wi-fi
The most simple and basic way is to check the status of your wireless network. What you need to do is just swiping from the bottom edge of the screen to open the control center. Then you will see the sign of Wi-fi, just tap on the icon to turn it off. Now you should wait for a couple of seconds and click on the icon again to turn it back on. At the same time, remember to turn off the airplane mode.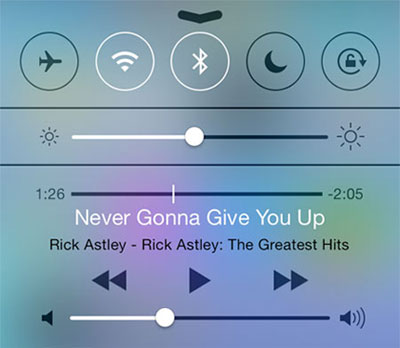 Another way to turn Wi-fi on or off is going to Settings. Just click on the icon of "Settings" on the iPhone screen and then tap on Wifi and toggle the switch next to Wi-fi.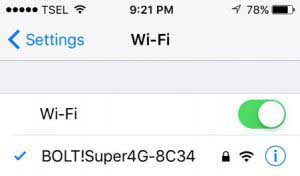 This means would accomplish some ordinary Wi-fi connection issues.
2. Toggle Wi-fi assist
Users who have installed iOS 9 or later may familiar with Wi-fi assist. This feature brings you a stable internet connection. However, when your wireless network connection is poor and slow, it will switch to cellular data automatically. To avoid the overuse of cellular and establish a better network connection, you could navigate to Settings and choose Cellular. Next scroll down the interface and then turn the Wi-fi assist on and turn it back off the guarantee its status.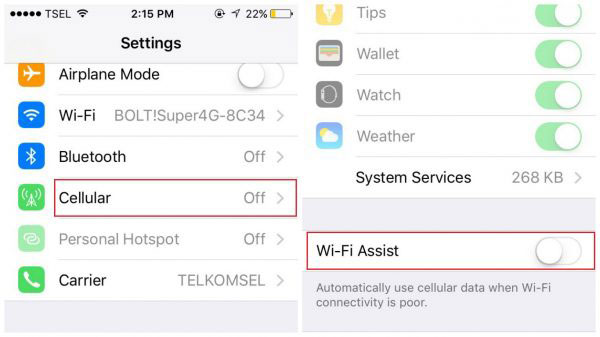 3. Forget Wi-fi network
Forgetting the Wi-fi that you are using and then reconnect it manually is recommended. You can go to Settings and tap Wi-fi. Next you will see an information button next to the network, just tap on it. Choose "Forget This Network" selection and click on "Forget" in the pop-up window to confirm your action. After that, you ought to type the Wi-fi name and password again to link the wireless network.

4. Reset Network settings
If your iPhone still fail to connect to network after forgetting Wi-fi and reconnecting it, the next method you could try is to reset your network settings. Maybe it will help get rid of "iPhone won't connect to Wi-fi" issue. Also, go to "Settings" and click on "General", then choose "Reset". Next, tap on "Reset Network Settings" and finally enter the passcode to reset the network on your phone.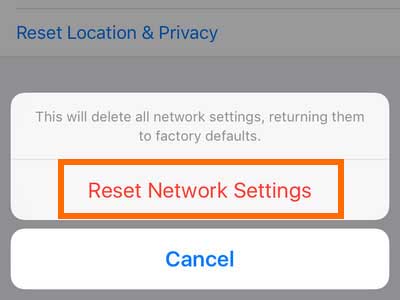 5. Renew lease
This option permits you to get a new IP address from your router. With it, you will be capable of linking your iPhone to Wi-fi and the connection will not drop anymore. To achieve this goal, you can navigate to Settings> Wi-fi. Under this folder, find your Wi-fi network and then tap on the info icon next to the network and you will see the renew lease option, just tap on it to finish the operation.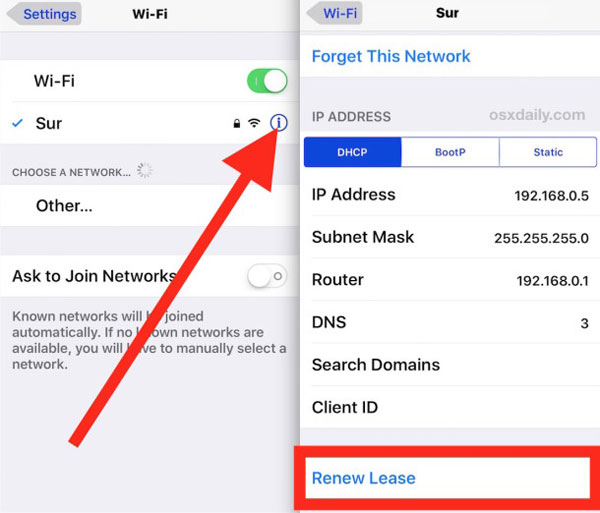 6. Update iOS version
It is known to all that a new iOS version is released to fix some software bug which can lead to all kinds of issues, including different Wi-fi problems. Therefore, downloading and installing the latest iOS version is wise and suggested. This means requires you to operate in a wireless network environment. Hence, if your phone can connect to Wi-fi and receive feeble network signal, you can follow the steps: Settings > General > Software Update and tap Install Now.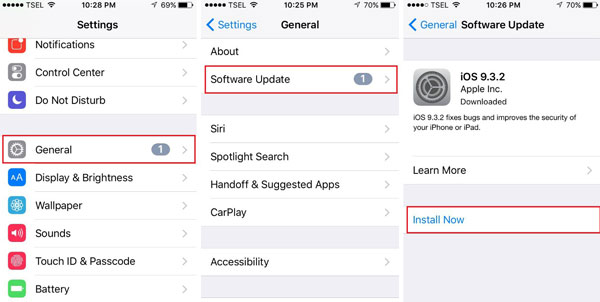 However, if you cannot receive any Wi-fi signal, you can try to update the software by using iTunes. The process is as below.
Notice: install the most recent iTunes version on your computer.
Step 1. Connect your iPhone to PC.
Step 2. Launch iTunes on your computer and select your iPhone.
Step 3. Open up "Summary" folder and click "Check for Update". If it shows that a new version of iOS is available, click "Download and Install" or Update.
See also:
How to Fix iPhone "Cannot Connect to iTunes"?
My Computer Won't Recognize My iPhone, What will You Do?
7. Reboot iPhone
Rebooting iPhone is the way that people usually use to solve some simple problem. Just press and hold the power button. Then drag "Slide to power off" to turn your iPhone off. After that, you should be patient to wait for several seconds and then press and hold the power button once again to turn it back on.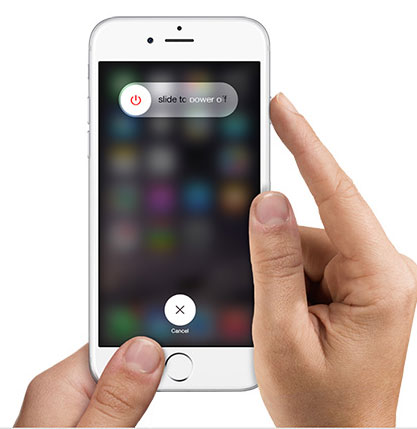 8. Restart modem and router
If there is no any problem with your iPhone, you could realize that there is something wrong with the source of the wireless network- modem and router. The easiest way to solve this issue is to restart the modem and router. You can press the power button of these two devices and then unplug the cables that have connected to them. After about 30 seconds, plug them in and press the power button to turn on the modem and router and try to connect your phone to Wi-fi again.

9. Change DNS settings
An unresolved DNS will result in a slow or even unavailable network. In this case, a new and serviceable DNS like Google DNS or Open DNS is needed. After finding the usable DNS, go to Settings and tap Wi-fi. In this section, find your network and tap on the info icon and you will see the DNS you are using. Tap on the number and the keyboard will appear so you can input the new DNS to enter the new DNS address. Once the DNS changed, users are required to reboot the device.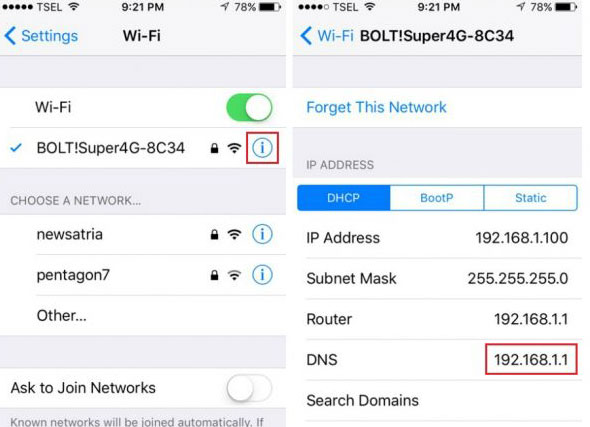 Ultimate Way to Fix iPhone Issues
Now, you should have successfully resolved iPhone won't connect to Wi-Fi issue. If you have encountered other iPhone problems and want to find a once-and-for-all solution, then you can try a professional iPhone repair software, iOS System Recovery, which can solve various problems on your iPhone with one click, such as iPhone won't turn on past the Apple logo, iPhone frozen issue, iPhone touch ID not working, iPhone no sound issue, iPhone black screen of death, etc.
Related Articles:
What Can I Do If My iDevice Fails to Connect?
6 Ways to Transfer Photos from Computer to iPhone Effectively
Easy Ways to Transfer Files from Lenovo to iPhone
How to View iPhone Text Messages on Computer/Mac?