[Answered] How to Hide Photos on iPhone 14/13/12/11/X/8/7/6?
If you are reading this comprehensive article on how to hide photos on iPhone, chances are that you wish to make some of your images private. This may be because you constantly give your iPhone to your friends, loved ones or significant other and you are afraid that they may come across photos that they are not meant to see. Whatever your reason may be for wanting to hide your photos, the information provided in this article is guaranteed to show you how to easily, yet effectively hide photos on your iPhone.
How to Hide iPhone Photos with Built-in Photo Hiding Feature?
This method can only be used on an iPhone running on the newest iOS versions (iOS 8 and above). You will be able to hide your photos from the Moments, Collections and Years viewing options but not from your Albums. This is because the hidden images are stored in the "Hidden" photo album and any advanced iPhone user can easily access the hidden photos. Below are the simple steps on how to hide your private images using the iOS inbuilt photo hiding feature.
Step 1: Launch the default image viewing app and go to either "Albums" or "Camera Roll".
Step 2: Open the photo you wish to hide and tap on the selected image and hold it gently until you are provided with an action menu.
Step 3: Select the "Hide" option and tap on "Hide Photo" to confirm.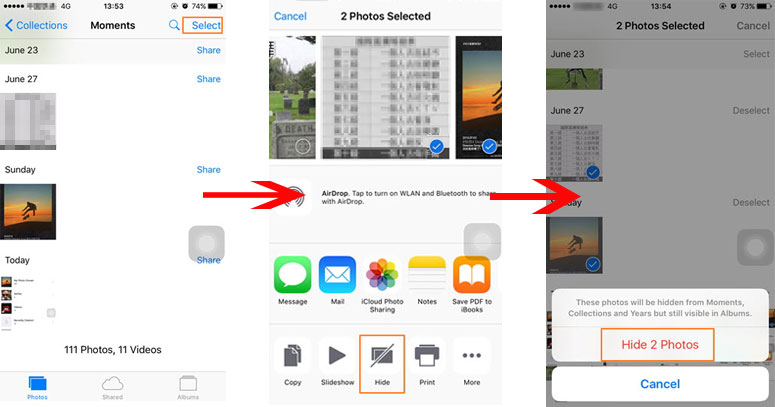 After that, you can automatically remove the "hidden" image from the Moments, Years and Collections views.
Can't Miss: How to Transfer Photos to iPhone X/8/7/6S/6
How to Hide Photos on iPhone by Cropping?
It is possible for you to hide any photo on your iPhone through cropping it. This is because your iPhone saves both the edited and the original image. Thus, it allows you to revert to the original photo whenever necessary. Follow the simple steps below to hide photos on your iPhone.
Step 1: Go to your iPhone's photo library and select the image you wish to hide.
Step 2: Select the "Edit" option and then tap on the "Crop" icon located at the bottom of the screen. This will automatically provide you with a cropping box.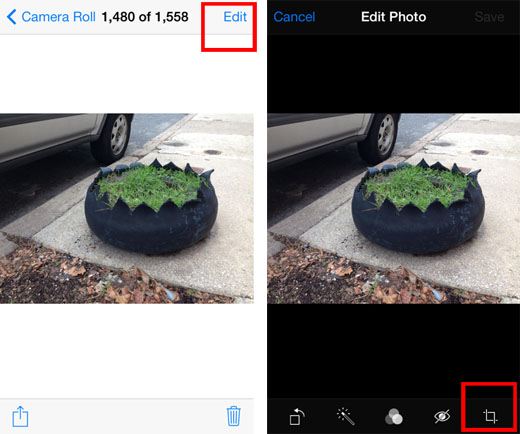 Step 3: Select a small portion of the image by dragging the corners of the cropping box near to the middle of the screen. After that, you can save the cropped images as you like.
Congratulations! You have successfully hidden your photo by replacing it with the cropped version. Kindly note that you can easily view the original version of the cropped image whenever you want. To do this, simply open the cropped image, tap on "Edit" and then select the "Revert to Original" option. You can also achieve this manually by dragging the cropping handles away from the middle of the screen.
Can't Miss:
How to Transfer Photos from iPhone to Computer
How to Backup iPhone Photos to PC?
If you failed to hide photos on iPhone, you can try to backup photos from iPhone camera roll to PC, then delete these photos on iPhone directly. To reach it, you need the help from MobiKin Assistant for iOS. This program works well as the best iPhone Photo Backup tool, and allows users to export or transfer photos from iPhone to computer with 1 simple click.
Below is the brief features of this powerful tool:
- Transfer or manage photos, videos or music files on iPhone selectively or in a batch;
- Transfer, manage or import/export contacts, notes, calendars, bookmarks, SMS, etc. between iPhone and computer freely;
- Bulk uninstall apps on iPhone X/8/7/6S/6/5S/5 as you like;
- Not only iPhone, other devices like iPad, iPod touch, or iPod are also supported well.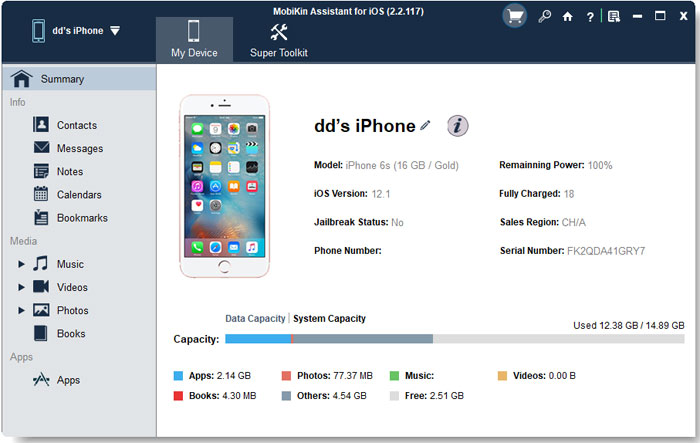 Click here to see How to backup iPhone X/8/7/6S/6 Photos to PC in details>>
Top-rated Apps to Hide Pictures on iPhone X/8/7/6S/6
It is recommended that you use this option if you wish to hide really sensitive images that you don't want anyone to see. The Appstore is full of reputable third-party apps that can be used to safeguard your private images. Most of these apps come preinstalled with a wide range of protective measures to prevent unauthorized people from accessing your private images. Discussed below are the two popular apps that can be used to hide photos on your iPhone.
- SpyCalc
This is a leading iOS app that can be used to hide private images. SpyCalc which is disguised as a calculator is programmed to reveal the hidden images once the correct password has been entered. Apart from hiding your private images, SpyCalc can also be used to store your personal notes, browser bookmarks, and contact information. SpyCalc is provided either as a free or paid app with the paid version providing you with even more features.
This is another great app that can be used to hide all your private photos. Apart from this, My Secret Folder can also be used to store other private information like music, videos, contacts, and notes among others. One particular feature that makes this particular app stand out from the rest is its ability to alert you whenever a person attempts to view your confidential information. This is achieved by taking the photo of anyone who unsuccessfully tries to log in to the app.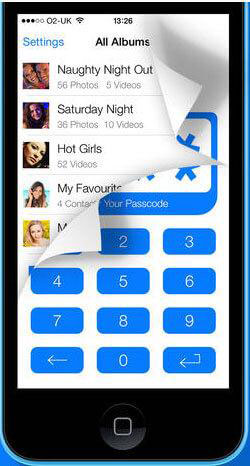 You may also interested in:
Top 6 Photo Printers for iPhone
How to Transfer Samsung/Android Data Wirelessly
How to Remove iCloud Account from iPhone/iPad without Password? [Fixed]
How to Transfer iPhone Files to PC without iTunes Easily?
[Easy Guide] How to Transfer Data from iPhone to iPhone without iCloud?