How to Transfer Photos from iPhone to PC–8 Incredibly Easy Ways
In the past December, my colleague made up a grand wedding for his parents on their 30th wedding anniversary. This ceremony, which was 30 years late, would naturally catch his attention. As everyone knows, although the pixels of Apple mobile phones are only 12 million, the camera effect is amazing. So he took photos for his parents that day by his iPhone, up to hundreds of pictures. To release his phone storage, he is wondering how to transfer photos from iPhone to PC.
The first tool you may think of is iTunes or iCloud, but those who are familiar with these 2 apps know that they are not easy to use, such as slow file transfer, and not very compatibility with PC, etc. And it has no ability to help you transfer or move files from the device to computer selectively or in a batch. Thus, you may be more concerned about how to transfer photos from iPhone to computer without iTunes?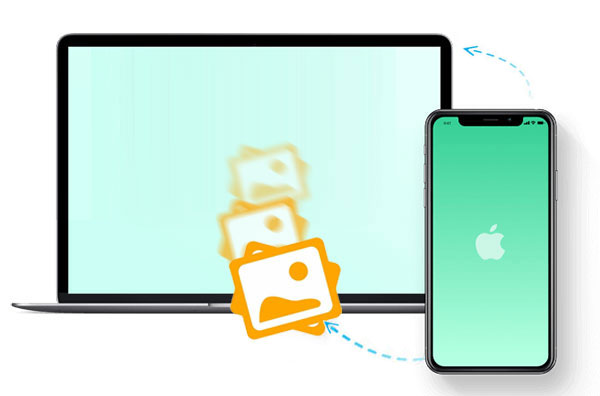 Part 1: How to Transfer Photos/Pictures from iPhone to PC with iTunes
First, let's talk about how to send photos from iPhone to PC with iTunes. Many people report that they are a bit stuck during using iTunes, and the transfer speed is relatively slow. That's right, it was a music software in the beginning, which is easy to use to manage songs. But later, a synchronization function was added. In addition to its running speed, Apple expanded this function from music to other data such as photos and videos management.
However, it still takes the rest of the devices as a mirror image of the data on the computer pattern to design. Not only is it a lack of professionalism, it can also bring people with an unpleasant experience when managing files.
Here's how to backup iPhone photos to computer/PC with iTunes:
1. Install and open iTunes on PC after you download it from Apple's official website.
2. Plug your iPhone to PC via a USB cord, and tap the device image on the upper left of the iTunes window.
3. Hit Photos tab from the left sidebar of the interface to tick Sync Photos checkbox and choose Sync Photos from.
4. Choose All folders or Selected folders and then click Apply to get photos off iPhone. Next, click Done after the completion.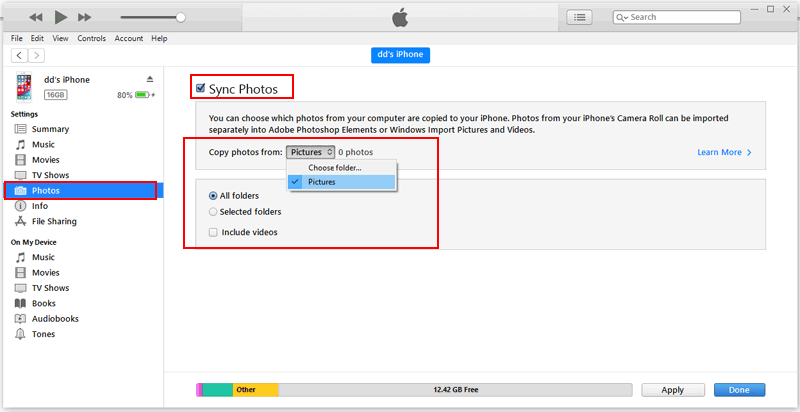 Tips: If iTunes doesn't recognize your iPhone, learn how to fix iPhone "Cannot connect to iTunes"? click here>>.
Part 2: How to Transfer Photos from iPhone to Computer without iTunes
When it comes to how to transfer photos from iPhone to computer without iTunes, many Apple fans may perk themselves right now. As has been referred to, iTunes, which starts as a music management tool, has some shortcomings in transferring other iPhone data. Here, we'll introduce 7 amazing software that can transfer photos without iTunes.
They are MobiKin Assistant for iOS,iCloud, Windows Explorer, Photos App, AutoPlay, AirDrop, Dropbox. Now let's see what they are and how do they work respectively. Okay, without further ado, let's take a look at the first smart program.
2.1 How to Transfer Pictures from iPhone to Computer/PC with MobiKin Assistant for iOS
Would you like to get such a professional iPhone manager? It can help you safely transfer Apple device files between iDevices, and between iDevices and your PC (ensure that the file is lossless and can be read), easily backup and restore the data of iPhone, and delete unwanted iTunes backups and mobile apps.
It is MobiKin Assistant for iOS, which is easy to operate because it knows your hard work. Moreover, this utility can run offline for it is good at protecting your privacy, and provides quality after-sales service as it rests you assured.
Well, here's the overview of MobiKin Assistant for iOS:
* Run smoothly on almost all the iDevices covering iPhone, iPad and iPod with the latest version including iPhone 11 series and iOS 13.
* Be able to transfer large videos from iPhone to PC, apart from moving songs, eBooks, contacts, text messages and others with lists of classified files.
* Import the iTunes backups from your computer to iDevice, or delete unwanted iTunes backups from PC.
* Delete, remove or add your iOS files on PC with or without the help of iTunes.
* Get your files from iPhone to PC with the proper formats for further use.
* Backup iPhone files directly free from overwriting previous data and restore them with ease.
* Compatible with almost all iPhone, iPad and iPod touch, including but not limited to iPhone 11, iPhone 11 Pro, iPhone 11 Pro Max, iPhone XS Max/XS/XR/X/8 Plus/8/7 Plus/7/6s Plus/6s/6 Plus/6/5S/SE, iPad, iPod touch, etc.
Download it and do some tests with the trial version?
After your get it, there're 2 easy steps on how to transfer pictures from iPhone to PC:
1. Install and launch MobiKin Assistant for iOS. Connect your iPhone to PC with a USB cable. Hit Trust on your iPhone to trust this computer and press Continue to get the iPhone connected.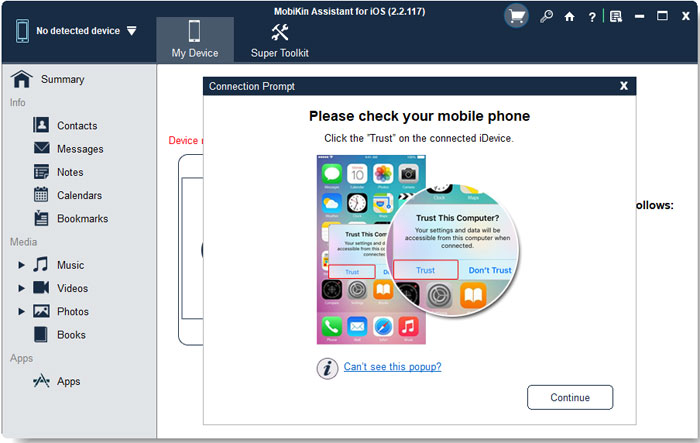 2. Select the Photos tab to preview and tick the photos you wish to transfer, and click "Export" to move and save them on your PC (you can select or create a folder to keep these pictures).

Video Tutorial:
The following videos is about how to transfer photos from iPhone to computer with MobiKin Assistant for iOS in details. Please watch it for more info.
Tips: You're allowed to delete iPhone photos on PC directly.
You might be interested in: How Can I Recover Data on iPhone Xs/Xs Max/XR?
2.2 How to Download/Save Pictures from iPhone to Computer/PC with iCloud
To save space on your iPhone, the original full-resolution photos you take can be uploaded to the iCloud. A compressed version is saved for each photo on the iCloud, and you can download them to PC as you like. With the "Shared Albums" feature, you can create a variety of travel albums, event albums and more. Just share them with your friends and family and they can view, comment and add photos and videos.
The means on how to transfer iPhone photos to PC with iCloud:
1. On you iPhone: Go to Settings and touch iCloud to go for Photos and turn on iCloud Photo Library and My Photo Stream. Your pictures will be uploaded to iCloud automatically.
2. On your computer: Enter your iCloud account and choose the pictures you want to get. Then tap Download on upper right corner of the window to move the pictures to PC.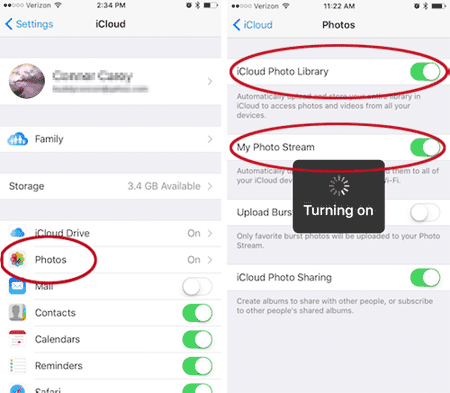 Note: Some iPhone have no "My Photo Stream" option after you go to Settings > Photos, You just need to turn on "iCloud Photo Library" and follow the rest steps as above.
2.3 How to Import Photos from iPhone to PC with Windows Explorer
Simply put, Windows Explorer, named File Explorer in Windows 10, provides users with a graphical user window, which can be used for data management. So you can import photos from iPhone to PC with it. However, please do not confuse this function with the browser.
In addition, if you find explorer. exe on your computer, it is most likely a variant of the MSN worm. It usually appears in the C:\WINDOWS\ directory. Thus you'd better disinfect your iPhone and PC while transferring or downloading files.
Clear way on how to export photos from iPhone to PC with Windows Explorer:
1. Connect your iPhone to PC via a USB cable. Then tap Trust to trust your PC as the iPhone screen pop up a cue.
2. On your computer: open My Computer > find your iPhone to enter into Internal Storage. Then go to DCIM > 100APPLE.
3. Select the whole folder including photos as prepared, and then open it to choose your desired photos to transfer them to PC.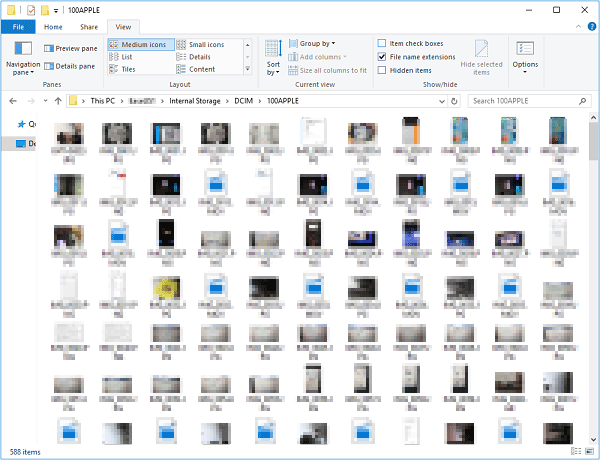 Tips: For some iPhone versions, you need to navigate to This PC > your iPhone name to go to Internal Storage.
2.4 How to Copy Photos from iPhone to PC with Photos App (Windows 10)
At the first glance of Photos App, you may think of Google Photos. Actually, the former is not the same as the latter. First, Photos App is a built-in function of Windows 10, so you don't need to download it. Next, you can edit photos before you transfer photos from iPhone to PC. On the contrary, it also can be used to transfer photos to iPhone. But it tends to be a bit slow if you have a bunch of photos for transfer.
By the way, it is reported that Microsoft blocks the Photo Viewer and takes the Photos app as the default viewing tool on Windows 10, but the fluency and the experience feelings of this app are not as good as the former.
Here's how to backup photos from iPhone to PC/computer with Photos App:
1. Connect iPhone with a USB cord and open the Photos app, start your iPhone and Hit Trust to trust your computer as a reminder prompts.
2. Tap the Import from the Photos app on the upper right corner. Then tap Import from a USB or Import from Camera, which will allow you to move pictures from mobile to PC.
3. After the detection of this program, choose photos you want to import and hit Import > Continue to find a location to save them on your PC. After that, you can find the images from Pictures folder.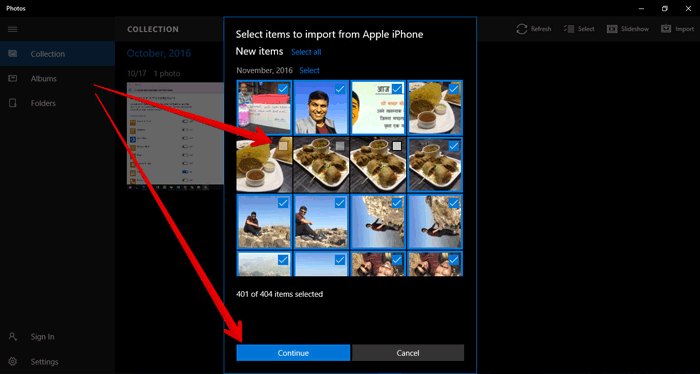 2.5 How to Get/Send Pictures from iPhone to Computer with AutoPlay (Windows 7/8)
What if your PC runs windows 7 and you want to use some PC built-in functions? AutoPlay can help you easily. It supports the conversion of different files of photos, fine-frame editing and seamless continuous broadcasting. However, with this tool, you can only move Camera Roll photos, Photo Stream and Photo Library photos are not available.
3 Steps on how to move pictures from iPhone to computer with AutoPlay:
1. Plug your iPhone to PC. If the AutoPlay window appears, click "Import Pictures and Videos" (using Windows live gallery).

Note: If AutoPlay doesn't pop up, follow this quick guide: Start menu > Control Panel > Hardware and Sound > AutoPlay to open it.
2. Go to Import Settings, and tap the Browse to change the folder to which your Camera Roll's pictures will be imported.
3. Once import location is set up, follow the hint to go to OK > Choose a tag if desired and hit Import again to get your photos to PC.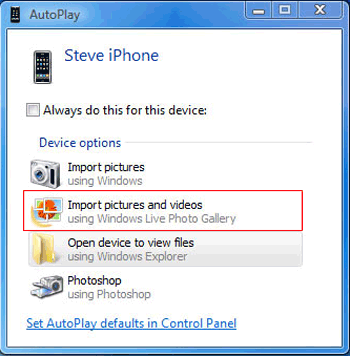 2.6 How to Upload Photos from iPhone to Computer with AirDrop (Mac)
As a typical wireless transfer means, AirDrop - this function is called Bluetooth on Android phones - is a good photo transfer between Apple devices only. The process needs you to turn on Bluetooth and WiFi at first. Your Mac version must be OSX 10. 7 or above. This operation is an easy stuff, but if you need to transfer a batch of photos, it may take you a lot of time.
Directions on how to sync photos from iPhone to Mac with AirDrop:
1. Go to Finder > Go > AirDrop to turn on AirDrop from your Mac. Then enable Bluetooth and WiFi on Mac. Next, toggle on Allow option to set your Mac to be discovered by Everyone.
2. Slide up from the bottom of your iPhone screen and find the Control Center to turn on Bluetooth, WiFi and AirDrop. Hit AirDrop and set your iPhone to be discovered by Everyone as above.
Note: You can also turn on AirDrop from Settings > General > AirDrop.
3. Open Photos application from your iPhone to choose photos you want to transfer and press Share. Then enter your Mac's name as it hints: Receive the photos on your Mac.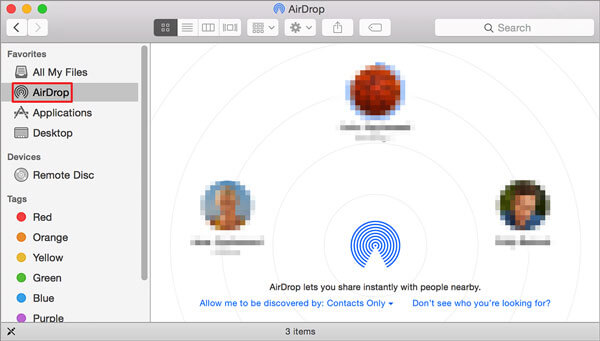 2.7 How to Copy Pictures from iPhone to PC with Dropbox
Then last method to copy pictures from iPhone to PC is Dropbox. Some novices may have some difficulties in signing in Dropbox client for PC as they are not in the U. S. There're the tips:
You can download a network accelerator if your network isn't working properly. Open it and log in to select the United States node and then check if the local I/P is in the U. S. Then register on the Dropbox website. After the completion, there will be a related mail sent to your mailbox. Now, remember to go to the mailbox to activate the info. Next, download the dropbox client on PC to log in.
Concrete steps on how to move photos from iPhone to PC with Dropbox:
1. Download Dropbox iOS program on your iPhone. Log in your Dropbox account. (If you have no account now, register one as the above tips. )
2. Go to Dropbox > Settings to turn on Camera Upload. Your pictures will be moved to the camera files of Dropbox.
3. On your PC: visit Dropbox website to access to Camera Uploads to get all your pictures. (Of course, you can download Dropbox client on PC to access iPhone photos from PC too. )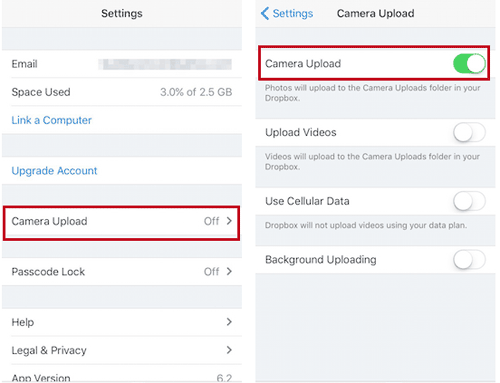 Attention: This tool does not work in some countries, such as Crimea, North Korea, Mainland China, etc.
Summary
Whether you are a new or an old iPhone user, I believe that after reading these 8 methods on how to transfer photos from iPhone to PC, you will have more or less understanding about photo transfer. Among these products or functions, it is obvious that MobiKin Assistant for iOS is your solid choice, for it has no restrictions and has almost zero disadvantages.
To put it bluntly, if you have lots of time with not so many photos for transfer and the pictures are not of utmost importance. You can choose another 7 methods. Anyway, you'd better select a suitable one to fix your transfer problem. Finally, welcome to add your own suggestions in the comments section at your convenience.
Related Articles:
6 Ways to Transfer Photos from Computer to iPhone Effectively
How to Transfer Photos from Android to PC Easily?
How to Backup Photos from iPhone - 7 Easy & Secure Ways
Best 5 Ways to Transfer Photos from Android to iPhone in Minutes
How to Transfer Photos from iPhone to Android? - Top 5 Ways
How to Transfer Text Messages from iPhone to Computer Instantly?