Users Guide: How to Sync Yahoo Calendar to iPhone?
Nowadays, more and more people tend to use Yahoo Calendar to make a schedule for themselves on which they can arrange their busy lives systematically. Honestly speaking, this is a good habit but scheduling on Yahoo calendar would not be as convenient as on iPhone since the latter can be managed and viewed whenever and wherever you want. Then, how can sync Yahoo calendar to iPhone, you might ask? Don't worry! This tutorial will show you the details so just read on and get the way.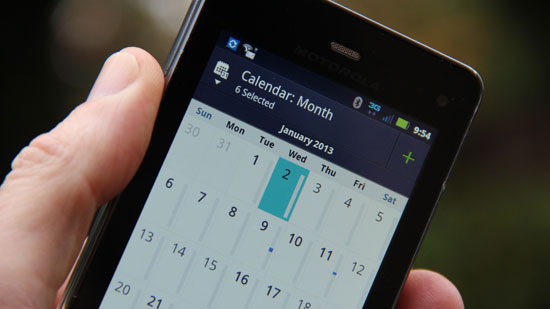 Guide on Transferring Calendar from Yahoo to iPhone
The Yahoo calendar transmission can be completed on your iPhone directly. That means you can copy your calendars from Yahoo to the device with the help of iPhone Calendar sync function and have no need of downloading or installing any third-party software. You can go with the step-by-step guide below to accomplish the transferring process. It could be straightforward and effortless. Now let's take a look!
Step 1. Launch Settings app on iPhone and enter Mail by clicking on the option.
Step 2. Go to Contacts and select Calendars under this folder.
Step 3. Now you will see several options are listed on the screen. Just tap on Accounts and elect Yahoo mail. After that, you will be required to add the Yahoo account. Just tap on Add Account to type in the user name and password of your account. While finishing the typing, tap on Next to sync your Yahoo mail at first.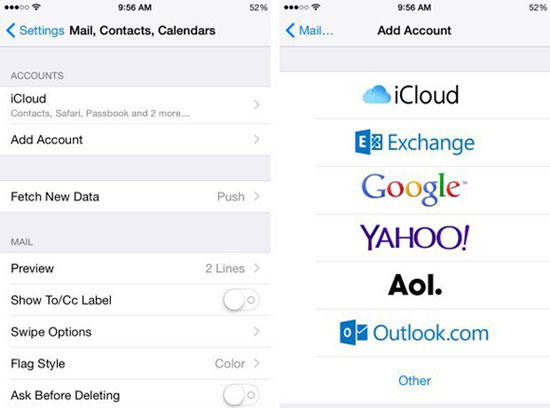 Step 4. Now you need to go to Calendar settings to click on "On" to enable the iPhone synchronization with Yahoo calendar.
Step 5. Press the Home button and tap on the native iPhone Calendar to enter the inbuilt calendar application on iPhone.
Step 6. Finally, check the Yahoo entry to sync the calendar from Yahoo mail to your device.
Done! You can view and manage the calendars on your iPhone freely from now on. By the way, you can sync contacts and emails from Yahoo to iPhone with the same manner. You can try it according to your need.
Read also:
How to Manage iPhone Calendars on PC?
Three Ways to Backup iPhone Calendars
How to Remove a Synced Yahoo Account from iPhone
Sometimes some users may reflect that they have synced the wrong Yahoo account to iPhone after completing the syncing process. Then can you remove the synced account from iPhone and add the proper one? The answer is Yes! The followings are the details of deleting Yahoo account for your reference. You can follow the steps to have a try!
Step 1. Click on the icon of Settings on iPhone Home screen.
Step 2. Select Calendars under this folder and enter your Yahoo account.
Step 3. Tap Delete Account and click on Delete from My iPhone to confirm your option.
Bonus: During the calendars management, you might wrongly delete some important files on your device. So, you may need a professional tool to help you get back the data. Here, MobiKin Doctor for iOS is our strongest recommendation. With this program, you can recover and backup various kinds of files from iPhone, including calendars, contacts, messages, songs, videos, photos and so on. The process of recovery can be accomplished within several simple clicks. If you want to know the detailed information, you can click here to get the full guide on how to recover data on iPhone X/8/7/6.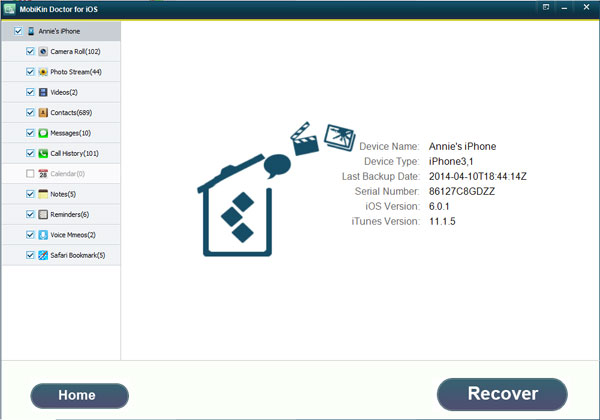 Related Articles:
Best Calendar App for iPhone, iPad or iPod Touch
How to Sync Outlook Calendar with iPhone?
What if iPhone Won't Restore? Here Are the Full List of Fixes
[Solved] iPhone Lost Contacts after iOS 17 Update? Here's the Fix!
[Full Guide] How to Erase iPhone without Password Permanently?