[Solved] iPhone Lost Contacts after iOS 17 Update? Here's the Fix!
"Updated iPhone 14 to iOS 17. Phone contacts are now missing, but as per photos, contact names still come up in the call record. Any ideas regarding the recovery of contacts? Cheers!" -- By VHJJJ1979 from Apple Support Community
The iPhone operates on a unified iOS system, and with each update, it consumes a specific amount of memory. That is, after each upgrade, the system tends to occupy more memory space. If, for unforeseen reasons, you find that your iPhone lost contacts after updates, similar to a situation discussed by the user on the Apple Support Community, fret not!
This article aims to help you understand the possible causes and offers a range of methods to fix contacts not showing up on iPhone, including the use of professional iOS recovery software.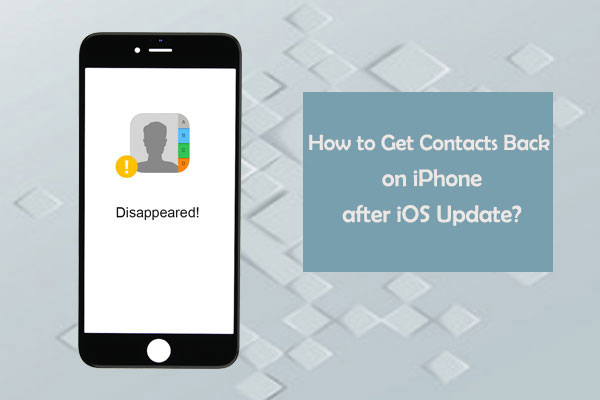 Part 1: Why iPhone Contacts Disappeared after Update
Contacts can disappear from your iPhone due to various reasons, including:
Contact Issues: Missing iPhone contacts can occur due to accidental deletions, iCloud synchronization errors, and more.
Jailbreaking Risks: Jailbreaking can lead to system problems, causing missing contacts.
Unstable iOS Versions: Using beta or unstable iOS versions can introduce bugs and data loss risks, including missing contacts. (Can I downgrade iOS?)
Backup Errors: Incomplete data restoration during iOS updates may happen with outdated or corrupted backups. Maintain reliable, up-to-date backups.
iCloud Logout: Lost contacts may be temporarily inaccessible if your device logs out of iCloud. Re-login to access them.
iTunes Problems: iPhone update lost contacts may result from iTunes issues during restore or sync.
Delayed Loading: After iOS updates, contacts may not appear immediately. Give your device time to initialize.
SIM or Network Issues: Problems with SIM cards or networks can affect contact availability. Ensure a working SIM card and a stable network connection.
Device Problems: Software glitches or hardware issues can lead to missing contacts. Troubleshoot the device or seek assistance from Apple Support.
Click to See:
Part 2: How to Fix iPhone Lost Contacts after iOS 17 Update [7 Fixes]
Solution 1: Import Contacts from SIM Card
First, if you have a list of the contacts that are missing on your SIM card, you can bring them into your iPhone 15/14/13/12/11/X/8 by following these steps: Navigate to "Settings" > "Contacts" > "Import SIM Contacts".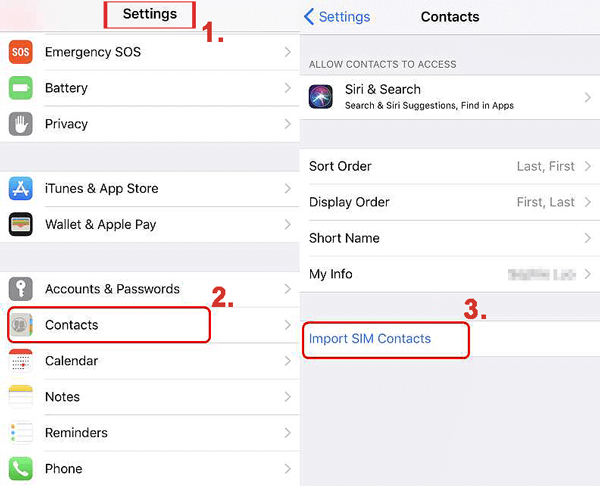 Solution 2: Check Contacts Groups Settings
When you find your iPhone update deleted contacts, ensure that the contact groups containing your contacts are selected within the Contacts app. Here's how to check and enable them:
Open the Contacts app.
Tap "Groups" in the top-left corner.
Check "iCloud" to display all your contacts.
Return to the Contacts app to check for the missing items.
If you've connected to a Gmail account, verify the "Gmail" option is selected. (Wonder how to create a contact group on iPhone?)
Solution 3: Re-sync iCloud Contacts
If your contacts are enabled in iCloud, and you want to verify their presence, visit icloud.com. If your contacts are visible there, follow these steps to resynchronize and restore them to your device:
On your iPhone, navigate to "Settings" > "iCloud" > "Contacts".
Disable the "Contacts" feature. A prompt will appear, asking what to do with the existing iCloud contacts on your device.
Select "Delete from My iPhone" and re-enable the "Contacts" option to get contacts from iCloud to iPhone.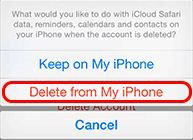 Solution 4: Reset Network Settings on iPhone
Altering the Network Settings on your iPhone can result in the disappearance of lost contacts after the iOS 17 update. To address this, try to restore the network settings to their default values. Here's how to do it:
Open the Settings app and select the "General" section.
Look for the "Reset" option within this section.
In the "Reset" menu, locate and tap "Reset Network Settings".

When prompted, enter your passcode.
Confirm the action by tapping "Reset Network Settings" again.
Further Exploration:
Solution 5: Restore Lost iPhone Contacts from iCloud Backup
Do you have a previous backup of your contacts using iCloud? As an alternative, you can retrieve your lost contacts by restoring your iPhone from that backup, if available.
Power on your iPhone and access the "Settings" menu.
Navigate to the "General" section.
Find and tap the "Reset" option.
Select "Erase All Content and Settings".

Once you reach the "Apps & Data" screen, choose "Restore from iCloud Backup".
Sign in to your iCloud account.
Pick the desired iCloud backup that contains the data you wish to recover. (Restore from iCloud paused?)
Solution 6: Restore Disappeared iPhone Contacts from iTunes Backup
Some people may be accustomed to using iTunes to back up their iPhones instead of iCloud. If you are unsure if there are any contacts lost from the iPhone in the iTunes backup, you can try using it to restore lost contacts after iPhone update:
Connect your iPhone to the computer with an iTunes backup created.
Open the most recent version of iTunes on your computer.
Click on your iPhone's icon and go to the "Summary" page within the "Settings" menu.
Locate and click the "Restore Backup" button.

Select the most recent backup that includes your missing contacts and click "Restore" to recover deleted contacts from your iPhone iTunes backup.
Solution 7: Restart or Force Restart the iPhone
To restart your iPhone, you can:
Hold the "Power" button.
Swipe to power off your device.
Then, hold the "Power" button again to restart your iPhone.
If your iPhone screen is unresponsive, there are alternative methods for a force restart:
Press both the "Volume Up" (or "Down") and "Side" keys simultaneously to bring up the "Power" slider.
Swipe to turn off your phone, and wait a few minutes, then long-press the "Power"/"Side" button to restart your iPhone.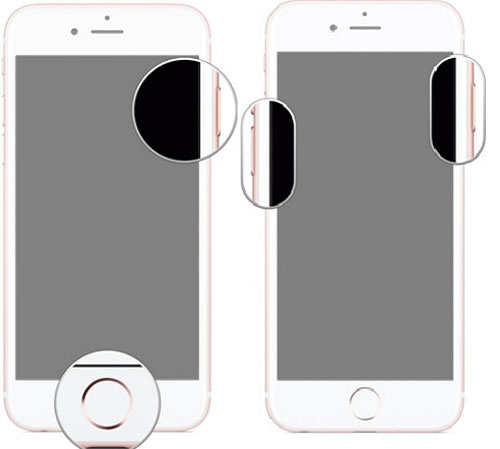 Part 3: Recover Lost Contacts on iPhone after iOS 17 Update without Backup
Typically, contact loss doesn't occur when updating your mobile system. However, using various methods for system updates can introduce uncertainty about contact deletion. Whether it's due to system updates or accidental deletions, MobiKin Doctor for iOS can assist even if you lack a backup.
To enhance your chances of successful contact recovery, you're advised to temporarily cease using your phone; just download this professional software to your computer and initiate the content recovery process. But before delving into that, let's explore the features of this software.
Impressive features of Doctor for iOS:
Recover lost contacts/SMS on iPhone after iOS update without backup.
Restore iPhone from iCloud/iTunes backup flexibly without data overwritten.
Apply to such files as contacts, SMS, photos, videos, calendars, Safari history, books, voice memos, notes, and more.
Let you perform selective retrieval after an easy preview.
Free trial, high success rate, and worry-free.
Support almost all Apple devices, including the latest iPhone 15.
How to fix iPhone contacts missing after update by restoring them with MobiKin Doctor for iOS?
Step 1. Get your iPhone connected and run the software
Begin by downloading and installing the software on your computer. Once installed, launch the program. From the main window, select "Recover from iOS Device". Next, have your iPhone connected to your computer via USB and follow the on-screen hints to allow the tool to identify your device.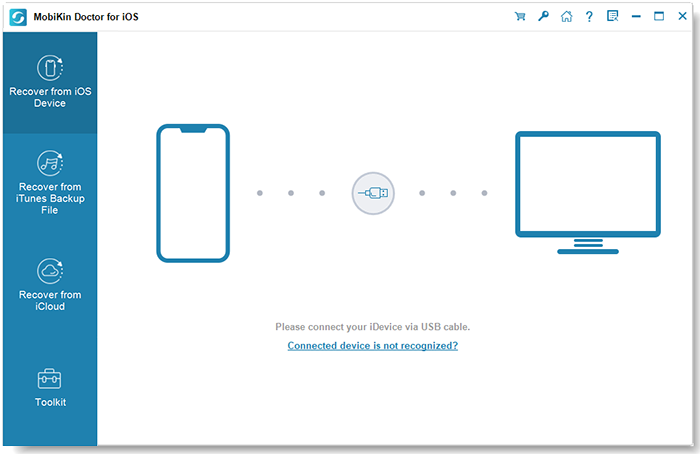 Step 2. Preview and pick the deleted iPhone contacts
Shortly, you'll see the main utility screen displaying various recovered file types. Choose "Contacts" and click "Start Scan" to load the detailed information of your iOS contacts.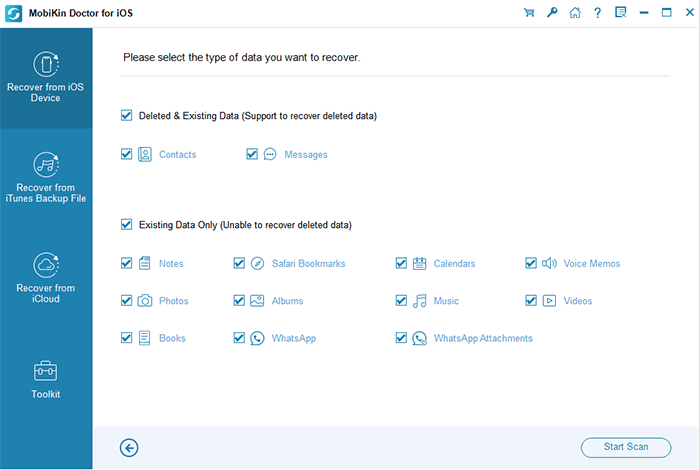 Step 3. Restore iPhone contacts that disappeared after update
Check the contacts in the right column of the screen and click "Recover to Computer" to retrieve your lost contacts after the iOS update onto your computer.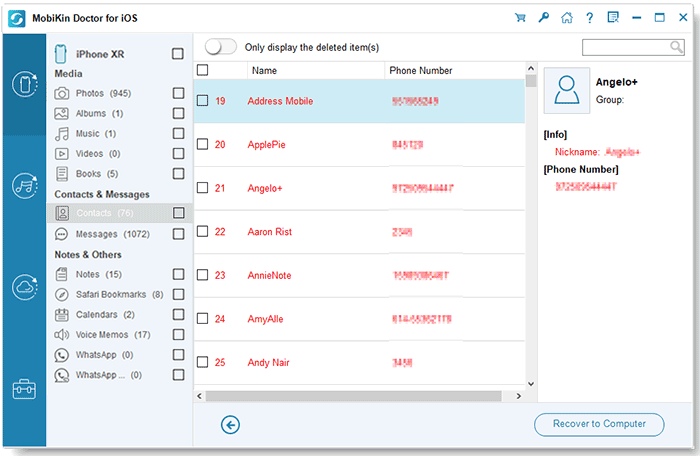 Extra: How to Keep iPhone Contacts from Being Lost Again
Data loss may appear inevitable; however, its likelihood can be diminished through various methods. To illustrate, we will now disclose a few prevalent solutions to let you keep away from "iPhone lost contacts after update":
Back up your iPhone using iCloud or iTunes regularly to keep your data safe.
Use iCloud Contacts to securely store your contacts in the cloud.
Keep your iOS version up to date to reduce compatibility issues and data loss risks.
Make sure that you are only downloading verified software and apps.
Be cautious when deleting contacts to avoid accidental removal.
Consider the risks before jailbreaking your device, as it can cause instability.
Ensure your SIM card and network connection are reliable to prevent contact loss.
Use strong passcodes or biometric authentication for device security.
Check your Contact app's group settings to ensure all contacts are visible.
FAQs on iPhone Lost Contacts
Q1: How about My iPhone Contacts without Dashes?
Go to your iPhone's "Settings" > "General" > "Language & Region".
Change the "iPhone Language" to a different one.
Switch it back to your preferred language. (e.g., English USA)
Open "Region", select another region briefly, and return to the "United States".
Q2: How to Recover Contacts from iPhone after Deleting Email?
If you have synced your contacts with an email address, you can try recovering them by following these steps:
Open iPhone Settings and access "Mail".
Tap "Accounts" and choose the email address with synced contacts.
Toggle on "Contacts", and the synced contacts will appear in your Contacts app.
Q3: How to Delete Duplicate Contacts Manually?
Launch the "Phone" app and go to the "Contacts" tab.
Access the duplicate content and select "Edit".
Scroll down and choose "Delete contact" to remove the duplicate.
Finalization
In general, this post discusses why iPhone contacts can go missing after updates and provides viable solutions. Specifically, causes range from contact issues to software and backup problems. The feasible fixes include importing from the SIM, adjusting contact groups, re-syncing with iCloud, resetting network settings, restoring from backups, restarting the iPhone, and more. Here, notably, if you don't have a backup and need to recover lost contacts quickly, consider picking MobiKin Doctor for iOS, a tool that is both reliable and stable in our tests.
Related Articles:
How to Export Contacts from iPhone 15/14/13/12/11/X/8 to Excel/CSV? [4 Methods]
[Solved!] How to Sync Google Contacts to iPhone 15/14/13/12/11/Xs Max/8?
How to Transfer File/Data Between iPhone and MacBook in 7 Easy Ways?
[Beginners Guide] How to Fix Contacts Not Syncing to Mac in 13 Hot Tips?
4 Simplest Ways to Sync Outlook Contacts with iPhone 15/14/13/12/11/X/8/7
What If Contacts Didn't Transfer to New iPhone/iPad? [8 Solutions for You]