What If Your iPhone Won't Restore? Try the 9 Proven Methods Here!
As the message - "This iPhone cannot be restored" appears, you are unable to restore your iPhone from iTunes backup or do a factory data reset. (How to reset iPhone without iTunes?) Oops, iPhone won't restore, leaving a non-responsive touch on the screen. Well, like most other tools/services, iTunes may sometimes underperform. So what is accountable for this phenomenon? How can we fix it without effort? OK, this informative tutorial will deliver satisfactory answers for you.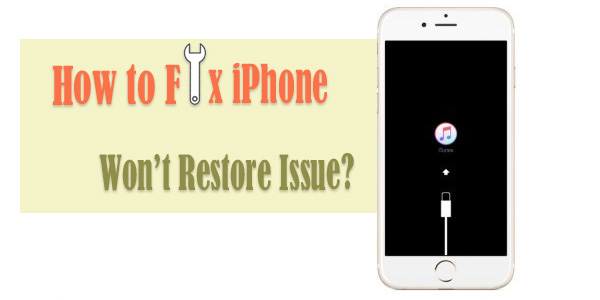 Part 1: Why Can't I Restore My iPhone?
When linking an iPhone to iTunes for restoration, Apple's logo appears, but it is going badly or even with iTunes errors occurring. So, why won't my iPhone restore to factory settings?
You are using a problematic USB cable, port, or computer.
Your iPhone was just under an iOS update.
The computer is running an outdated version of iTunes.
The iPhone is jailbroken.
Your iPhone backup is incompatible with the iOS version or corrupt.
Unknown iTunes errors caused by system glitches.
Next, what to do if your iPhone won't restore? To figure it out, please go through the possible solutions in the next section.
You May Also Like:
Part 2: iPhone Won't Restore? Troubleshoot It with the 8 Fixes
Fix 1: Check the USB cable and ensure iPhone has trusted the computer
A faulty USB cable may directly give rise to "iPhone restore won't work". So first, you need to check that the cable is OK and ensure that your iDevice trusts the computer according to the requirements on the screen.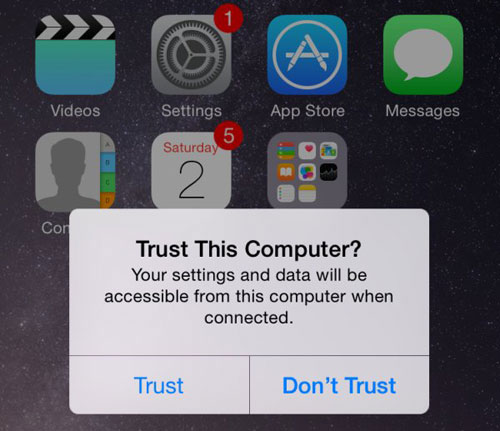 Fix 2: Put your device in Recovery Mode
This mode works in particular if you just updated iOS soon or the system cannot provide enough support for your phone. You can know more about iPhone Recovery Mode and get your device into the mode within the link. After getting into this mode, please launch iTunes on your computer. When its symbol on your iPhone shows up, you have the ability to utilize iTunes to restore it.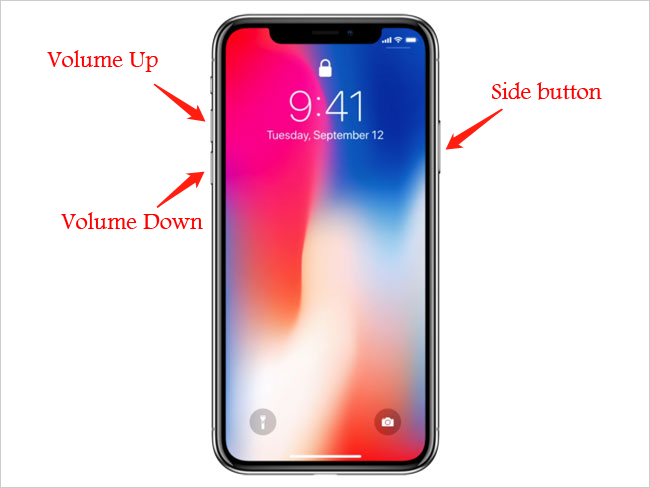 Fix 3: Restore iPhone with iTunes Backup
If your iPhone is still in Recovery Mode and you kept a backup of your iPhone via iTunes, you can now link the phone to the system. Subsequently, a pop-up message should imply that there's a problem with your iPhone; just click "Restore" to fix it by following the on-screen direction.
What if the message didn't show up? No worries. Try to restore your device manually by going to iTunes "Summary" > "Restore Backup". (How to restore iPhone from iCloud backup?) This will put the backup file into your iDevice to fix "iPhone won't restore".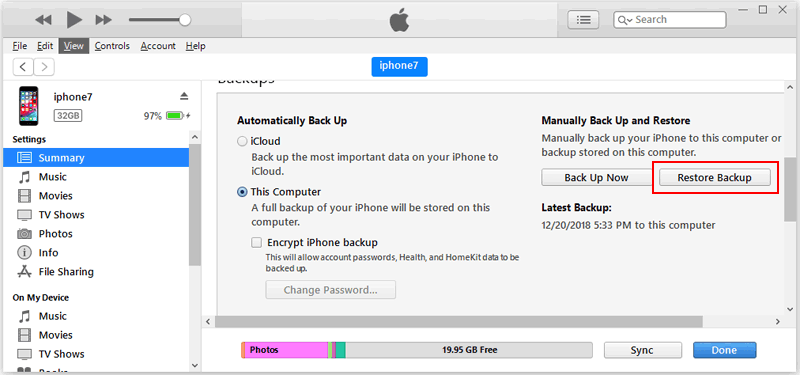 Fix 4: DFU restore your iPhone
It's a good idea to get iPhone into DFU Mode to fix "iPhone restore not working". This method is especially suitable for dealing with a jailbroken iPhone. Next, follow the steps to do it:
For iPhone/iPad with Face ID (iPhone 8 or newer), power off your device; connect it to a computer and run iTunes; press and hold the "Side" button for 3 seconds; continue to hold "Side"; press and hold "Volume down"; hold both for 10 seconds; release the "Side" but keep holding "Volume down" for another 5 seconds; release it, and the screen goes blank.
For iPhone 7/7 Plus, turn off your iPhone and hook it up to a computer; run iTunes and press and hold the "Side" key for 3 seconds; keep holding it and do the same on "Home"; hold both for 10 seconds before releasing them. (How to get iPhone out of DFU Mode?)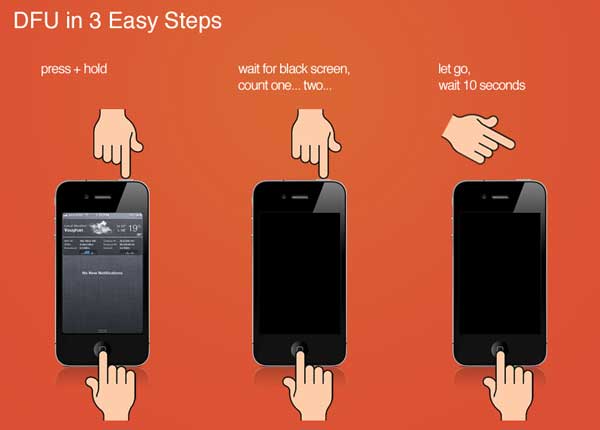 If you see the Apple logo on the iPhone screen, you might hold down the "Volume down" for too long. Just start the task over from the very beginning and try again.
Fix 5: Update iTunes on your computer
Run iTunes on your Windows computer.
Click the "Help" option from the menubar.
Tap "Check For Updates" from the pull-down list.
iTunes will either update itself or notify you that it is with the latest version.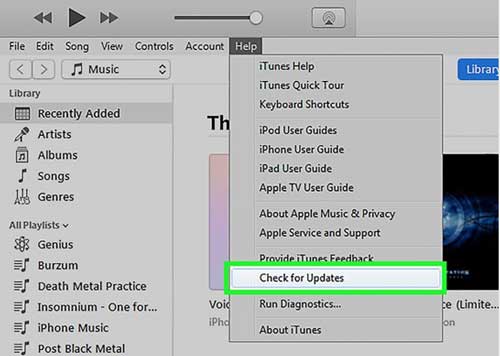 To update iTunes on a Mac computer, please open iTunes > go to the left of the Apple toolbar > tap "iTunes" > choose "Check for Updates".
You May Also Like:
Fix 6: Force restart iPhone
Doing a hard reset on your iPhone cause any damage to hardware or iOS, though it may be helpful for fixing "iPhone restore failed". Before going any further, please ensure your device is connected to the computer. Then check the following steps:
For iPhone 8 and newer: Quickly press and release the "Volume up" button, do the same on "Volume down" and "Side". Then release the "Side" when you see the Apple logo.
For iPhone 7, iPhone 7 Plus: Simultaneously press and hold the "Power" and "Volume down" buttons. Release both as your find the Apple logo.
For iPhone 6, iPhone 6S, and older: Press and hold the "Home" and "Power" buttons until the Apple logo turns up.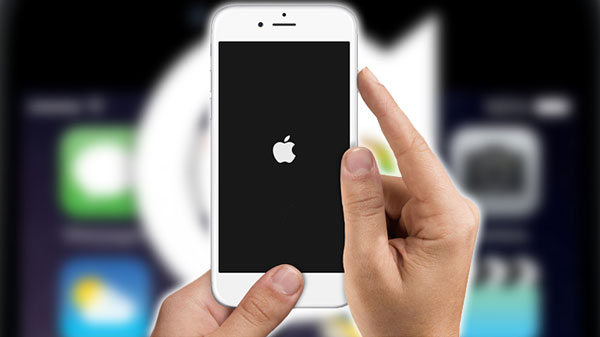 Fix 7: Try a different USB cable/port/computer
A damaged USB port cannot offer enough power and have an impact on data transfer. Likewise, if there's something wrong with your USB cable or computer, your iPhone may get stuck on the restore screen. So trying another USB port/cable/computer might help you get through the difficulty.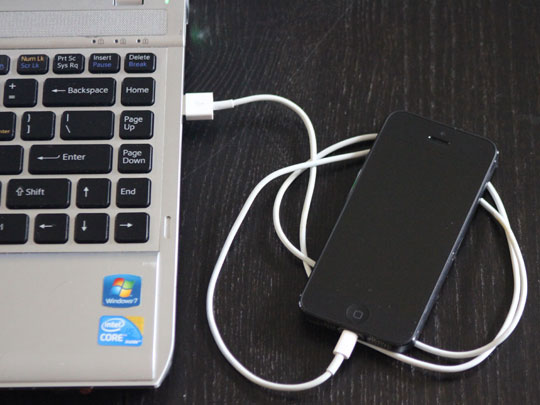 Fix 8: Restart your computer/iPhone
If you receive a message stating that some issues occur during the iPhone restore and your device needs to be restarted. Just reboot both your iPhone and computer concurrently as follows:
On your iPhone, press and hold any of the "Volume" buttons and the "Side" until you see the power-off slider; drag the slider and wait around 30 seconds to let your phone turn off. Once done, press the "Side" key until the Apple logo appears.
On a PC, click the "Start Menu", followed by "Restart".
On a Mac, click the "Apple" button from the upper left of the screen and tap "Restart".
Part 3: Try a Professional Repair Tool When iPhone Restore Won't Work
What to do when your iPhone still won't restore after all the fixes above? iOS System Recovery is a rare iPhone repair tool with an excellent success rate. No matter what problems you encounter when using your iPhone or connecting your iPhone to iTunes, this utility can help you out instantly. Moreover, it comes packed with additional features to upgrade or downgrade iOS to supported versions.
Check out the key feature of iOS System Recovery:
Efficiently fix "iPhone won't restore" without damaging original iOS data.
Troubleshoot 50+ iOS issues, such as iTunes error 54, iPhone error 56, battery draining fast, loop restart, iPhone black screen of death, iPhone stuck on a loading screen, etc.
Two repairing modes are available for fixing a whole range of iOS problems.
Apply to overall iOS devices, including iPhone 14/14 Pro/14 Pro Max/14 Plus, iPhone 13/13 Pro (Max)/13 mini/12/12 Pro (Max)/12 mini, iPhone 11/11 Pro/11 Pro Max, iPhone X/XR/Xs/Xs Max, iPhone 8/8 Plus, iPhone 7/7 Plus, iPhone 6/6S/6 Plus, iPod touch, iPad, etc.
It values your privacy.
Easy steps to troubleshoot "iPhone won't restore" with iOS System Recovery:
Step 1. Choose "iOS System Recovery"
Ensure the program is installed on your computer. Then open the software and head to "More Tool", followed by "iOS System Recovery".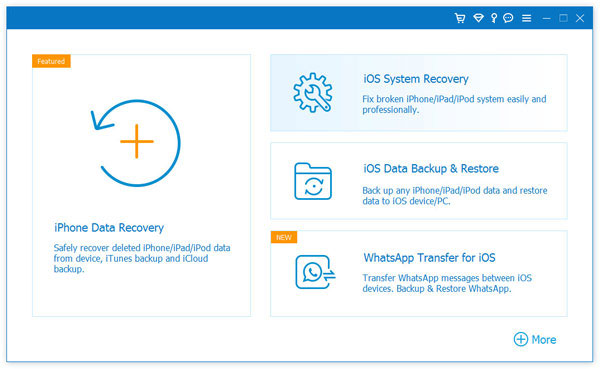 Step 2. Boot your iPhone into Recovery/DFU Mode
Connect your iPhone to the computer through USB and press "Start". Subsequently, please follow the on-screen prompt to get your device into Recovery or DFU Mode.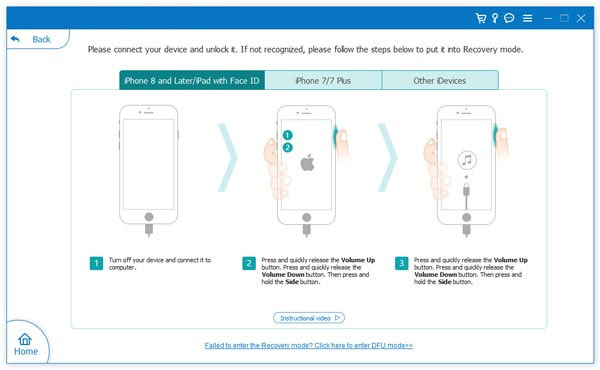 Step 3. Download firmware for iPhone
Choose your iPhone model on the screen and hit "Repair" to equip the iOS firmware with the connected iDevice.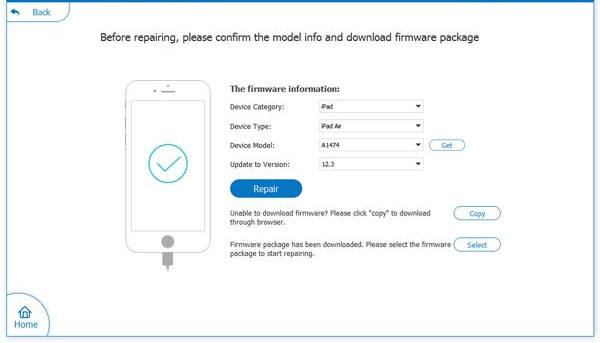 Step 4. Troubleshoot iPhone won't restore
After that, the tool will automatically fix "iPhone won't restore". A short while later, you'll enjoy a trouble-free iPhone restoration journey.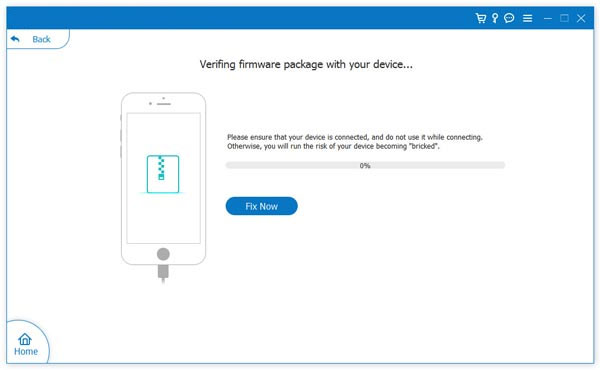 Ending Words
Well, that's all about this topic. Generally, some guys might be inclined to find a free solution to iPhone/iTunes issues. But in fact, many approaches cannot assist in solving them pertinently. Possibly, iPhone restore won't work even after trying all the possibilities. Thus, it's better to pick a reliable iPhone repair expert - iOS System Recovery to get you out of trouble in a few minutes. Finally, please share this post on social media to benefit more folks.
Related Articles:
How to Restore iPad from iPhone Backup? 3 Worry-free Options Here
[100% Working] How to Restore WhatsApp Backup from Google Drive on iPhone
8 Productive Ways to Fix iTunes Stuck on Preparing iPhone for Restore
Fixed: The Backup Can't be Restored to This iPhone because the Software on It is Too Old.
7 Useful Ways to Fix iPhone Stuck on Restore Screen in 2023
[Free Download] Top 7 iPhone to Android Transfer Software/Apps