What if iPhone Won't Restore? Here Are the Full List of Fixes
These days, some people complain that their iPhone won't restore, and leave their cases in Apple Community. As far as I can tell, this situation usually occurs when the phone's system is updated to iOS 13 or after jailbreaking, with the manifestation of strange code as 4013, 4010, 1611, 9, and the like. Well, ideally, it should be a smooth procedure to restore data from iTunes or other tools. Yet if you happen to run into such predicaments, then how can you figure them out?
OK, let's see some common cases about this topic, and jump right into the troubleshooting then.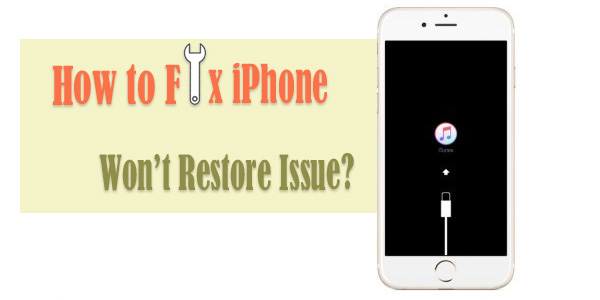 Part 1: iPhone Won't Restore from iTunes? Here Are the Common Cases
When you're in a good mood to restore your iPhone, you might find iPhone won't restore or update. Or come across a prompt like "This iPhone cannot be restored" at times. Well, do you know any other scenes? Let's go over the possible cases now.
iPhone cannot be recognized by iTunes.
iPhone is locked because of entering multiple incorrect passwords.
iTunes is unable to restore iPhone after upgrading to the latest iOS.
iPhone cannot restore factory settings after the jailbreaking.
iPhone is stuck in recovery mode for unknown reasons.
iTunes can't restore iPhone, as the phone runs out of memory.
iPhone won't restore from iTunes, for the backup is corrupt.
iPhone error 4005, 4010, or 9, etc. pops up on iTunes.
Other frequent cases...
Why won't my iPhone restore? To be honest, there are complex and diverse reasons for these cases. Yet for most of us who are not tech fanciers, it seems more practical to find some effective emergency measures than to delve into the causes of those scenarios.
Related Pages:
Part 2: How to Fix iPhone Won't Restore Issues
My iPhone won't restore and how can I get around this circumstance? Fear not, after the analysis of the above listed cases, we can resolve the problem from the following respects: the connection of iTunes and iPhone, the version of iTunes, the ways to make the settings work, the selections of iPhone's modes, etc.
Method 1. Try a Different Lightning/USB Cable, USB Port or Computer
Sometimes iTunes won't restore iPhone, which may be closely related to the inappropriate lightening/USB cable you use. If you use a third-party cable instead of Apple's official one, it may result in failure. And if the cable is dirty, you can clean its USB port with a soft dry cloth. Plus, it's also possible that some settings or programs on this computer might be to blame. So trying a different computer again can be an option.
Note: Suppose the iTunes cannot recognize iPhone during the use, you can click here to learn the solutions.
Method 2. Check iTunes for Update
If you have an old version of iTunes on computer, it is recommended that you update it to the latest one.
For Windows users, launch iTunes on PC, and go to the menu to opt for Help > Check for Updates. Then follow the instruction to get this task done.
For Mac users, start iTunes on Mac. On the menu bar, tap iTunes > Check for Updates. Then install the update in line with the hints.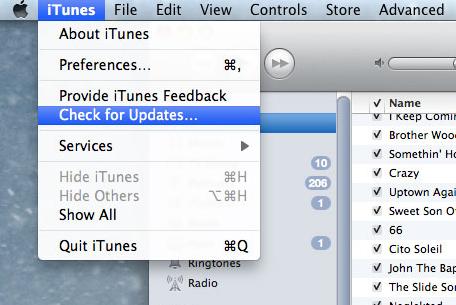 Method 3. Reboot Both iTunes and Computer
If the first two solutions don't work, you may need to restart your iTunes and computer to put the new settings into effect. Just do that to see whether iTunes will restore iPhone. (On Windows PC, tap the Start menu and choose Restart. While on Mac, click the Apple icon and click Restart then.)
Method 4. Hard Reset iPhone
For iPhone 8 and later phones: Press and release the Volume Up key. Then press and release the Volume Down button. Next, keep pressing and holding Side key until Apple's logo appears on the screen.
For iPhone 7 (Plus): Press and hold both Power and Volume Down buttons until the Apple's logo turns up.
For iPhone 6 (S) and earlier phones: Press and hold both Home and Power keys until the Apple's logo comes up.
If your iPhone has been staying with you for a long time, it may restart automatically at times due to something wrong with its battery or motherboard. iPhone keeps restarting? Click here for the full fixes.
Method 5. Set iPhone to DFU Mode
iPhone still won't restore from iTunes after the previous operations? Now you can try DFU mode. This task will give totally new settings for both hardware and software on your iPhone. Here, you can go with the following steps:
Link iPhone to computer via a USB cable and open iTunes on this computer.
Press and hold the buttons depending on the models of iPhone (the same as the previous steps) until you see "iTunes has detected an iPhone in recovery mode...." on iTunes.
Tap "OK", and go with the direction on the screen to restore this iPhone.

Method 6. Put iPhone into DMU Mode
If the problem remains unresolved after entering DFU mode, you can try entering DMU mode instead. Here's how:
Hold the Power button of your iPhone for about 5 seconds. Then release it and hold the both Power and Home keys for the next 10 seconds. At last, release the Power button, but continue holding the Home key for the another 5 seconds. Done!
See Also:
Part 3: Can't Restore iPhone from iTunes Backup? Try the Best Alternative Approach
Is there any trusted ways that can make the iPhone restore process error-free, since the iTunes malfunctions occasionally? Sure! MobiKin Assistant for iOS (with both Win and Mac version) can be the best alternative method. It is tailored to help you make a smooth management on iPhone invariably. And you can take the assistance of it to back up iPhone files selectively or in batches, hindering you from being in a jam while restoring them.
What makes MobiKin Assistant for iOS outstanding?
One-click to back up and restore iPhone data effortlessly.
Supported data types: contacts, SMS, notes, eBooks, calendars, bookmarks, voice memos, podcasts, ringtones, playlists, and others.
Copy iDevice data to iTunes default location or customized folder.
Move the data to computer selectively or in bulk, and the previous backups won't be covered.
Manage all the contents on your iPhone/iPad/iPod as you wish.
Intuitive interface, easy to use and 100% secure. Never need to worry about user privacy disclosure.
Get along well with almost all iDevices, such as iPhone 11/11 Pro, iPhone XR/XS/X (Max)/SE, iPhone 8 (Plus)/7 (Plus)/6(S)(Plus)/5(S), iPad/iPod and so on.
Let's go over how it works concerning iPhone backup and restore, since iTunes won't restore iPhone once in a while.
- Back up iPhone data with MobiKin Assistant for iOS (brief steps)
Step 1. Download, install this program before you open it on computer. Then take a USB cable to link iPhone to this computer. Now, follow the hints on the screen to get the phone recognized by the tool.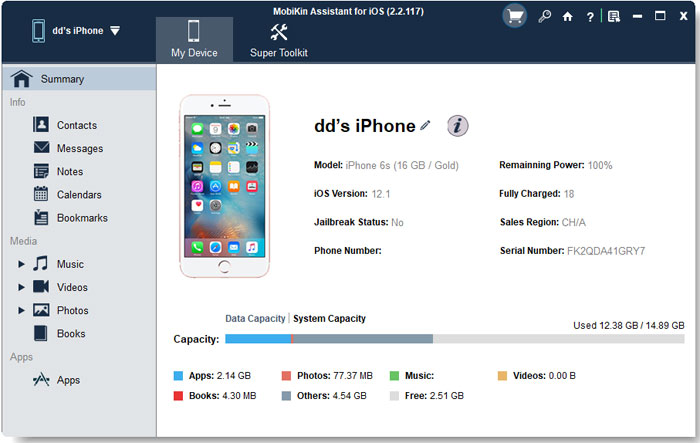 Step 2. Click on "Super Toolkit" > "iTunes Backup & Restore" > "Backup" to choose this iPhone for backup.
Step 3. Select "Backup file(s) to default iTunes backup location" or tap "Customize" to specify a folder to store the backup. Finally, hit "OK" to begin to back up iPhone data on computer.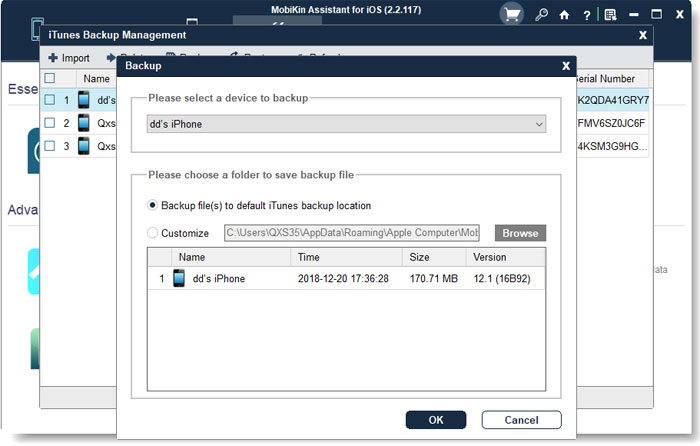 - Restore iPhone data using this tool
1. Restore iPhone files in bulk
Step 1. Launch the program, and connect iPhone to computer before you get the main interface of this program (this is the same as Step 1 of the previous section). From the top menu of the interface, choose "Super Toolkit" > "iTunes Backup & Restore" > "Restore".
Step 2. You'll see all the backup records on the incoming list. Now, choose the backup files you'd like to fetch, and then tap "OK" to restore them to your iPhone.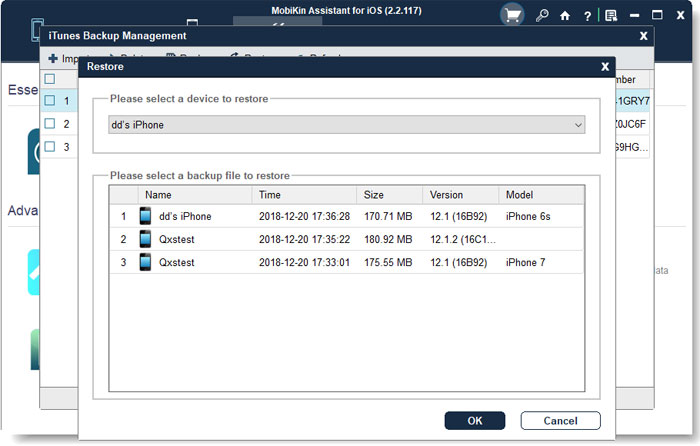 2. Restore iPhone files selectively
For instance, if you need to restore desired contacts from computer to iPhone, you can do it like this. After your iPhone is identified by this software, simply click "Contacts", and tap "Import" from the top menu to locate the contact files on computer. Then get them back to iPhone. (P.S. calendars, books, bookmarks can also be imported to your iPhone selectively in the similar way.)
Again, as you can see the "Export" button on the screen. If necessary, you can choose your wanted contacts or other files, and tap this button to migrate them to computer as a safe backup.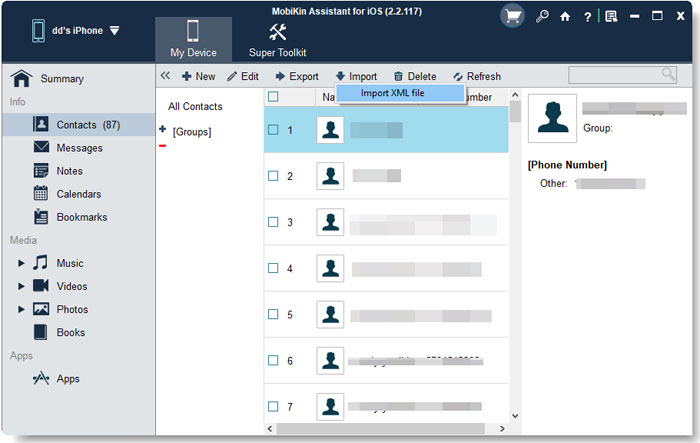 Words in the End
The above 6 solutions can, basically, resolve your issues. But if your iTunes won't restore iPhone backups all the way, it could be the proper time to send the phone for repair. In addition, once the failure is fixed, and this tool still fails to do that, it is suggested taking MobiKin Assistant for iOS as a dependable alternative. With the help of this smart software, you can take a secure backup for your iPhone, and thereby make the annoying experience a thing of the past during data restore.
Related Articles:
How to Recover Photos from iPad without Backup? Nothing to it!
How to Recover iPhone Photos after Factory Reset without Backup
How to Restore iTunes Backup to Samsung Galaxy
Full Guide on How to Fix Error 6 while Restoring iPhone
My iPhone Won't Backup to iCloud, How to Fix It?