How to Transfer Contacts from Computer to iPhone Xs/Xs Max/XR/8/7?
Upgrade your old iPhone to the latest iPhone Xs, iPhone Xs Max, iPhone XR or iPhone 8, you can easily transfer contacts from iPhone to iPhone Xs, iPhone Xs Max or iPhone XR on your computer. Or switch your mobile phone from Android to iPhone Xs/Xs Max/XR, you also can copy contacts from Android to iPhone with a simple 3rd-party program. However, when you have a contact list on the desktop computer, you may feel confused of how to import it to your iPhone, right? So today, we write this article to show you several ways to copy contacts from computer to iPhone within few clicks. You can compare them and decide which one is better according to your own needs.
Best Way to Import Contacts from PC to iPhone/iPad
iPhone Contacts Transfer is a reliable yet all-in-round management tool for iPhone, iPad and iPod users. It allows users to backup, export & import, uninstall, preview or edit all kinds of iOS data on the desktop computer directly. What's more, this program have been tested for hundreds yet thousands of times, and the facts have proved that no data losing during the exporting or importing process between your iPhone and computer. (Please be noted that iTunes is not required here.)
For iPhone Xs, iPhone Xs Max and iPhone XR user, you can go to another page to learn a compete guide to transfer contacts to iPhone Xs/Xs Max/XR.
Now, let's check how to transfer contacts from computer to iPhone step by step.
Step 1. Connect your iPhone device to computer with USB cable, then launch the iPhone Contacts Manager on your personal PC.
Step 2. Click on "Trust" on your iPhone, and tap on the "Continue" button in the program to finish the connection between iPhone and computer. When your iPhone is recognized, you'll get the main screen as follows: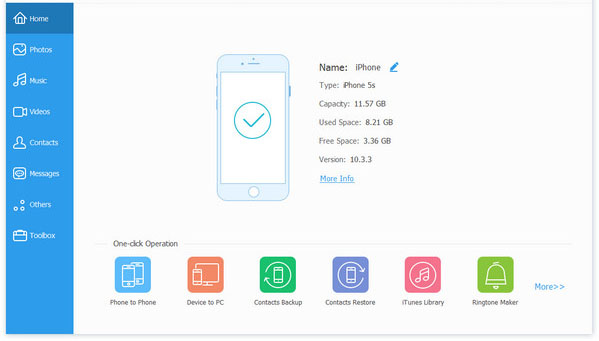 Step 3. Tick the category of "Information" on the top menu, then you can preview the whole contacts list in the program as you like. At present, this tool enables users to export contacts from iPhone to computer and save as 4 different formats: CSV, VCF, Windows Address Book, and Outlook 2010/2013/2016 compatible formats, and import contacts in these formats from PC to iPhone. So, if your contacts backup is vCard, CSV, Windows Address Book, or Outlook 2010/2013/2016 format, you can click "Import" button to load your target contacts to iPhone easily.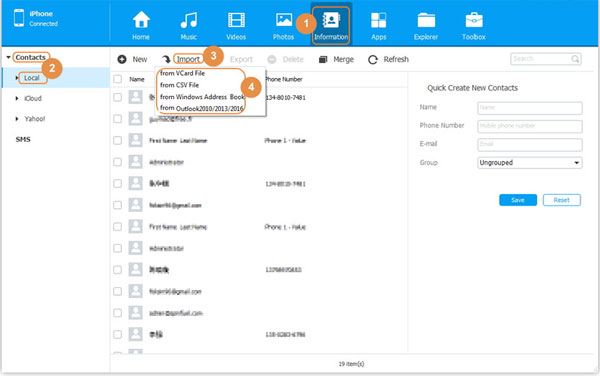 Sync Contacts from PC to iPhone Xs/Xs Max/XR/8/7 with iTunes
Syncing contacts with iTunes is a convenient and recommended method to import contacts from your PC to iPhone. You need to install the most recent version of iTunes on your PC. The iTunes installer is available for free download at: https://www.apple.com/itunes/download/.
Once you have set up iTunes on your PC, follow the following simple steps to transfer all contacts from your PC to your iPhone:
1. Connect your iPhone to PC with the USB cable and iTunes will be started automatically. Your device will be detected and recognized by iTunes by default.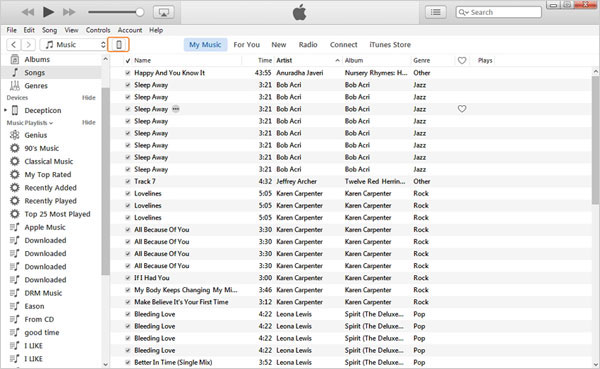 2. Under the "DEVICE" option, you can find your own iPhone, select it and open "Info" tab on the main window. Here, you can check "Sync Content with" option on the right panel, and choose the program on your PC that has the contacts you want to import.
3. In the advanced pane, place a check mark next to "Contacts". There is another option called "Replace information on this phone". If you have no contacts on this phone, check this option. When this is checked, the contact list on the phone is replaced the selected contacts from on the PC in the next "sync" operation. Any existing contacts, if they are not a part of the PC's contact list will be lost. It is a good idea to back up your phone's contacts just in case you lose them.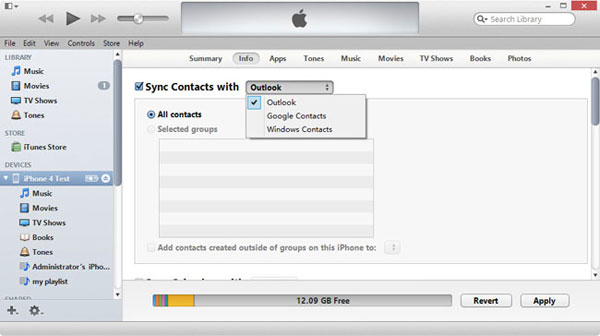 4. The contact list appears in a panel underneath. Select the contacts you want to import and press sync' on the right bottom of the window. If the contact lists on the phone and computer differ by more than 5%, iTunes will ask you whether to replace data on the phone, or on the computer, or to merge them. Note that merging may create duplicate entries on both the phone and on the address books, particularly in cases where there are subtle differences in spelling or contact information.
5. Once you make a choice, iTunes will sync up contacts as per your choices. Verify that "automatically sync when this iPhone is connected" is checked. This updates any modifications in the contact details in either PC or the iPhone whenever you connect the phone to the PC.
Can't Miss:
How to Transfer Contacts from iPhone to Computer
How to Recover Deleted Contacts from iPhone Easily
How to Move Contacts to iPhone from iCloud, iTunes, Kies, etc.
Transfer for Mobile is a multi-functional Phone to Phone Transfer program on the Internet, which allows users to not only transfer data between different devices, but also import contacts, messages, photos, etc. to iPhone Xs/Xs Max/XR, iPhone 8 Plus/8, iPhone 7 Plus/7, etc. from various sources, such as iCloud, Kies, iTunes, BlackBerry, OneDrive, etc. So, if your contacts are backed up with these 3rd-party tool, you can take this method to import or sync contacts to iPhone from PC as you like.
This program only allows you to sync the whole contacts folder to target iPhone. If you want to import specific files to your iPhone, you'd better to take a trial on the method 1.
Here is the detailed contacts for your reference:
Step 1. Connect iPhone to computer and launch the program. Then choose "Restore from Backups" and select the backup type for scanning.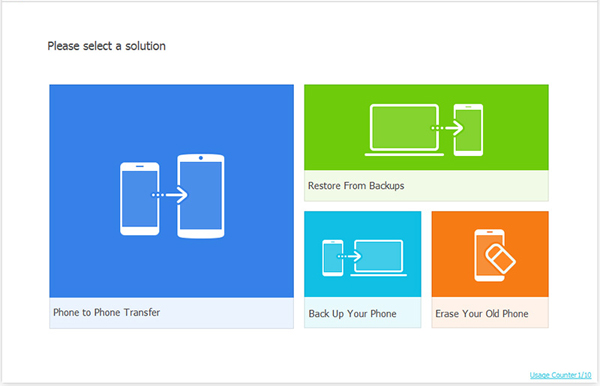 Step 2. Choose the backup that your contacts is located, then tick "Contacts" option in the middle of the panel.
Step 3. Click "Start Transfer" button to begin the whole process.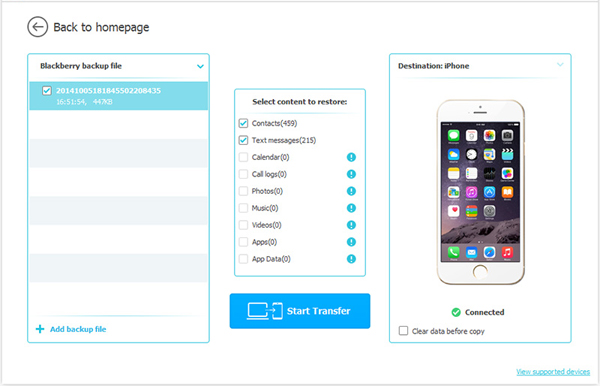 Related Articles
How to Transfer or Copy Music from iPod to Computer
Tips to Transfer Music from iPod to iPhone Easily