[Updated] How to Print Contacts from iPhone? It's a Cinch!
We may need to print iPhone contacts sometimes. And there are a great many reasons for doing so. For instance, we have to make statistics on the contacts stored in the office phone or deliver them to others; maybe we intend to make iPhone contacts a hard copy for easy viewing or run a physical backup in case of iPhone failure or loss unexpectedly.
Thus, it is vital to delve into how to print contacts from iPhone effectively. To simplify the operation procedure to save your time, we will show you 5 practical ways to easily get the iPhone contacts you want on the paper sheet.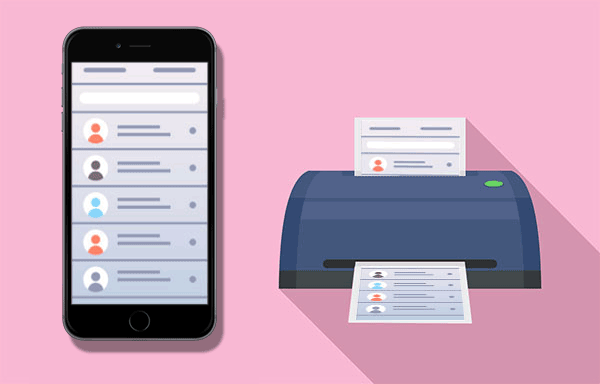 Way 1: How to Print Contacts from iPhone Directly
MobiKin Assistant for iOS (Win and Mac) allows you to export all contacts from your iPhone to print-friendly SCV format in one click and then print them directly with a printer. If you solely want to preview and select your wanted contacts before printing, you can also do these conveniently on your computer.
On top of that, you could take advantage of it to manage your contacts and other content on your iPhone with ease. For instance, you can utilize it to add, edit, export, import, and delete iPhone contacts straightforward on your computer.
Brief overview of MobiKin Assistant for iOS:
How to print out contacts from iPhone via Assistant for iOS?
Step 1. Run the program on your computer
Download and install Assistant for iOS on your computer. Open it and be sure your iPhone is linked to a computer via a USB cord. Then follow the instruction to have your device recognized by the tool.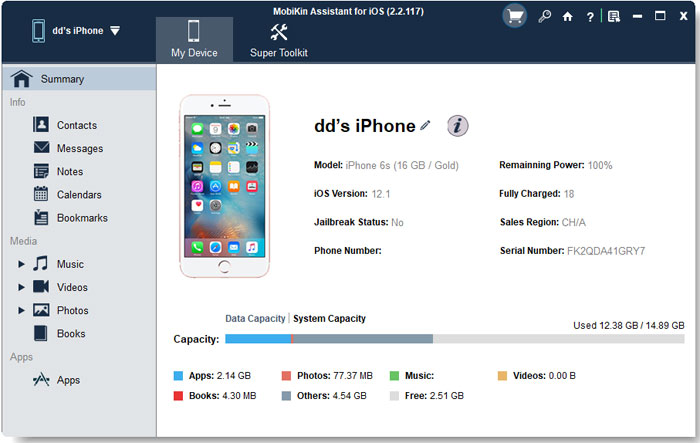 Step 2. Preview iPhone contacts on computer
After the detection, various categories of data will be on the left menu of the incoming interface. Now, select "Contacts" and preview all contacts info on the right penal.
Step 3. Export and print contacts from iPhone
Choose your desired contacts for printing and tap "Export" from the top screen to save the items in CSV, vCard, or XML format. To print contacts from iPhone, you'd better save them in "CSV".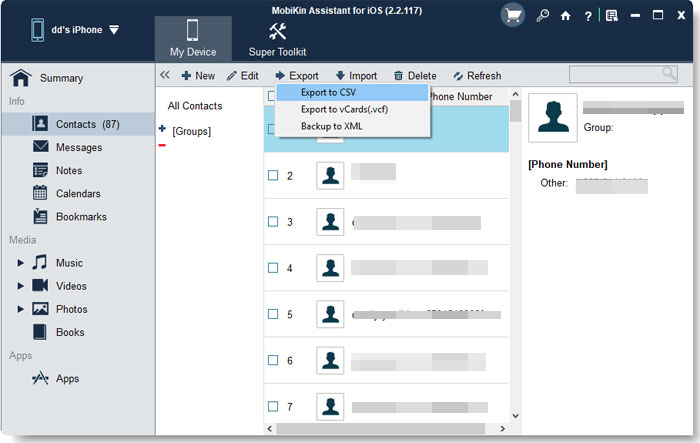 After that, you can link a printer to your computer and then get the contacts printed as you please.
You May Also Like:
Way 2: How to Print iPhone Contacts with iCloud
For those who have enabled the Contacts sync feature, it's easy to print contacts from iPhone via iCloud. If you haven't enabled the Contacts button yet, just do this by going to your iPhone Settings > [your name] > iCloud > switch on the Contacts option.
Next, remember to check if all contacts are synced to iCloud, for the service is slow to perform tasks and prone to errors occasionally.
How do I print my contacts from my iPhone with iCloud?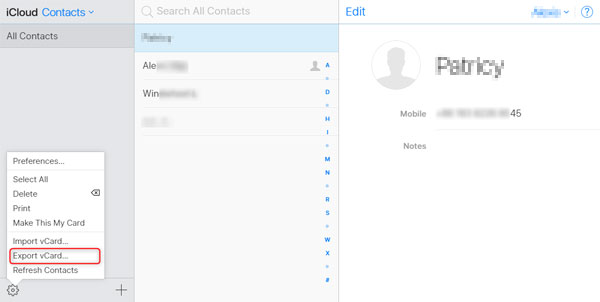 Way 3: How to Print Contact List from iPhone via iTunes Syncing
To carry out the task in this way, you should first sync your iPhone contacts with Windows contacts and then export contacts from iPhone to CSV file. This is a complicated job and requires the latest version of iTunes to be installed before you can go any further.
How to print contacts from iPhone via iTunes Syncing?
Check if You Need:
Way 4: How to Print out Contacts from iPhone Using Gmail
Primarily, you have to sync iPhone contacts to Gmail. Next, you need to access the contacts and print them off from the Google Contacts online.
To print contacts from iPhone 12/11/8/XR/XS/SE/X via Gmail:
Want to get your contacts printed in order as a sheet? Simply download them as a CSV file first and then print it off.
Way 5: How Do I Print My Contacts from My iPhone by Taking Screenshots
If you have just a handful of contacts to print, you can take screenshots of items and get them printed from your iPhone directly with the aid of AirPrint. Before the task, you should ensure that your printer is an AirPrint-capable device. Otherwise, it is recommended to resort to Way 1 for fixes.
How to print contact list from iPhone by taking screenshots?
After printing iPhone contacts in this way, each contact info will occupy a whole sheet of paper, which is a waste of paper and not conducive to viewing.
The Bottom Line
Well, we have observed 5 reliable ways to print contacts from iPhone in this article. Can you print iPhone contacts on your own now? Want to know which of the solutions is the best? OK, it is undoubtedly that Way 1 (using MobiKin Assistant for iOS) is the most direct and fastest way of all. It's a no-brainer solution, to be honest.
As you know, your iPhone contacts may be all about someone near and dear to you. Having them on hard copies could be a great relief for you in a pinch. So, simply pick this smart program and give it a whirl. It'll offer your iPhone contacts a full range of management, not just for easy printing.
Related Articles:
Top 6 Photo Printers for iPhone
3 Simple Ways to Print Text Messages from iPhone 12/11/XS/SE/X
How to Print out Contact List from Android Phone (Way 1 Is Incredible)
How to Backup Contacts on iPhone with/without iTunes - 5 Fast Ways
How to Transfer Contacts from SIM Card to iPhone XS/XS Max/XR/X/8?
How to Transfer Contacts from Computer to iPhone 12/11/11 Pro Max?