How to Share Multiple Contacts on iPhones (6 Great Ways)
If you're going to share contacts on iPhone with your family and friends or transfer them to your new iPhone, manually entering seemingly endless numbers of contacts has proved to be outdated. In the information age, it is easier to share contacts between iPhones.
In addition to using Apple's official tool/service like iTunes or iCloud, there are other alternatives to transfer the contacts over. Well, today, we will present 6 fabulous methods for you. And hopefully, you'll find the best way to share contacts on an iPhone 12/11/Xs Max/X/8/8 Plus/7/6S.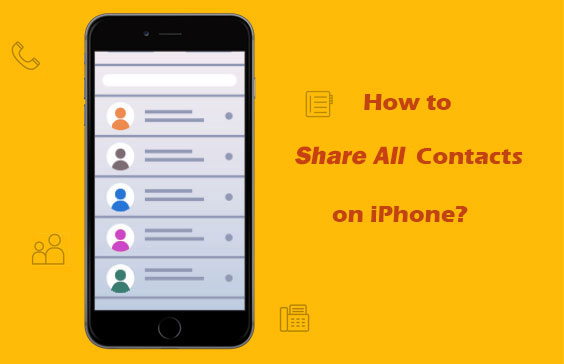 Way 1: How to Share Contacts on iPhone by Importing from SIM Card
As you may know, Apple doesn't allow its users to export contacts from their iPhones to SIM cards, but if your contacts are already on the SIM, you can share contacts on your iPhone by removing the SIM card. (P.S., SIM card cannot be detected by iOS device? Here's the trick.)
Here's how to share contacts on iPhone SIM card?
Take the SIM card out of the old iPhone and insert it into the new phone.
Head to "Settings", touch "Contacts" > "Import SIM Contacts" to transfer the items across.
After that, the contacts on the source iPhone device will be moved to the new iPhone.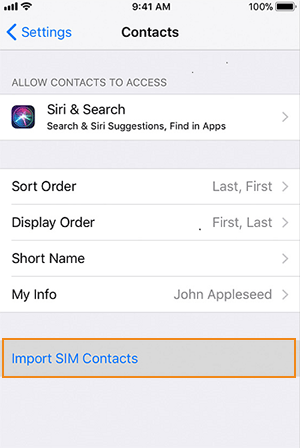 There is usually a small gasket under the SIM card inserted in the iPhone card slot. Please be careful to avoid damaging or dropping the part when you remove it from the slot.
Related Reviews:
Way 2: How to Share Contacts between iPhones with Transfer for Mobile
The contacts are not stored in the SIM card, or the iPhone for receiving contacts is not your own? In this case, an efficient way to pick is with the help of smart 3rd-party tools. MobiKin Transfer for Mobile (Win and Mac) is among the most useful programs available for mobile data sharing.
It is the best way to share contacts from iPhone to iPhone, Android to Android, Android to iPhone, and iPhone to Android.
Brief Overview of MobiKin Transfer for Mobile:
One-tap to copy all various data between two devices, regardless of what operating system(s) they are running on.
Be able to process data like contacts, SMS, call logs, photos, videos, documents, and apps, etc.
Simply interface, offline operation, and easy to use.
Be suitable for use in almost all iDevices, such as iPhone 12, iPhone 11/11 Pro/11 Pro Max, iPhone X/XR/XS/XS Max, iPhone 8/8 Plus, iPhone 7/7 Plus, iPhone 6/6S/6 Plus, iPod, iPad, as well as Android devices like Samsung, Huawei, Motorola, LG, Sony, Nokia, Blackberry, Google, OPPO, HTC, Vivo, etc.
It doesn't record any of your privacy.
How to share contacts between iPhones using MobiKin Transfer for Mobile:
Step 1. Connect two iPhones to your computer
Download, install, and launch Transfer for Mobile on your computer. Then, connect two iPhones to the computer via two USB cables. To get the devices connected, you may need to tap "Trust" and then "Continue" when the tool prompts you.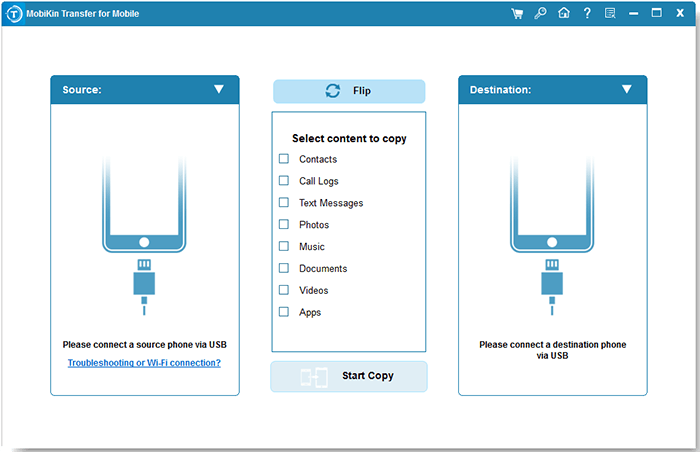 Step 2. Ensure both iPhones are in the right position
After the recognition, make sure the source iPhone is on the left of the interface and the target one is on the right. If not, please click "Flip" to correct their positions.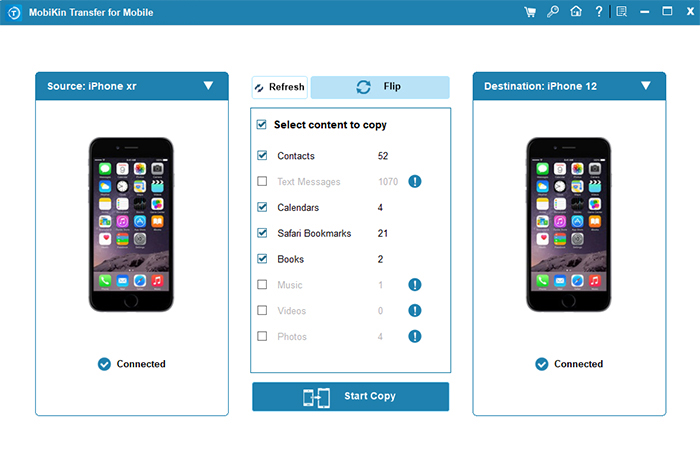 Step 3. Share contacts between iPhones
All the transferable data types will be displayed on the main screen. You need to mark the "Contacts" tab and press "Start Copy" to begin to share contacts between iPhones.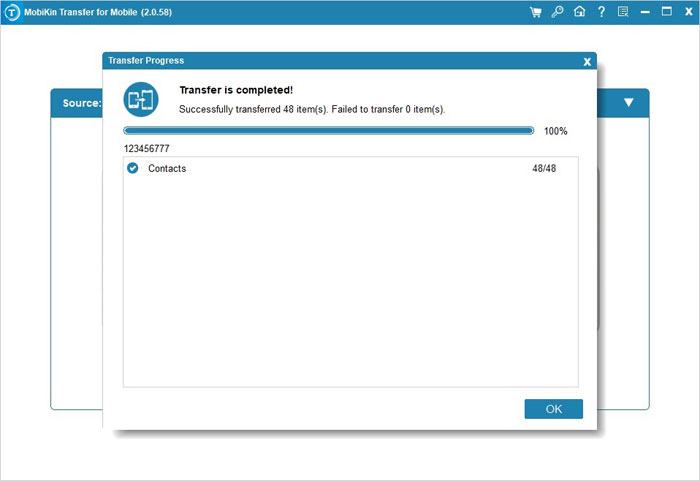 Way 3: How to Share Contacts on iPhone via Email
You can also take the email sharing feature in the Contacts app to send out the email and then receive the content on the other iPhone. However, if you need to share multiple or all contacts, it can be a long and tedious process.
To share contacts between iPhones using Email:
Run the "Contacts" app on the source iPhone and choose the contact you want to share.
Then you'll see the "Share Contact" option. Just touch it.
As you can see from the next page, you can share contacts via Messages, Mail, and more.
Tap on "Mail" to activate the native Mail app and sent the contact to your own mailbox.
After that, you can log into the email account on the destination iPhone to get the contacts with ease.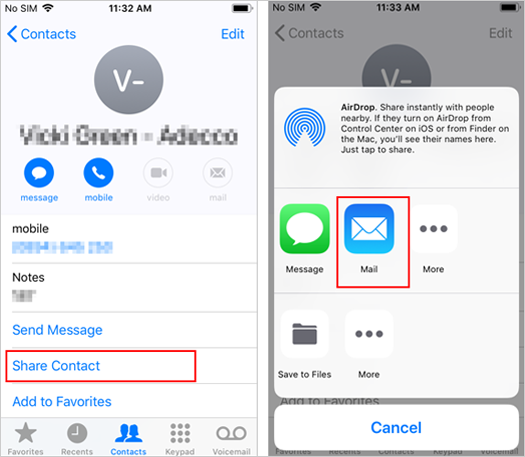 People Also Like:
Way 4: How to Share Multiple Contacts on iPhone Using iTunes
Working for backing up data from one iPhone to the default directory, iTunes can also restore backups to this or another iPhone. But this process will cover the data on the target device. If the destination phone is a brand new one, this approach can be viable.
How to share all contacts on iPhone via iTunes?
Run the latest iTunes and connect the old iPhone to the computer via a USB cable.
After the device is identified by the tool, click the device icon > Info > Sync Contacts. (What if iPhone Cannot Connect to iTunes? Click here.)
From here, you can choose "All contacts" or "Selected groups" as needed before click "Apply".
Once done, unplug the source iPhone and follow the same step to have the target iPhone connected to iTunes.
Click the device icon > Info > Sync Contacts > choose "Contacts" under "Replace information on this iPhone" > Apply.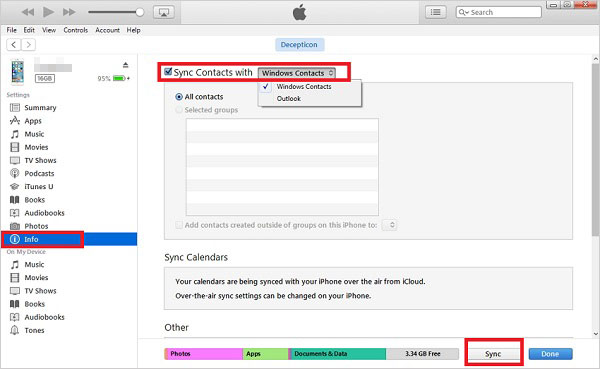 Way 5: How to Share All Contacts on iPhone with iCloud Backup
iCloud can assist to transfer contacts between iPhones as well. It's also a good idea for you folks who want to share their contacts with a new iPhone.
To send multiple contacts to iPhone with iCloud:
Step 1. On your source iPhone, head to Settings > [your name] > iCloud. Next, switch on both the "Contacts" and "iCloud Backup" buttons.
Step 2. Touch the "Back Up Now" option to sync your iPhone to the iCloud server.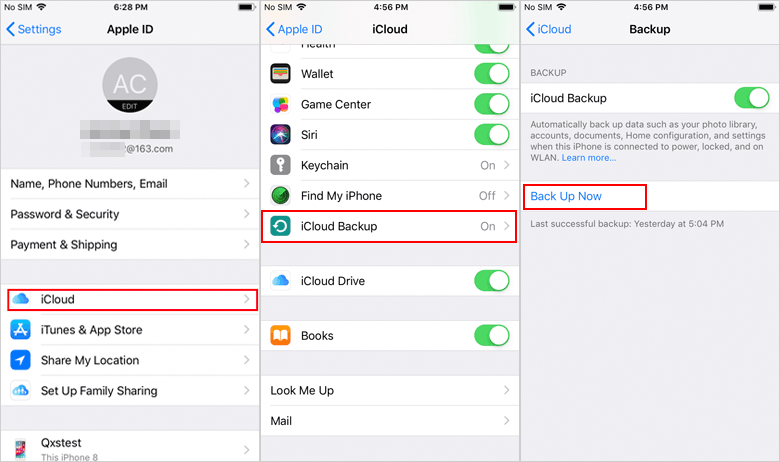 Step 3. Open your new iPhone and follow the setup instruction to get into it. Then, the Apps & Data screen will appear. Now, you need to click "Restore from iCloud backup".
Step 4. Log in to your Apple ID to reach the backup files you've created for your old iPhone. And go with the simple direction to put the contacts to the new mobile.
Way 6: How to AirDrop All Contacts between iPhones
Specially designed by Apple for the macOS and iOS, AirDrop can be used to share data between Apple devices. Before using it, please turn on the Bluetooth and WiFi network, and then make two iPhones recognize each other through simple settings.
However, AirDrop can only perform one contact sharing at a time. So if you don't want to repeat the tedious process, just skip this method directly.
How to share contacts on iPhone 12/11/XR/X/SE/8, etc., via AirDrop?
Swipe down from the bottom of the screen on iPhones to get into "Control Center".
Press and hold on the control box on the screen and go for "AirDrop".
This tap will reveal the permissions of "Receiving Off", "Contacts Only", and "Everyone". Simply touch the last one.
Open the "Contacts" application on the source iPhone to find the contact you want to move to the target phone.
Touch the "Share Contacts" option and go for AirDrop > Choose the target iPhone > press the "Accept" option on the destination iPhone to receive the incoming contacts.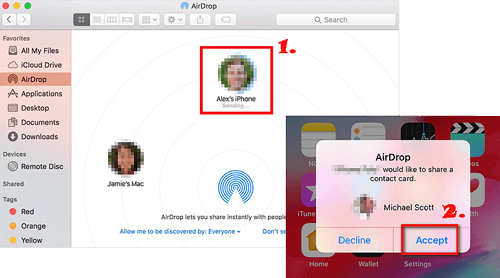 Ending Words
After going through this definitive guide, we can conclude that:
These methods are feasible in general.
The premise of sharing iPhone contacts through iPhone SIM is that you must ensure the contacts are on the card.
MobiKin Transfer for Mobile can help share contacts, calendars, bookmarks, books, etc., in one click without data loss.
If you only need to share a small number of contacts, Email and AirDrop can be included in the plan.
Both iTunes and iCloud are practical for users who want to send their contacts to a brand new iPhone.
Any questions? Welcome to leave a message below, and we would like to keep the conversation going.
Related Articles:
3 Methods to Export Contacts from iPhone to Excel or A CSV File
Send Long/Large Videos on iPhone: The Definitive Guide (7 Ways)
How to Transfer Contacts from Android to iPhone? (4 Quick Ways)
How to Sync iPhone Contacts to Outlook?
How to Recover Deleted Contacts from iPhone
Share Android Apps with Other Phones in One Click Effectively