How to Transfer Music from Computer to iPhone Easily?
Maybe you're having a big music collection that you've just downloaded online, or you've just simply purchased a hard copy of your favorite songs and you want to transfer all of them to your iPhone. Unlike many other phones on the market, transferring music to iPhone can be pretty tough for people who are not very familiar with how Apple products work. In this article, you're going to find out some of the easiest and most efficient ways to transfer all of the songs from computer to your iPhone. We're going to use some third party software, but don't worry because they are all free to download and install.
How Can I Copy or Move Songs from PC to iPhone with iTunes?
Step 1: Install iTunes on Your Computer
Here, you need to use iTunes, so if you haven't gotten that on your computer then go ahead and install the program. Even for the latter methods where we won't be using iTunes to transfer music, having the software installed is recommended because iTunes has a very specific driver that lets the computer recognize your iPhone.
Step 2. Import Your Favorite Music Files into iTunes
After you've installed iTunes, open it up by double-clicking the icon on your desktop. All of your music library should now show up in the main windows. Next, you can import your songs to iTunes via two different ways:
1) Simply drag and drop the song straight to the iTunes windows. However, many people who are using the new versions of iTunes complained that drag-n-drop operation doesn't work anymore. Whatever the case, you can always use the second method which is c
2) Click the top left corner icon (or "File" menu with some versions), choose "Add File to Library" (or if you can't find the button, simply press "Ctrl" + "O") and browse to the desired music file. Now the song will appear on the library list.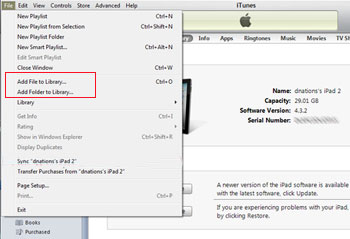 Step 3. Sync Music from PC/Mac to iPhone
Connect your iPhone to PC and wait for iTunes to recognize the phone. After that, it should appear on the top right corner. You need to sync your phone first before trying to move your music file to it. To reach it, you only need to click your device and hit the "Sync" button on the bottom right corner and wait for the process to complete. After that, click "Library" on the top right corner, and hold your mouse button on your song and drag it to the area on the right (left for older iTunes versions), where your device is. Now your song is saved and the transferring process is completed. (Remember that you MUST sync your phone before you can do this)

Something You Should Know
In addition to iTunes, you also can find lots of other 3rd-party tools to help you import music from computer to iPhone like iTools. Here, we don't want to spend too much words to introduce the features of these applications. If you're interested in it, you can search their name in any searching engine and you'll get the ideal solution at seconds. If you think the method above is enough for you to copy songs from PC to iPhone, then don't hesitate to try to do it on your own computer. And here you can also have a brief look on the best iPhone to Computer Transfer. With it, you can easily and quickly transfer any song from iPhone to computer or Mac for backing up or sharing as you like.
Related Articles
How to Transfer or Copy Music from iPod to Computer
Tips to Transfer Music from iPod to iPhone Easily
How to Copy Songs from iPod to iPod