6 Hassle-free Methods to Transfer Data from Android to iPhone Smoothly
Are you planning to switch to your brand-new Apple iPhone from an old Android device? Then transferring your valuable data to your new iPhone is an inevitable step to make it work better for you. Well, this quick guide will guide you through the six most advisable methods for how to transfer data from Android to iPhone. Whether you are looking to transfer contacts, messages, photos, videos, or other data types, we have you covered. Let's delve into these ways and start with some precautions.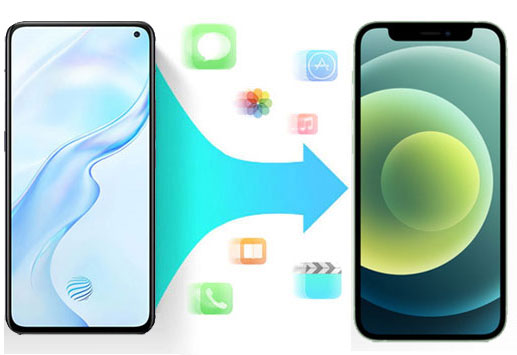 Part 1: Things to Know before Transferring Data from Android to iPhone
To ensure a smooth and successful Android to iPhone transfer, please make some preparations beforehand:
Ensure your phone is fully charged to avoid any interruptions.
Free up space on iPhone if there's not enough storage space.
Check if you have a stable Wi-Fi connection.
Ensure your Google account is properly synced and up to date.
Verify if the apps you use on Android have any specific guidelines for transferring data to an iPhone.
Sign out of RCS on your Android device to prevent any potential compatibility issues.
Keep in mind that transferring large files or a significant number of files may require alternative transfer methods.
Related Passages:
Part 2: How to Transfer Data from Android to iPhone via Transfer for Mobile
Can you transfer data from Android to iPhone via USB? Would you like to get a robust solution for cross-platform content transfer? Well, MobiKin Transfer for Mobile (Win and Mac) is a powerful data transfer tool for almost all smartphones through USB cables. With its easy-to-navigate interface, it efficiently transfers large files between Android and iPhone devices, ensuring data integrity and quality.
What makes Transfer for Mobile outstanding?
Efficiently transfer data between Android and iPhone devices.
Work for Android to iPhone, iPhone to Android, Android to Android, and iPhone to iPhone transfers.
Seamlessly copy various data types such as contacts, text messages, call history, music, videos, photos, documents, notes, books, and more.
Enjoy an ad-free, user-friendly experience with a fast and hassle-free transfer process.
Get along with overall Android and iOS devices, including Samsung Galaxy, Xiaomi, HTC, LG, Sony Xperia, Google Pixel, Motorola, OnePlus, iPhone 14/14 Plus/14 Pro (Max), iPhone 13/13 Pro (Max)/13 mini/12/12 Pro (Max)/12 mini, iPhone 11/11 Pro/11 Pro Max, iPhone X/XR/Xs/Xs Max, iPhone 8/8 Plus, iPhone 7/7 Plus, iPhone 6/6S/6 Plus, iPod touch, iPad, etc.
It values your privacy.
How do I transfer from Android to iPhone with Transfer for Mobile?
Step 1. Install and launch Transfer for Mobile on your computer. Connect both your Android and iPhone devices to the computer using USB cables. Next, follow the on-screen guide to ensure both devices are recognized by the tool.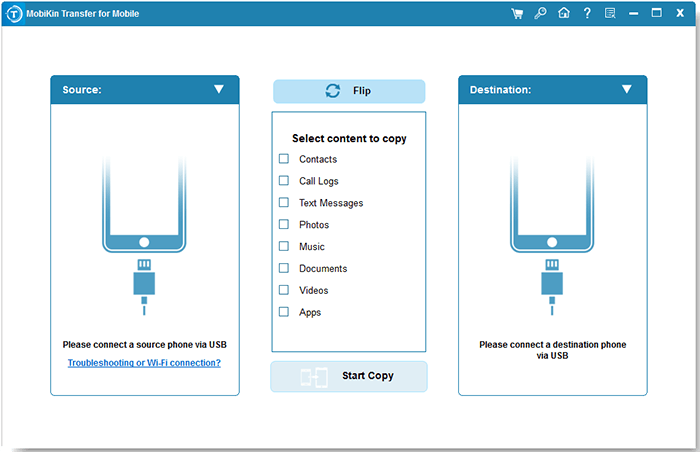 Step 2. Once the devices are recognized, ensure that the Android device is detected as the source phone on the left side and the iPhone as the destination phone. If not, click the "Flip" button in the middle of the interface to switch their positions.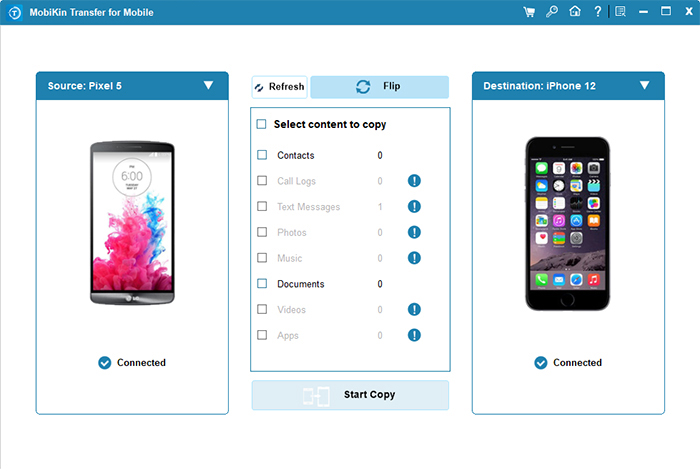 Step 3. Choose the file types you want to transfer from the options on the screen. Once selected, click "Start Copy" to initiate the data transfer process from Android to iPhone. Make sure to keep the USB cables connected, and the transfer will be completed swiftly.
Part 3: How to Move Data from Android to iOS via Move to iOS
Can I Smart Switch Android to iPhone? No! But you can try a similar tool like Move to iOS. This is an iOS setup assistant helping move data from Android to iPhone. It is readily available on your iDevice, and you have to download the Move to iOS app on Android before proceeding. (Move to iOS stuck on calculating time remaining?)
To move data from Android to iOS devices via Move to iOS, you can:
Proceed with the iPhone setup process until you reach the "Apps & Data" screen.
When you arrive at the "Quick Start" screen, choose the option to manually set up your device.
Continue by following the instructions displayed on the screen.
Upon reaching the "Enter App & Data" page, select the "Move Data from Android" option.
On your Android phone, download and install the Move to iOS app.
Install it and tap "Continue" on both your Android and iPhone devices.
On your Android phone, tap "Agree" and "Next".
When you see the Move from Android screen on your Apple device, tap "Continue" and wait for a ten-digit or six-digit code to appear.
Enter the code, and your Apple device will then create a temporary Wi-Fi network.
Join that network on your Android phone by selecting "Continue".
Choose the data you wish to transfer from your Android device.
Tap "Next" to commence the data transfer from Android to iPhone.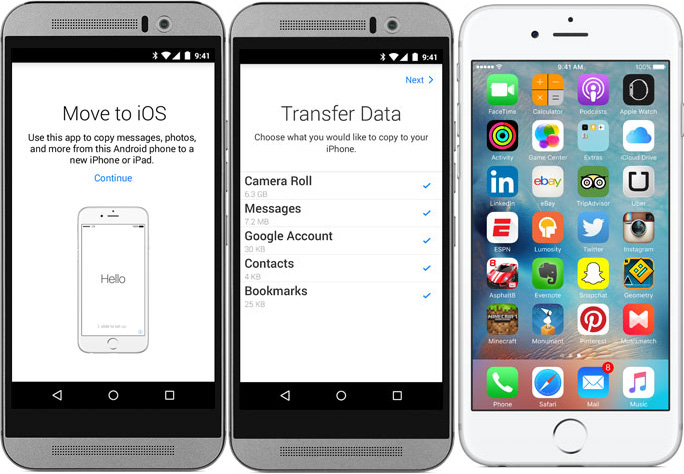 Click to Know:
Part 4: How to Transfer Data from Android to iOS Using Google Account
Google account offers an option to upload files to a Google Cloud folder and subsequently download them on your iPhone. Additionally, it also lets you perform the Android to iOS transfer by enabling the Google sync feature. Here, let's see how to move files from Android to iOS via Google account by detailing the latter:
Locate the Google tab and select Backup from Android settings.
Enable synchronization for the desired categories that you wish to be synced across your devices.
To confirm the data being copied, expand the Backup details list under "Google Account". (How to add a Google account on Android?)
Wait until the backup sync process is finished.
Access the iPhone's settings and navigate to "Mail, Calendars, Contacts" > "Accounts".
Proceed by selecting "Add Account" and entering your Gmail credentials.

The data associated with your Google account will sync with the iPhone and initiate the importation automatically.
Part 5: How to Migrate Data from Android to iPhone via iTunes
If you have access to a computer, there are several manual ways to transfer videos and music from an Android device to an iPhone using the computer as an intermediary. This method assumes that you are already an Apple user with iTunes installed on your PC.
How to transfer Samsung/Android to iPhone using iTunes?
First, connect your Android device to your computer via USB.
Copy the music and video files to your computer's storage.
Next, proceed to install and launch iTunes on your computer.
Connect your iPhone to the computer using a lightning cable.
Now, open the file menu in iTunes and select the "Add Folder" option. (iPhone cannot connect to iTunes?)
Choose the folder containing the desired files you want to have on your iPhone.
Your selected music and video files will be imported into the iTunes library.
Ensure that your iPhone is still connected, then select your device within iTunes.
On the control panel, enable the options for "Sync Music" and "Sync Movies".

Choose all the files you wish to download and sync them to your iPhone.
Part 6: How to Copy Data from Android to iPhone with Dropbox
Before your data transfer from Android to iPhone using Dropbox, ensure compatibility with Android 6.0+ and iOS 13.0+. Then, remember that a stable internet connection is required. While Dropbox uses encryption for file protection, exercise caution when transferring sensitive data.
How to transfer from Samsung/Android to iPhone using Dropbox?
Install the Dropbox app on both your Android smartphone and iPhone.
On Android, open the Dropbox app and sign in to your Dropbox account.
Tap the "+" icon in the bottom right corner of the screen.
Select the option to "Upload files". (Encounter Dropbox issues on Android?)

Choose the files you wish to transfer and tap "Open" to initiate the upload.
Now, on your iPhone, launch the Dropbox app and sign in to the same Dropbox account.
Open the "Files" section within the app.
Select the files you want to download to your iPhone and tap the "Download" button.
Dropbox lets you enable automatic file synchronization between your devices. Start by launching the Dropbox app on your Android phone or iPhone. Navigate to the "Settings" tab and locate the "Auto-sync" option. From there, you can designate the specific files you wish to sync automatically.
Part 7: How to Transfer Data to iPhone from Android by Email
To manually migrate Android to iPhone, you can also leverage email. All you need is an email account and an app on both devices. However, note that this method is suitable for small file sizes, and you may need to send multiple emails for more items.
How to transfer info from Android to iPhone over Email?
Open your email app on your Android phone and compose a new email to your own email address.
Tap the "paperclip" icon to attach files from Android.
Add as many files as allowed before sending the email.

On your iPhone, open the email app and locate the email with the attached files.
Download each file onto your iPhone. Repeat the process until all desired files are transferred.
FAQs on Android to iPhone Transfer
Q1: Will I lose data on Android after transferring to iPhone?
Transferring data to an iPhone from an Android device won't delete the Android data. However, it's recommended to back up your data before the transfer for added safety.
Q2: Are there any restrictions on the file size when transferring from Android to iPhone?
MobiKin Transfer for Mobile, Move to iOS, and iTunes allow transferring files of any size (Subject to device and computer capacity).
Dropbox and Google Drive have size limits based on your subscription, but free plans may be sufficient for Android file transfer.
Email attachments are limited in size (20MB or 25MB at a time).
Q3: Does transferring files from Android to iPhone potentially lead to a loss in image quality?
To maintain image quality during file transfer, you're advised to use a tool like MobiKin Transfer for Mobile, specifically designed for seamless and lossless transfers. Email may result in image compression depending on file sizes.
Conclusion - Which Method Is Your Favorite?
OK, it's time to wrap up this page. Now, what is the best way to transfer from Android to iPhone? We shall provide some references by summarizing these methods in a few words:
Move to iOS natively hold the Android to iPhone transfer deftly, but only valid when setting up the device for the first time, and it cannot make the migration reversely.
Google Sync relies on Google's ecosystem and Internet connection, and it may arise privacy concerns among users.
iTunes can only transfer music and videos to your new iPhone from Android, and it offers limited platform and file format support.
Email is suitable for those who only need to transfer a handful of files across.
The speed of transferring data through Dropbox is dependent on the upload and download speeds. And you might encounter storage limitations using it.
MobiKin Transfer for Mobile stands out as the superior choice. With its seamless data transfer, beginner-friendly interface, and reliability, it ensures a smooth transmission from Android to iPhone.
Related Articles:
100% Helpful Tricks for Switching SIM Card from Android to iPhone 14/13/12/11/X/8
8 Quick Ways to Transfer Photos/Pictures from Android to Computer/PC
Best 8 Android Backup Software & Apps to Back up Your Android Data
5 Ways to Back Up iPhone 14/13/12/11/X/8 to Laptop/Desktop
iPhone vs. Android: Compare iPhone and Android in a Dozen Factors
5 Ways to Restore iCloud/Google/iTunes Backup to New iPhone 14/13/12/11/X/8