[Solved] iPhone Cannot Connect to App Store? Here are Solutions!
Being an Apple user, you always need to face issues like not being able to reset iPhone or not being able to connect to the App Store. It is no doubt that bugs and errors is frustrating, especially there is no error messages. You may don't know how to fix these issues, right? Take it easy, this article will tell you about all the possible ways when your iPhone tells you "cannot connect to App store".
How to Resolve "Can't Connect to App Store" on iPhone?
#1 - Try to Connect Later & Check Apple Website
Firstly, stay a little patient for a while and then try again. Most of the times these issues are intermittent and are solved after a short time all by themselves. In case it does not work again, close the application and try again.
Then, Before anything else you should make sure that the App Store itself is working properly instead of finding fault in your device. No matter how great Apple may have designed its servers to be, there are always bugs and glitches that need fixing which may lead to problems like one not being able to connect to the iTunes Store or the App Store. For this purpose, Apple has a System Status page that tells the users of the different services. Here you can find the status of App Store whether it is working or not. This page also tells the status of other services like iCloud, iMessage, Siri, iTunes Radio etc. You do need to keep in mind that if the issue is recent there is always a time lag involved in updating this page. Also, incase App store is actually down, you will definitely see people sharing their agony over different social media forums.

#2 - Sign out from iTunes and Sign in Again
If you are sure something is wrong with your device, try logging out and then logging back into app store. You can do this through the following directions:
Step 1. Launch Settings on your iPhone home screen, then tap on "iTunes & App Store";

Step 2. Click on your Apple ID, then choose "Sign out" to log out the prevent account;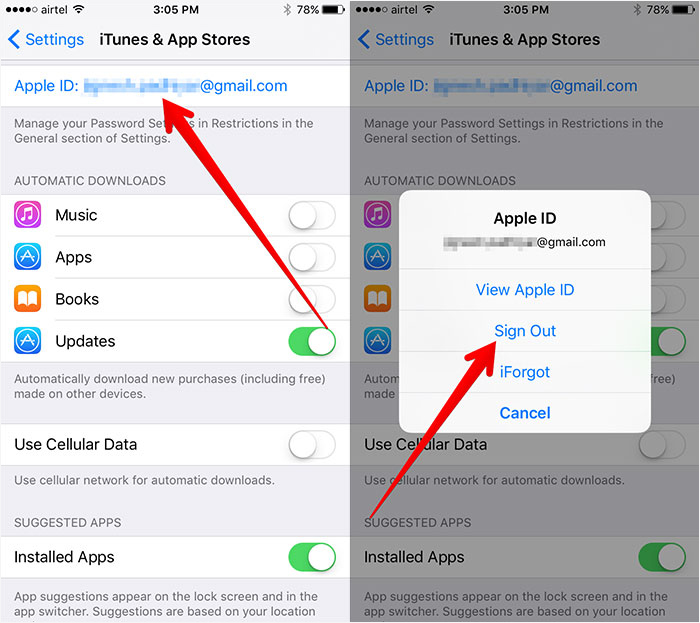 Step 3. Log in again with your Apple ID and password.
#3 - Change A Network or Use Cellular or Mobile Data
No matter the WiFi network you're using is work or not, there may be a restriction on it so that you can access to the App Store. So you can try to use another WiFi network or open your mobile data to see if the issue is fixed.
Here is a detailed steps for you to change a WiFi network or open Cellular/Mobile data.
Step 1. Go to Settings and find "Wi-Fi" or "Cellular/Mobile";
Step 2. Click on "Wi-Fi" and connect to another network with password; Or choose "Cellular/Mobile" and turn on "Cellular/Mobile Data" option.
Step 3. When you have opened Cellular/Mobile data option, you can scroll down the screen. Find "App Store" and slide the button to turn on it.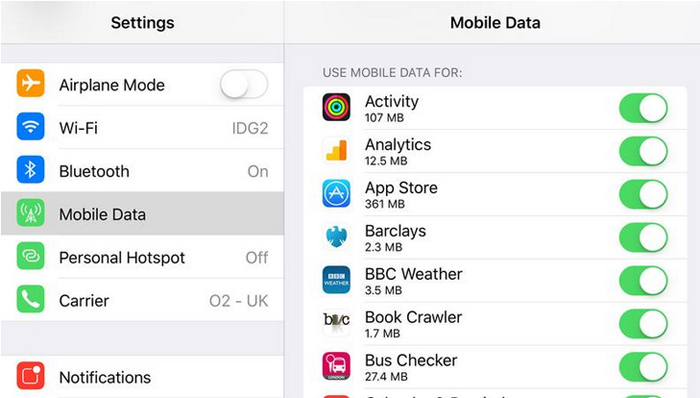 Can't Miss: iPhone Cannot Connect to WiFi, How to Fix It?
#4 - Check the Date & Time on iPhone
Make sure that your device is showing the current date and time of your location. Many times this issue does not allow access to the App Store. In order to do so following is the directions:
Settings > General > Date and Time

#5 - Check Credit Card Info
There is also the possibility that you might have connected a credit card to your Apple iD but it has been expired. Therefore, you need to check if your linked credit card is still operational use the following steps:
Settings > iTunes and App Store > Apple ID > Payment Information
From here, you can confirm if your credit card is still working. In the case that it has expired, connect your account to a valid one or otherwise change it to "None". Tap "Done" in the end.
If your issue was not solved by following any of the steps above, you can always contact the customer support department of Apple and let them know about the issue. They will definitely get about solving it.
Related Articles:
How to Fix iPhone Charging Problems?