iTunes Doesn't Recognize My iPhone, What Can I Do?
If you are iPhone users, you must meet such a situation: you have plugged your iPhone to computer but it does not show in iTunes. At this moment, you are likely feel confused and wonder what's wrong with your device. Don't worry, it is not a rare problem and there are several simple tips to help you figure it out so that you can transfer your data swimmingly. Now take a look of these tricks and find out the best one for yourself.
Part 1. Why iTunes Cannot Recognize iPhone?
Part 2. Tips to Fix iTunes Doesn't Recognize iPhone
Part 3. How to Manage iPhone without iTunes Recognition?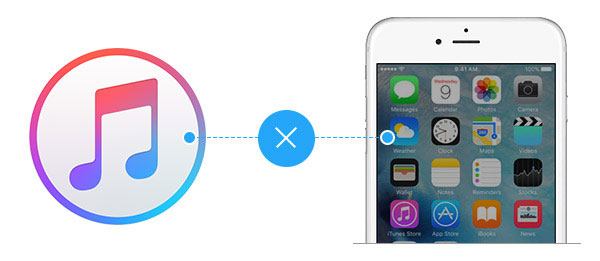 Part 1. Why iTunes Cannot Recognize iPhone?
The causes that result in this kind of failure are various and most of the time they are easy to solve. The followings are several main reasons of recognition failure and you will find that you may avoid this issue if you were careful and scrupulous.
1. The connection between iPhone and computer is poor.
2. The software version you used is too outdated to be detected.
3. There are some problems with your device like the USB debugging is closed or wrong settings and so on.
Part 2. Tips to Fix iTunes Doesn't Recognize iPhone
As you can see, the causes of recognition failure are simple and detailed. That means it is not so difficult to deal with the problems in normal time. If you do not believe it, you can take a look at the solutions below and have a try. After the attempt, you would find that figuring out this issue is just a piece of cake. Now let's begin our journey.
See also:
Finding Methods to Connect iPhone to iTunes? Here!
How to Fix iPhone "Cannot Connect to iTunes"?
1. Check the connection between iPhone and computer
While transferring data between iTunes and iPhone, the first thing you should do is to link iPhone to computer so that the iTunes on PC can launch and detect your phone. Therefore, it is certain that the iTunes fails to recognize your iPhone if you do not connect these two tools well. To settle the problem, you can:
- Unplug the USB cable and remove your iPhone first then plug it in again.
- Check whether the USB port of your computer is available or whether you have connected to the right port. If you are not sure that if the USB port is serviceable, you can try different USB ports.
- Inspect the USB cable. Make sure that the USB cable you used is usable and not damaged. If the cable is damaged or shabby, using a new Apple-supplied USB cable to link your iPhone to computer is recommended.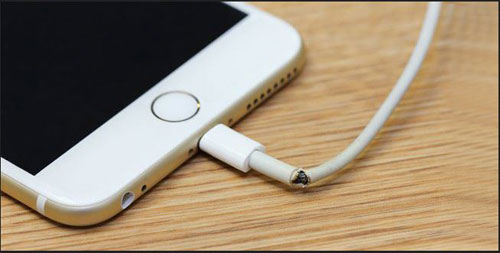 In many cases, iTunes not recognizing iPhone is caused by bad connection. After the attempts above, you have a big chance to fix iPhone won't recognize iPhone problem.
2. Update the software to the latest version
A good connection between iPhone and iTunes always requires users to download and install the most recent software version. If you do not update your software in time, you may be not capable of linking iTunes or other iDevices to copy your files. Hence, it is necessary to check and update your software. For getting the latest software version, you could:
- Check the version of iTunes. You can open up the iTunes on your computer then go to "Help"> "Check for Updates" selection to see if it is the latest version. If not, just go with the introduction to download and install the new version. After the installation, you need to restart your computer. And also, if your iTunes is the newest version but still cannot recognize the phone, you can try to uninstall it and then reinstall. This may help you solve the problem.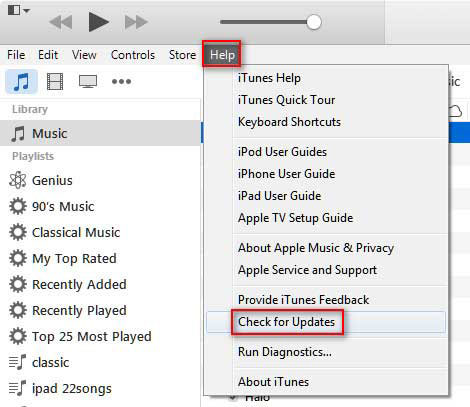 - Update iOS version. Except the iTunes inspection, you ought to examine the version of iPhone as well. Just navigate to Settings> General> Software Update. If there is a new iOS version, it would hint you and what you need to do is to follow the instructions to get the most recent iOS version.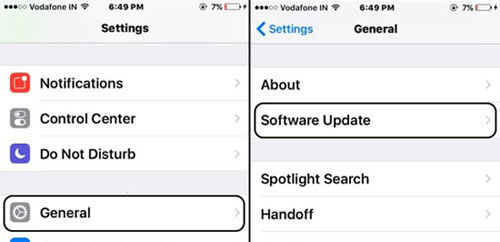 Learn more:
Want to Make iTunes Run Faster? It's Easy!
3. Examine the device settings
If you have tried the methods provided above but still are incapable of making iTunes detect your iPhone, there must be some device-related problems. It is very likely that you have made incorrect settings on your devices. However, it is no need to worry about it cause there are many tricks to help you link your iPhone to iTunes and make it be recognized as well.
- Reboot your iPhone and computer. This is very common in solving phone and computer problem. In most cases, it does work and helps us a lot.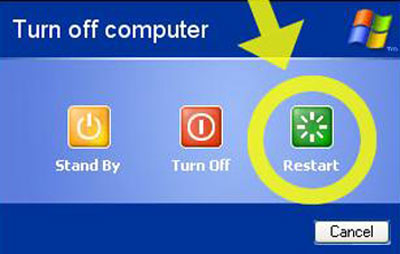 - Trust your computer. When you connect your iPhone to computer, a pop-up window will appear and ask you to trust the computer. Here if you ignore this prompt or choose "Don't Trust" option, you will be unable to link these two devices. To solve this problem, you can reconnect your iPhone to computer and elect "Trust" this time.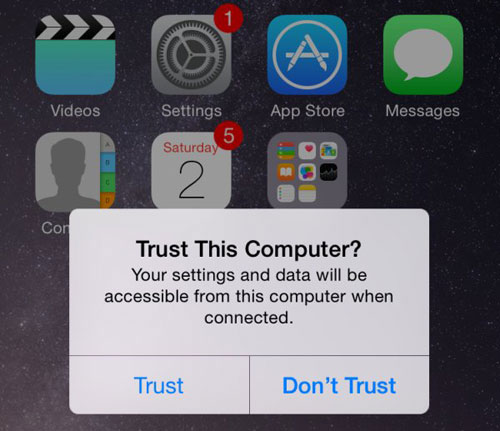 - To detect your iPhone, you must turn on Apple Mobile Device on computer. If this service is off, the computer is impossible to link your phone, let alone recognize it. So you can follow the steps to turn on this service. First, turn off iTunes and right click "My Computer" to select "Administration". Then select "Services and Applications" and "Services" to find out "Apple Mobile Device" and "Bonjour" on region-end and right click to select "Activate" button.
- Reinstall USB driver. USB driver is a program which is used to detect USB hardware so it is improbable for the computer to link and detect your phone if USB driver has some problems. Therefore, it is a good idea to reinstall the USB driver on your computer.
Firstly, link your iPhone to computer with an USB cable. Then right click "My Computer" and choose "Administration" and "Computer Management". Next select "System Tools" and "Device Manager" on region-start. Then the next step is to elect "USB Controller" and "Apple Mobile Device USB Driver" on region-end and right click it to choose "Uninstall". After that, plug out the USB cable and plug it to computer again and the system will automatically detect the new hardware and install the driver. Finally launch the iTunes and you will find your iPhone is recognized.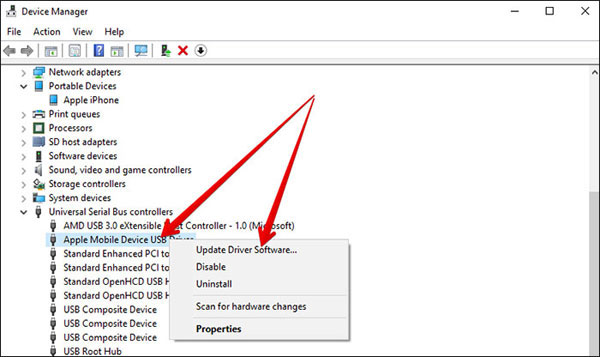 Part 3. How to Manage iPhone without iTunes Recognition?
If you are tired of using iTunes to manage your iPhone data, you can choose a third-party software to help you. That is MobiKin iOS Manager. It allows you to copy, backup and manage various kinds of file on your iPhone within several simple clicks, which really saves your time and vigor. You can download and install the tool on your PC and go with the steps below to have a try.
Step 1. Download and install the recommended program in your computer and connect your iPhone to PC via USB cable.
Notice: Please ensure that the latest iTunes must be installed and run in your PC before the management because iTunes is needed for this program, but it need not to recognize your phone.
Step 2. Run the software and it will detect your iPhone automatically. After the detection, a popup will show to remind you to follow its prompts to trust this computer on the connected device. Then click "Continue" button and a main interface will show as below: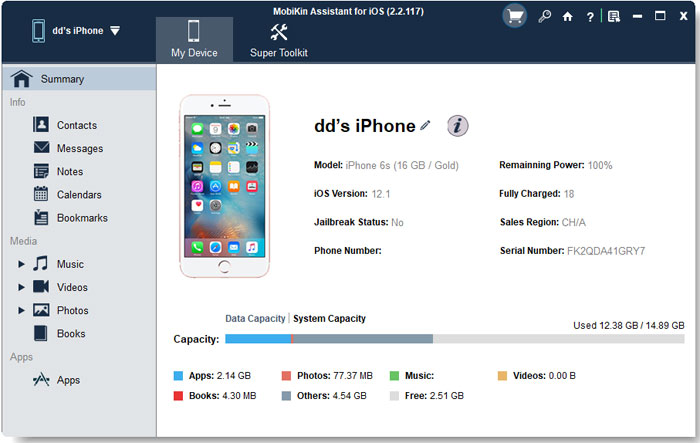 Step 3. Now you can start to manage your iPhone without iTunes. In the left panel, the contents are all available for management, including Contacts, Messages, Notes, Calendars, Bookmarks, Music, Videos, Photos, Books and Apps. You can export, import and refresh the selected files as you like.
Related Articles: