iPhone Stuck into White Apple Logo, How to Fix it?
Your iPhone may stuck into white Apple logo due to lots of reasons. You may not pay more attention on it when it is appeared at the first time for you, and think it's just taking longer this time, until you find it can't back to normal status with any operations, then you begin to feel anxious now. At this time, you may think your iPhone is ruined after trying lots of methods that you know, but actually, things are not serious as you imagine. iPhone stuck into white Apple logo is a common issue that happens here and there, so you don't too worry about it. You still can get your iPhone back to normal after a several steps, but before it, I think you'd better to know why this issues happen so frequently on your iPhone device.
Too much articles have indicated that the reasons that iPhone stuck in white Apple logo is various and complex, so here we don't want to analyze it one by one because it is not so important here. But it is necessary for you to know which situations it will happen. Below are some cases for your reference:
- iOS updates, restore, downgrade and data transfer;
- Jailbreak your iOS devices;
- Hardware problems;
- ...
To be honest, sometimes you may can't find the specific reason that resulting in this issue on your iPhone or iPad, but now you can solve it easily. For most people, they may choose to enter the DFU mode to fix it, but entering DFU mode is not useful at every time, so you still need to find other alternative solution here. That's why iOS System Recovery software comes here for your reference. With it, you are enabled to fix almost all kinds of iOS system issues on iPhone, iPad or iPod with 1 simple click, and there is no data loss. Cool, right? Now, click the below icon to get this powerful tool and follow the steps to fix the problem.
See Also: How to Exit iPhone DFU Mode
How to Fix Apple Logo Screen of Death on iPhone/iPad/iPod?
1st of all, install the program on your computer and launch it. Please be ensure your iPhone is connected to the computer. If not, just link it now.
2nd, you can choose "More Tools" after viewing the main interface and select "iOS System Recovery" here. Just hit "Start" button to begin the whole process.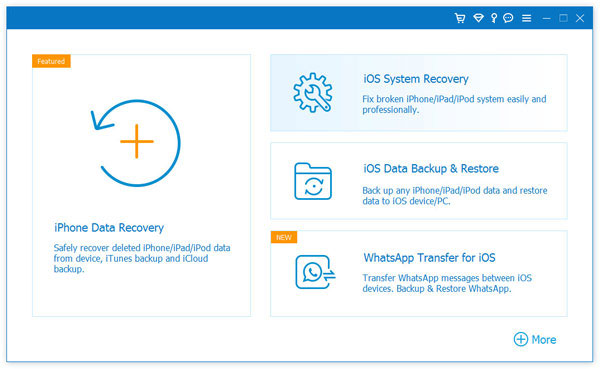 Now, you need to download the marching firmware package to the latest iOS by clicking the "Download" button. Then you only need to wait for the end.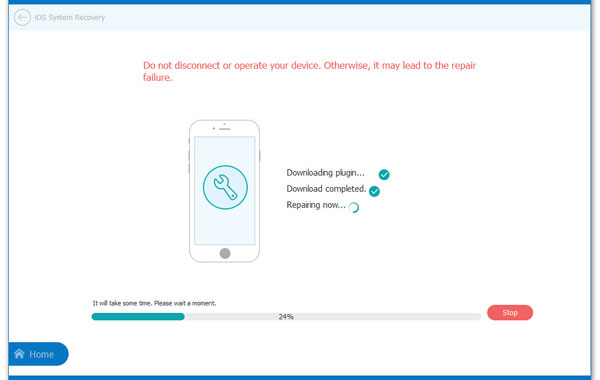 3rd, when the program is downloaded, it will start repairing your connected iPhone automatically. And you only need to wait for a several minutes, then your iPhone will back to normal.
Related Articles:
How to Use RecBoot to Enter or Exit Recovery Mode