iPhone Stuck in DFU Mode? 6 Ways to Get iPhone out of DFU Mode
"Hello everyone! I was forced to set my iPhone 12 into DFU mode. But I can't get it out of this mode. What can I do?" -- from Apple Support Communities
Your iPhone isn't functioning correctly in some cases, and chances are that you find it in DFU mode. There are no official explanations on the mode, yet it does trouble you a lot. When it occurs, iOS won't start up, but your iPhone or iPad can still communicate with your computer. Well, do you know how to get iPhone out of DFU mode? Any ideas on how to perform a DFU restore? Fear not! Just go through this page to learn more.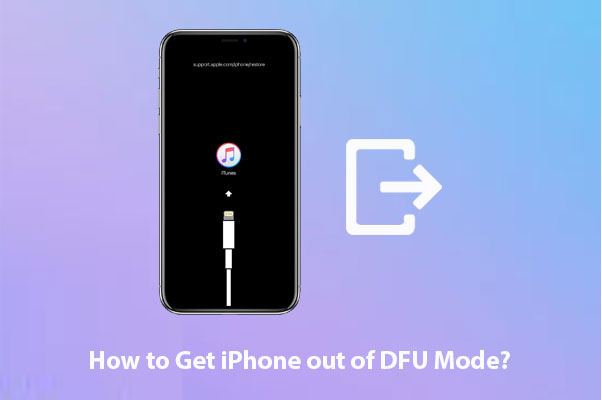 Part 1: What Is DFU Mode
DFU (short for Device Firmware Update) mode is a way to get your iPhone to interface with iTunes. This mode doesn't require iTunes to automatically load the latest version of iOS onto it. Further, it is a state that an iPhone or iPad can get in to put your device back in working order. It is similar to the BIOS on Windows computers or the recovery mode on a Mac. (What is iPhone recovery mode?)
Before we know how to exit iPhone 14/13/12/11/XS/XR DFU mode, let's see why it is necessary to get out of this mode.
You May Also Want to Know:
Part 2: Why You Need to Exit DFU Mode
Here, we come up with several causes for those in need of entering the DFU mode:
You downgrade the iOS version.
iPhone/iPad is stuck in black/white/blue screen of death.
You jailbreak or unjailbreak your iOS device.
There are some software glitches on your device.
Your device is troubled by some hardware problems.
Since you want to get out of it quickly, how do you get your iPhone out of DFU mode? Well, keep reading to learn the solutions, please.
Part 3: How to Get iPhone out of DFU Mode in 5 Quick Solutions
Way 1: Restart your iPhone
The easiest way to exit iPhone DFU mode is to restart your device, though sometimes it may not work. Here's how to take iPhone out of DFU mode:
Hold the Power and Home button down on your iPhone while keeping it linked to iTunes until it displays the Apple logo.
Reboot the device with the Power button.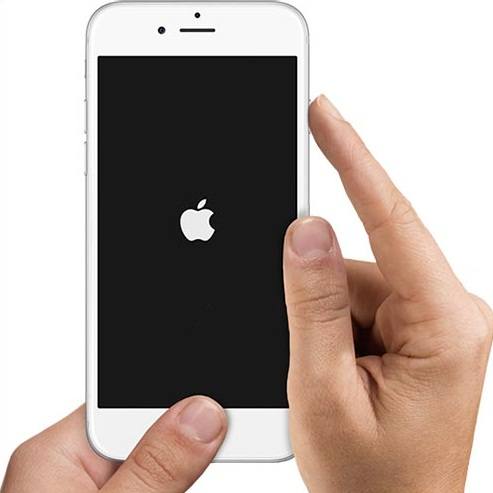 Way 2: Hard reset your device
This method can get your iPhone back to normal in some measure. Before we start, please keep your iPhone at least half charged. What's more, you can do it directly in the absence of iTunes.
Let's check out how to get iPhone out of DFU mode without iTunes:
For iPhone 6 or earlier: Press and hold down the Sleep/Wake and the Home button altogether; let go of all the buttons when you see the Apple logo appears.
For iPhone 7/7 Plus: Press and hold down the Sleep/Wake and the Volume Down key at the same time; release the buttons when the Apple logo shows up.
For iPhone 8 and newer: Press and quickly let go of the Volume Up button; press and quickly let go of the Volume Down button; press and hold down the Side (or the Sleep/Wake) at the right side of iDevice; you will see the phone boot up, and then the Apple logo turns up.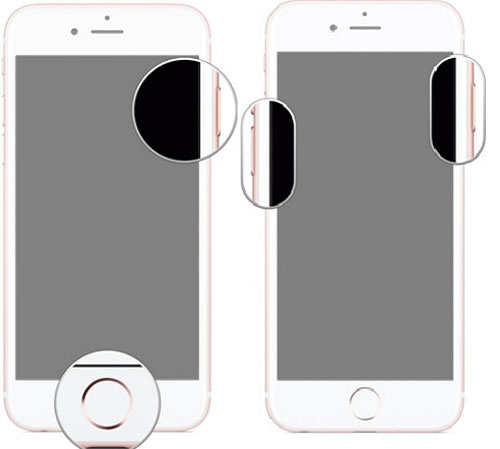 Way 3: Use iTunes
If your device is still stuck on DFU mode, you can try to take iPad/iPhone out of DFU mode with the assistance of iTunes. Let's see how to use iTunes to recover iPhone from DFU mode:
Open iTunes on your computer and connect your iPhone to the computer with a USB cable.
Wait for iTunes to recognize your iOS device.

For iPhone 8 and later: Quickly press the Volume Up button and then the Volume Down button; press the Side power button until the iPhone reboots.
For iPhone 7/7 Plus: Long press the Side button and Volume Down button to restart the iPhone.
For iPhone 6/6S and older/iPod touch: Press the Home button and the Power/Sleep button simultaneously for like 10s until the device reboots.
Tap the Power button immediately and wait until your iOS device restart. Finally, your iOS device should exit DFU mode and be in a normal state.
Further Reading:
Way 4: Restore your iPhone
To fix how to kick iPhone out of DFU mode, you can also try to restore your device. This will put your iPhone back to factory reset, and your original data on the device will thus be erased. Here's the manual:
Launch the latest version of iTunes on your computer.
Now, get your iPhone attached to your PC using a genuine lightning cable.
Since your iPhone is stuck in DFU mode, iTunes will tell you that it is in recovery mode and ask you to restore it.
Press "OK" when prompted.

Hit "Restore iPhone" and confirm your action. Then iTunes will automatically start to restore your iPhone.
If you haven't upgraded your iOS to the latest compatible version, this task will upgrade your device, and it is not reversible once completed.
Way 5: Get help from Apple Support
Before we learn how to remove iPhone/iPad Air/Pro mini from DFU mode in this way, here are some cautions for you:
Take your sales receipt as proof of purchase.
Bring the device and all its accessories to Apple Support Center.
Make sure you know your Apple ID password.
Check whether you need to book an appointment.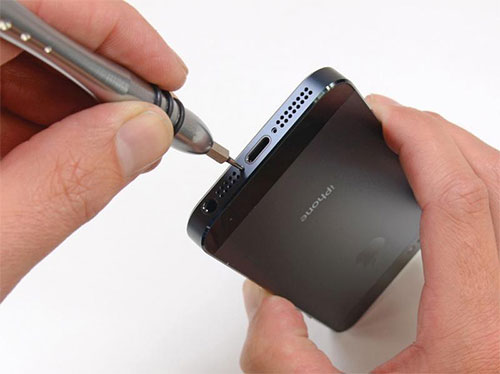 Part 4: How to Exit DFU Mode on iPhone without Data Loss
Searching for "exit DFU mode software", you'll probably find iOS System Recovery at the top of your search pages. Alright, this is a powerful tool that never lets you down. It can quickly fix 50+ issues in simple clicks, including device issues, screen issues, iOS mode issues, iTunes issues.
What makes iOS System Recovery so outstanding?
Help exit iPhone DFU mode without data loss.
Fix various iOS/iPhone issues, such as iPhone red screen of death, battery draining fast, iPhone keeping turning off, loop restart, and a lot more.
Two repairing modes help get your iOS back to normal.
Upgrade or downgrade iOS without iTunes.
Work for overall iDevices, including iPhone 14/14 Pro/14 Pro Max/14 Plus, iPhone 13/13 Pro (Max)/13 mini/12/12 Pro (Max)/12 mini, iPhone 11/11 Pro/11 Pro Max, iPhone X/XR/Xs/Xs Max, iPhone 8/8 Plus, iPhone 7/7 Plus, iPhone 6/6S/6 Plus, iPod touch, iPad, etc.
It won't uncover your privacy.
How to get iPad out of DFU mode with iOS System Recovery?
Step 1. Download and install iOS System Recovery on your computer first. Launch it and choose "iOS System Recovery".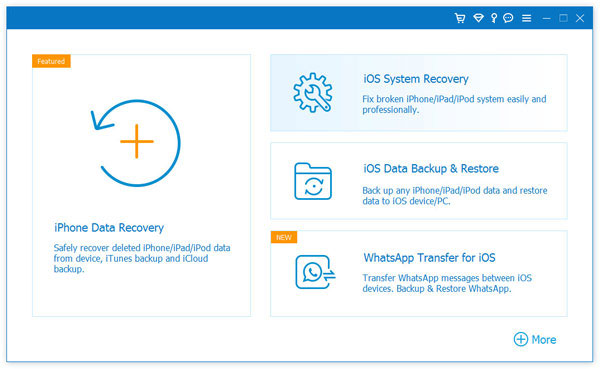 Step 2. Connect your iPhone to the computer via USB and click "Start" to begin to exit DFU mode on iPhone/iPad. You'll need to put your iPhone into Recovery mode following the image below.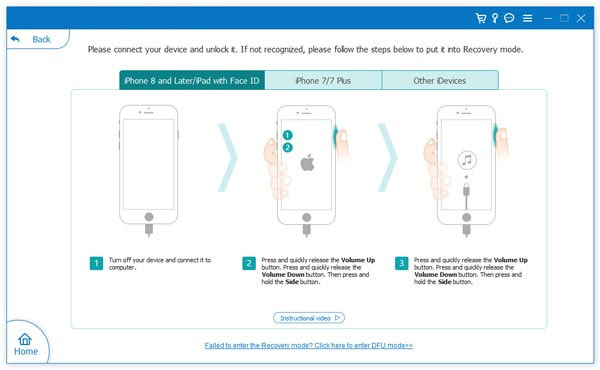 Step 3. Choose the right iPhone model and click the "Repair" button to download the repaired device plug-in.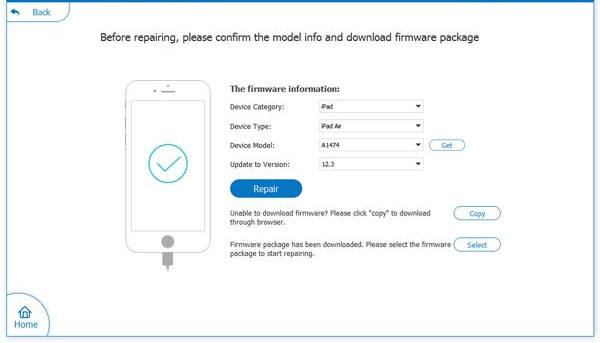 Step 4. Once downloaded, iOS System Recovery will automatically begin to get iPhone/iPad out of DFU mode.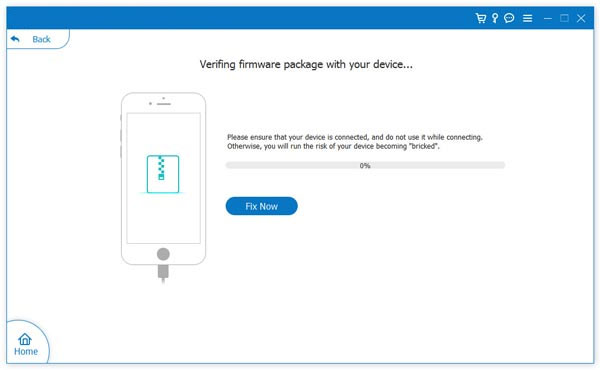 Summing Up
That brings us to the end of this post. We just mentioned five stepwise solutions on how to get your iPhone/iPad out of DFU mode. Well, what do you think of the above? On a personal note, iOS System Recovery is your top pick if you wish to fix the issue efficiently and don't want to waste time on a possible outcome. Finally, any questions? Please let us know in the comments below.
Related Articles:
How to Back up iPhone/iPad in DFU Mode?
iPhone is Stuck on the Apple Logo? 6 Fixes to Get It Back to Normal
White Screen Troubleshooting: How to Fix iPad/iPhone White Screen of Death?
How to Restore iPhone in Recovery Mode with or without iTunes?
How to Control iPhone with Broken Screen Effortlessly? [Ultimate Guide]
Android Safe Mode - A Complete Guide about the Safe Mode in Android Phone