Full Guide to RecBoot
Recovery mode is an essential Apple service that was developed with the sole aim of helping advanced iOS device users to solve all their iOS operating system-related issues. You are usually required to press and hold a combination of buttons on your iPhone, iPad or iPod touch if you wish to enter Recovery Mode. However, these buttons (Home, Wake/Sleep) are likely to be damaged due to the wear and tear that comes with using your device on a regular basis.
See Also: How to Get Your iPhone out of Recovery Mode and Restore Data?
That is why this full guide to RecBoot is going to introduce you to a certain PC program that will completely change how you access and exit the Recovery mode option on your iOS devices.
What is RecBoot?
RecBoot is a popular Mac and Windows computer program that can be used to easily enter and exit the Recovery Mode option on your iPad, iPod Touch or iPhone at will without having to press any buttons whatsoever. The completely free utility that works using a unique single click technology has served the iOS's jailbreak community for a long time now. There are literally thousands of amazing online reviews about the RecBoot PC program from satisfied iDevice users.
The popular RecBoot has a very simple interface consisting of only two distinct buttons namely "Enter Recovery Mode (used to put an iOS device to Recovery Mode)" and "Exit Recovery Mode (for taking your iOS device out of Recovery Mode)". Currently, RecBoot only works with Windows computers that run on the 32-bit operating system. So if your Windows computer is running on 64-bit, then you may can't use it well.
Apart from that, the program also requires a "4.0 NET Framework" and is only compatible with iTunes 9.2 or older versions of iTunes. RecBoot makes use of the connected iOS device's name and model to download the most appropriate firmware. You are also guaranteed to solve any iTunes errors, especially the "iTunes 1015" error once you start using this program.
How to Use RecBoot to Enter/Exit Recovery Mode?
This comprehensive tutorial section will show you how to easily enter and exit Recovery Mode with RecBoot. It is very important that you only download the free program for your Mac or Windows PC from credible, reputable sites like CNET and Softonic just to name a few. This is because it has been realized that there are various malicious websites that incorporate all forms of malware into their download files.
Tips: Downloading such files is likely to expose your personal computer to multiple vulnerabilities that could have been easily avoided.
- Free Download RecBoot from Softonic
1) How to Enter Recovery Mode by Using RecBoot
It may be essential for you to enter Recovery Mode once your iPhone, iPod or iPhone malfunctions due to a failed firmware update which may be caused by an unsuccessful jailbreak, firmware upgrade or firmware downgrade.
Step 1. Download and install the RecBoot on your Windows or Mac computer from any reliable sources. Then launch it.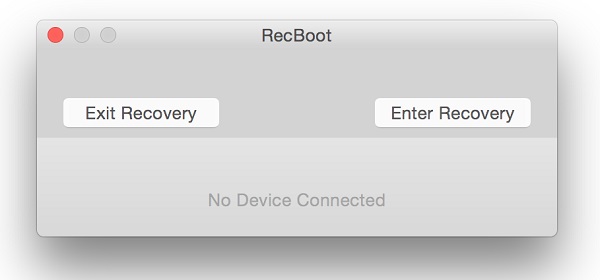 Step 2. Connect your iPhone, iPad or iPod to the computer with USB cable, and wait for the RecBoot to detect your linked iDevice automatically.
Step 3. Select the "Enter Recovery Mode" option from the two distinct buttons provided in the program's user interface.
Congratulations! Your iDevice will now successfully boot into recovery mode and wait to execute any of your other recovery commands.
2) How to Exit Recovery Mode with RecBoot
It is also possible for you to exit Recovery Mode by using RecBoot, especially once your iOS device has fallen into boot loop (caused by software instead of hardware issues). Your iPhone, iPad or iPod touch may fall into Recovery Mode loop due to an incompatible iOS update installation, faulty iTunes software or a buggy firmware.
Step 1. Follow the below two steps to download, install, and launch the program, and make your iDevices be recognized by the program.
Step 2. Directly click on the "Exit Recovery Mode" button and then wait the program help your iDevice get out of the recovery mode.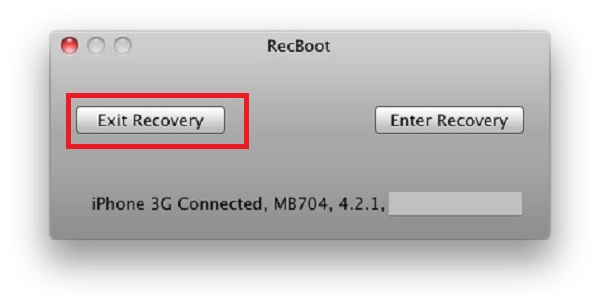 How to Manually Put Your iPhone, iPad or iPod into Recovery Mode?
This tutorial section will show or remind you how to put your iPhone, iPod touch or iPad in Recovery Mode using the "traditional" manual way. This is aimed at showing you how tedious the procedure really is and why you should consider using the RecBoot utility tool instead.
Step 1. Launch iTunes on your personal PC, and connect your iPhone, iPad or iPod touch into the computer.
Step 2. Press and gently hold both your iDevice's "Home" and "Wake/Sleep" buttons. Then release the "Wake/Sleep" button as soon as your iDevice's screen turns black but ensure that you do not release the "Home" button during the process.
Step 3. Release the "Home" button once a popup is displayed on your computer's screen informing you that the iTunes program has detected that your iDevice is in Recovery Mode.
You may have now realized that using the manual way to activate the Recovery Mode option on iOS devices is not for the faint-hearted. It is also important to note that trying to restore your iPhone, iPad or iPod touch using iTunes will always wipe your iDevice and reset it to its default factory settings.
This does not have to be the case as the RecBoot program can be used to restore your iPhone, iPad or iPod touch without losing any of your vital personal information that is stored on it.
Can't Miss:
How to Fix All Kinds of iTunes Errors
Tips & Tricks for Using iTunes
How to Fix iTunes Backup & Restore Issues