iPhone 12/12 Pro (Max)/12 mini Screen Is Black But Phone Is On? Reasons & Fixes Here
The iPhone 12 stands as a beacon of innovation and sophistication. Yet, even the most advanced devices can encounter unexpected hurdles, leaving users bewildered and seeking solutions. For instance, you intend to continue your daily tasks on your device, only to find the screen shrouded in darkness, rendering the iPhone screen not responding. Panic sets in, but you realize that, the iPhone 12 screen is black but phone is on.
Well, this article explores the circumstances that can lead to this problem and introduces 9 fixes to get you out of trouble. Now, let's jump right into today's journey.
Part 1: Why Is My iPhone 12 Screen Black?
Screen Not Responding: Sometimes, the screen may appear black because the iPhone is unresponsive.
Battery Depletion: If your iPhone's battery is completely drained, the screen may not turn on even when you connect it to a charger. (How to charge an iPhone without a charger?)
Software Glitches: If you were recently updating or installing an app, the installation process could have caused a crash.
Stuck in DFU or Recovery Mode: If your iPhone is stuck in DFU or Recovery Mode, it can result in the iPhone 12 black screen.
Faulty Hardware: A hardware component such as the display or internal connectors may fail.
Others: Physical damage, water damage, settings/accessibility features, etc.
Explore Further:
Part 2: iPhone 12 Screen Is Black But Phone Is On? 8 Basic Ways for You
Way 1: Charge your iPhone 12
Having a low battery level may result in the iPhone 12 black screen but still on. If you find yourself facing this situation, follow these steps to potentially resolve the issue:
Connect your iPhone 12 to a charger.
Allow it to charge for a minimum of 30 minutes. (iPhone overheating when charging?)
Afterward, perform a restart on your device and verify whether charging your iPhone 12 has resolved the problem.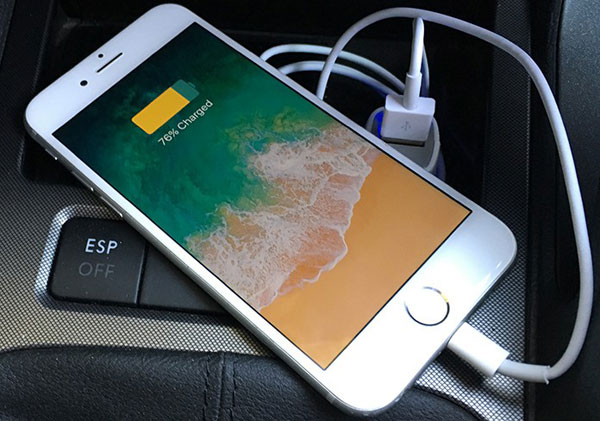 Way 2: Check Display Settings
Check screen brightness to resolve the "iPhone screen is black but phone is on iPhone 12"; adjust it by swiping down from the top-right corner. Next, disable Auto-Brightness in "Settings" > "Accessibility" > "Display Accommodations". If issues persist, reset display settings in "Settings" > "General" > "Reset" > "Reset Display Settings".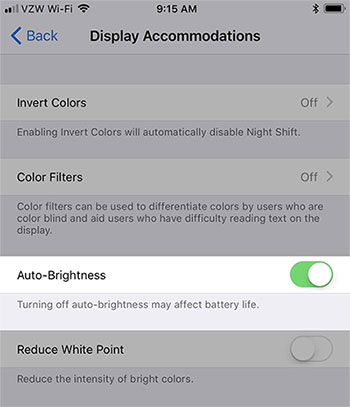 Way 3: Update iOS
Open iTunes on your computer (ensure it's the latest version).
Connect your iPhone to your desktop using a USB or lightning cable.
Go to the "Device" tab and tap the "Summary" tab.
Click "Update iPhone" to fix the iPhone 12 screen went black but still works.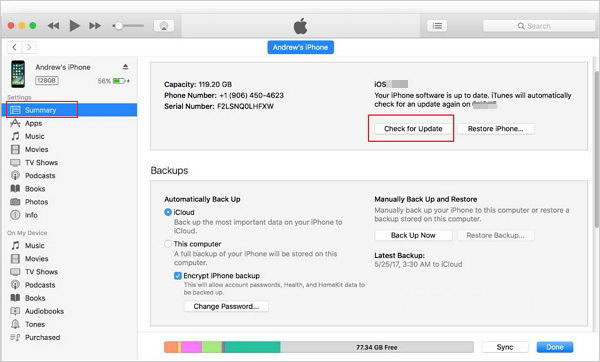 Tips: Alternatively, you can update your iPhone without iTunes as well. To do it, open the "Settings" app and navigate to "General" > "Software Updates". If a firmware file is available, tap "Download and Install". Then, tap "Install Now".
Way 4: Press iPhone Externally
If your iPhone 12 screen is black but still works, you can attempt to re-establish the connection with the display connector inside the device. Gently apply pressure to the top section of your iPhone, focusing on the area near the camera and display connector. Occasionally, accidental impacts or jolts can loosen or weaken these connections. Applying firm pressure to your iPhone for approximately 30 seconds.
Suggested Readings:
Way 5: Update All Apps
Buggy apps can lead to the iPhone 12's black screen issue, which is usually resolved in updates. To prevent future black screen problems, update your iPhone 12 apps by opening the App Store, tapping your account logo, and selecting "Update All".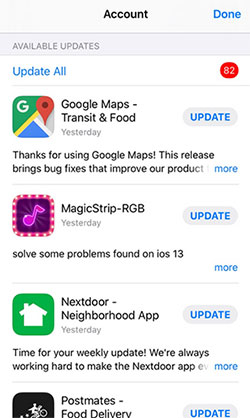 Way 6: Force Restart Your iPhone 12
If you're reasonably certain that physical damage is not the cause of the black screen on iPhone 12, consider attempting a force restart, as it has been known to effectively resolve issues like this. Here's how you can perform a hard reset:
Quickly press and release the "Volume Up" button.
Then, quickly press and release the "Volume Down" button.
Immediately after, press and hold the "Power" key for about 10 seconds.
When the Apple logo appears on the screen, release the "Power" key.
This will force restart your iPhone without a power button. After that, it's a positive indication that the problem has been resolved.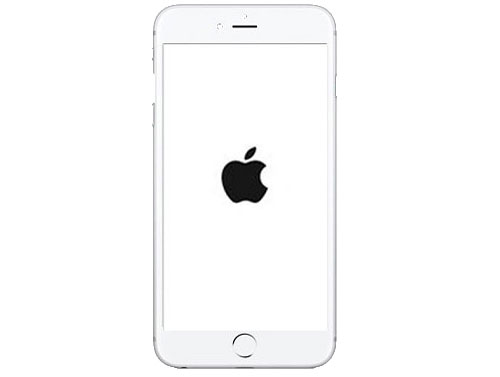 Way 7: Enter Recovery Mode
If a force-restart didn't fix the "iPhone 12 screen went black", try to put your iPhone into recovery mode, which can address software issues but will erase all your data. Here's how:
Open and update iTunes.
Connect your iPhone to your computer via USB.
Hold the "Volume Up" and "Volume Down" buttons while briefly pressing and releasing the "Side" key to enter recovery mode.

Click "Restore iPhone". (The recovery usually takes about 15 minutes, and your iPhone will exit recovery mode if it takes longer.)
Way 8: Contact Apple Support
If your iPhone 12 is on but screen is black after the above fixes, it could indicate a hardware issue. It's possible that the display connector or cable has malfunctioned, or there may be more significant hardware problems at play. In such cases, it's advisable to visit the nearest Apple Store and have your device examined by certified Apple technicians. If your device is still within its warranty period, the repair should be covered at no cost to you.
Part 3: Resolve "iPhone 12 Screen Black But Phone Is On" Expertly [Ultimate Fix]
iOS System Recovery is a robust utility crafted to assist iPhone users in resolving a range of system problems, including the well-known issue where the iPhone 12 screen goes black but remains functional. Its functionality lies in its ability to repair the iOS system while preserving your data. As an ultimate solution, it stands out as a professional tool with a wide array of features, making it the ideal choice for restoring your device to its normal state.
Check out the main characteristics of iOS System Recovery:
Resolve the issue of an iPhone 12 screen black but phone is on without data loss.
Best iPhone repair software to address a wide range of system problems, including iPhone 14 won't turn on, iPhone screen flickering, iOS 16 overheating, iPhone update issues, iPhone unavailable, and more.
Employ two efficient repair modes to swiftly tackle various system errors.
Quickly update or downgrade your iPhone 15 to a compatible iOS version.
Play functions on overall iOS devices, including iPhone 15/15 Plus/15 Pro (Max), iPhone 14/14 Plus/14 Pro (Max), iPhone 13/13 Pro (Max)/13 mini, iPhone 12/12 Pro (Max)/12 mini, iPhone 11/11 Pro/11 Pro Max, iPhone X/XR/Xs/Xs Max, iPhone 8/8 Plus, iPhone 7/7 Plus, iPhone 6/6S/6 Plus, iPod touch, iPad, etc.
It won't disclose your privacy.
How can you fix "iPhone 12 screen is black but phone is on" with iOS System Recovery?
Step 1. Run the software and go for "iOS System Recovery"
Begin by installing and launching iOS System Recovery. Then, connect your iPhone 12 to the computer using a USB cable. From the software's main interface, select "iOS System Recovery".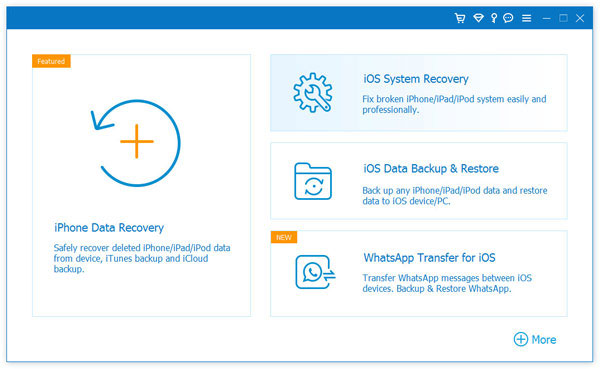 Step 2. Get the iPhone into DFU mode
The software will automatically recognize the "iPhone 12 screen is black" situation and guide you into either DFU mode or Recovery mode. Follow the on-screen instructions with care to enter either DFU or Recovery Mode.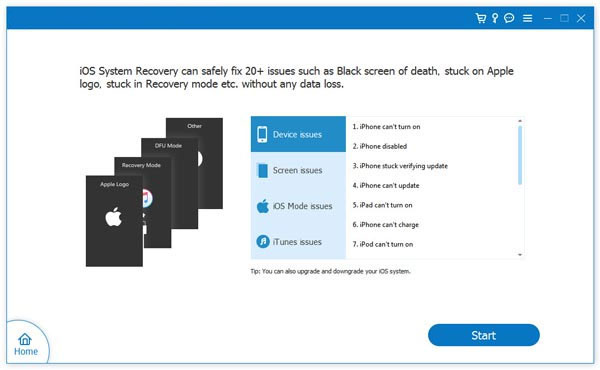 Step 3. Download the appropriate iPhone firmware
Click the "Repair" button after your device has been successfully detected. This action will initiate the download of the necessary firmware to repair the iOS system and resolve the black screen issue. So, provide an accurate device model for the task.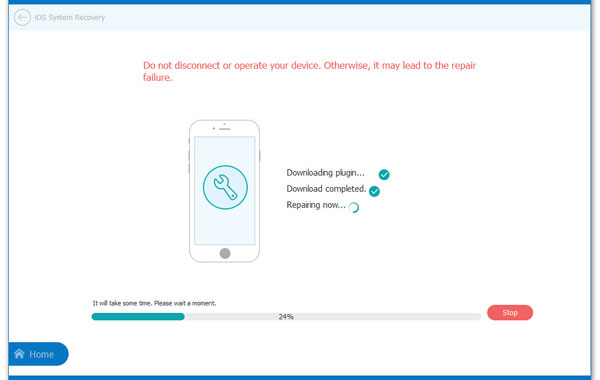 Step 4. Fix iPhone 12 screen black but phone is on
Once the firmware download is complete, this tool will commence the repair. Allow approximately 5-10 minutes for the process to finalize. After your iPhone returns to normal operation, you can proceed to set it up as a new device.
Closing Remarks
In conclusion, whatever system issue is causing the black screen on your iPhone, there's a solution that shines as a beacon of hope. Here, we conclude this page by recommending iOS System Recovery, the ultimate tool designed to resolve this frustrating problem. With its intuitive interface and powerful capabilities, it stands ready to breathe life back into your iPhone 12. So, just give the software a download and discover how to reclaim your device's functionality and restore your peace of mind.
Related Articles:
[SOLVED] How to Unlock iPhone 12/12 Pro (Max)/mini without Face ID or Passcode?
How to Recover Data from a Phone That Won't Turn on? Solved with 4 Solutions
5 Simple Ways to Fix Android Phone Screen is Black
How to Fix iPhone Back Tap Not Working? 9 Solutions You'd Better Know
How Long Does iOS 16.3/16.2/16.1 Update Take to Install? Here's All You Want to Know
3 Popular Ways to Check Location History on iPhone 15/14/13/12/11/X/8/7