iPhone Black Screen of Death? 9 Fixes Help You Resolve This Issue Easily
"Hi, there! My iPhone 11's screen is completely black. I have tried the hard reset and plugged it into my MacBook to see if that would help, but the iPhone black screen of death remains the same. I have no idea what to do now!" -- from Apple Support Communities
iPhone screen of death is a common occurrence, which can be attributed to hardware or software damage in general. Now, here's a question - what makes your iPhone display freeze and then go black?
What Causes iPhone Black Screen of Death?
Failed Software Update: a failed update on your device could get the phone system corrupted.
Other Software Issues: conflicts between applications or malfunctions occur during app use, etc.
Hardware Damage: dropped iPhone in water/ground, iPhone screen broken, and so on.
Other Hardware Issues: your iPhone hardware is aging, the battery is drained, etc.
Next, we will gather eight workarounds and one ultimate way to fix the black screen of death on your iPhone.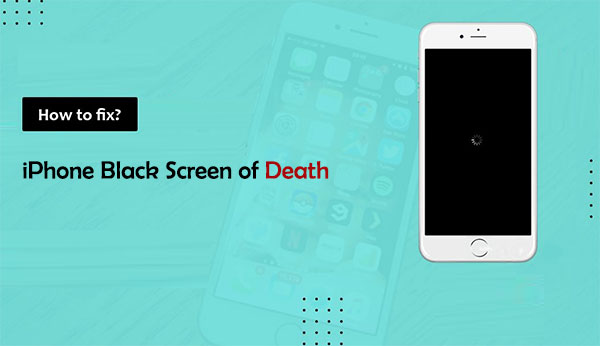 Part 1: 8 Quick Solutions to Fix iPhone Black Screen of Death
You may have keyed into "iPhone black screen of death fix" on the web browser for solutions. But the info you found might be sporadic or didn't wash. Here, let's go through eight well-tested solutions to help you get iPhone black screen repaired.
1. Charge Your iPhone
Primarily, the drained battery is to blame for the black screen of death on iPhone. Some misbehaving or malicious applications may be draining your battery. Now you can try to charge your iPhone and do as follows:
Connect your iPhone to a power adapter.
Press the "Home" button.
Wait for a few minutes to see if the Apple icon appears.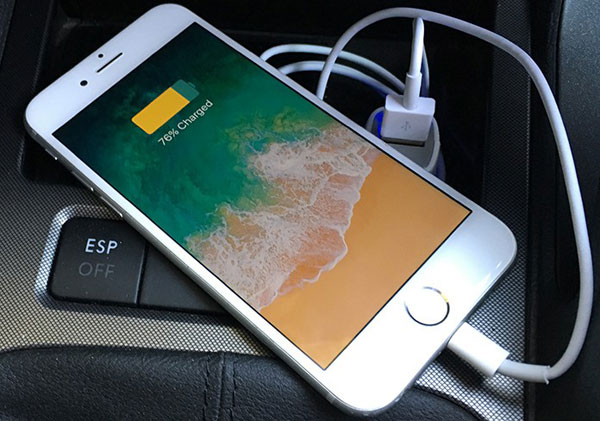 You May Also Need:
2. Close the Crashed App
You may find the screen turns black after running a particular app. If it's the case, the problematic app can be the culprit for the iPhone black screen. Now, you can:
Quickly press the "Home" button twice.
Swipe the screen left/right to check a list of recent apps.
Swipe on that app to close it.
Press "Home" again to back to the home screen.
Run that app to check whether the issue is solved or not.
3. Hard Reset Your iPhone
If your iPhone screen died for uncharted reasons, doing a hard reset on your device might work.
> Hard reset your iPhone with the Home button
Press and hold the "Sleep/Wake" & "Home" keys for around ten seconds.
Wait until the Apple logo turns up on the screen.
After the iPhone restarts, it may get rid of the black screen of death.
> Hard reset your iPhone without the Home key
For iPhone 7/7 Plus, press and hold "Sleep/Wake + Volume Down" keys.
For iPhone 8/X and newer, press and release the Volume Up button > press Volume Down and release > press and hold the Sleep/Wake keys until the iPhone starts.
During the operations, if the slider appears, slide it to turn it off and restart your phone again.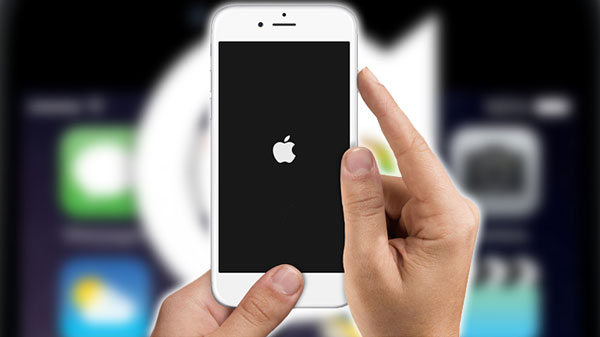 4. Restore Your iPhone with iTunes
You probably lose the current data on your iPhone in doing so. Thus, before that, you'd better run a backup of your iPhone. Yet, you might wonder how to back up iPhone with black screen or unresponsive screen? Just refer to page: how to back up iPhone with broken screen. After the backup, you can restore your device with iTunes:
Connect your iPhone to a computer with a USB cable.
Launch the latest version of iTunes.
Head to the Summary tab and tap Restore iPhone.
Proceed by clicking Restore.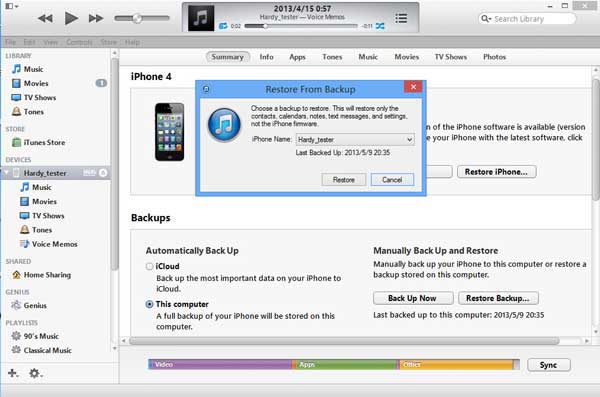 5. Restore Your iPhone in DFU Mode
The DFU Mode could be the deepest type of system restore for an iPhone. And it is often used to deal with fatal system errors which caused your iPhone to malfunction. This way helps fix the Apple black screen of death. However, it might result in a bricked iPhone eventually.
Here are the directions:
Close all running apps on your computer.
Connect your iPhone to the computer via a lightning cable.
Press and hold the Power/Side button for 3 seconds or so.
Keep pressing the Power/Side button.
Press and hold the Volume Down button for about 10 seconds.
If the Apple logo appears, it means you have held the buttons too long, and you'll have to start all over.
6. DIY Repair
You can try to repair your iPhone by yourself if you're willing to run a risk. Of course, assuming you're tech-savvy, that's a different story. Plus, note that if you download and use some free or cracked version of tools for system repair, you're likely to take more risks, and the program doesn't guarantee to work.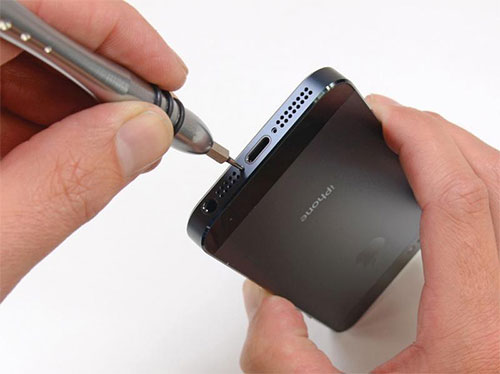 Learn More:
7. Get iPhone Screen Repair Service
Screen broken could be one of the key manifestations of iPhone hardware damage, which is also an important cause of iPhone black screen. If your iPhone screen is black, but the device is still on, you can try to get the phone screen repair service in a local store. Then replace the old screen on your phone and try again.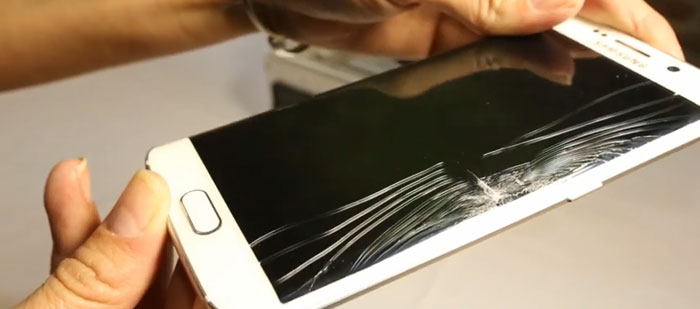 8. Reach out to Apple Store
A genuine iPhone offers matching warranty coverage. You can take it to the nearest Apple service center for help if it is still under warranty or an AppleCare plan.
Note that if your iPhone is a second-hand product from a business or individual, please contact its previous owner to provide the original invoice for purchasing the phone before sending it for repair.
If none of the above works, just read on for the ultimate solution in the next section.
Part 2: Fix iPhone Black Screen of Death with Dedicated Tool
Your iPhone is in black/red/white/blue screen death for unknown reasons, and you want to find the easiest and safest way to fix it? Here's a tool called iOS System Recovery, which could come in really handy.
This tip-top program can resolve 50+ iDevice issues, fixing iPhone from DFU mode, recovery mode, Apple logo, battery drain, headphone mode, etc., to normal state. It won't do harm to your data on your device and is friendly for green hands.
Some key highlights of iOS System Recovery:
Fix iPhone black screen of death in a quick manner.
It also resolves such iPhone issues as Touch ID not working, battery draining fast, phone screen not responding, loop restart, and a lot more.
Two repairing modes help settle iOS system issues.
Upgrade or downgrade iOS to the supported versions.
Run smoothly on overall iDevices, covering iPhone 12/12 Pro (Max)/12 mini, iPhone 11/11 Pro/11 Pro Max, iPhone X/XR/Xs/Xs Max, iPhone 8/8 Plus, iPhone 7/7 Plus, iPhone 6/6S/6 Plus, iPod, iPad, etc.
It never interferes with your privacy.
Before use, your iPhone and computer should both have no less than 5GB of free space, and your device is at least 30% charged.
Next, let's see how to fix iPhone black screen with iOS System Recovery:
Step 1. Launch the program on your computer
Download and install iOS System Recovery on your computer. Launch it and choose "More Tools > iOS System Recovery".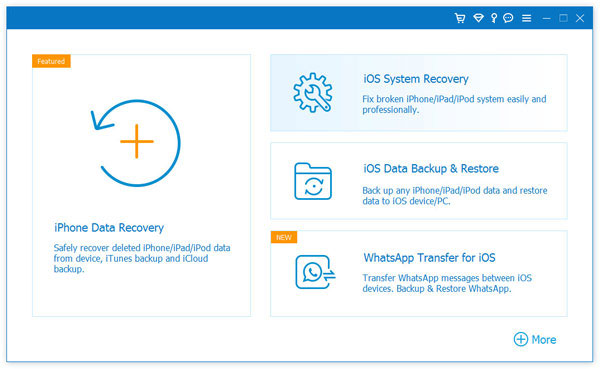 Step 2. Connect your iPhone to the computer
Plug your iPhone into the computer via a USB cable and click "Start" to initiate the repairing procedure.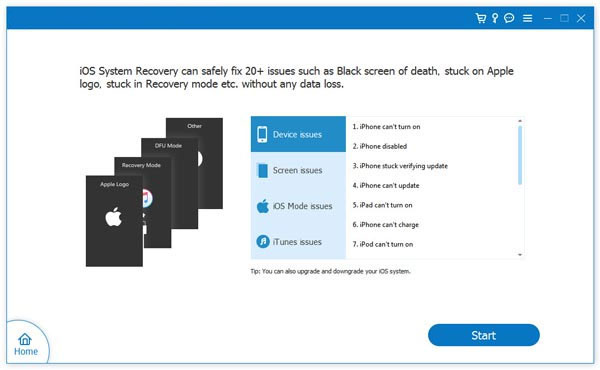 Step 3. Repair your iPhone with the black screen of death
This program will detect the info of your iPhone. You can check your device and tap "Repair". If the detected info is wrong, just choose the correct one and hit "Repair" again.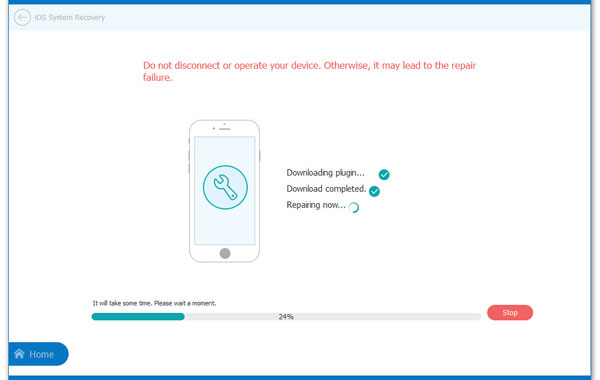 Step 4. Restart your iPhone
Wait for the repair to complete. Then restart your iPhone, and you will find your device can work just fine.
Calling It a Wrap
We set out eight quick solutions to resolve the iPhone black screen of death. Most of them may end up losing all your iPhone data, regardless of their effect on the black screen. So, please be prudent before the operations.
And we also present an ultimate way to fix the issue with iOS System Recovery. This utility is capable of tackling various iPhone issues, and all your phone data will be well-arranged originally after the repair. So just download this software to give it a whirl if you don't want to be messed up by the hassle.
Well, how do you fix the black screen of death on iPhone? Feel free to share your experience in the comment field below.
Related Articles:
iPhone Red Screen of Death? 3 Solutions to Fix It!
5 Ways to Fix iPhone Blue Screen of Death (BSOD)
How to Control iPhone with Broken Screen Effortlessly? [Ultimate Guide]
iPad/iPhone White Screen of Death? 3 Ways Show You How to Fix It!
3 Methods to Resolve iPhone Stuck in Boot Loop
9 Best iPhone Repair Software to Fix Various iPhone Software Issues