Phone App Transfer - Transfer Apps from Android to Windows Phone
The means we mention here to sync Apps from Android to Windows phone is not feasible yet. But we will update the tutorial when we find a good way.
"My cousin is an expert at interesting and fun apps. I recently bought a new Nokia Lumia 1520 and I was just wondering what kind of apps I can install on my new phone. So this reminds me of him. I mean since he has so many useful and entertaining apps, why can't I just transfer some from his Samsung Galaxy S4 to my Lumia 1520 which can save me a lot of time? But it turns out that's easier said than done. Therefore, I'm asking for your help here. It will be really kind of you if you could just give me a little advice. Thanks in advance."
Tool You'll Need:
You need a third-party software like Mobile Phone Transfer to help you. It is a third-party program that needs to be installed on the computer. When you connect the Android phone and Windows Phone to the computer, you can transfer apps from Android to Windows Phone or from Windows Phone to Android by performing this software.
It empowers you to synchronize files like music, videos and photos between Android and Windows Phone with no hassle and no data loss. And it's nearly compatible with all smart phones which means apart from Android and Windows Phone devices, other devices run on the iOS, Symbian and BlackBerry operating platforms can be supported by the software.
Now you can download a free trial version to try to transfer data from Android to Windows Phone at ease.
Guide to Copy Android Apps to Windows Phone Freely
This is a guide of the Windows version. So Mac users can switch to the Mac version and follow the same instructions below.
1. When you finished the installation, just launch the program on your computer. Then in the main interface, click the "Phone to Phone Transfer" feature. You'll see the details on the window as follows.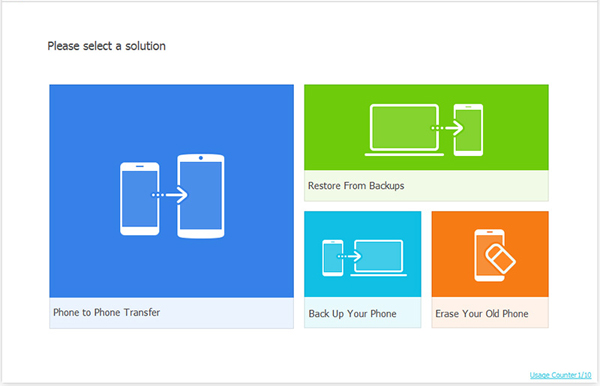 2. In this step, connect the Android phone and Windows Phone to the computer via USB cables and the program will start detecting the smart phones when the connection is on. After that, you'll find these two devices are in the left and right side as the source and destination devices randomly. To adjust the Android phone to the source area, you can click the "Flip" icon on the menu.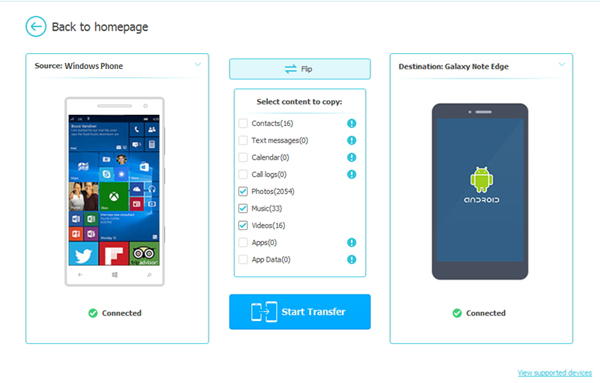 3. When the confirmation is done. You can start the transferring process. Since you need to transfer apps from Android to Windows Phone, you can tick the wanted files like "Photos" option and click "Start Copy" on the window. In the meantime, you can sync other Android data like contacts, text messages, music, videos and photos to the Windows Phone.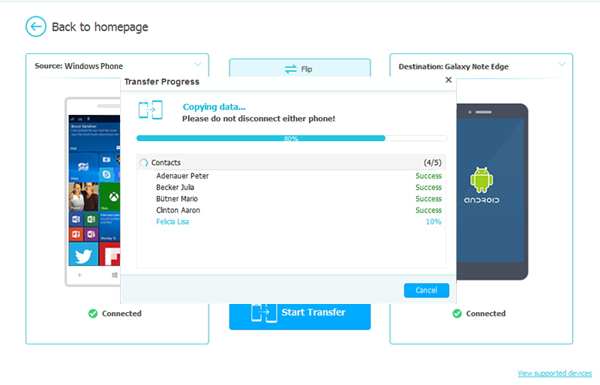 Get the MobiKin Phone Transfer program now.
Related Articles:
How to Transfer Contacts from HTC to iPhone Easily
How to Transfer Videos from HTC to Nexus
Share Android Apps with Other Phones
3 Simple Ways to Transfer from SD Card to iPhone
[2023 Updated] How to Transfer Videos from Android to Android